Nebraska is a scene of thriving music, vast prairies and farmlands, and unique attractions. Once considered part of the Great American Desert, the state with seemingly few waters is home to a number of beautiful lakes surrounded by lush recreation areas. It has also transformed into a leading agricultural state, with many leading towns featuring great nature, fresh food, and quick water access.
Check out one of these charming towns in Nebraska; you will love sighting wildlife and other natural marvels along the surrounding trails and having access to groceries for a picnic at the nearby town, as well as many entertaining places for the evening. 
Burwell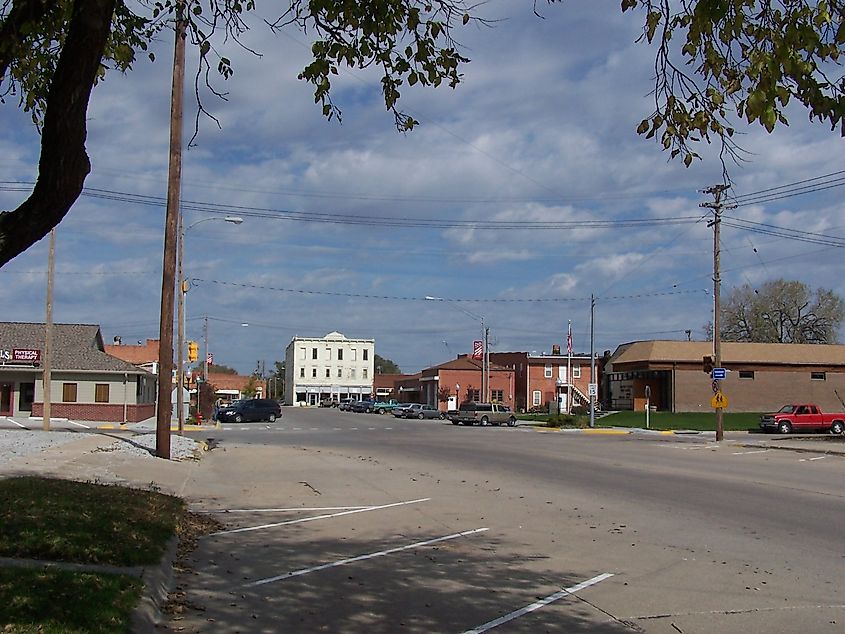 The charming town of Burwell is your ultimate summer escape to the scenic Calamus Lake, set unassumingly in the heart of Nebraska's Sandhills. Enjoy all the white-sand beach fun and wet pursuits galore, including watersports and fishing. The area is home to every imaginable nature fan adventure, perfect for any group recreation, including with pets. Head into town for Nebraska's Big Rodeo and settle in for warm hospitality at one of the unique restaurants for dinner.
Stay in Burwell or set up camp in the area six miles northwest of town to enjoy fishing and boating from day to night. Wake yourself up with a refreshing dip and take on a trail with bird watching and Instagram-worthy scenery, followed by another dip to cool off. From sightseeing to hiking, Burwell will meet and exceed all your outdoor passions. The kid-friendly destination boasts a spacious shoreline and gentle slopes with no rocks or pebbles along the sandy beaches and many shallows for splashing.
Doniphan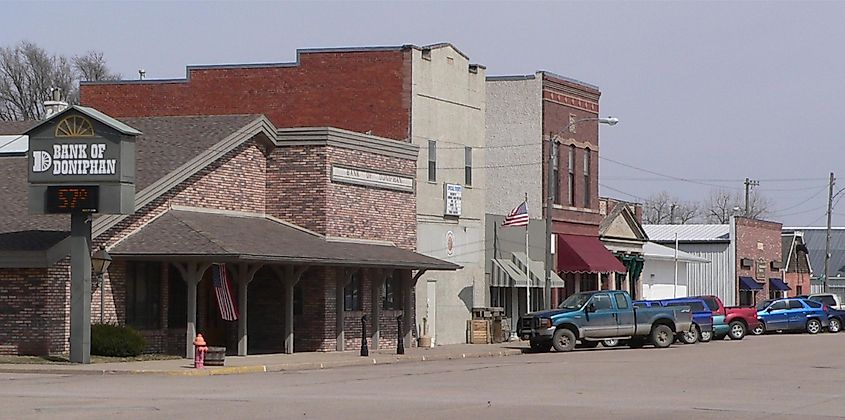 Doniphan is your summertime getaway to the Mormon Island State Recreation Area Beach along a quaint coastline, named after the winter stopover for Mormon emigrants. The lake is part of Nebraska's Chain of Lakes, while the recreation area receives large crowds during the summer. Drive or bike along until you find a spot along the coastline to sit back and relax over the sights. Let the kids play and make sculptures out in the sand while you enjoy swimming in the refreshing waters, with great amenities on-site like restrooms, showers, picnic areas, grills, and a boat ramp. Visit in the spring when there are no crowds and see the magnificent sandhill cranes migrating overhead as you relax along the sand.
Doniphan is a summertime dream escape for all nature lovers, with two parks covering 12 acres. Find the City Park in the heart of town with amenities and a playground where you can picnic, play tennis, and golf. The baseball and softball complex offers fields, amenities, a concession stand, and a playground. You will fall in love with the family-friendly town and want to return for the Doniphan Fall Festival in October, which includes a parade, a carnival for kids, food, and games for all.
Fremont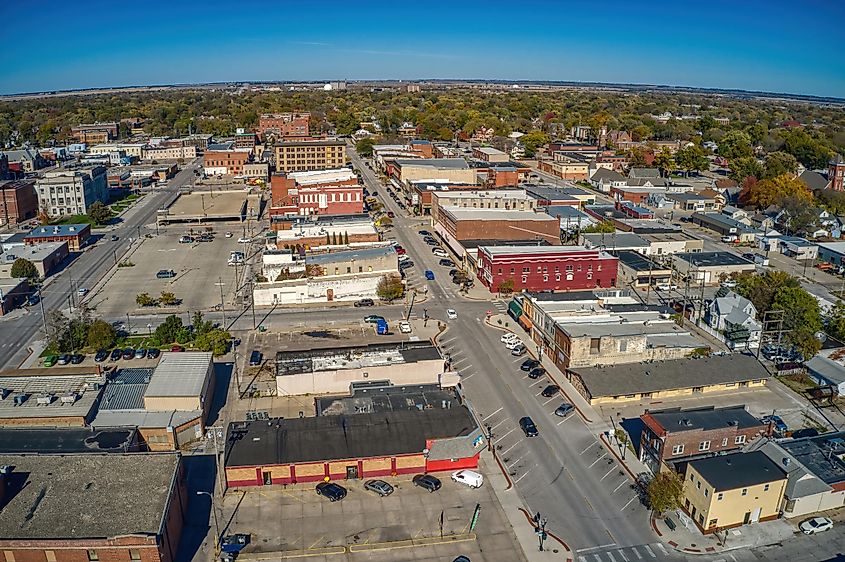 Just a peek at Fremont from a bird's eye view reveals why the town is the state's launch point for swimming, hiking, camping, waterskiing, fishing, and more. Don't try to resist the captivating outings with various scenery throughout all your pursuits or while relaxing on a picnic at the Fremont Lakes State Recreation Area. Enjoy easy access to the river via the recreation area, with more fishing, swimming, boating, hiking, and camping amid the surrounding 20 sand-bottom lakes.
Anchored by a historic downtown, Fremont is sure to charm any group of summer vacationers with its boutique shopping scene, antiquing, and restaurants for every taste, whether you're traveling alone or with your special someone. Choose from the many vacation rentals and head for a family day at the Splash Station Water Park, with swimming for kids and adults. You can recharge your energy level at Huey's Smokehouse BBQ with pulled pork, brisket, and chicken wings. Follow up a filling meal with a stroll through Fremont's downtown area on the National Register of Historic Places list.
Grand Island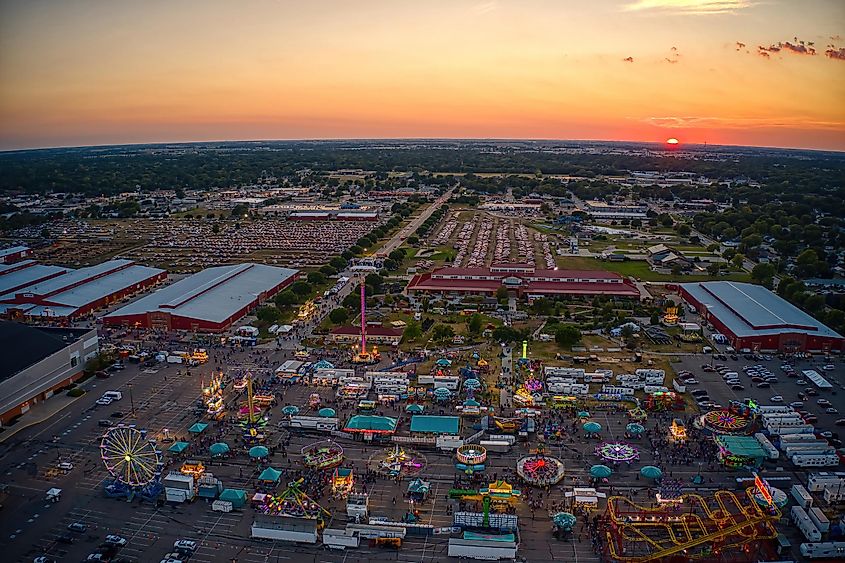 Despite a larger population, Grand Island offers your ideal summertime beach destination where you can find the private escape that you desire amid many pursuits that disperse tourists. Visit popular attractions like the Stuhr Museum of the Prairie Pioneer, a fun place full of adventures for the entire family with a souvenir gift shop and a lineup of events during the summer. The curious town is home to the incredible entertainment of Fred's Flying Circus, with sculptures of cartoon characters and flying cars. Most come for the beach scene, with water all around, to spend days outside immersed in water amid natural scenery.
Switch it up between the Island Oasis Water Park and the Platte River, with kayaking, paddleboarding, canoeing, and rentals available. Visit in spring for the beautiful blooms that highlight the town along its Townsley-Murdock Immigrant Trail. Immerse yourself in the culture of the pioneers and dine modern-day style at the popular Wasabi Nistro. Just a two and a half-hour drive from Omaha, you can enjoy a weekend or a whole summer vacation with many vacation rentals awaiting your arrival. The engaging historic town and a mecca for water adventures will suit any group, and you can even dry off at the scenic L.E. Ray Dog Park with your pup.
Ogallala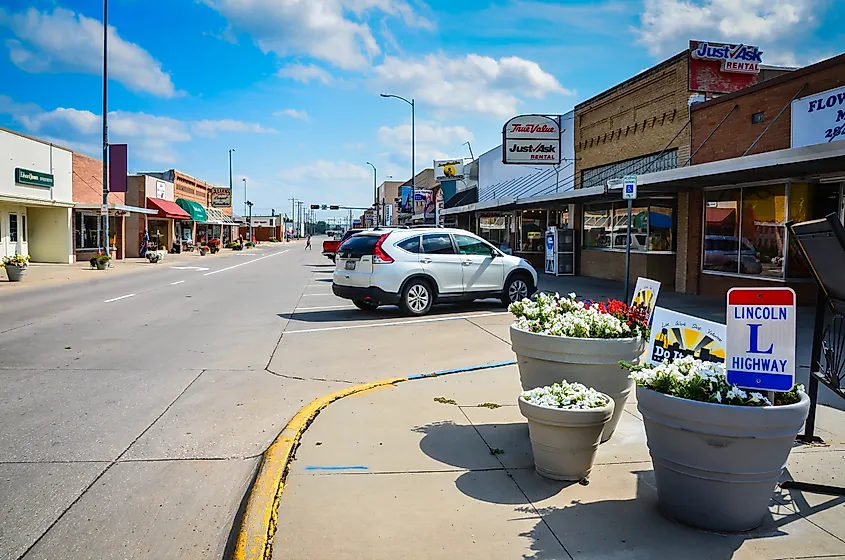 The charming townscape of Ogallala sits scenically along the largest water body in the state, Lake McConaughy. The "Big Mac," according to locals, is amazing for diving, swimming, splashing in the shallows, and boat cruises. Enjoy a quick hike from downtown Ogallala, bike along, or take a scenic drive until you find your favorite spot along the immense 100-mile shoreline. Enjoy a relaxing summer vacation or recreation in nature, and a different beach every day. Mix it up amid the Big Mac and the Lake Ogallala State Recreation Area, together comprising over 30,000 acres of water. There is everything from kayaking, paddleboarding, and pontoon rides to thrilling scuba diving, water skiing, windsurfing, and sailing.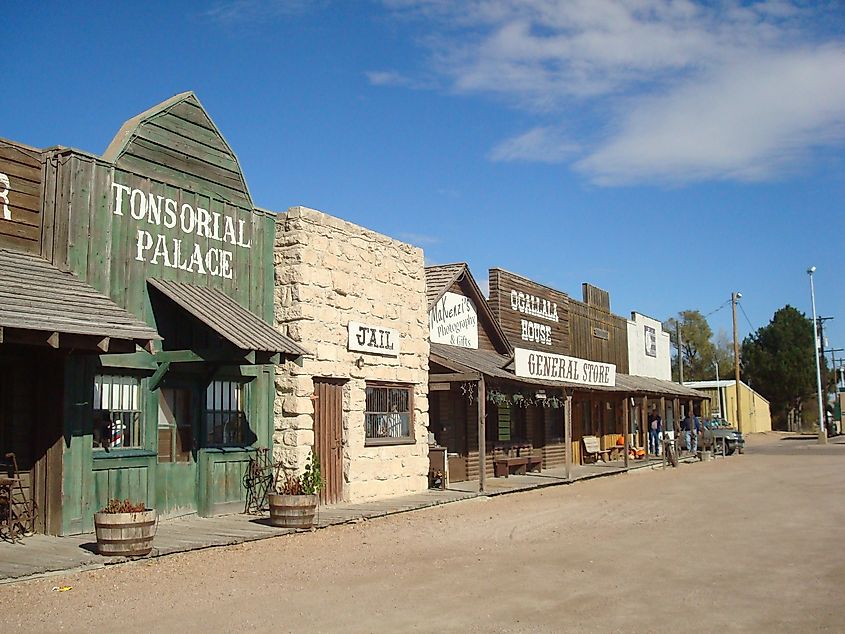 You can also relax while fishing or in a gently bobbing boat amid "lost at sea" scenery under the sun. Although the beaches will hold you captive with sights and pursuits for all ages like sandcastle-building and camping, head downtown for a stroll along Front Street. Stop by the Cowboy Museum and note some Wild West show venues or saloon-style dining for an entertaining evening. Make the most of your beach vacation by camping waterside and spending wistful evenings over a waterside campfire with s'mores and softly kissed toes in the sand under the beautiful darkening skies.
Pawnee City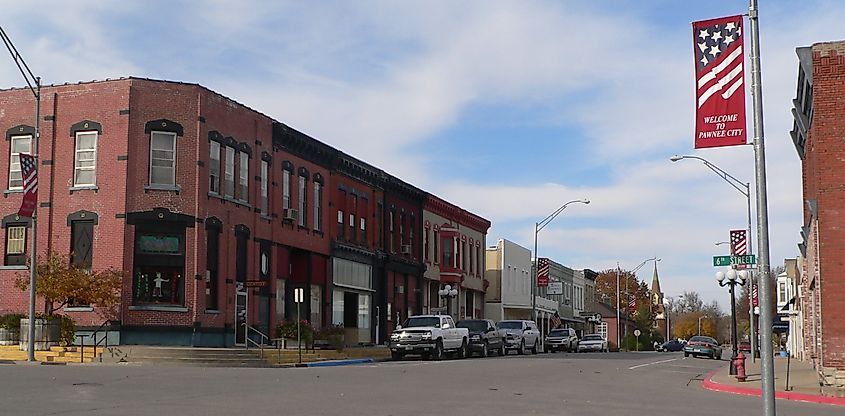 The charmingly historic Pawnee City sits overlooking many natural places, including beautiful views of meadows, ponds, lakes, and streams. Make a stop at the Pawnee City Historical Society's museum on the east edge, with thousands of items on display and preserved historic buildings downtown. The perfect town for historians and genealogists is also home to the Pedal Clinic, which has a display of pedal toys and period playthings. Relax on a stroll along a walking trail and two outdoor parks with playgrounds and picnic shelters, including pondside.
Enjoy easy access, some 90 miles south of Omaha and 70 miles southeast of Lincoln, and park your RV or set up camp at Pawneesa near the Pawnderosa fishing pond. You will find many hunting areas around, bird watching, and nearby watering holes for more water pursuits. Immerse yourself in the authentic small-town atmosphere, which is large on amenities like the new library and the Pawnee County Arts Council with regular musical performances. Take in more local culture on a stroll through the quiet neighborhoods lined by homes with big porches and beautiful landscaping; the courthouse lawn is filled with rows of American flags around Independence Day.
Trenton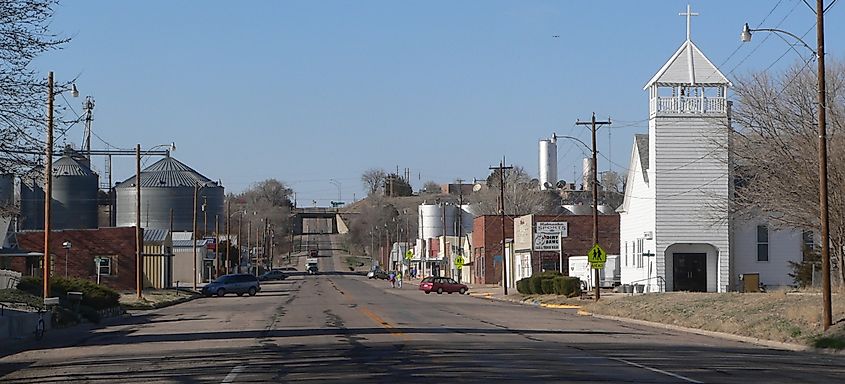 The lovely town of Trenton rests scenically at the bounds of immersive nature. Despite its remote location near the border with Kansas, it is the state's renowned primary access point to the beautiful Swanson Lake Swanson Reservoir State Recreation Beach. Along with the perfectly swimmable water, the lake is also a premier destination for fishing, camping, and water sports. Enjoy building sandcastles with your family or go on a water adventure like boating, water skiing, or sailing from the shore.
You will love sighting wildlife and other natural marvels along the surrounding trails and having access to groceries for a picnic at the nearby Good Life Marina with more pursuits and water vistas. The vast lake with crystal clear water and Swanson Reservoir State Recreation Area are great outdoor spots in the heart of nature and a real escape from the city in the deep south.
Brady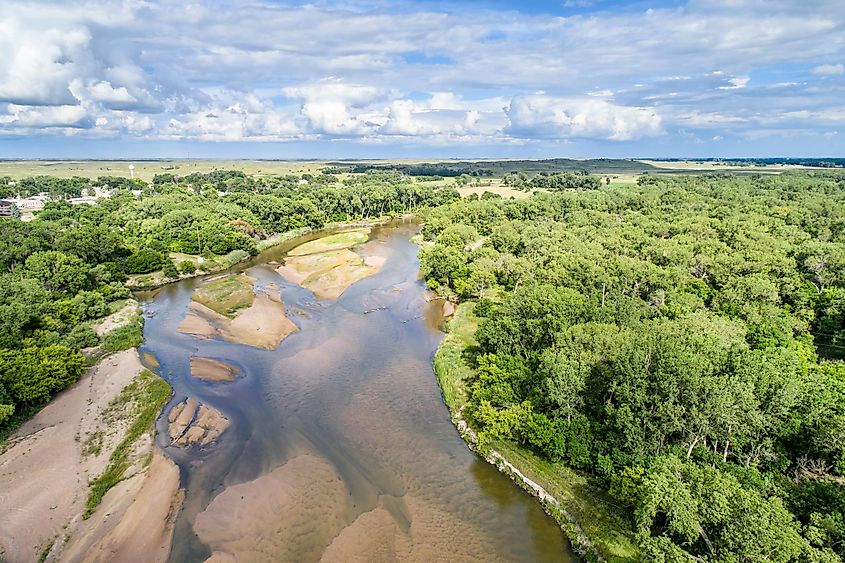 The charming town of Brady, founded on the banks of the Platte River in 1889, is just over an hour's drive from Kearney. Immerse yourself in a small-town feel with less than 500 charming locals and welcoming amenities. The tiny community serves as a pit stop on the way to North Platte and Cozad, but the surrounding beaches are notorious for making tourists linger. Experience a real Midwestern town on a stroll through sights and choose one of the lovely beaches for your summer fun and recreation.
Saunter through the all-encompassing laidback vibe along the wide streets and check out the endearing hotspots, many right along the southwest banks of the famous Platte River, like tasty local restaurants with beautiful water views. Browse through the wealth of quaint boutique shops and chat up new friends at a cozy evening bar. The all-American town of Brady is your place to spend a relaxing summer vacation near the Platte River or enjoy scenic activities, like strolling and cycling along the water's edge, and boating, which is the most popular.
Leave the indoor recreation, including golf clubs, sports courts, and swimming pools, for other seasons and enjoy a relaxing stroll along a nature trail to the water's edge. Stroll, bike, or drive along the coastline to your chosen spot for waterside relaxation and recreation under the sunshine.
From there, you can dive right in, lounge along the shores, or explore the depths through your favorite water sports. Don't forget the vast food scene in a state that originated the Reuben sandwich and Kool-Aid.