With a population of nearly 40 million residents (more than Canada), California is America's most populous State. Indeed three Golden State cities have populations over 1 million, with at least 72 cities housing between 100,000 and 1 million people! From its culturally rich character and history, stunning natural geography, and of course its splendid sunny weather, California is an undoubted treasure to discover, with the largest sub-national economy in the world. This article looks at the 10 Largest Cities in California. 
1. Los Angeles - 3,919,973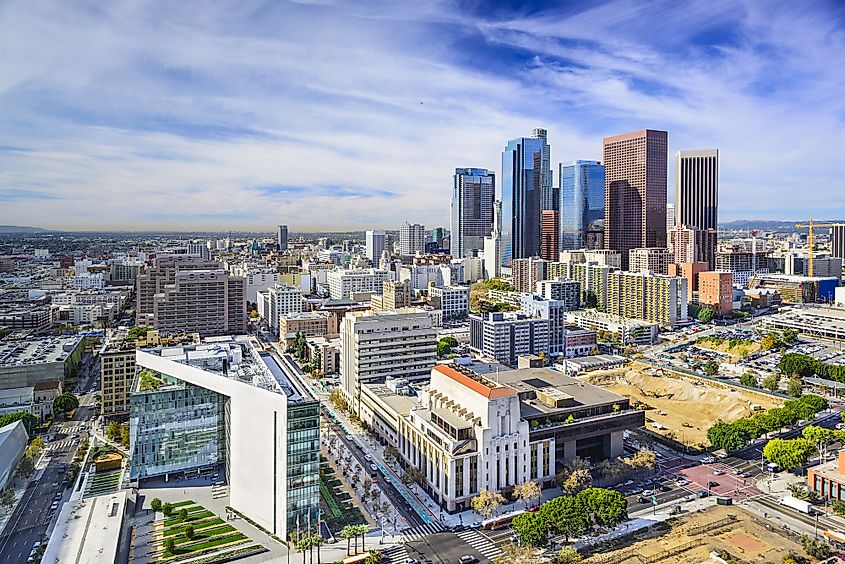 Covering an area of 1,210 square kilometers, the "City of Angels" is the second largest city in America, behind only New York. The home of the Hollywood film industry, LA is also a place of great cultural diversity and beautiful natural wonders. From beachside areas to Hollywood Boulevard, to an endless array of museums and galleries, and esteemed institutes of higher learning (including UCLA), Los Angeles indeed defines what it means to be a global city. With one of the most diverse economies in the world, it is the city with the third highest global GDP. 
2. San Diego - 1,402,838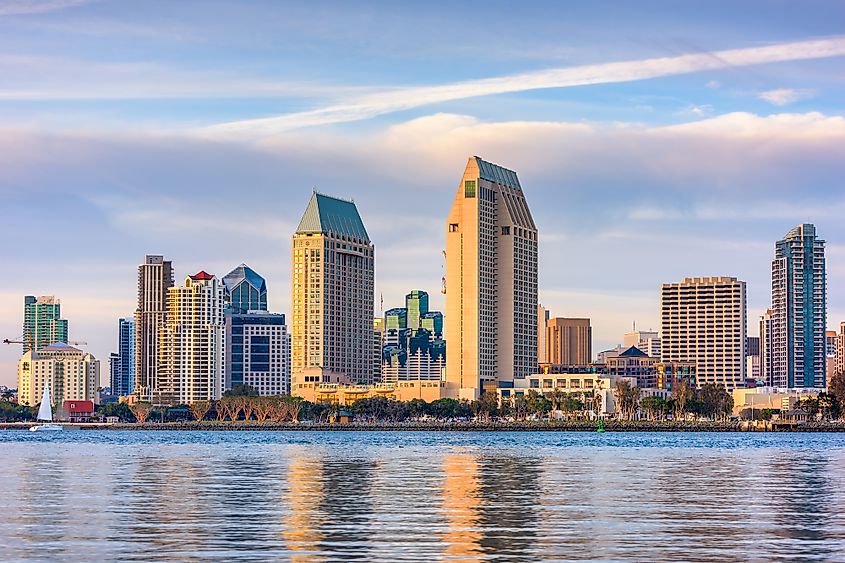 Known as the "Birthplace of California," San Diego was the first site settled by Spanish colonists in 1542, making it one of North America's oldest settlements. Today this bustling city, just 32 kilometers from the Mexican border, is one of California's richest and culturally diverse places. With a vibrant local economy that includes theme parks, museums, historic districts, stunning beaches, and yearly cultural events (particularly the International Comic Con), San Diego is a place for all ages. Here young families, retirees, working professionals, intrepid tourists, and anyone who enjoys discovery are welcome. 
3. San Jose - 1,026,700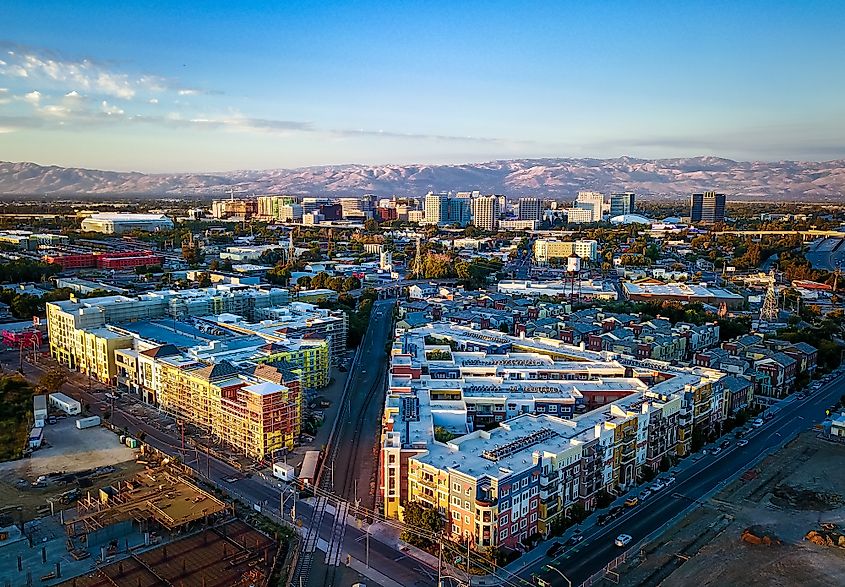 The very heart of Northern California's Silicon Valley, San Jose, is a city where high-tech innovation and human ingenuity meet. Situated on the southern shore of San Francisco Bay, the city covers an area of around 466 square kilometers and is well known for its affluent neighborhoods and cultural diversity. While it is certainly an expensive place to live, San Jose remains attractive for its thriving job market, highly rated post-secondary institutes (including San Jose State University), and access to cutting-edge amenities. Among the major companies headquartered in San Jose include eBay, PayPal, and Zoom. 
4. San Francisco - 887,711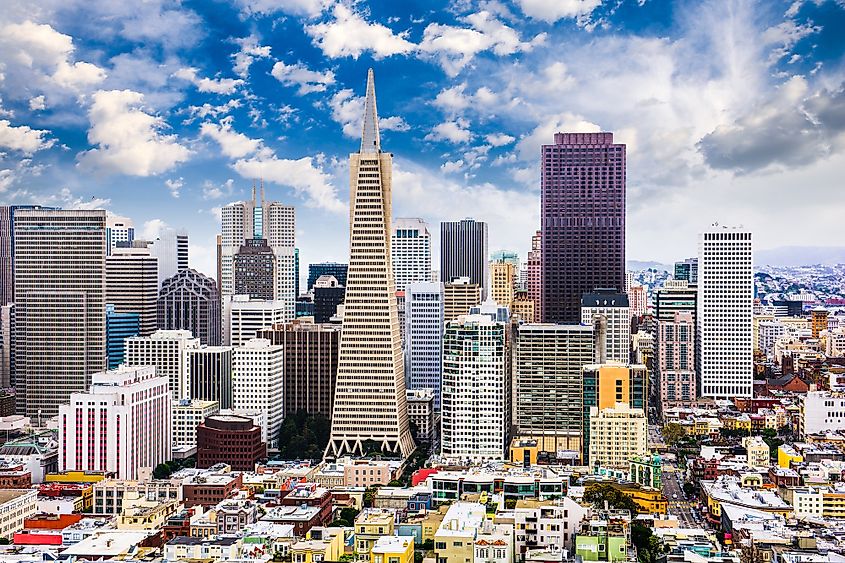 San Francisco is one of California's most famous cities, widely known for its iconic landmarks, rich cultural scene, unique history, and of course, its unusually cool weather. Indeed its many famous attractions, from the imposing Golden Gate Bridge to the infamous Alcatraz Prison, to Lombard Street and its cultural neighborhoods like Chinatown, attract millions of visitors a year. But San Francisco also scores highly for its livability, stable housing market, and thriving job market in many sectors. From the service industry to professional work, this city by the Bay fulfills the needs of many with a most special and uniquely American atmosphere. 
5. Fresno - 551,595 
Some 320 kilometers north of Los Angeles, Fresno is situated in the San Joaquin Valley and covers an area of 300 square kilometers. With hot summers and mild winters, Fresno's climate is just one of the reasons it has seen steady population growth. A lower cost of living and an affordable real estate market attracts young workers and retirees alike, while its vibrant cultural scene is great for those of all ages. With museums, galleries, theatres, and bustling nightlife, this city is an exciting place to be. Fresno also has a sizeable agriculture industry contributing to its robust local economy. 
6. Sacramento - 536,635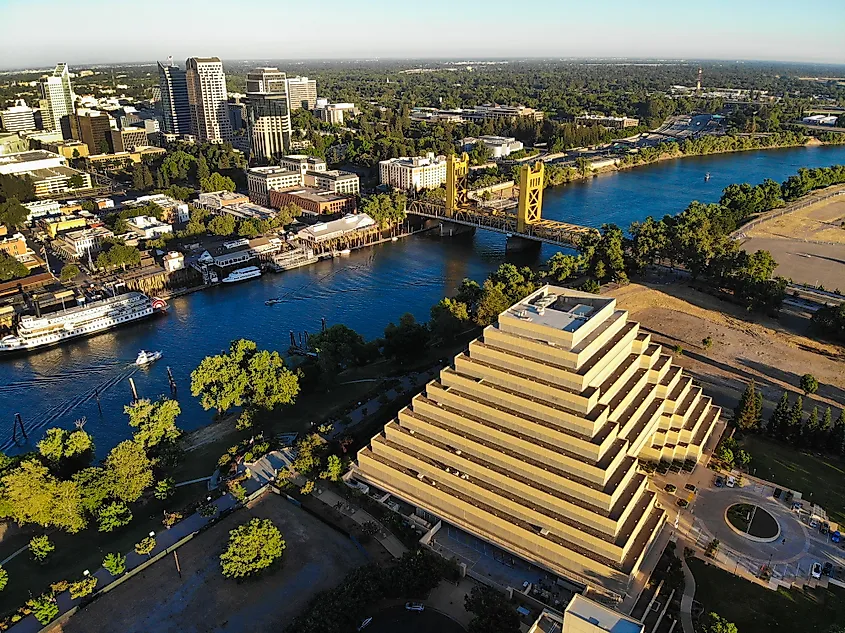 California's capital city, Sacramento, has been labeled by numerous publications as one of "America's Most Diverse Cities." The fastest-growing major city in California, this hub is more than just the seat of government. It is a culturally rich destination attractive to many. Home to Sacramento State University, the UC Davis Medical Center, and a plethora of museums, galleries, and natural green spaces, Sacramento is indeed a wonderful place to explore. In addition, an affordable housing market (particularly for a capital city) has made it an enticing place for new settlements, while its sunny and warm climate needs no explanation. 
7. Long Beach - 467,638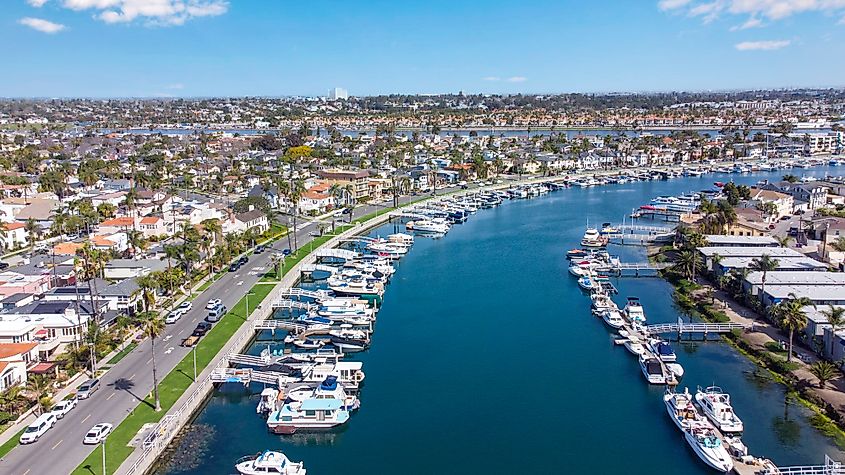 A Southern California hot spot, Long Beach attracts people from many walks of life for its sunny weather, robust job market, and high-quality schools. Indeed working professionals, young families, and retirees all comprise Long Beach's demographics, and its charming cultural scene has something for everyone. Just 48 kilometers from Los Angeles, Long Beach is also the home of the Port of Long Beach, making it an international hub for trade and shipping. 
8. Oakland - 450,630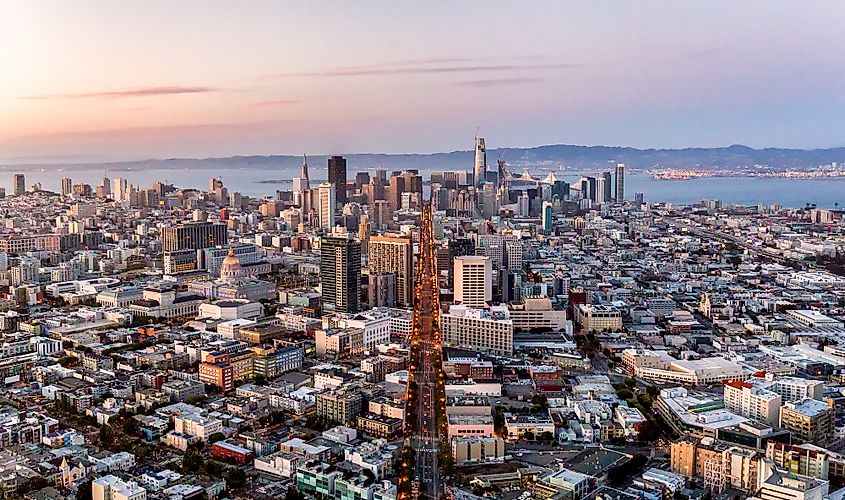 Oakland is situated on the Eastern Side of the San Francisco Bay, and in comparison to its more famous counterpart, has higher affordability. Popular among families, professional workers, and post-secondary students, Oakland offers many world-class amenities of its neighbor San Francisco without some major crowds. Another beautiful California coastal town, "Oaktown," has mild and cool weather, first-class amenities, and easy access to beautiful parks and the famed Pacific Coast Highway. 
9. Bakersfield - 414,649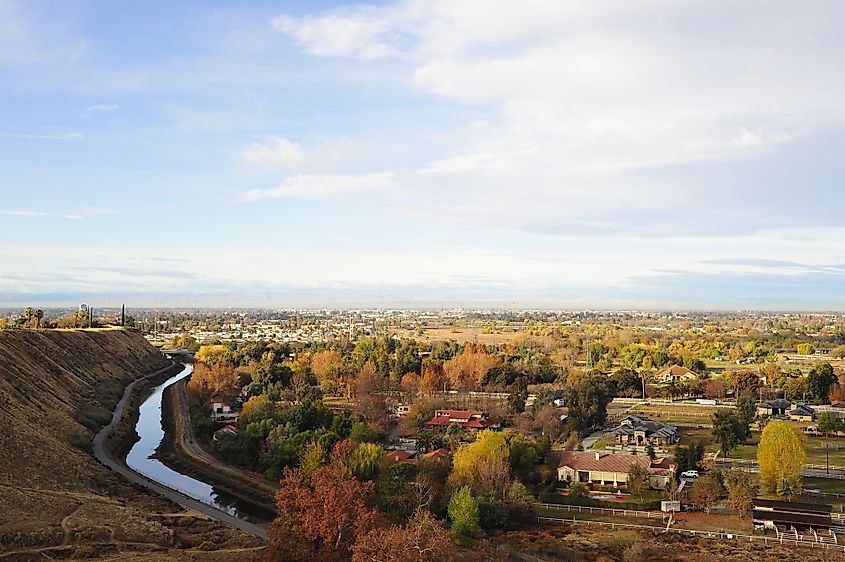 Just two hours north of Los Angeles lies the city of Bakersfield, California's 9th largest. Covering an area of 390 square kilometres, this city gives its inhabitants great and easy access to the Sierra Nevada Mountains, nearby nature parks, and plenty of forested areas. Celebrated for its country music scene, Bakersfield has been affectionately called "Nashville West" and has been the home of several country music stars. In addition, this sunny metropolis and its stable housing market is a significant center of energy and agricultural production. Around the Bakersfield area, the major industries include mining, natural gas extraction, and petroleum refinement. 
10. Anaheim - 348,936
Founded by German settlers in the 1850s, Anaheim is widely known as the site of the famed Disneyland Theme Park, which opened in 1955. Full of great family-friendly entertainment, diverse dining options, and plenty of California sunshine, Anaheim is a wonderful destination for all to discover. Just a 30-minute drive from LA, Anaheim's proximity to California's largest city also makes it a popular stopover for many tourists and those looking to live in a quieter and more affordable portion of the Los Angeles Metropolitan Area.
California is among the most naturally and culturally diverse States in all of America. From natural wonders to historic landmarks to an impressive coastline and warm sunshine, the "Golden State" and its major cities are a marvel to explore. With their unique history, charming attractions, and special local economies, these California cities are must-see for people of all backgrounds. 
50 Biggest Cities In California
| Rank | Name | Population  |
| --- | --- | --- |
| 1 | Los Angeles | 3,919,973 |
| 2 | San Diego | 1,402,838 |
| 3 | San Jose | 1,026,700 |
| 4 | San Francisco | 887,711 |
| 5 | Fresno | 551,595 |
| 6 | Sacramento | 536,635 |
| 7 | Long Beach | 467,638 |
| 8 | Oakland | 450,630 |
| 9 | Bakersfield | 414,649 |
| 10 | Anaheim | 348,936 |
| 11 | Irvine | 326,730 |
| 12 | Stockton | 326,624 |
| 13 | Riverside | 317,224 |
| 14 | Santa Ana | 307,367 |
| 15 | Chula Vista | 281,801 |
| 16 | Santa Clarita | 239,143 |
| 17 | Fremont | 233,788 |
| 18 | San Bernardino | 224,537 |
| 19 | Modesto | 221,924 |
| 20 | Moreno Valley | 211,688 |
| 21 | Fontana | 210,857 |
| 22 | Oxnard | 202,895 |
| 23 | Huntington Beach | 200,455 |
| 24 | Glendale | 197,507 |
| 25 | Elk Grove | 180,746 |
| 26 | Santa Rosa | 180,189 |
| 27 | Ontario | 177,533 |
| 28 | Lancaster | 176,892 |
| 29 | Rancho Cucamonga | 176,289 |
| 30 | Oceanside | 175,464 |
| 31 | Palmdale | 172,790 |
| 32 | Garden Grove | 172,163 |
| 33 | Hayward | 166,708 |
| 34 | Salinas | 166,162 |
| 35 | Sunnyvale | 158,949 |
| 36 | Corona | 158,088 |
| 37 | Roseville | 153,569 |
| 38 | Escondido | 152,464 |
| 39 | Pomona | 152,245 |
| 40 | Torrance | 147,393 |
| 41 | Fullerton | 145,309 |
| 42 | Visalia | 144,772 |
| 43 | Orange | 140,611 |
| 44 | Pasadena | 139,015 |
| 45 | Victorville | 138,592 |
| 46 | Santa Clara | 129,883 |
| 47 | Vallejo | 128,120 |
| 48 | Thousand Oaks | 127,022 |
| 49 | Simi Valley | 126,780 |
| 50 | Berkeley | 126,669 |