Cottonwood Falls is the biggest city in Chase County in Kansas. It is also the county seat. According to the United States Census Bureau, the city covers an area of 0.60 square miles, of which 0.59 square miles is land and 0.01 square miles is water. Cottonwood Falls provides a range of activities and services while retaining its small-town charm.
History Of Cottonwood Falls
The Cottonwood Falls area had its first settlement in 1854 when an Indian trader named Seth Hayes established a cattle ranch on the Cottonwood River at the mouth of the Diamond Spring Creek. Cottonwood Falls was named the interim county seat when Chase County was formed in 1859. 
The Cottonwood Falls bridge and dam are located north of Cottonwood Falls. The first dam on this location, built of cottonwood logs in 1860, supplied water power for a saw and grist mill. The dam was extended and utilized to generate energy in 1906. The current dam is made of cut limestone that has been covered with concrete. 
The city's French Renaissance-style Chase County Courthouse, located at the head of Broadway, was erected in 1872, around the same time the Atchison, Topeka, and Santa Fe Railway arrived in Cottonwood Falls. The area around the city was largely divided into farms and cattle ranches in the late nineteenth and early twentieth centuries.
Climate In Cottonwood Falls
Summers in this region are hot and humid, with mild to cool winters. In Cottonwood Falls, the warmest month is July, with highs of 92°F and lows of 71°F on average. January is the coldest month, with highs of 41°F and lows of 23°F.
Population And Economy Of Cottonwood Falls
According to the most recent US Census estimates, the current population of Cottonwood Falls, Kansas, is 901. Whites make up the majority of Cottonwood Falls' racial/ethnic groups (90.1 percent), followed by Hispanics (3.9 percent) and Black people (3.7 percent). 
Cottonwood Falls' economy employs 274 people. The biggest industries are Manufacturing, Educational Services, and Health Care & Social Assistance, with the best paying industries being Health Care & Social Assistance ($44,167), Manufacturing ($41,000), Educational Services, and Health Care & Social Assistance ($39,375).
Attractions In Cottonwood Falls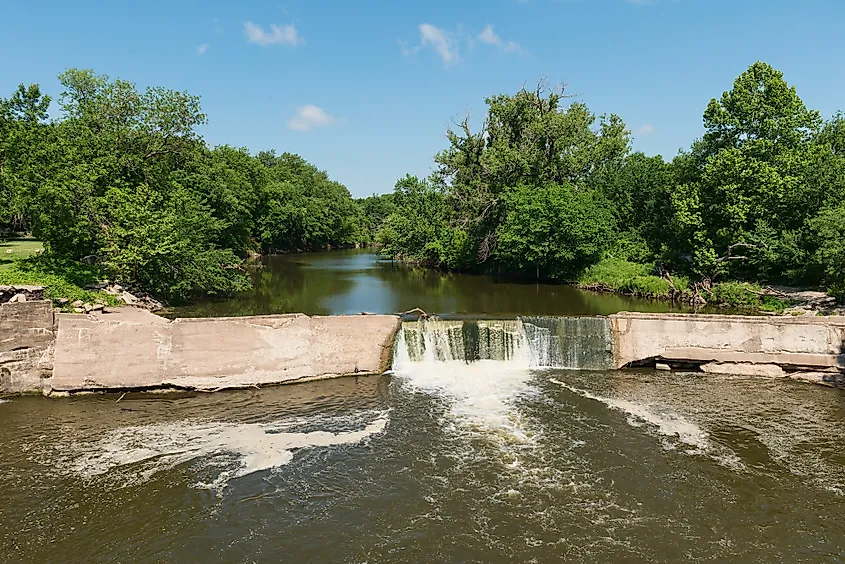 1. Chase County Historical Society Museum & Library
The two-story, native stone edifice was built in 1882 and was home to the Chase County National Bank, which functioned until 1928. In the years that followed, the building was home to several businesses. In 1976, the Chase County Historical Society purchased the building and converted it into a museum, library, and office.
2. Cottonwood River Dam & Bridge
The Cottonwood Dam area, which was added to the National Register of Historic Places in 1985, is a popular spot for viewing catfish fishing from the bridge. Visitors can take a break and listen to the soothing sound of the falls. Bates Grove Park, located north of the river, has picnic areas.
3. Chase County Historical Society Museum
Educative events and artifact and memorabilia displays at the Chase County Historical Society Museum help visitors learn about the local area. Researchers can also access newspaper and genealogical information on the spot.
4. Roniger Memorial Museum
The Roniger Memorial Museum is a one-story edifice created in memory of Mrs. Elizabeth Roniger. It holds a collection of Native American artifacts and historical materials from Chase County.
5. Jones Park
Jones Park, a city park in Emporia, offers a variety of activities and events for the community's youngsters. Fishing, baseball, disc golf, shuffleboard, and a playground for younger children are all available.