Maine, famous for its succulent lobster, charming, peaceful towns, and pastoral views of the autumn foliage, stands out as one of the more popular getaway destinations for many tourists from all across the country. Situated in the northeastern corner of the continental United States, Maine, and its charming towns offer naturalistic freedom from the hustle and bustle of metropolitan cities for all. Listed below are nine of the most charming, quaint towns Maine has to offer visitors and locals alike, from Rangeley, located deep within the mountains in the upper half of the state, to Bar Harbor and Boothbay Harbor, idyllically positioned just off its southern coastline.
Rangeley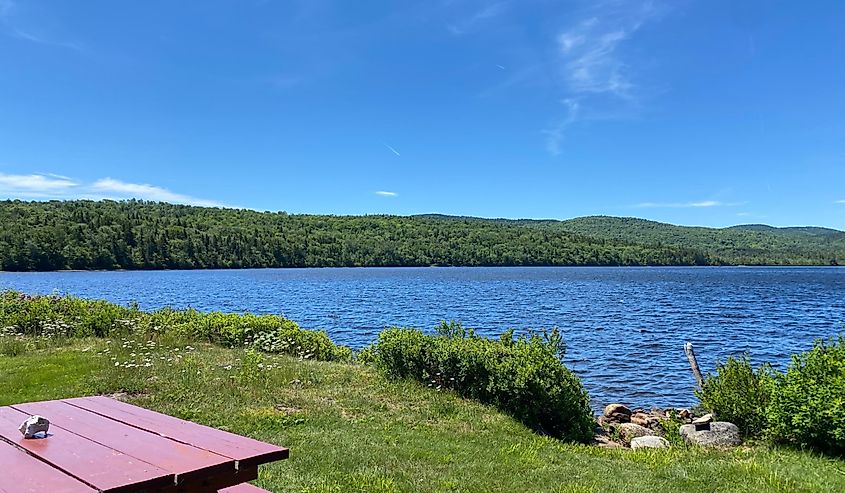 Rangeley is a charming place to vacation, whether you own a camera or a fishing pole, or just want to get away from the hustle of the big city for a short time. People know Rangeley, located deep in the mountains of Maine, for trophy-winning brook trout and stunning views of the scenic landscape. River's Edge Fishing charters fishing tours for Rangeley and Mooselookmeguntic Lakes offer the avid fisherman plenty of enjoyment, with the White Nosed Pete Fly Fishing Festival in June. There are also horse and wagon rides in the late summer and foliage and birdwatching in autumn. In the winter, Rangeley has almost 200 miles of groomed snowmobile trails, with a free snowmobile weekend (no reciprocity needed) almost every month.
Camden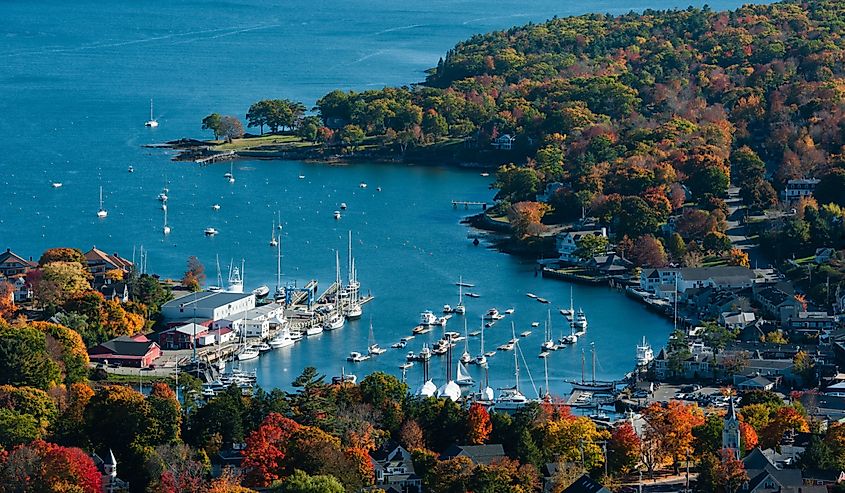 Mount Battie, located in the southeastern part of Lincoln County, provides an excellent view of the charming seaport of Camden, as well as its picturesque harbor, dotted with the sails of boats, colored every hue the rainbow has to offer. This viewpoint from atop Mount Battie also offers a breathtaking sight of the plethora of islands just off Maine's coastline. You can best enjoy Camden's scenic beauty during autumn when the foliage changes from green to various hues of red, orange, and yellow, but it is almost as charming the rest of the year as well, in Camden Hills State Park, which offers over 30 miles of hiking trails, providing photographers with stunning views of Megunticook Lake, as well as the Atlantic Ocean. The Merryspring Nature Center, a nonprofit, 66-acre park, also offers delightful views of many specialty gardens and ten different nature trails for the avid hiker.
Kennebunkport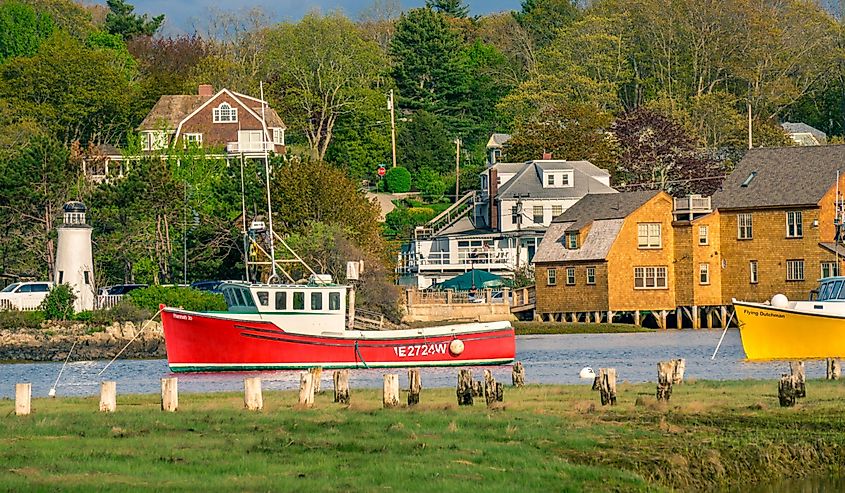 Kennebunkport, established in 1653 as Cape Porpus, was abandoned by the European settlers in 1689 and re-established in the early 18th century when it was renamed Arundel. It changed its name a third time, becoming Kennebunkport in 1821, less than a year after Maine was admitted to the Union, due to shipbuilding and trade along the banks of the Kennebunk River. Several attractions make Kennebunkport a charming place to visit, including the Historic District, added to the National Register of Historic Places in 1976, Goose Rocks Beach and Colony Beach, and Ganny's Garden, dedicated to former First Lady Barbara Bush for her service to the community of Kennebunkport and for her love of books and mismatched sneakers.
Cape Elizabeth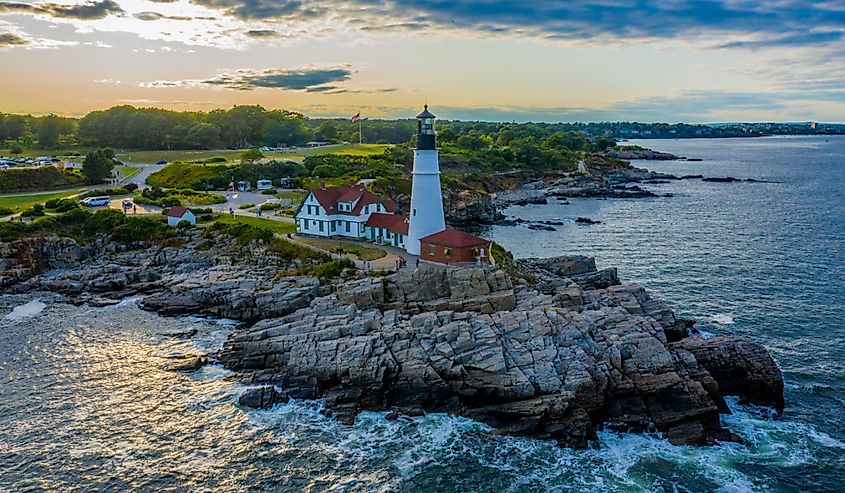 The picturesque, charming town of Cape Elizabeth was first mapped as a nameless headland as early as 1529 by a Spanish cartographer. It received its name almost a hundred years later when John Smith named it after Princess Elizabeth, the sister of Charles I of England. In November of 1765, it officially became Maine's 23rd town. Now, Cape Elizabeth is best known for being the birthplace of Joan Benoit Samuelson, the first winner of the Women's Olympic Marathon, and for the Portland Head Light, the most photographed lighthouse in America. The Edward Hopper Lighthouse Hill considered the most famous lighthouse painting in the world, was painted in Cape Elizabeth.
Wiscasset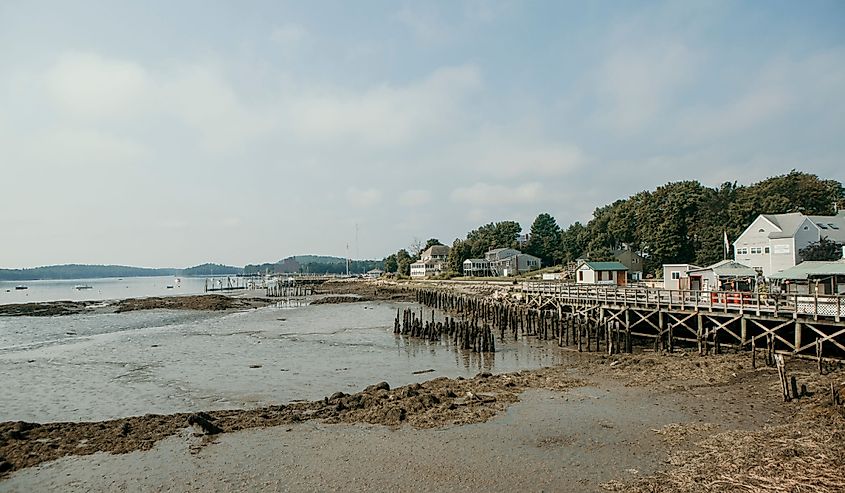 The charming town of Wiscasset was first settled in 1660 by European settlers. It was abandoned during the French and Indian Wars and King Philip's War in 1675 and resettled much later, common with many other towns in Maine. Situated on the banks of the Sheepscot River in Lincoln County, Wiscasset offers many attractions to visitors, including the Chewonki Foundation, a non-profit institution offering educational programs with an environmental focus, and Monkey C Monkey Do, a three-level ropes course and adventure park. Wiscasset, considered to be a municipality more than a town, is most famous for Castle Tucker, a historic mansion located just south of town.
Old Orchard Beach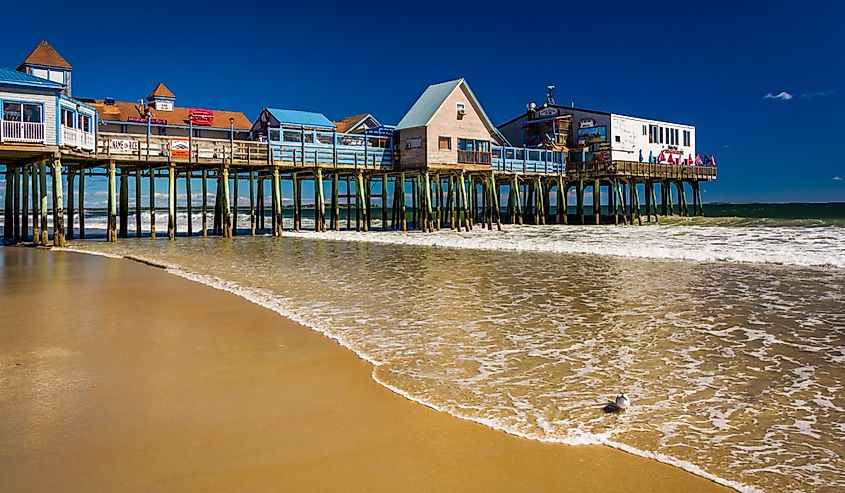 On everyone's to-do bucket list, the charming town of Old Orchard Beach was nicknamed the "Garden by the Sea" by Thomas Rogers. Whether you are checking out the famous Old Orchard Beach Pier, with its many shops and stores, the Pirate's Cove, known to be the number one outdoor activity in the area, or even catching a musical group down at the Seaside Pavilion, there is always something to do in Old Orchard Beach. There are seven miles of pristine beach, consistently voted to be one of the best beaches in the country, providing lots of room to move around for surfers, swimmers, and sun-bathers alike, and several other attractions, like the Palace Playland, offer enjoyment to all ages.
Ogunquit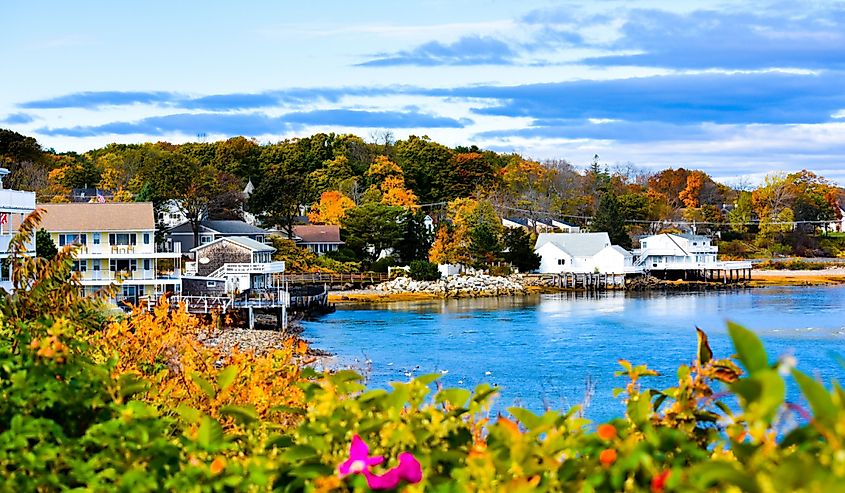 The charming, picturesque town of Ogunquit is between Portland and Portsmouth, therefore accessible to the activities available in both cities. Ogunquit radiates an idyllic, quaint, colorful quality most towns seem to miss out on, with a population of fewer than 1,000 people. Several photographic opportunities await professional and amateur photographers. The Marginal Way Walkway, slightly under a mile and a half in length, provides stunning views of the cliffs, and the flat sands of Ogunquit Beach, offering visitors easy walking, making Ogunquit one of the most walkable communities in Maine, which is nice, especially after a multiple hour car-ride across the country to get there.
Bar Harbor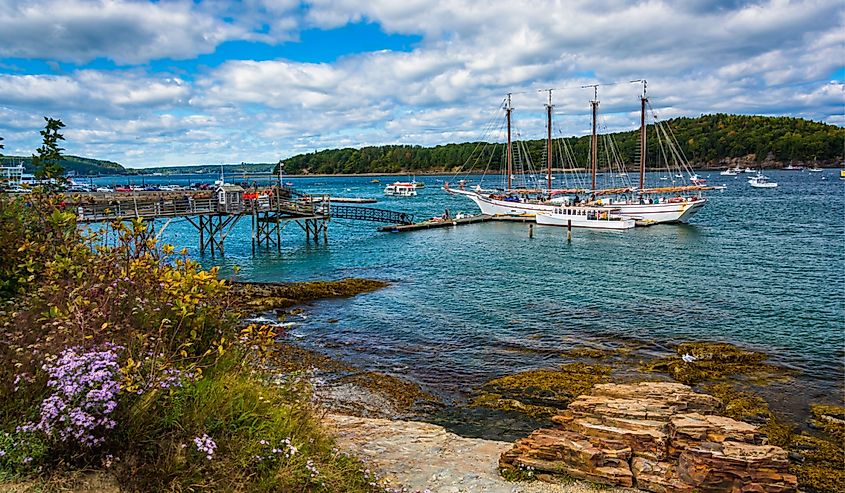 Bar Harbor is on the eastern side of Acadia National Park. It began its existence as the town of Eden at the end of the 18th century and then changed its name in 1918 due to the presence of a sandy bar seen during low tide. Bar Harbor's small-town attitude and quaint, charming style, not to mention its proximity to Acadia National Park, offers guests an abundance of natural activities, as well as many individually catered attractions geared toward the great outdoors. Some of the more well-known enticements near Bar Harbor are Cadillac Mountain, considered to be the highest point in Hancock County, the Wild Gardens of Acadia, containing over 400 native species of plants, and the Beehive Loop Trail, most popular with the more extreme adventurists.
Boothbay Harbor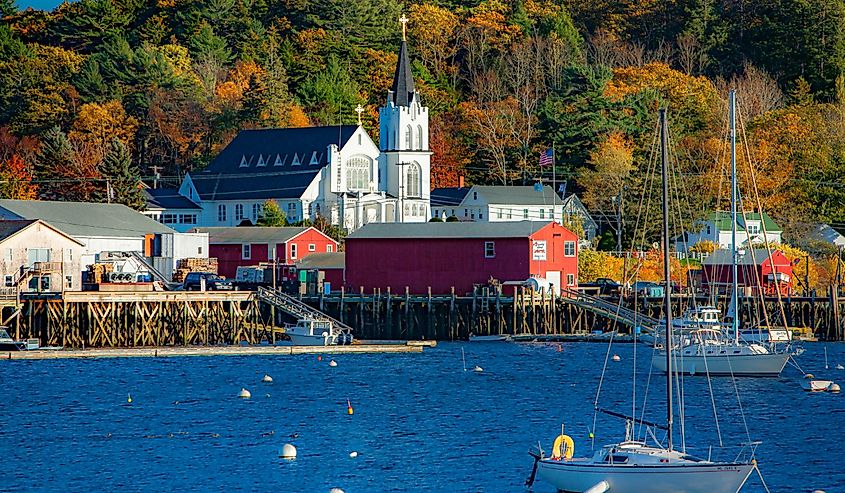 Boothbay Harbor, located on the southern coast of Maine, was first established in the 17th century by English settlers. Reestablished nearly a hundred years later by those of Scottish-Irish descent, the Boothbay Region, and the villages it includes – Bayville, Sprucewold, and West Boothbay Harbor – make it the epitome of a quaint, charming, down-east town. Barrett Park, located on Linekin Bay, provides outdoor adventurers with swimming, fishing, and hiking opportunities while Damariscove Island, situated just off the harbor, offers mountain-biking tours, not complete without sampling a famous Maine lobster roll. Boothbay Harbor boasts a variety of famous people, including the comedian Tim Sample, as well as Jay Zeamer Jr, a US Army Air Forces pilot who fought in World War I and was a recipient of the Medal of Honor.
Whether you and your family are looking for a peaceful, charming town to get away from the big city hustle and bustle, you want to take your spouse on a romantic getaway, or you only want to be alone with the peaceful aspects of nature for a short time, there is a town in Maine for you. Remember to rest, relax, and rewind and, for whatever reason you are looking, these nine charming towns might be just what you are looking for.