9 Most Beautiful Cities In Wisconsin
Wisconsin, located in the United States, boasts of some of the most exquisite landscapes that are perfect for nature enthusiasts and outdoor adventurers. With a plethora of natural beauty, ranging from rolling hills to immaculate lakes, the state provides endless opportunities for exploration. Its cities are no less spectacular, each featuring unique geographical aspects, including mountains, rivers, and state parks. Whether you're in search of a brief escape or a long-awaited vacation, the nine most scenic cities in Wisconsin offer a diverse selection of attractions and outdoor activities to engage in.
Wisconsin's topography is renowned for its perplexing and multi-dimensional characteristics, and this is evident in the stunning landscapes that it holds. The state's breathtaking sceneries are perfect for those seeking an escape from the humdrum of city life.
Madison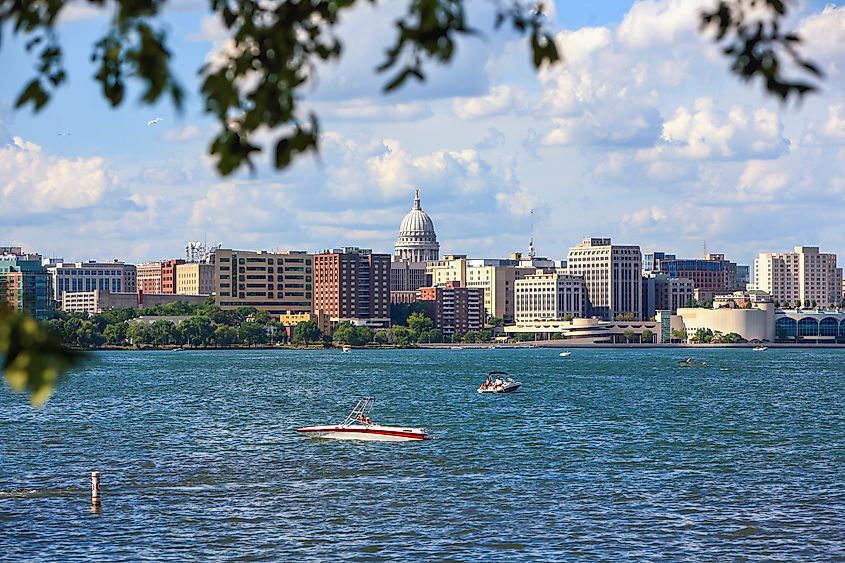 The capital city of Wisconsin, Madison, lies right in the center of the state and offers stunning views of Lake Mendota and Lake Monona. There is a ton of outdoor activity close by including Devil's Lake State Park where you can see the stunning Baraboo Range. If you enjoy being outside, there are several biking routes to rip up or you can unwind by taking a stroll in the University of Wisconsin-Madison Arboretum, which is teeming with local wildlife and vegetation. The city has a rich history which is seen in the architecture and designs of the city. The museums, galleries, and theaters in Madison's art scene are top-notch and packed with cultural significance. Madison is a unique destination that has it all. From mind-blowing views to an abundance of cultural opportunities. 
Milwaukee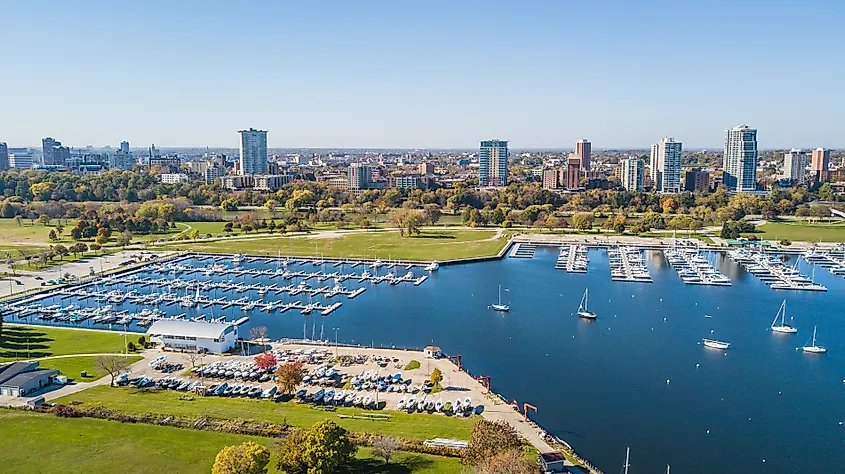 Milwaukee, which lies near Lake Michigan, is a truly beautiful location that blends urban and natural sensations unlike any other. The largest city in Wisconsin. It offers tons of amazing attractions including the Milwaukee Art Museum, which houses over 30,000 works of art and is a must-see for art enthusiasts. There are also several beautiful parks in the area including the utterly awesome Kettle Moraine State Forest. With its over 22,000 acres, this one is ideal for outdoor enthusiasts wishing to enjoy some hiking, camping, or cross-country skiing. All things considered, Milwaukee is the ideal location for any traveler to visit if they want to see both fresh natural scenery and city lights.
Door County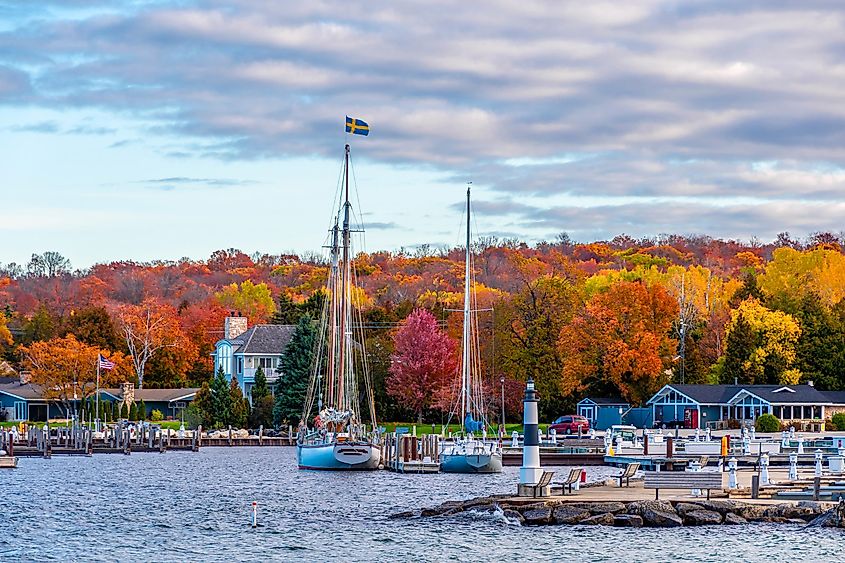 The picturesque Door County, a stunning wilderness full of adorable tiny villages, is tucked away on a narrow strip of land between Lake Michigan and Green Bay. There are numerous state parks in the region, the most impressive of which is the Peninsula State Park, which provides breathtaking panoramic views of Lake Michigan and makes the ideal retreat for campers and bushwalkers alike. Fish Creek, Ephraim, and Sister Bay are all quaint little villages in their own right, complete with narrow streets made of cobblestones, adorable stores, art galleries, and mouthwatering restaurants. But the overpowering sensation of serenity and independence from the daily commotion is what makes this place truly remarkable. Bird viewing, canoeing, and even underwater explorations can be enjoyed by nature enthusiasts in Green Bay's crystal-clear waterways. You'll be in awe of the incredible sky and water combination created when the sun sets in this quiet retreat.
La Crosse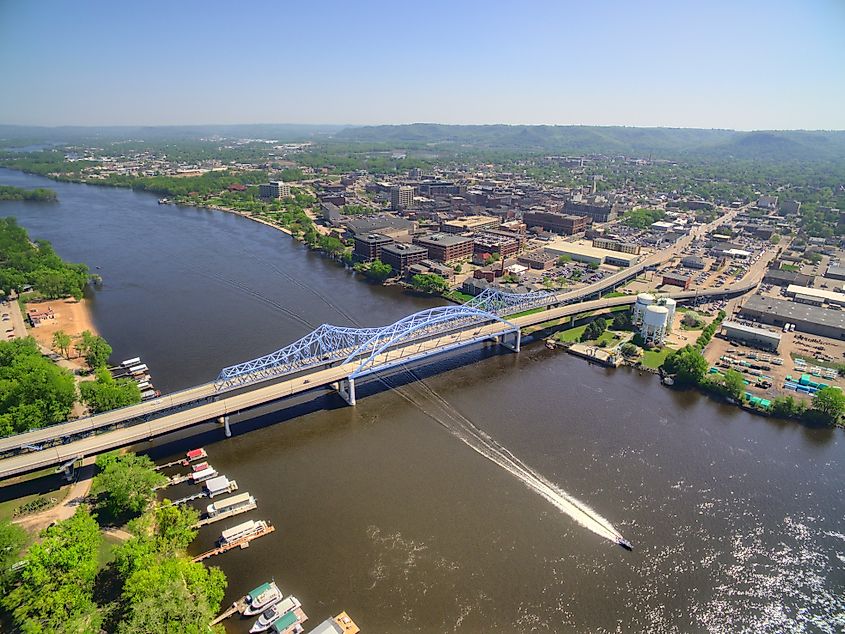 La Crosse, which is nestled directly by the enormous Mississippi River. It will astound you with its breathtaking views of the river and the high cliffs that surround it. There are so many cool parks in this area. Riverside Park is unquestionably the best. You'll find a fantastic water feature, fantastic hiking routes, and breath-taking lookout points here. The Great River State Trail which offers more than 24 miles of amazing biking routes that follow the river at every turn. It is a must-see for everyone who enjoys the great outdoors. 
La Crosse stands out because of its position which puts you in the center of some of the most stunning natural beauty available. Your senses will be taken on a journey by the bike tracks themselves. As you ride through the meandering roads, you'll be astounded by the way the Mississippi River's glistening water meets the rich bluffs' foliage. La Crosse is a wonderful hidden treasure that will provide you with an exceptional experience when you're looking for a respite from the bustle of city life. 
Green Bay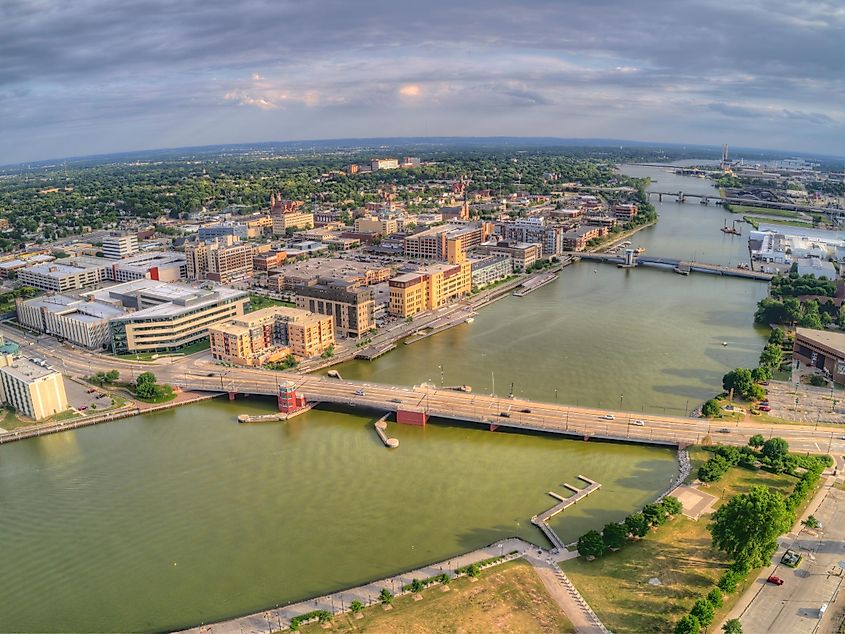 The Green Bay Packers, a legendary football club. It represents the city of Green Bay on the shores of Lake Michigan. Yet it has more to offer than just that. The beautiful Bay Beach Wildlife Sanctuary is just one of the fantastic parks in the area. This area is massive which covering over 700 acres. It is full of wonderful things like marshes, woodlands, and prairies. It's like a quite sanctuary in the center of the city where you can unwind and enjoy some breathtaking scenery.
The Bay Beach Wildlife Sanctuary makes you feel as though you're in a whole different setting as you explore it. The marshes are so unbelievably calm in contrast to the forest, which is alive with all different kinds of birds squawking away. Moreover, there is the Bay Beach Amusement Park, which offers a variety of entertaining rides and breathtaking views.
One of those places with a little something for everyone is Green Bay. There is something for everyone. Whether you enjoy sports, the outdoors, or just simply getting your heart pounding. The attractions are beautiful and the parks are lush. You're going to adore this city because it's teeming with natural beauty and adventure.
Eau Claire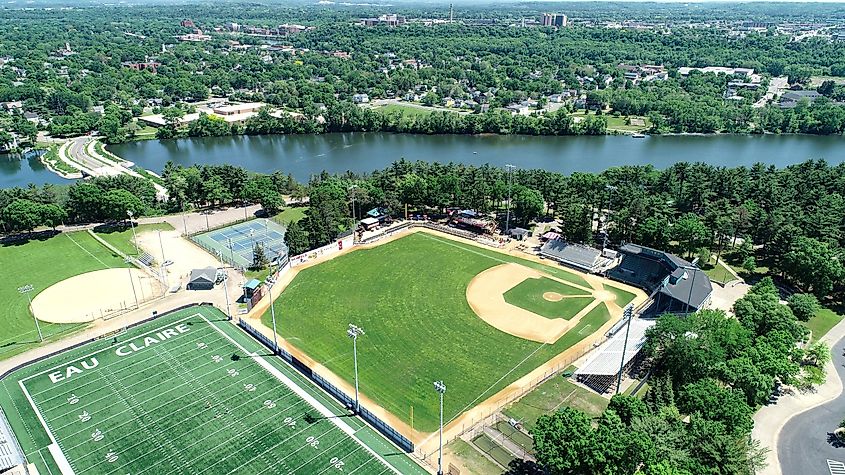 A wide variety of state parks, including the well-known Brunet Island State Park, surround the lovely city of Eau Claire in western Wisconsin. This park draws outdoor enthusiasts because of its superb hiking, boating, and fishing options. Exploring the numerous bike routes spread out over the city will provide bicycle enthusiasts with much to do as well. A particularly attractive route that provides breathtaking views of the flowing river is the Chippewa River State Trail.
Eau Claire is undoubtedly a location to go if you want a unique experience. You can explore Brunet Island State Park for days on end. You can embark on a bicycle trip along the Chippewa River State Trail. Whatever you decide to do, there is something unique about this wonderful city.
Lake Geneva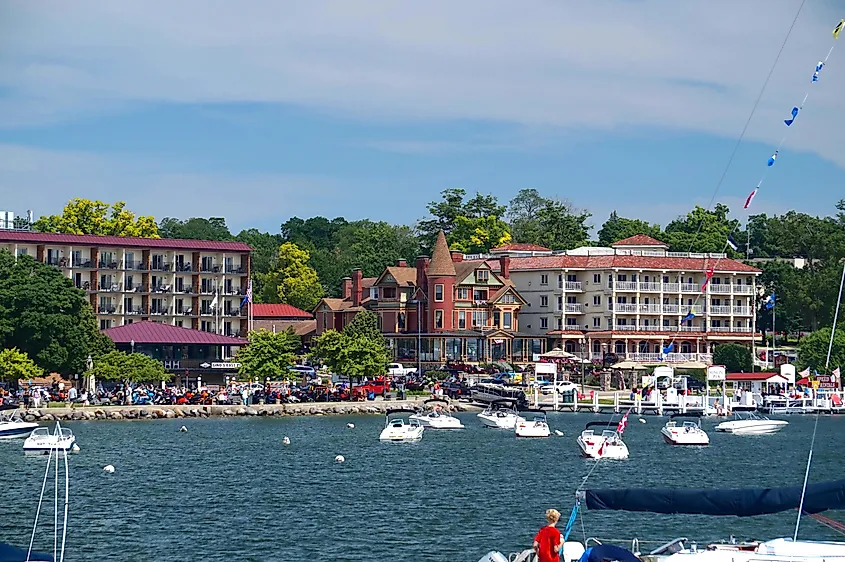 Situated in the southeastern region of Wisconsin, lies the renowned Lake Geneva, celebrated for its awe-inspiring vistas of the lake and its adjacent hills. The expanse offers visitors the chance to discover the city's historical abodes, or perhaps take a riveting watercraft tour that presents a dazzling panorama of the shoreline. The locale also boasts numerous parks, among which is the renowned Big Foot Beach State Park. This verdant haven spans over 2,000 feet of fine-grained, sandy beach, and affords remarkable opportunities for swimming and angling alike.
Lake Geneva is a place where people can bask in the magnificence of the natural world, while simultaneously relishing in the splendor of its human-made counterparts. Its tranquil waters, coupled with its lush foliage, create an atmosphere of serenity and tranquility. Indeed, it is a veritable paradise on earth. With such abundant natural beauty on offer, it is no wonder that Lake Geneva continues to entice and enchant people from all walks of life. So why not pay it a visit and immerse yourself in its serene surroundings?
Wausau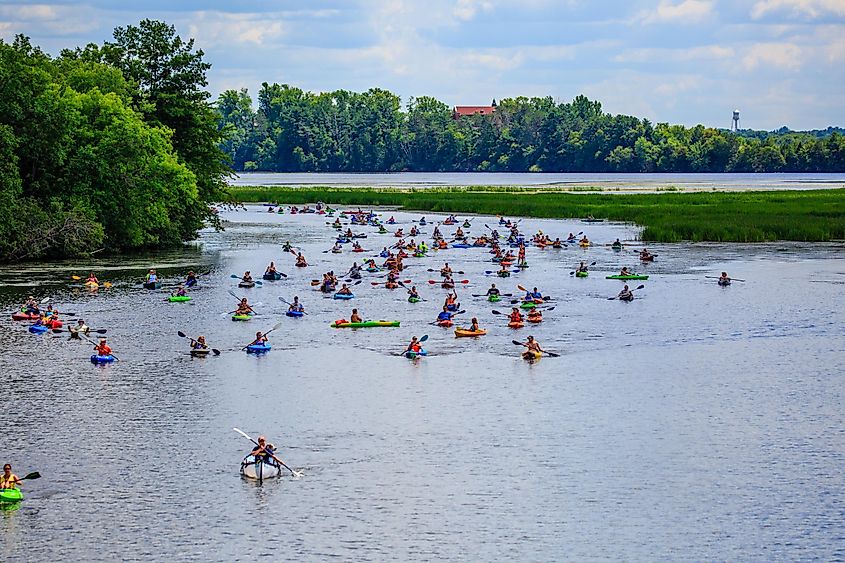 Wausau, a city surrounded by a number of lush state parks, notably the incredibly well-liked Rib Mountain State Park. It is located right in the middle of Wisconsin. You'll be in awe of the breathtaking vistas of the surrounding countryside. You can relax and let the tranquility of nature wash over you. You can go on a short trek into the woods. As for winter sports enthusiasts, Granite Peak Ski Area has you covered. The skiing and snowboarding activities, considered among the finest in the Midwest. Making it ideal for thrill-seekers looking to pump up their adrenaline.
Wausau has everything! A wonderful fusion of urban living, rugged adventure, and the splendor of Mother Nature. You won't find a similar experience anyplace else! 
Ashland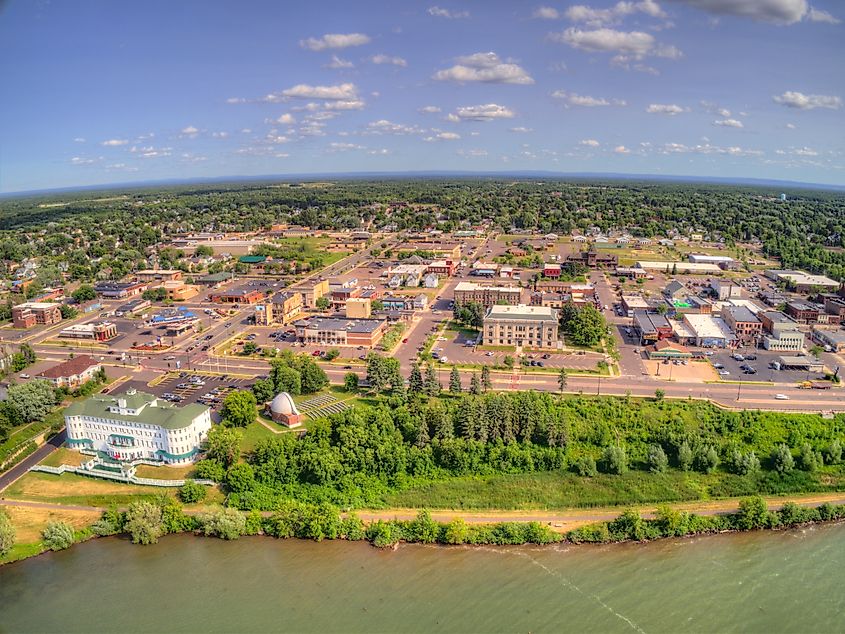 The captivating town of Ashland which is hidden next to the enormous Lake Superior. It provides visitors with an outstanding view of the lake's stunning beauty and the area's thick forests. The city has a ton of parks, but Chequamegon Bay, with its remarkable 12-mile length and stunning shoreline, draws a lot of visitors who want to go swimming, boating, or fishing. The Apostle Islands National Lakeshore, which is close by, is also well-known. With more than 21 islands and a breathtaking 12-mile length of unmatched beauty. It draws a ton of tourists year-round. 
Visitors will never forget their visit to Ashland because of its remarkable natural beauty, beautiful lakes, and lush surroundings. The city is in a great location for outdoor pursuits like skiing, hiking, and camping. The rich history and cultural diversity of Ashland which is reflected in its architecture and landmarks, add to the city's already extraordinary beauty. There are countless opportunities for exploration and discovery in Ashland. A visit there is sure to leave one speechless and yearning for more.
Wisconsin, an enclave of natural grandeur, boasts a melange of cities that proffer a gamut of outdoor activities and sightseeing opportunities. Whether you are seeking an adrenaline-fueled hike, a night under the stars, a skiing adventure, or a thrilling water sport experience, the nine most picturesque cities in Wisconsin are veritable oases of natural beauty that are a must-see for every nature aficionado and adventure seeker. Madison, with its resplendent lakes and Ashland, that flaunts a mesmerizing view of the grandeur that is Lake Superior, are just a few of the cities that will tantalize your senses and leave an indelible mark on your soul. So, pack your bags, get behind the wheel, and get ready to witness the ravishing beauty of Wisconsin's most splendid cities.