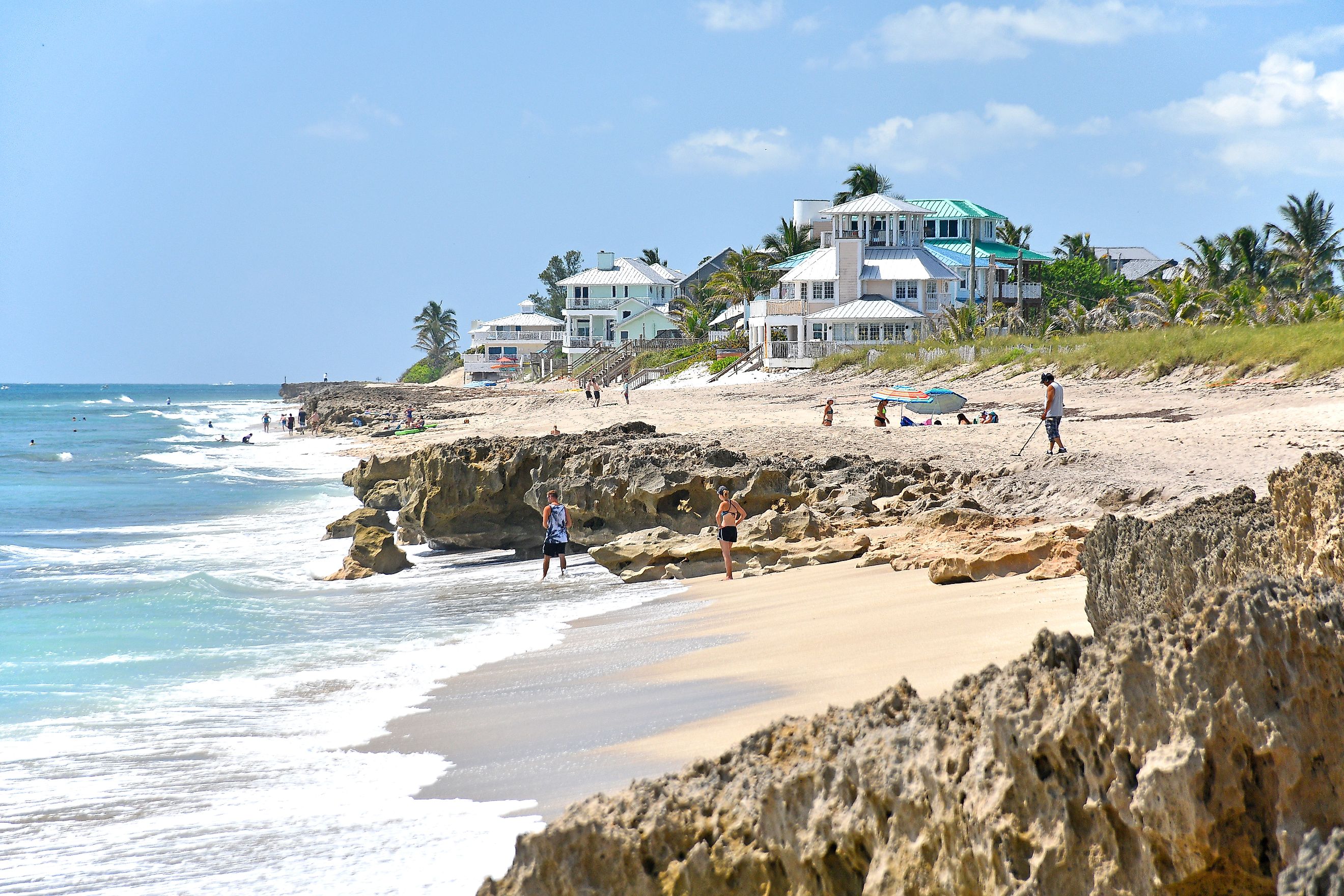 8 Towns in Florida's Emerald Coast That Have The Best Main Streets
Florida's Emerald Coast, often overlooked in favor of Miami or Orlando, is a veritable paradise, teeming with charm and natural beauty. Its pristine beaches and clear, green-tinged waters define the region stretching from Panama City to Pensacola. The charming towns along the coast offer a relaxed pace of life, with inviting main streets full of vibrant local culture, artisanal shops, delightful cafés, and tempting local cuisines. Whether it's leisurely coastal drives or gastronomic adventures, the Emerald Coast promises a captivating experience
Destin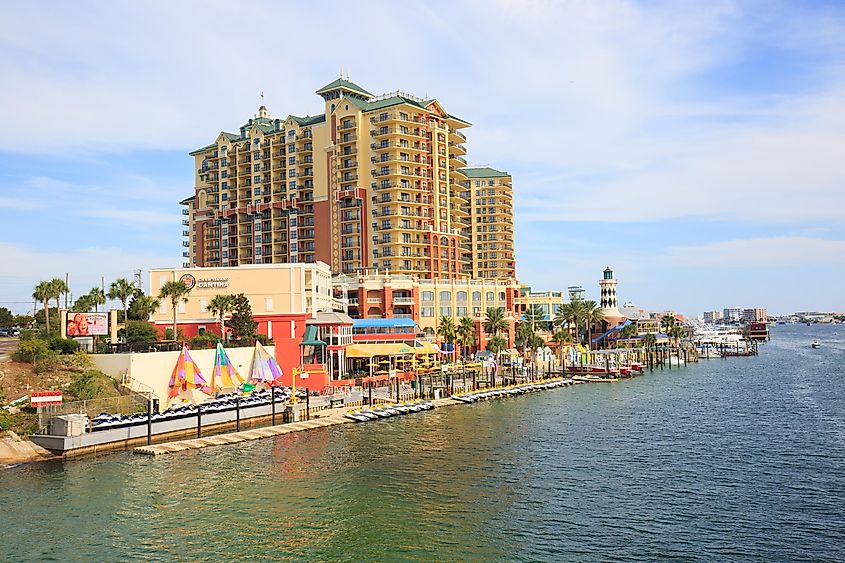 Destin is a lovely coastal community famous for its sand beaches graced with translucent green waters one would expect to see in the Caribbean, all on the laid-back emerald coast of the southern state of Florida. One of the best features of Destin is the town's thriving downtown, full of Spanish-style buildings built upon easily reversible streets, with one-of-a-kind bars and tasty restaurants with outdoor seating among palm trees scattered along Main Street. When visiting Destin, some must-see destinations include the famous Fudpucker's Gator Beach, where tourists can watch gators in their natural habitat and even have the chance to feed them! Henderson Beach State Park is another exquisite destination famed for its crystal clear blue waters and white sand shores. If visitors are more excited about water parks, Big Kahuna Water and Adventure Park are perfect for families visiting Florida's beloved Emerald Coast.
Mexico Beach
Beloved for Mexico Beach's "Old Florida Feel" and laid-back vibe, Mexico Beach is said to be an excellent option by many for a relaxing and fun family vacation. Mexico Beach, home to just 1060 residents, is a quaint community blessed with beautiful beaches. Still, one key feature not always mentioned is the town's strip of restaurants, shops, and inns, such as Mango Marley's, Killer Seafood, Caribbean Coffee & Cafe, and much more! When visiting Mexico Beach, ensure to stop by, of course, the famous Mexico Beach, Canal Park, Left Bank Art Gallery, Shell Shack, and Panhandle Adventures, or rent a kayak or paddle board with Barefoot Kayak & Paddle Board Rentals!
Cedar Key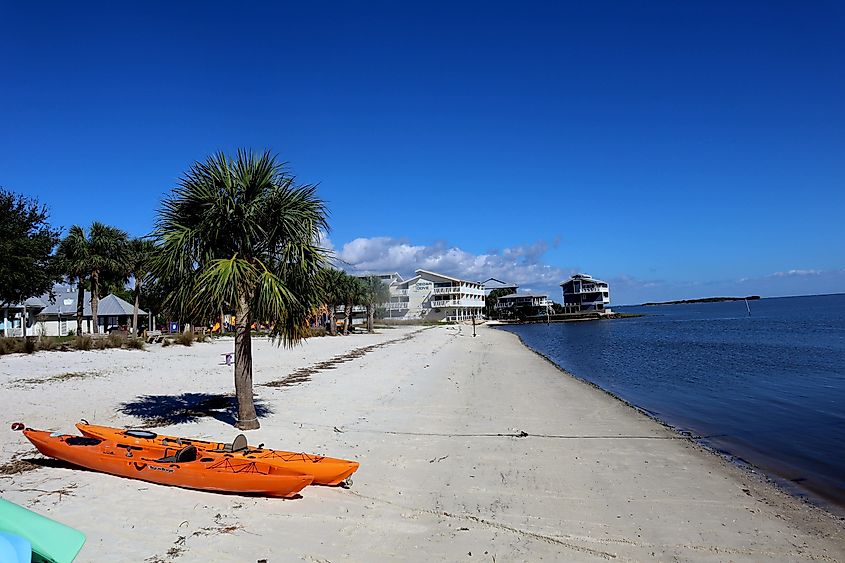 Cedar Key is a tiny yet mesmerizing community on Florida's magical emerald coast with a population of 700, which can be desirable for many seeking a laid-back vacation. The town's name, Cedar Key, derives from a 1542 Spanish map that referred to the area as "Las Islas Sabines," or "The Cedar Islands." The name "Cedar Islands" was about the plethora of cedar trees that formerly covered all the stunning barrier islands within the surrounding area. Cedar Key is just 4 miles into the majestic Gulf Of Mexico. When visiting this lovely town, check out Cedar Key's colorful and historic downtown, home to local restaurants such as The Tipsy Cow Bar & Grill, 2nd Street Café, and Annie's Café. After grabbing a tasty bite, experience local attractions such as Cedar Key Historical Society Museum, Lower Suwannee National Wildlife Refuge, Cemetary Point Park, and much more! After a fun day, Cedar Key offers excellent lodging options for relaxing in such a lovely seaside town.
Fort Walton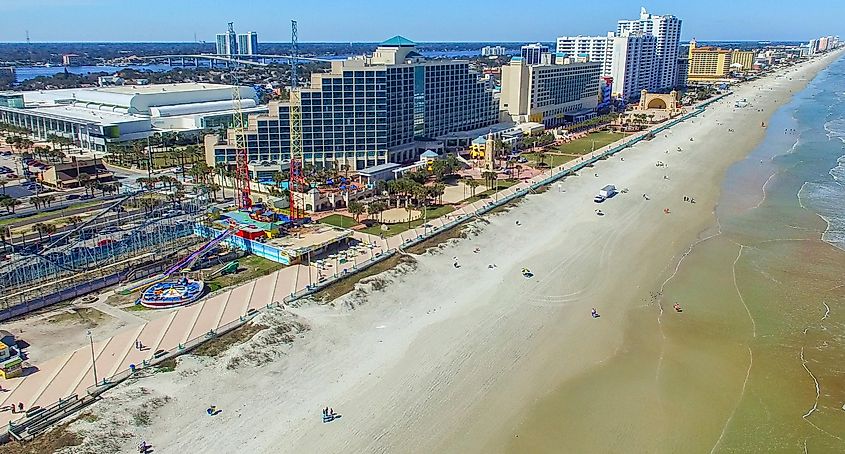 With a picturesque downtown graced with cute and colorful stucco buildings, home to classic small businesses, and not far from the relaxing beach and exciting attractions, Fort Walton has much to offer as an excellent tourism town of 20,879 residents! Some delicious food spots in FOrt Waltons downtown include The Boardroom Pub and Grub, Taste Tapas Wine & Bar, Bay Café French Restaurant, and many more locally beloved restaurants dually popular with newcomers and tourists. Some unique and exciting attractions include the Air Force Armament Museum, the stunning white sandy beaches of Okaloosa Island and its Pier, the Indian Temple Mound and Museum, the Gulfarium Marine Adventure Park, and the excellent Wild Willyès Adventure Zone!
St. George Island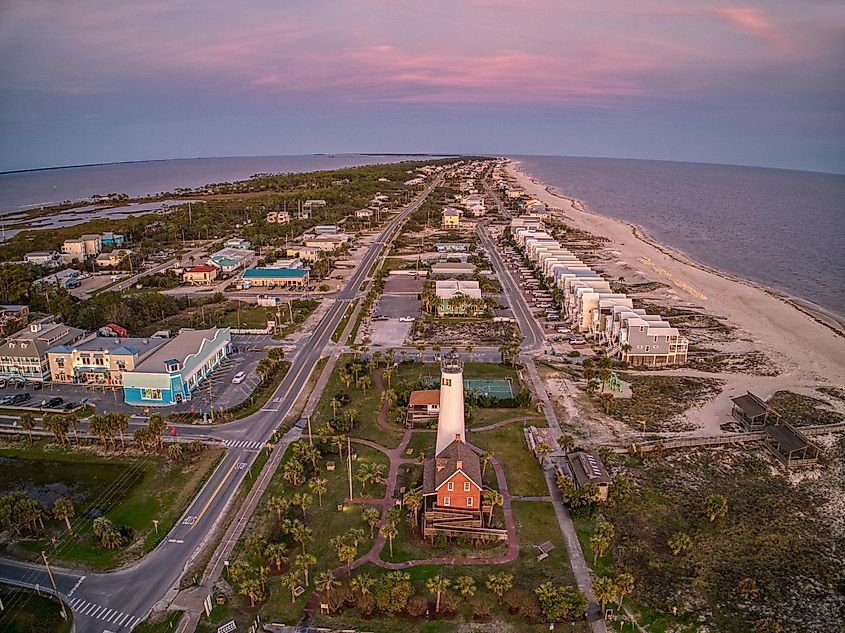 Palm trees, lighthouses, white sand, paddleboarding, and tranquillity are all impeccable features that tourists are destined to discover on the cherished; St. George Island on Florida's captivating Emerald Coast. This barrier island with dazzling waters is connected to a mainland Florida town named Eastpoint by the impressive 4-mile-long St. George Island Bridge, which reaches across the lavishing Apalachicola Bay. Once across the sparkling bay onto this slice of paradise off the Emerald Coast, tourists will undoubtedly fall in love with the beaches, parks, lighthouses, and peaceful atmosphere. On St. George Island, check in to one of the community's many high-quality and welcoming inns and bread & breakfasts. Once settled, a variety of activities await. St George Island Beach, Dr. Julian G. Bruce St. George Island State Park, East End Fishing Beach, and Unit Four Beach are all incredibly beautiful and popular spots for a fun day. Other activities include Jetskiing, John Gorrie Museum State Park, golfing, hiking, fishing, paddling, and experiencing the town's nightlife at Up To No Good Tavern and beyond.
Seaside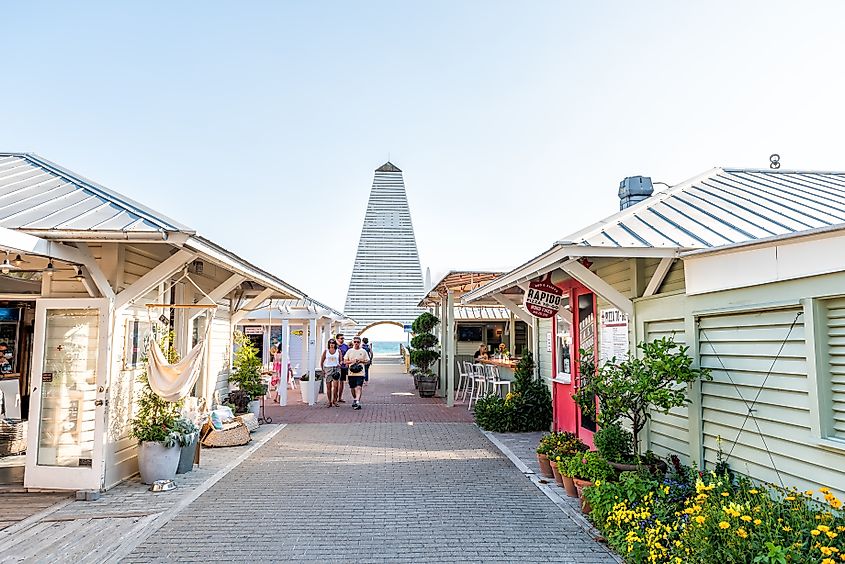 Envision a picture-perfect, bright, and calming town, the sun shining upon vibrant flowers along emerald-toned clear waters embraced by white sand, describing the lovely Seaside, Florida town. Seaside is one of the first-ever American communities designed on the unique principles of New Urbanism; this town has become the subject of lectures in architecture and housing design. Seaside is visited by design professionals from all over the United States Beaches. Seaside is a gorgeous town of bars, record stores, yachts, and boats visitors can rent. Due to the stunning design of this town, it's no doubt the downtown and main street of Seaside are gorgeous and pleasing to the eye, all while being vibrant with local restaurants, bars, shops, and more! It is also known for being the filming location of the Truman Show, which starred Jim Carrey. There are many reasons why Seaside was chosen to film, including beautiful structures such as the iconic town cross, which is located between a grand pyramid as well as a gorgeous lighthouse! Some great family activities in this lovely town include Food Truck Row for a delicious meal, Central Square for concerts and movies, or the Seaside Farmer's Market.
Panama City Beach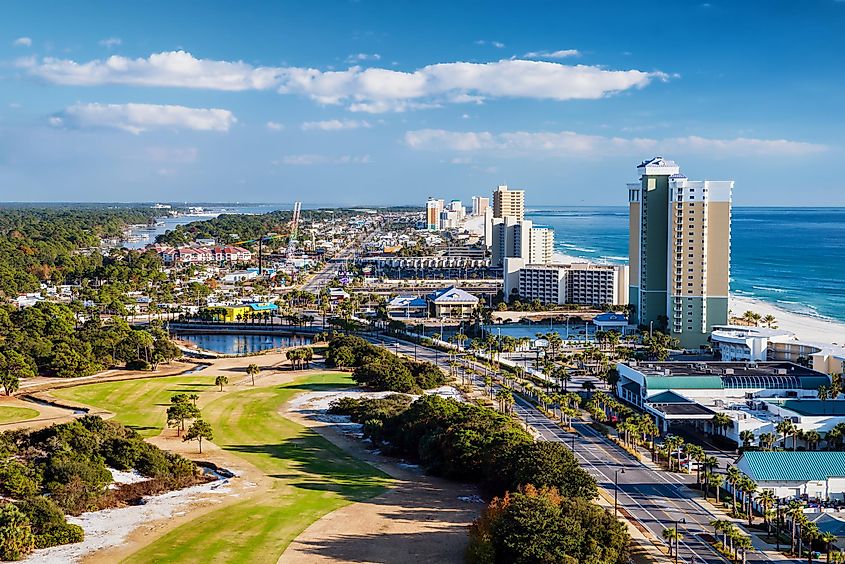 Panama City Beach is a beautiful resort town in Bay County, Florida, United States, on the Gulf of Mexico coast, sometimes called the Emerald Coast of Florida. This community of 18,094 people often uses the slogan which is "The Worlds Most Beautiful Beaches" This is mainly about the sparkling and soft white sands along the emerald-toned waters of the coast of the town, which is said to experience 320 days of sunshine, a year. Due to the prevalence of tourism in Panama City Beach, their downtown is vibrant for a town of barely over 18,000 and is adorned with local pubs, bars, diners, restaurants, boutiques, and beyond. Some downtown attractions include The Martin Theatre, Panama City Centre For The Arts, Panama City Marina, Pit Stop BBQ, The Place Downtown, Axe Throwing PCB, and The Brass Tap Craft Beer Bar! When visiting the great Panama City Beach, quite obviously, the communities beach of the same name is a must-stop destination; world-renowned and locally beloved, the sugary sands of Panama City Beach will never disappoint tourists. Other sensational yet relaxing spots include St. Andrews State Park, Panama City Beach Winery, Pier Park, ZooWorld Zoological Conservatory, Shell Island, Shipwreck Island Water Park, and Swampy Jacks Wongo Adventure!
Santa Rosa Beach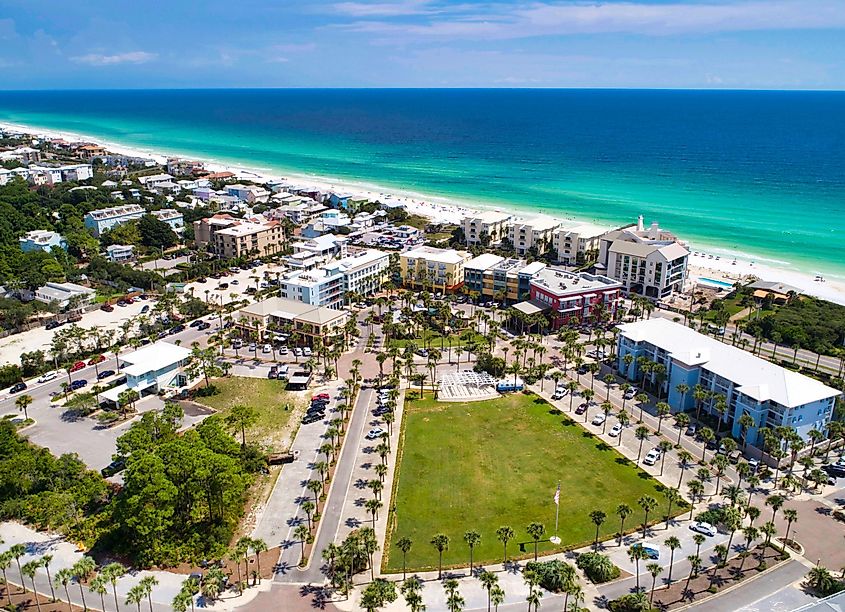 One of the 16 distinct beach neighborhoods in South Walton County, Santa Rosa Beach may be one of the most beautiful, with a marvelous downtown. Santa Rosa Beach is a quaint beach community of 14,028 people. It is home to hidden gems awaiting discovery, such as places such as the Local Market 30A, a low-key bar and music venue featuring live music, and a casual atmosphere for adults to enjoy after a tranquil day at the beach. When strolling through the colorful downtown of Santa Rosa Beach, tourists will experience warm winds, see colorful buildings, taste delicious food, and meet a welcoming community. When in this splendid beach town, it may be challenging to determine which sandy shores you'll desire to spend the day at. There are a plethora of fantastic beaches, such as Santa Rosa Beach, Grayton State Beach, Topsail Beach State Preserve, and Blue Mountain Beach, all perfect examples of clear turquoise waters and clean, white sands, bound to impress anyone who steps upon the soft sands of the town named Santa Rosa Beach and it's glorious shores.
In Conclusion
While many tourists may flock to Orlando, Tampa, Miami, and beyond, The Emerald Coast is inexplicably underrated in many ways. With every town discovered brings more redeeming features, unique communities, and splendid shores. With the welcoming communities built upon the Emerald Coast, paired with the natural beauty of the beaches of which they line, tourists will not look forward to the bittersweet departure from these lovely beach towns and their vibrant main streets full of exciting venues, delicious local dining spots, and distinctive architectural details. The Emerald Coast is the gem of Florida, and these underrated communities are waiting for you to strike gold; give the Emerald Coast a chance, and disappointment will seldom be.