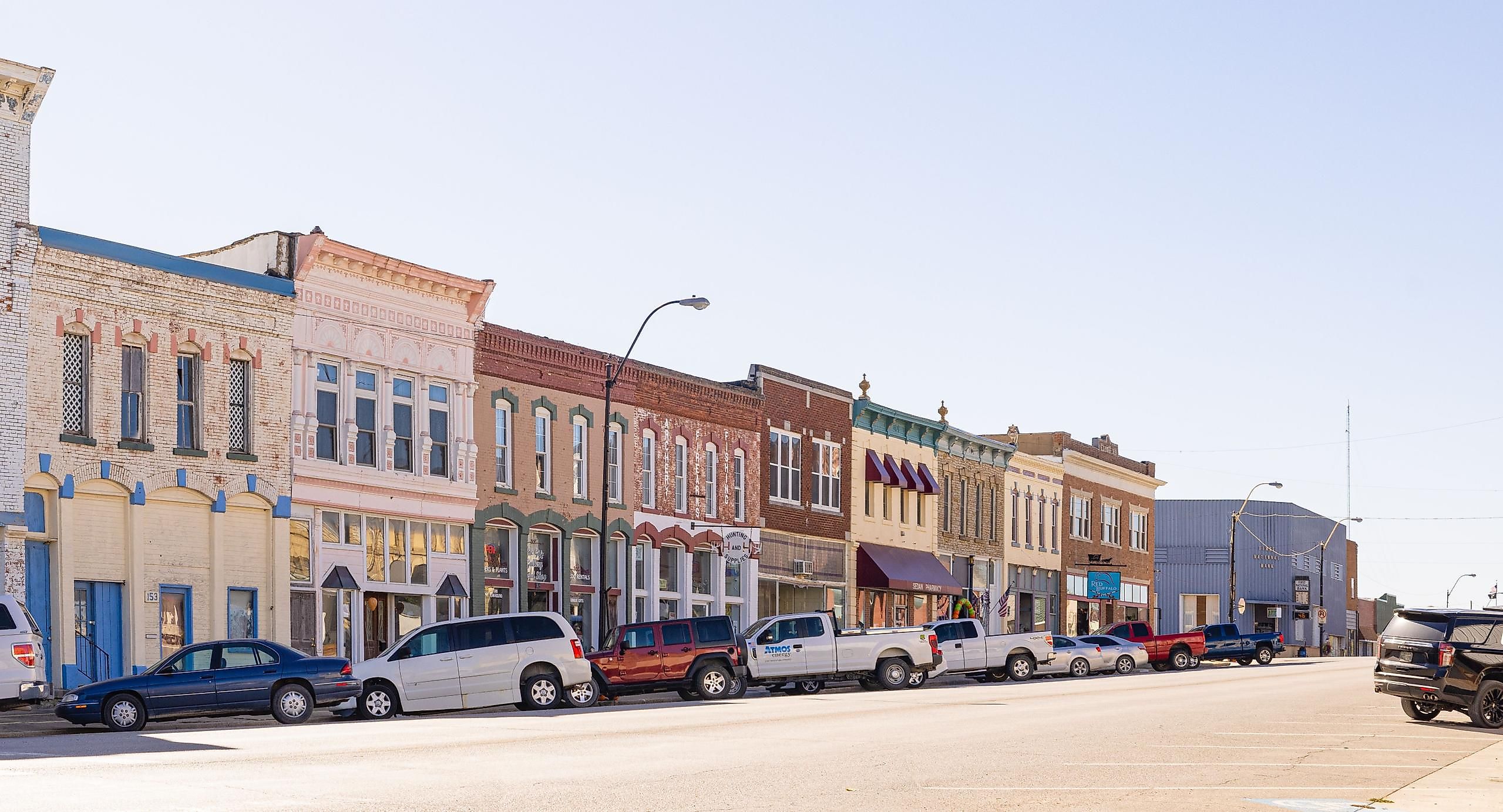 8 of the Most Unique Towns in Kansas
Kansas is often described as the "Heartland" of America and has plenty to offer visitors beyond the sweeping plains it's so well-known for. Venture beyond the better-known destinations within the "Sunflower State" and you'll find unexpected adventures at every turn.
Spread across this large prairie state are numerous unique towns just waiting to be explored, each exuding a unique character and charm all of its own. From the Swedish roots of Lindsborg to the artistic talents on display in Lucas, the historic trails of Council Grove to quirky Cawker City, the lesser-known corners of Kansas offer no end of opportunities to explore. Learn more about this amazing state and its many unique communities with this list of the most unique towns in Kansas.
Lindsborg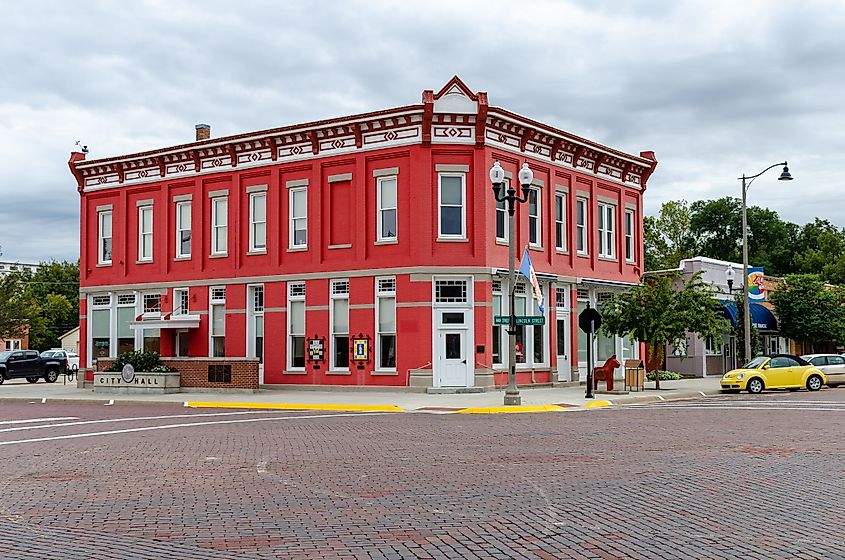 Located 70 miles north of Wichita, Lindsborg is about as close to the middle of the state as you can get. This small Kansas town is affectionately known as "Little Sweden" for the Scandinavian roots of its populace, with many of its 3,400 residents able to trace their heritage back to Sweden. The original Swedish immigrants arrived in the 19th century and chose to settle here to farm its rich soils.  
This European heritage is celebrated in the town's architecture, as well as its cultural events and activities. The most important of these, the popular Svensk Hyllningsfest festival, is held once every two years and celebrates the town's Swedish connection with traditional dancing, music, and costumes, as well as authentic crafts and food.
Looking for a great photo? Check out the colorful horse statues in the downtown area. Said to bring good luck, you can even buy a mini version of these traditional good luck charms to take home with you.
Lucas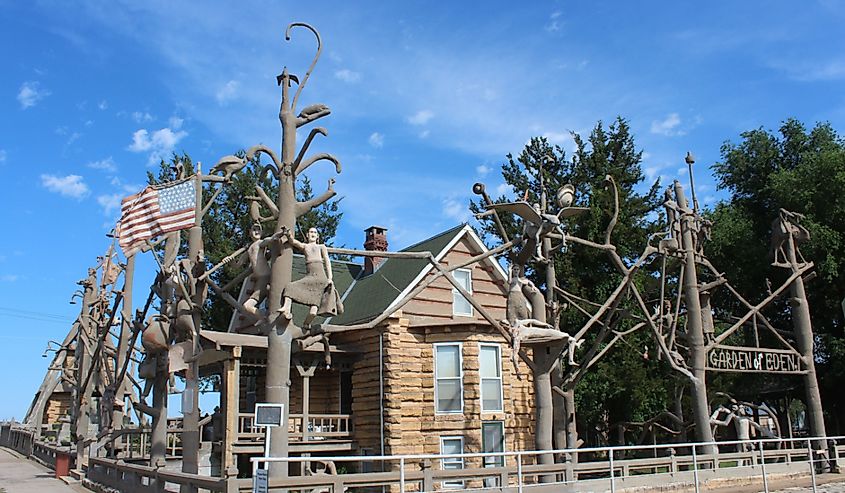 Despite having just 337 townsfolk, Lucas has built a substantial reputation as a cultural hub and is considered by many as rural Kansas' unofficial art capital. It was here that Civil War veteran and artist S.P. Dinsmoor moved in 1904 and established his Garden of Eden. Representing scenes from the Bible and the political scene at the time, this unique collection of tall limestone sculptures tower over the neighborhood and make for a great selfie.
Another art-centric attraction worth visiting is the Grassroots Art Center. Just a few blocks east of the Garden of Eden, you can see the work of local and other self-taught US artists who've embraced the "grassroots" art movement.
Cottonwood Falls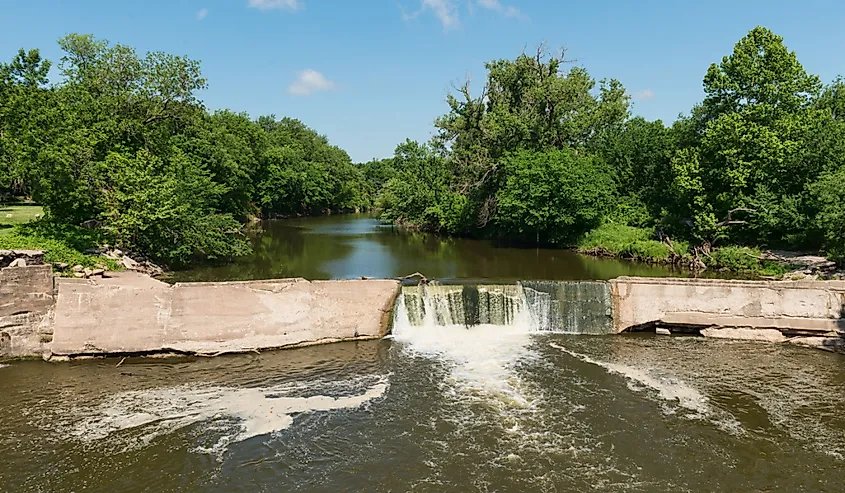 The population of Cottonwood Falls has the benefit of living in one of the prettiest settings in Kansas. Not only does this small town of just 820 people boast spectacular Kansas prairie views, but it's also where you'll find one of the state's prettiest waterfalls: Chase Lake Falls. Easily accessible via an easy-to-navigate trail, this pretty area also includes great views over Chase Lake itself.
Other unique features of Cottonwood Falls include its well-preserved historic downtown core. Here you can wander old brick-paved Broadway Street while shopping for locally made souvenirs in stores like Prairie PastTimes Arts & Crafts, or visit the Chase County Historical Society and Museum to learn more about the town.
Council Grove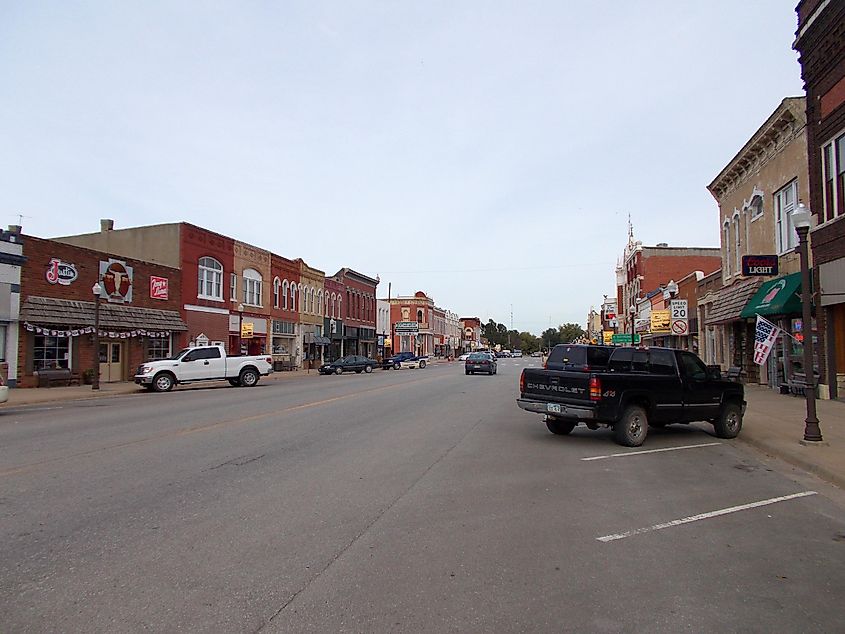 Here's one for history buffs. Named after the historic agreement made between the native Osage Nation and settlers heading west through the region on the famed Santa Fe Trail, Council Grove was an important staging point for the wagon trains of the 19th century. Some of the first buildings to be constructed here can still be seen, including Hays House, built in 1857 and still operating to this day as a restaurant.
Other important features include the majestic Guardian of the Grove statue. You can reach this monument commemorating the historic agreement that saw the town being established with a leisurely stroll along the picturesque Neosho Riverwalk.
Dodge City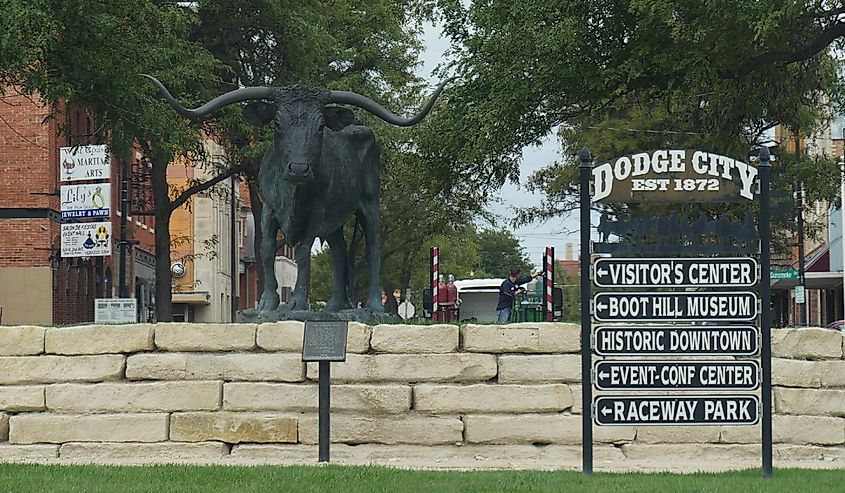 A staple of those old cowboy movies of the 50s and 60s, Dodge City is the epitome of those old Wild West towns of years gone by. Located in the southwest corner of Kansas, visiting Doge City today is like stepping back in time. Visit the iconic Boot Hill Museum and you'll find a realistic Old West street as the attraction's centerpiece, with well-preserved original buildings from the 1800s, including an original jailhouse, serving as a backdrop for everything from re-enactments of gunfights to scenes from the town's past.
Other unique things to do here include visiting the Gunfighters Wax Museum with its lifelike wax sculptures of famous Wild West characters including Chief Sitting Bull and Wyatt Earp. The town also holds fun festivals, rodeos, and parades celebrating this rich history.
Goodland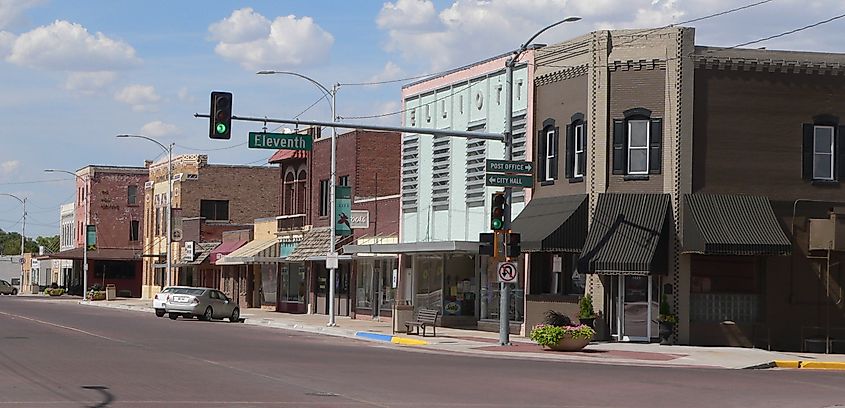 The small Kansas town of Goodland is another great place to visit if you're an art enthusiast. Established in 1887, the town's population of just over 4,450 residents is rightfully proud of one massive piece of artwork in particular: their Giant Van Gogh Painting.
Standing 80 feet tall on its giant easel, the Dutch artist's magnificent Three Sunflowers in a Vase has welcomed visitors since 2001 and carries on a tradition of similar giant paintings that started in Manitoba, Canada, a few years earlier. Measuring 24 feet by 32 feet, this vast painting makes for a wonderful (and safe!)  selfie stop in Kansas.
Sedan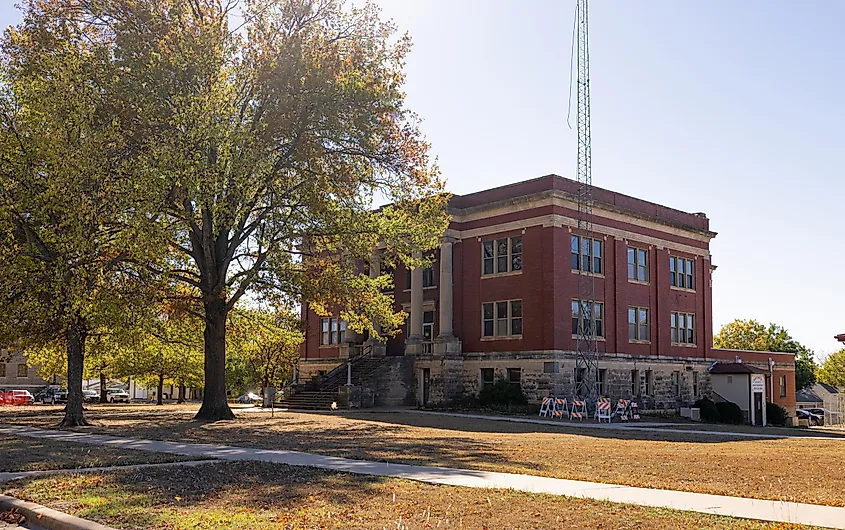 The small community of Sedan is another unique Kansas town with a creative heart. Just a short drive north of the state border with Oklahoma, this town of just 1,000 souls was founded in 1871 and prides itself on being home to the world's longest "Yellow Brick Road."
Themed after the famous road of the same name in the film The Wizard of Oz, Sedan's version of the Yellow Brick Road consists of 10,650 yellow bricks that form a path circling the downtown area. Each brick was paid for by townsfolk as well as residents of other communities across the USA. There's even a celebrity section containing bricks provided by such legends as Whoopie Goldberg, Bob Hope, and Elizabeth Taylor.
Cawker City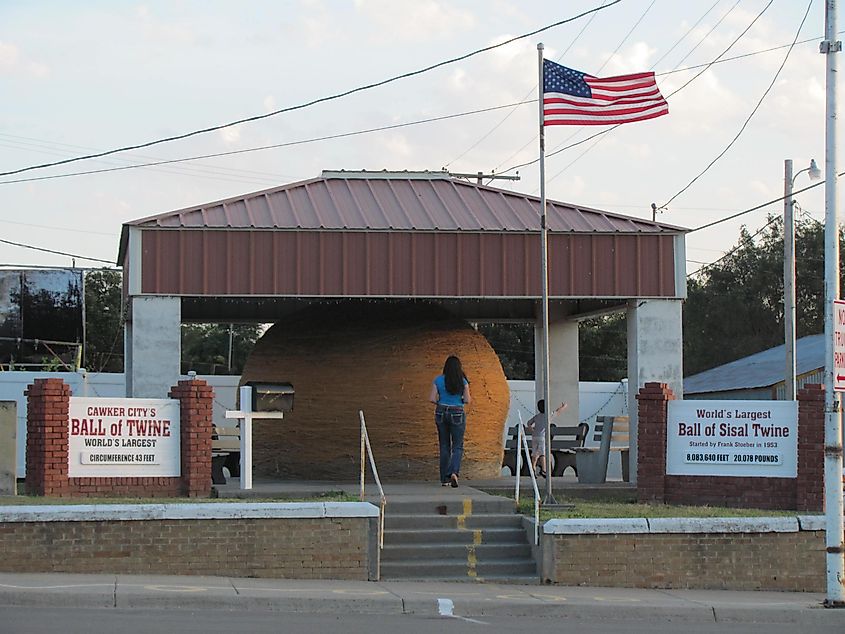 Cawker City is home to yet another record-breaking accomplishment that Kansans are proud of. Located adjacent to Waconda Lake and Glen Elder State Park in central Kansas, this town of just 447 people is where you'll find the world's largest ball of twine. Started by a local resident in 1953, the ball has grown over the years to its present size of over 8 feet in diameter.
Standing nearly 11 feet in height, it weighs an impressive 10 tons. The townsfolk are so proud of their achievement that they even built a shelter to protect their pride and joy from the elements.
The Final Word
The state of Kansas is not only considered the Heartland of the USA, but it's also home to some of the country's most interesting places to visit. From communities that look like they belong on the set of a Wild West movie to newer prairie towns that have made a name for themselves as artistic hubs, the most unique towns in Kansas have much to offer the curious traveller.