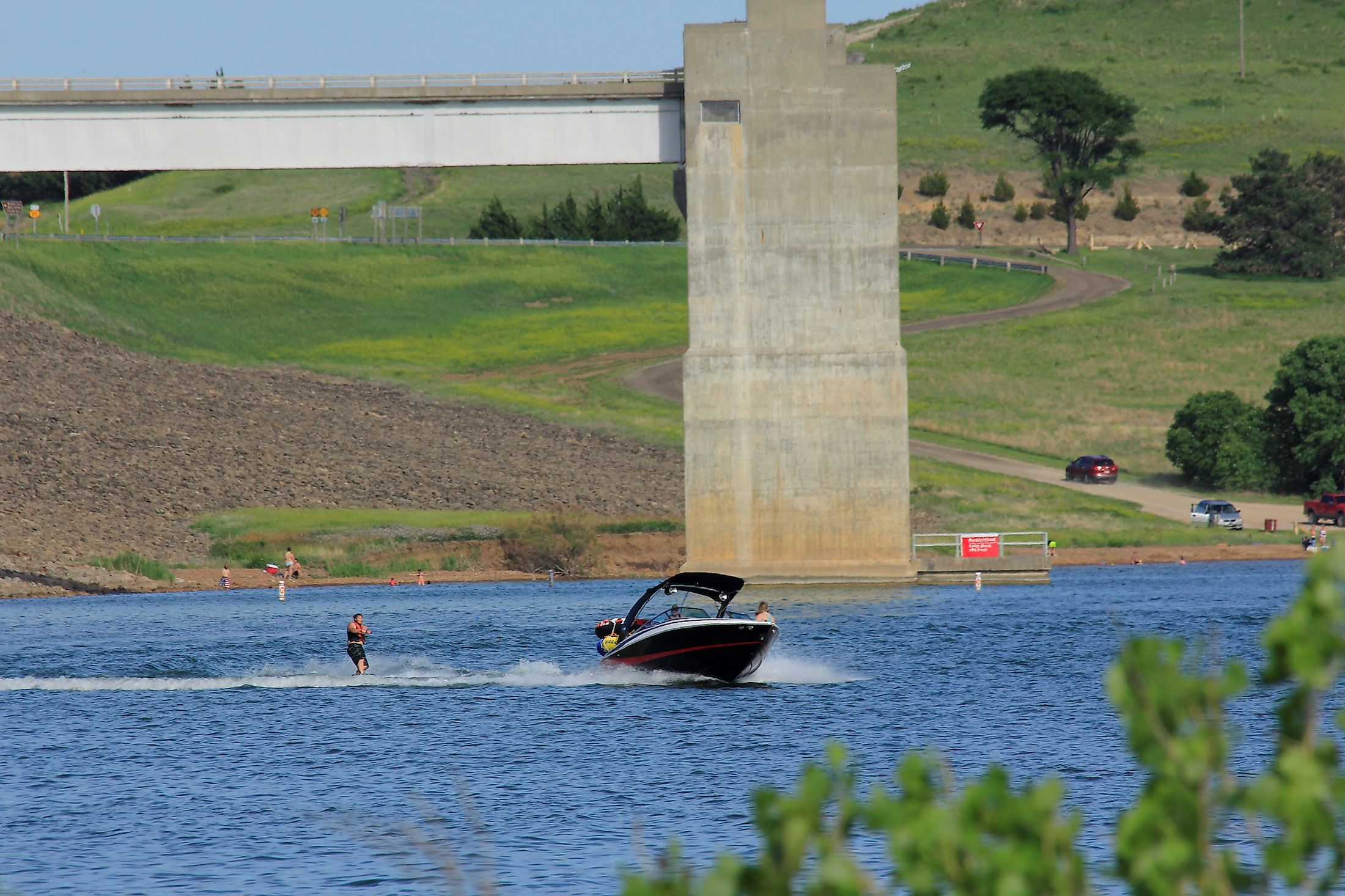 With a population of fewer than 400 people, this small country town is known as the "Grassroots Art Capital of Kansas." Lucas is an eclectic yet quirky community that loves to be creative and put it on display for the world to see. Called "post-rocks," many of these self-taught residents display their art of limestone rocks and can be seen throughout the entirety of Lucas. One can also see the World's Largest Travel Plate and the Garden of Eden; it's just some small city charm that Lucas offers.
Geography And Climate Of Lucas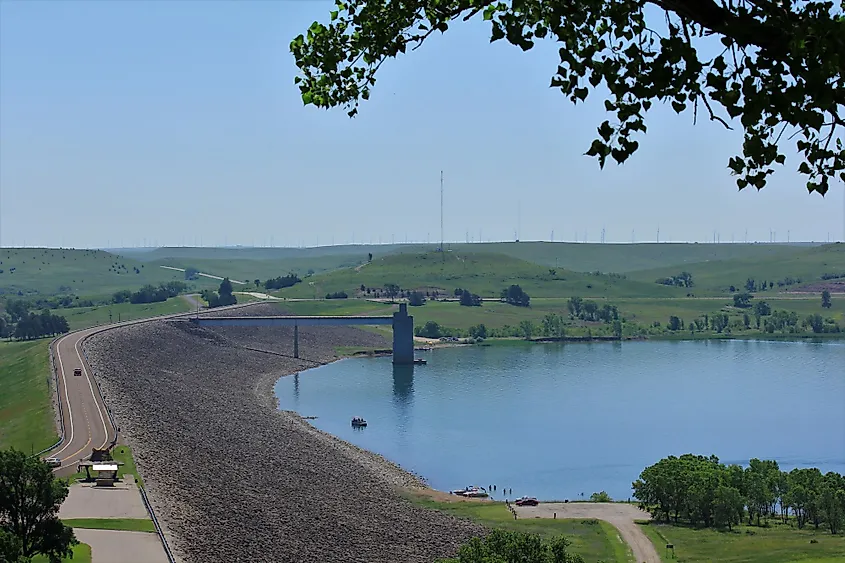 Lucas is a small city situated in Russell County in the north-central part of the US State of Kansas. Lucas is located approximately 185 km northwest of Wichita, 34km northeast of Russell, and 341 km west of Kansas City. Lucas resides in an area of Kansas known as the Smoky Hills. This area is the upland portion of the Great Plains and covers north-central Kansas to south-central Nebraska. Wolf Creek and its East Fork wind around Lucas and conjoin on the city's southeastern edge. Furthermore, these are tributaries of the 639km long Saline River that runs through the Smoky Hills.
Lucas experiences a humid subtropical climate and has four seasons in a year, most notably with long humid summers. With rain, sleet, hail, and snow, Lucas collects 71.6 days of precipitation a year. Rainfall accounts for 690.88 mm, whereas the US average is 967.74 mm. Alternately, snowfall accounts for 414.02 mm, unlike the US average of 706.12 mm. The year's coldest month is January, with a median temperature of -8.16 degrees Celsius, and July is the year's warmest month with a median temperature of 33.33 degrees Celsius. 
Brief History Of Lucas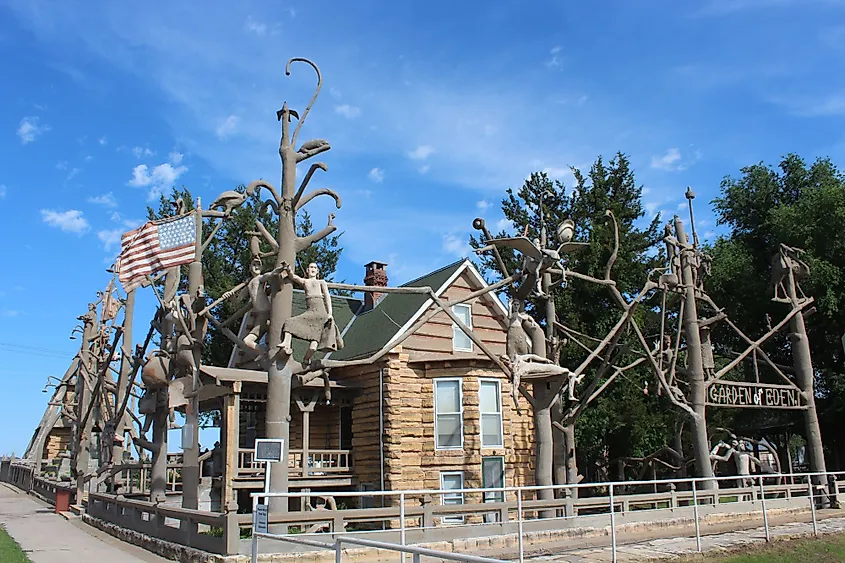 In 1877, the community of Blue Stem was established and later renamed and incorporated in 1887 as Lucas after Lucas Place in St. Louis, Missouri. However, the Garden of Eden, built by Samuel Perry Dinsmoor, would influence Lucas' history. The retired school teacher and veteran sculptor moved to a farmhouse in 1891 on the outskirts of Lucas. In 1905 Dinsmoor started with his first creation, a 27 ft cabin carved out of the limestone, which also included furniture and was completed in 1907. After 22 years of creating his art, he had a collection of 150 pieces which were interpretations of historical and political views. His "Eden" included enormous insects, angels with large wings, 40 ft trees, children playing, the American Flag, and statues of Adam and Eve. Alas, his cabin was one of the first buildings in Lucas with electricity, and he wired some of his sculptured to display light. One of the later additions to the Garden of Eden was a mausoleum that Dinsmoor built for himself and his first wife. When she passed, the state discouraged Samuel Dinsmoor from burying her there. However, at the age of 89, Samuel Dinsmoor passed away and left unique instructions for his burial. Today, the public can view his Egyptian mummified body in a glass-top coffin in the same mausoleum that he built.
The Population And Economy Of Lucas
Lucas sits in Russell County, Kansas and has a total of 394 residents, and is the 324th most populated city in Kansas. The town sits at an altitude of 455 m. The average household income is $38,750, and the city has a poverty rate of 9.9%. The average age of a resident in Lucas is 50.3, with females making up 56.2% of the population and males making up the rest at 43.8%. On the cost of living index, Lucas is rated at 66.3, whereas the state of Kansas is 83.1.
The unemployment rate of Lucas sits at 2.8%, whereas the US unemployment rate is 6.0%. The most significant economic sector is manufacturing, accounting for 23.8% overall. Other prominent industries include retail trade (23.3%), healthcare and social assistance (14.6%), and wholesale trade (8.7%). With 394 residents that make up Lucas, Kansas, there are 110 total businesses, many of which can be seen on Main St.
Attractions In Lucas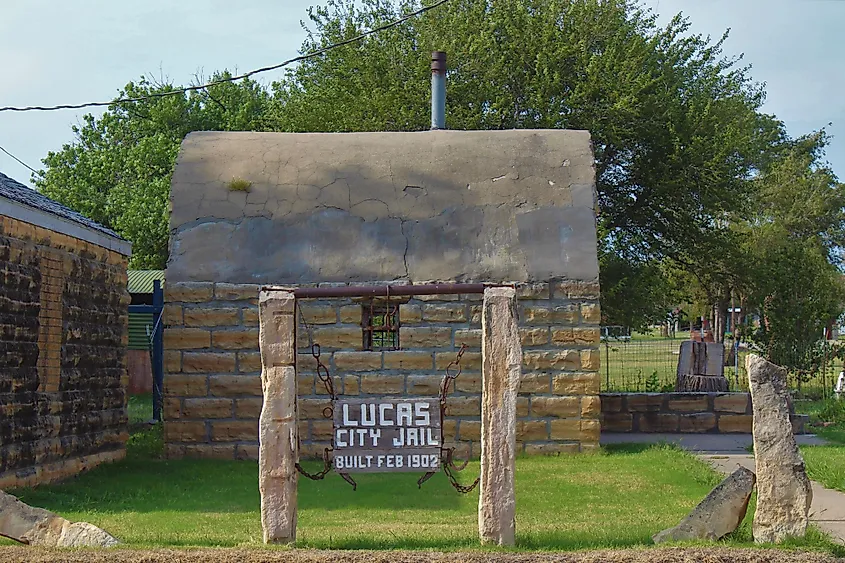 Grassroots Art Center
Found in downtown Lucas, in the historic 19th-century Deeble house. The Grassroots Art Center showcases a collection of art from local and self-taught artists that can only be best interpreted by the viewer but is sometimes labeled "folk art." By purchasing admission, one will get a tour of the many art installations and access to the Florence Deeble Rock Garden and the Garden of Isis. There is an ongoing project to turn the outside of the building into an outdoor gallery. In 2008, Lucas received the Governor's Award for Tourism. The Florence Deeble Rock garden is an outdoor garden that includes several limestone sculptors. This staple has been in the community for more than 50 years.
World Largest Things Inc.
The World's Largest Collection of the World's Smallest Collect of the World's Largest Things showcases the creations of local artist Erika Nelson. First televised on the show Rare Visions and Roadside Revelations, Erika exhibited her artwork of the smallest version of large things from her van, which she drove around to display. In 2018 the collection was moved to a storefront in Lucas and houses the Roadside Sideshow Expo, which can be attended by making an appointment.
When Lucas comes to mind, it is best not to judge a book by its cover. What seems like a dull prairie town is full of surprises, from the artistic expressions of Samuel Dinsmoor and his Garden of Eden and the tiny talents of Erika Nelson and her visions of the smallest large version of everything. Lastly, it's the residents who sculpt post rocks out of native limestone from which the town rests that gives Lucas its claim to fame, better known as the "Grassroots Art Capital of Kansas."