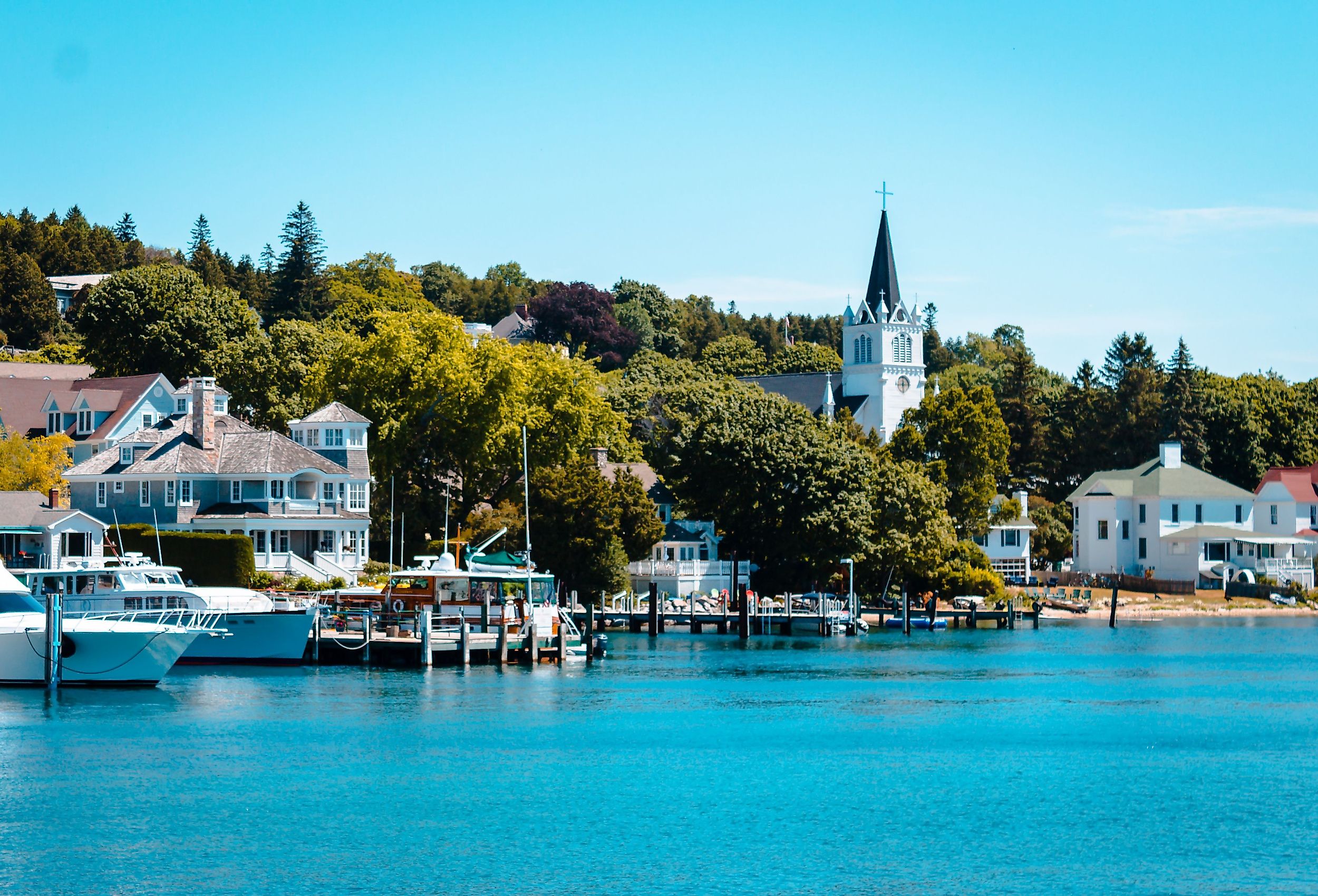 11 Charming Great Lake Beach Towns
North America's Great Lakes are one of the continent's most tremendous natural wonders. Remembered through the acronym HOMES, the Lakes Huron, Ontario, Michigan, Erie, and Superior, border not only the Canadian province of Ontario but several northeastern states as well. Along these shorelines are a plethora of towns each with adventures galore and charming reasons to visit and explore. From swimming and fishing to historic architecture and fine dining, there are countless options in these charming Great Lake beach towns.
St. Joseph, Michigan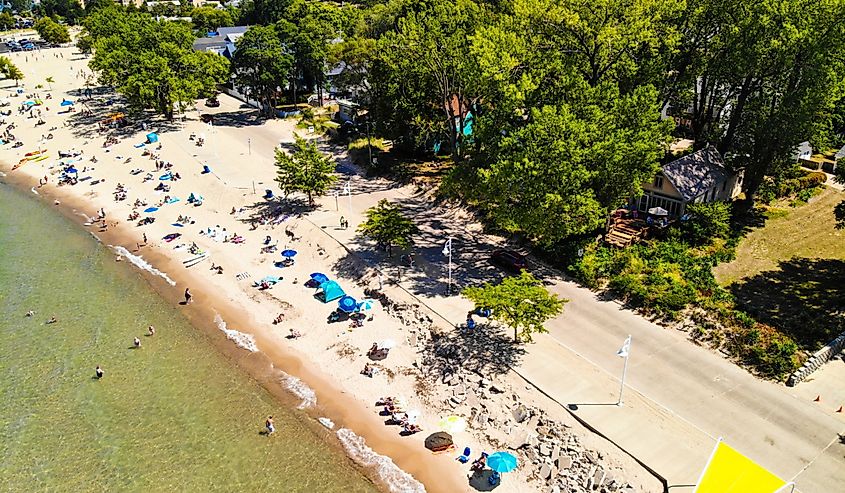 Affectionately known as St. Joe, the town of St. Joseph boasts a population of just under 8,000 residents and is on the shores of Lake Michigan, right at the formation of the mouth of the St. Joseph River. The seat of Berrien County, St. Joseph was first incorporated in the 1830s and is a scenic lakeside place to discover. Spend time at the Silver Beach County Park for some great water vistas, sandy beaches, and beautiful lighthouses framing the panorama. Opportunities for swimming, sailing, and enjoying the sun are always great ways to spend a day. Tourists can also explore the town center with great shopping outlets, local galleries, restaurants, and plenty of Victorian-style buildings.
Grand Haven, Michigan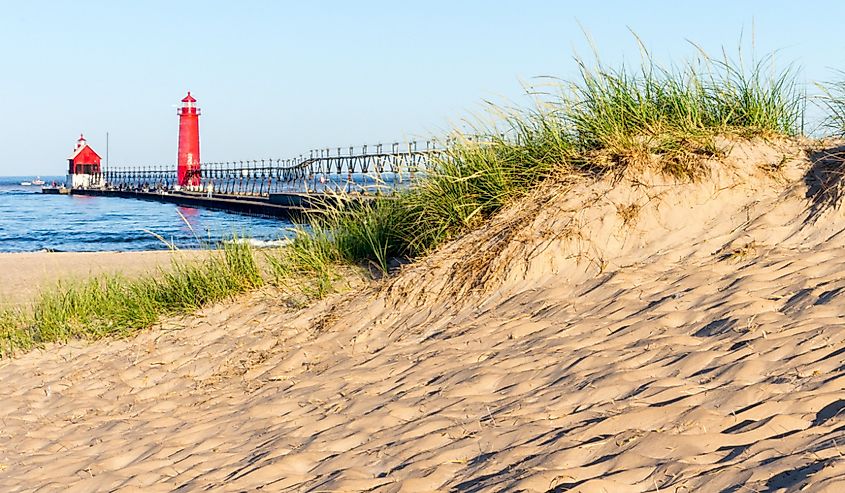 A grand place to discover on the shores of Lake Michigan, Grand Haven is home to a population of just over 11,000. Indeed for those searching for a pristine place to enjoy fun on the beach, there is nothing but an abundance of choice in this town. With several beach areas to explore, visitors will find themselves with plenty of opportunities for sunbathing, swimming, sailing, or simple walks on the beautiful white sands.
Walk along the Grand Haven Boardwalk where many shopping outlets, restaurants, and great photo spots all make it a destination worth exploring. Meanwhile, at the Grand Haven State Park, tourists can get up close and personal with a series of stunning lighthouses, making for some special video and photo opportunities. Back in town, a ride on the historic trolley, and a visit to the train museum are a must. Lovingly known as the Coastal Guard City, Grand Haven celebrates its lakeside heritage, and many of its souvenir shops, restaurants, and museums all reflect this unique marine beach character.
Charlevoix, Michigan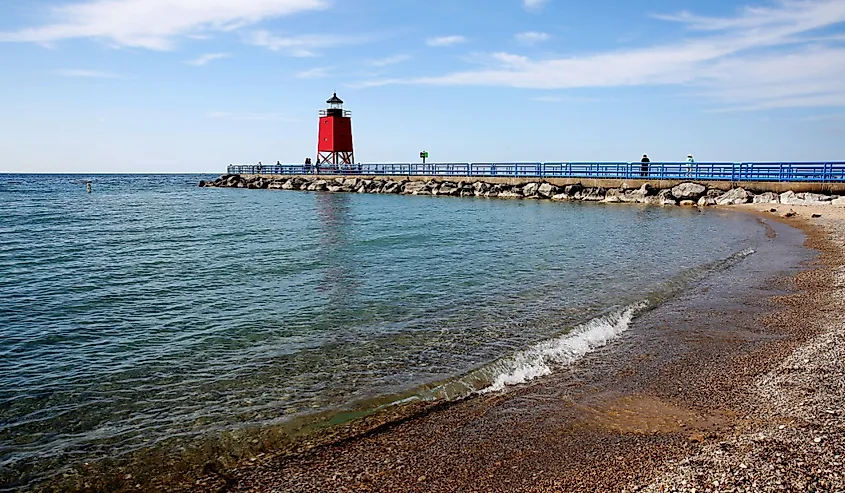 Right on Lake Michigan and founded in 1879, Charlevoix is one of the best places to experience the joy of waterfront life. A scenic and calm community of 2,348 residents, citizens, and residents alike can enjoy plentiful opportunities for sailing, swimming, and sunbathing. In addition, day trips to the beautiful Lavender Hill Farm or the Fisherman's Island State Park and Beach are great ways to take in all the splendor of the outdoors. With its mild winters and summers, Charlevoix is a place to appreciate no matter what the season.
Ashland, Wisconsin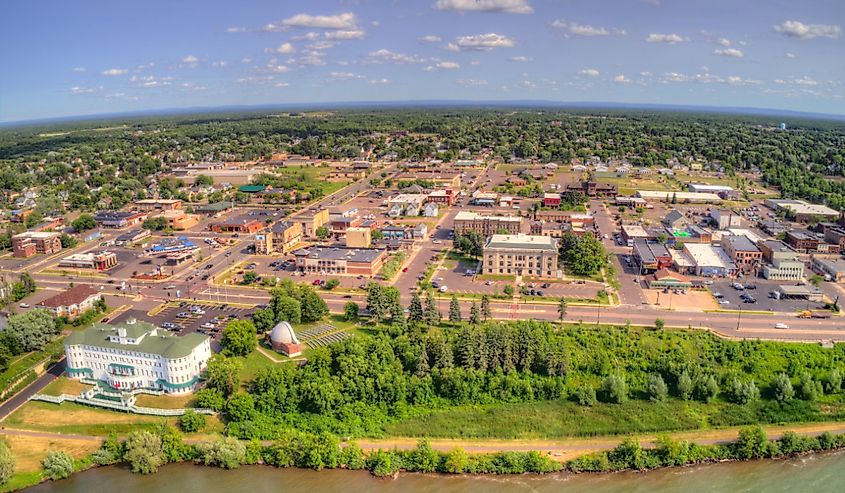 The port city of Ashland is right on the shores of Lake Superior, near the mouth of Chequamegon Bay. Home to a modest population of just under 8,000 residents, Ashland is the most beautiful blend of natural beauty and small city life. Indeed in addition to its position on Lake Superior, visitors can also take advantage of Ashland's vicinity to a number of other outdoor marvels. Stop by Bayview Park (with its swimming beaches, picnic areas, and fishing spots), the Whittlesey Creek National Wildlife Refuge, Kreher Park (and its numerous RV sites), or the raw and stunning Apostle Islands.
Meanwhile back in the city center, plenty of small-town charm awaits. Enjoy a variety of great local restaurants, shopping outlets, fascinating museums, and other attractions. Check out the Ashland Historical Museum, visit the historic Rhinehart Theatre, or take in a round of golf or two at the Chequamegon Bay Golf Course. A number of seasonal festivals each year make Ashland a neat place to discover throughout the calendar cycle.
New Buffalo, Michigan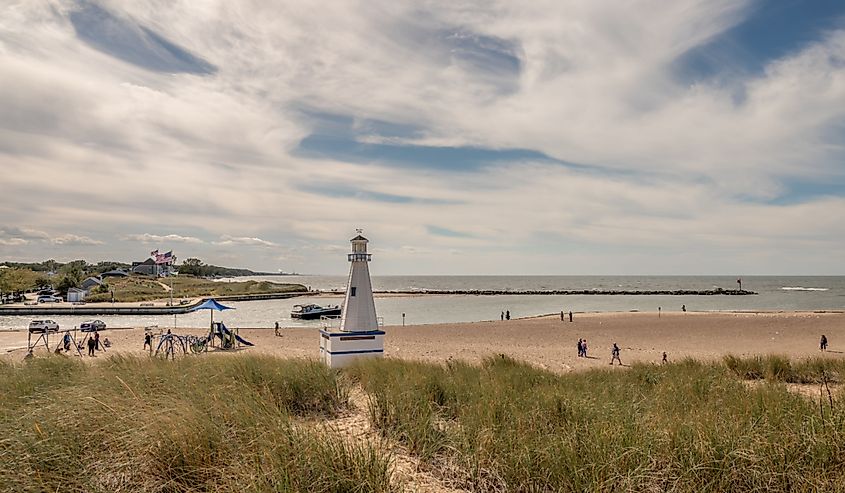 Widely sought after for its beautifully calm waters and sandy beaches, the town of New Buffalo is one of Lake Michigan's most popular destinations. Visit such sites as the Warren Dunes States Park for great opportunities for camping and dune climbing or stop at the Galien River County Park where nature comes to life. Marvel at the tree and flower canopies that cover the charming boardwalk area or climb the observation tower for great views of the marsh habitats. On the waterfront itself, visitors can always enjoy swimming, sunbathing, kayaking, and even paddleboarding on the wonderful and calm waters.
Traverse City, Michigan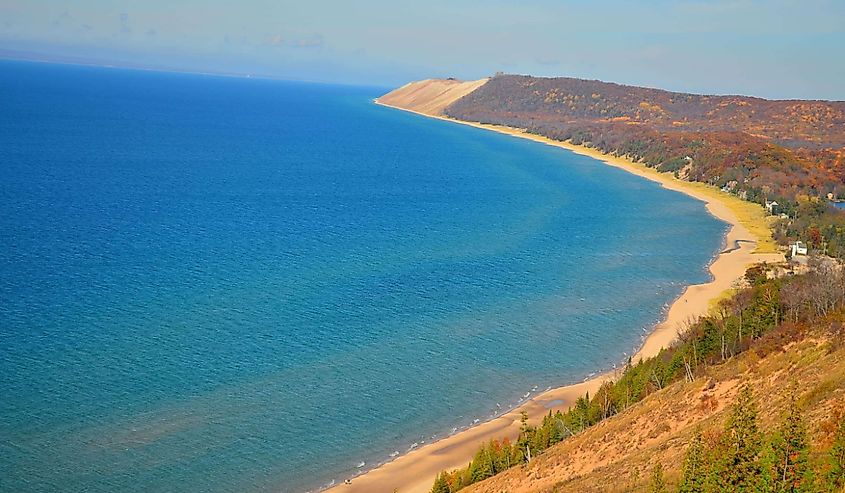 Located within the Grand Traverse Bay, the 15,678-person Traverse City is a small-town beach lover's perfect getaway. First settled in 1847, in the ensuing decade, Traverse City became one of America's primary producers of cherries and its related products, in addition to being a popular resort spot. With a variety of beach areas to choose from, visitors can enjoy plenty of chances for swimming, sunbathing, kayaking, paddle boarding, and of course snacking at the numerous food shacks and souvenir shops.
Indeed fruit lovers will not want to miss the National Cherry Festival in July with an average attendance of some 500,000 visitors! In addition day trips to the Boardman River Nature Center or any of the nearby local vineyards, make for a well-rounded vacation ideal for visitors of all ages and interests.
Two Harbors, Minnesota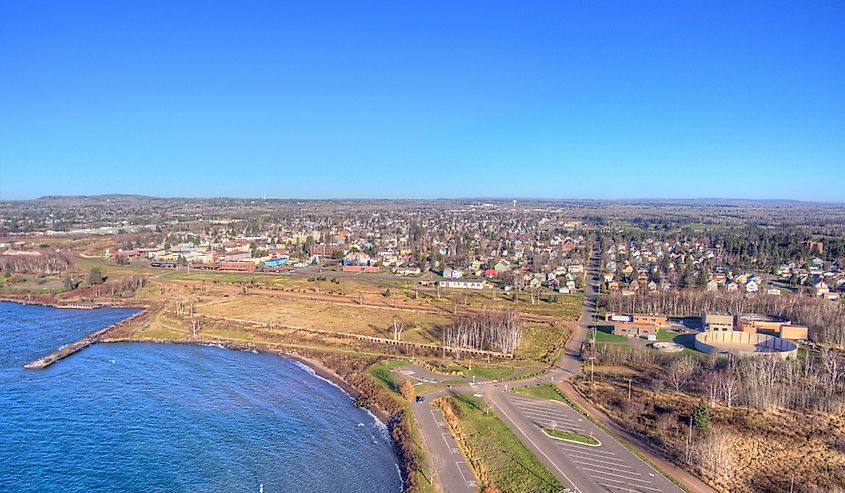 The seat of Lake County, the town of Two Harbors is beautifully situated on the shores of Lake Superior, where some 3,663 residents call home. About 13 miles from the Gooseberry Falls State Park (and its stunning wildlife, waterfalls, and natural habitats), Two Harbors is a convenient place to enjoy all the beauty of lakeside life. With easy access to a variety of hiking trails, State Parks, and of course lakeshore activities, this town always has something exciting to offer its visitors.
Stop by the Two Harbors Lighthouse, quench your thirst at the Castle Danger Brewery, or climb to the top of the Split Rock Lighthouse. Here, you can see some of the most beautiful views and panoramas of Lake Superior, sure to fill any photo album. Any visit to Two Harbors will always come with great memories and stunning vistas.
Grand Marais, Minnesota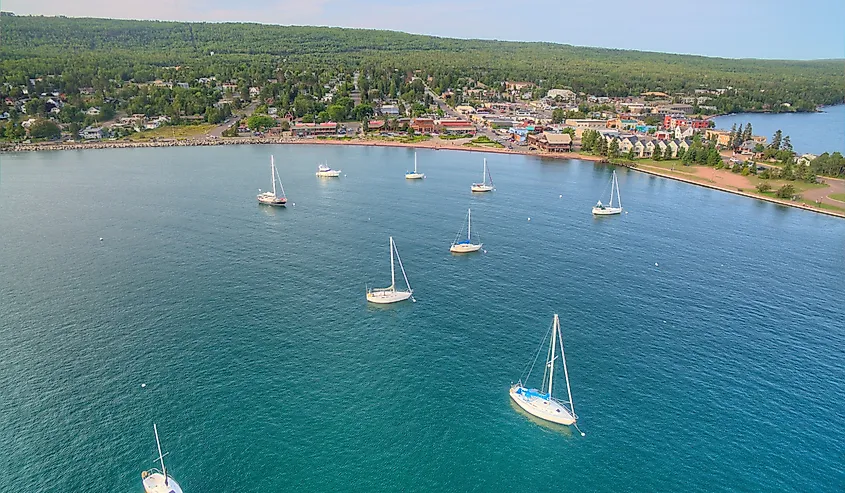 On the north shore of Lake Superior, Grand Marias is a quiet and charming harbor town, with a humble populace of 1,340. With its comfortably warm summer temperatures and mild winters, Grand Marais is a nice place to discover throughout the year. Uniquely situated between the Boundary Waters wilderness area and Lake Superior, visitors to the town will discover many great outdoor activities to partake in.
Spend time on the water sailing, swimming or fishing, take a vigorous (or leisurely paced) hike at any of the great surrounding hiking trails or take in all the fun of the numerous in-town festivals. From the Fisherman's Picnic to the Grand Marais Arts Festival, there is something for a variety of tastes and interests. In addition, winter travelers can enjoy opportunities for cross-country skiing, skating, and even fantastic views of several frozen waterfalls!
Copper Harbor, Michigan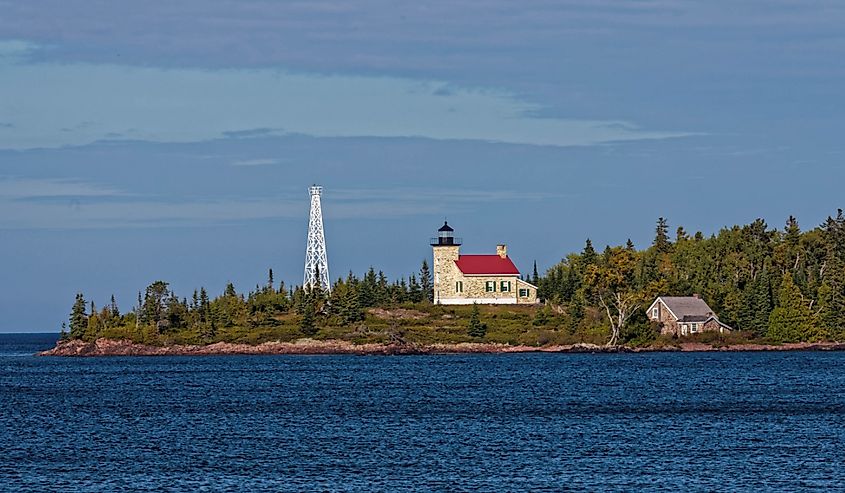 With a humble population of only 136 residents, the town of Copper Harbor may be easy to overlook. Yet this naturally stunning place is a definite must-visit for those seeking easy access to the majestic Lake Superior. Situated right on the northern tip of Michigan's Keweenaw Peninsula, visitors will find plenty of great opportunities for swimming, sailing, hiking, and mountain biking.
Take a ferry to the nearby Isle Royale National Park and enjoy further splendid natural panoramas or spend the day at the Fort Wilkins Historic State Park, known for its restored 1840s barracks and military fort.
Mackinac Island, Michigan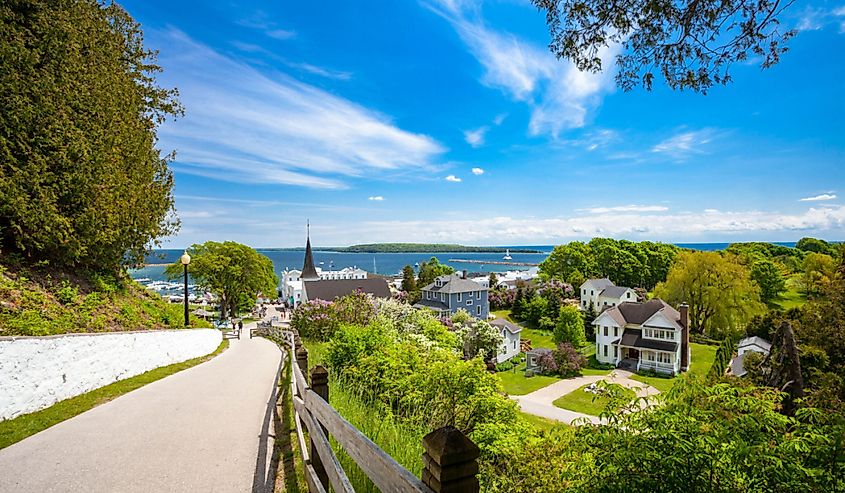 On the island of the same name, Mackinac Island does not allow any cars of any kind, with the exception of emergency vehicles. With a population of around 500 permanent residents, more visitors than citizens usually make up the town's demographics! Right on the shores of Lake Huron, tourists can explore this unique geographic spot by bicycle, on foot, or even through a horse-drawn carriage ride.
Visit the historic Fort Mackinac, enjoy a round of golf at the various courses, or try some of the famous Mackinac Island Fudge, sure to create special lasting memories. In addition, strolling past the assortment of Victorian-style homes is always a cultural treat, and of course, swimming and sunbathing at the town's pebble beaches is never a bad idea.
South Haven, Michigan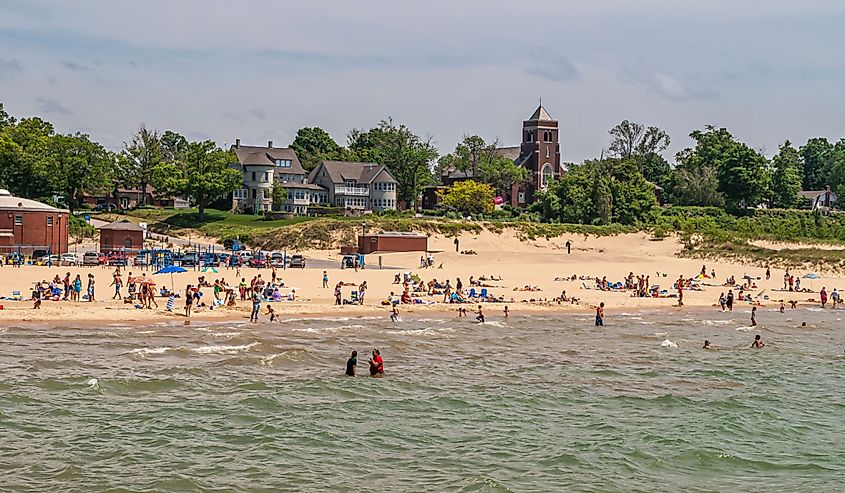 Settled in the 1850s, South Haven has long been an important port town. Situated on Lake Michigan and with a population of just under 4,000 residents, the town has many locales perfect for the outdoors enthusiast. Visit the Van Buren State Park with its pristine sandy beaches and rolling dunes or take a vigorous bike ride at the Kal-Haven Trail.
Meanwhile for those looking for some cultural activities, spending time at the Liberty Hyde Bailey Museum or the Michigan Maritime Museum, are great ways to experience local history. View such exhibits as the replica of the 1810 ship Friends Good Will and learn more about South Haven's prominence as a port town and its contribution to the growth of the state of Michigan. A visit to the town in the summer would never be complete without taking in August's Blueberry Festival, where great products and delicious desserts are always on hand.
The Great Lakes are an undoubted natural treasure, and for the communities that find themselves on the lakeshore, a great adventure is always on hand. Each with its own unique history and geographic location, what unites these places is their charm and easy access to a Great Lake. Whether it is swimming, sunbathing, or taking in the cultural attractions in town, these great lake beach towns all offer plenty of excitement, fun, and spectacular natural beauty.