World Facts
The 10 Longest Rivers in Michigan
The longest river found entirely within the state of Michigan is the Grand River.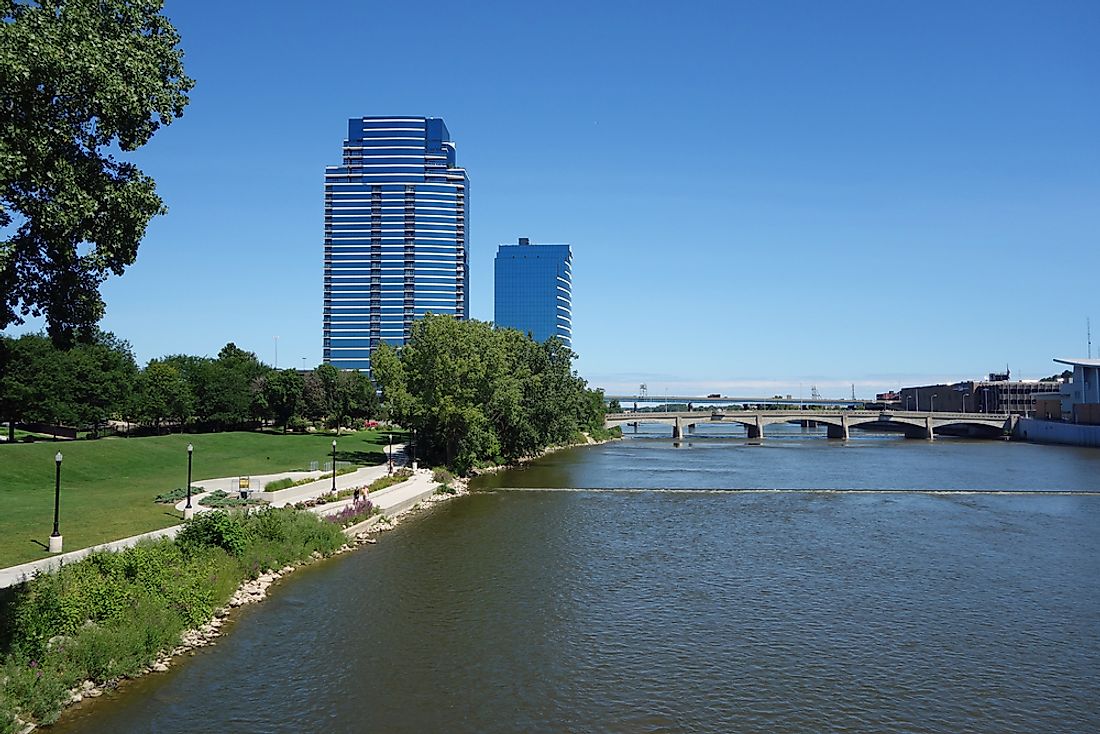 Michigan is the eleventh largest state in the United States lying in the great lakes and Midwestern region. The name Michigan is derived from the Ojibwe name Mishi-gama meaning large lake. Michigan is divided into two autonomous regions: the upper and lower peninsula adjoined by the Straits of Mackinac. In addition to being virtually surrounded by water, Michigan's inland is endowed with lakes, rivers, and wetlands. A vast majority of the largest rivers in the country rise from the Lower Peninsula and flow all year long draining into the state's high interiors. The rivers play an important economic role in the country's agriculture and tourism industries. Below is a list of the ten longest rivers in Michigan.
The Longest Rivers In Michigan
The Grand River
The Grand River is the longest river in Michigan measuring 252 miles from its source to the mouth. Native residents of the river referred to it as the O-wash-ta-nong (far away water) due to its length. The Grand River carries an average water capacity of 3,800 ft³/s and forms the largest watershed around Lake Michigan measuring 5,572 square miles. The river rises in Somerset Township and drains to Lake Michigan. For most of its length, the Grand River serves as a breeding and fishing ground for salmon and trout. Every ten years, the river's length is celebrated through an expedition navigating it from its source.
Muskegon River
The Muskegon River is the second largest river in Michigan with its mainstream running over 215 miles from its headwaters in Lake Houghton to Lake Muskegon where it drains. Lake Muskegon is joined to Lake Michigan through a one-mile-long channel. Native Americans used the river mainly for fishing and logging. It also played a crucial role during the European exploration of the great lakes region in the 19th century. The banks of Muskegon River support tropical trees that provide nesting grounds for otters, waterfowl, deer, and eagles. Due to its large water capacity and slow flow, it provides ample grounds for kayaking and canoeing.
St. Joseph River
Locally referred to as St. Joe is the third longest river in Michigan, St. Joseph, measuring 206 miles from its source in Hillsdale, south-central Michigan to its mouth in Lake Michigan. The river served a crucial role in ancient times as a means of transport for Native American and early European explorers. There are many historic sites located along the river including Fort St. Joseph that serve as tourist attraction sites. St. Joe River serves as a major recreational facility for local Michigan and Indiana communities. Canoeists can navigate the entire length of the river as they enjoy the 63 miles of sports fishery and paddling.
Conservation of Michigan's Rivers
Conservation efforts in Michigan commenced in the mid-20th century following the death of wildlife endemic to Michigan rivers due to increased pollution and environmental degradation along waterways. Strict laws relating to bottle deposit, phosphorus pollution, logging, and raw sewage were enacted through the Michigan Environmental Protection Act to restore and maintain unpolluted waterways.
The 10 Longest Rivers in Michigan
| Rank | River | Length (miles) | Length (km) |
| --- | --- | --- | --- |
| 1 | Grand River | 252 | 406 |
| 2 | Muskegon River | 216 | 348 |
| 3 | St. Joseph River (Lake Michigan) | 206 | 332 |
| 4 | Manistee River | 190 | 310 |
| 5 | River Raisin | 139 | 224 |
| 6 | Au Sable River | 138 | 222 |
| 7 | Huron River | 130 | 210 |
| 8 | Kalamazoo River | 130 | 210 |
| 9 | Shiawassee River | 120 | 190 |
| 10 | Menominee River | 116 | 187 |
This page was last updated on August 2, 2018.
Citations
Your MLA Citation
Your APA Citation
Your Chicago Citation
Your Harvard Citation
Remember to italicize the title of this article in your Harvard citation.