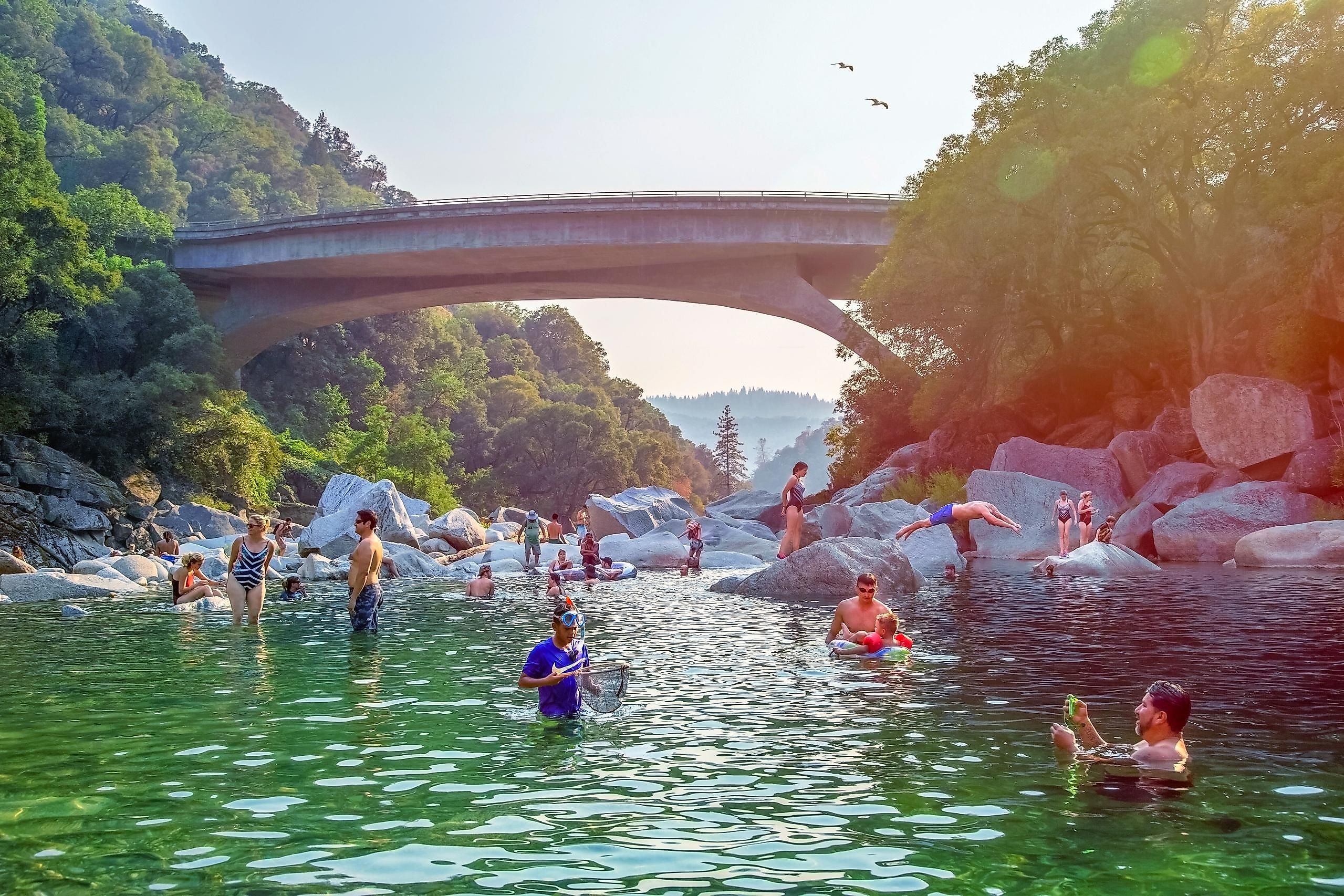 7 Most Charming River Towns in California
River-set towns are automatically-scenic, especially in Cali's lovely weather to enjoy the water-bound activities and relaxation along the banks. These most charming towns in the state with river breathing waves of tranquility into their small hearts comprise a purely-magical visit.
Guerneville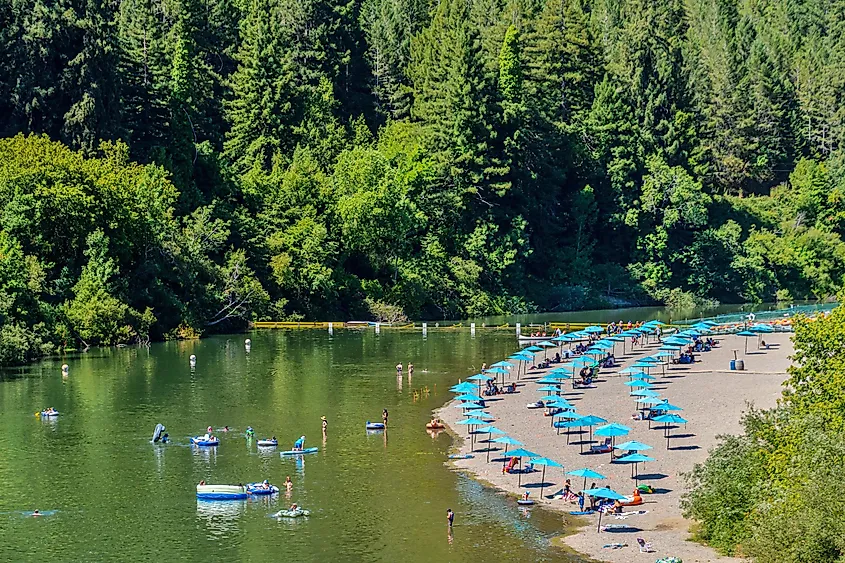 Charming Guerneville is set mid-way between Santa Rosa/Hwy 101 and the coast/Hwy 1. The largest town on of the lower Russian River with under 5,000 residents offers fresh-air pursuits with pee wee golf, biking, sport & tackle shop, and  beaches. The cultured will enjoy seeing the pedestrian historic landmark of a pin truss Guerneville Bridge, while the Armstrong Woods State Park features atmospheric hiking trails through old growth redwoods. The three-block square downtown with a plaza exudes a quaint and eclectic charm complete with permanent chess tables and rustic taverns to chat-up one of the highly-individualistic locals. There is a great shopping, restaurants, and bar scene, sans fast-food chains, along with popular gay resorts and bars that never get out-of-hand because residents value their peace. 
The river-town is set-surrounded by rugged terrain of steep and heavily forested hills with narrow twisting roads, and only few relatively flat riverside neighborhoods. There are seasonal creeks trickling into the clean Russian River that is a must-swim and most beautiful during the warmer months. Locals and tourists enjoy gathering along the mostly-gravelled beaches to relax at the sight of the gentle flow, go boating, and fishing with plentiful of varied catch. One of the river dams creates a summer bridge between River Road and Neeley Road in the Vacation Beach area that is a shortcut from the southern shore into town. The popular Johnson's Beach comes with old-school vibes, food, drinks, beer, and all boating options for rent. It is family-friendly with bathrooms and changing rooms, a boat launch, and a roped-off shallow lagoon for kids.
Healdsburg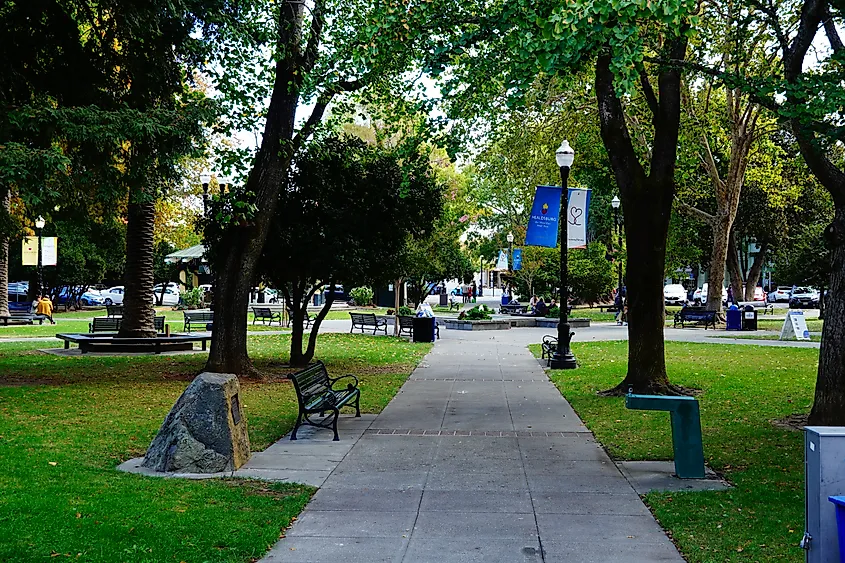 Healdsburg can rival among the nation's most charming towns thanks to its envious location. The scenic town with just over 11,000 residents spreads along the tumulus Russian River in the rich heart of the wine-producing Sonoma Wine Country. Its small-town atmosphere attracts many tourists to get a real buzz-on and mental relaxation on a getaway from the city into nature. The charming town's plaza spills with tasting rooms with award-winning vintages, shops, great restaurants, galleries, and bars.
The eclectic mix of the culinary epicenter includes the popular Little Saint and Matheson for dining and Montage with a zero-edge pool overlooking the vines, a massive spa, and a Zen yoga garden for a mindless escape. There are also over two dozen art galleries, and the Healdsburg Museum and Historical Society with exhibits on the rich regional, and Healdsburg's history. The little enclave spreads along the rolling hills at the juncture of three prime wine growing regions of the Russian River Valley, Dry Creek Valley, and Alexander Valley with stunning vistas all-around.
Dunsmuir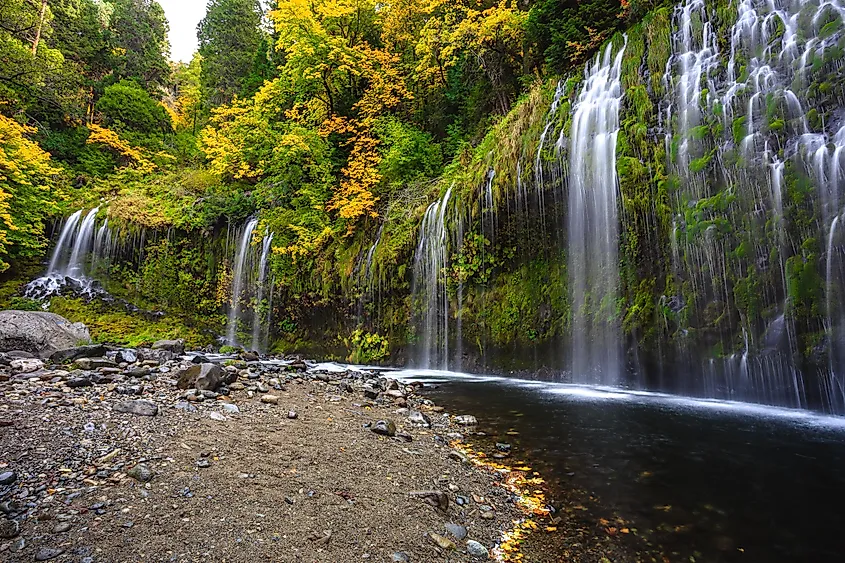 The charming Sacramento River town with official slogan of "home of the best water on Earth," packs big guns in attractions, wet pursuits, and activities on land. It is part of the small, scenically-concentrated Siskiyou County in Northern California's premier location. The town is a major year-round river destination for fishing, sightseeing, and hiking along the banks, as well as nearby skiing and climbing. The fairy-tale-like cascade of Mossbrae Falls offers best viewings during springtime at its fullest flow. Dunsmuir is also a cultural hub with a historic downtown district. It comprises a quaint getaway with no traffic lights in-town, into surrounding Shasta-Trinity National Forest and Castle Crags State Park.
The hiker's galore features the famed Pacific Crest Trail through town that is a beloved pit-stop, full-of attractions, for cross-country adventurers. There is also scenic hiking through the 14,000 feet-tall Mount Shasta's forested hillsides of tall Jeffrey ponderosa pine trees, as well as mountain biking, and reconnecting with Mother Nature through camping. The Hedge Creek Falls is another popular cascade for picnics with refreshing mist in the air following a hike, while Lake Siskiyou will cool-off the water fans. The serene and secluded town also comes with the Botanical Gardens in the city park featuring Shasta lilies and other native flora. The annual Tribute to the Trees solstice concert livens up the streets with music and festivities during summer.
Jenner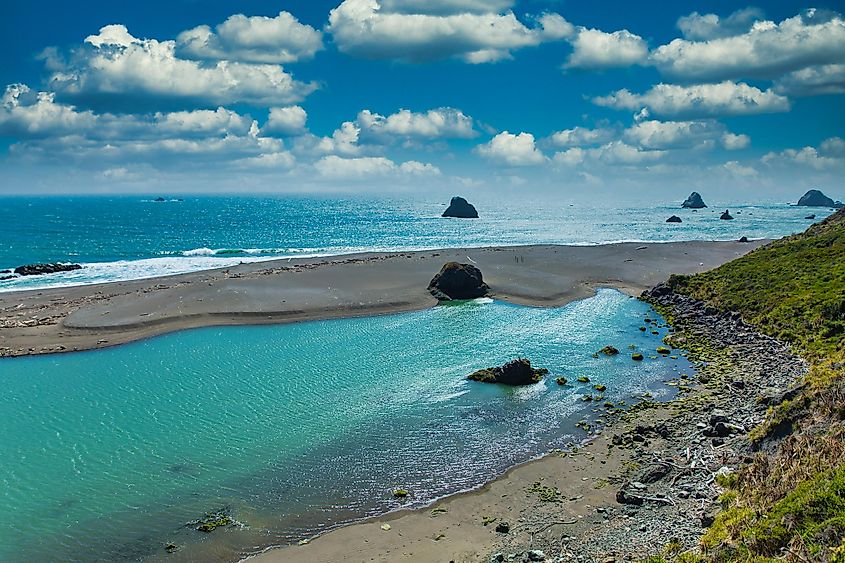 The quaint ocean-side village overlooks the mouth of the Russian River where it meets the Pacific. It boasts an unexpected title as the gateway to some of the most beautiful beaches in the world. Together with the small-town vibe and immense parks around, one has got a real-big natural getaway. The craggy coastline is home to long and sandy beaches, including dog-friendly, set below rugged headlands. The beach series is separated by rock bluffs and extends 15 miles south to Bodega Head and 4 miles north to the Vista Trail. It is a beloved outlet for beachcombers, fishermen, and sunbathers, with an easy access from over a dozen spots along Highway 1. The morning fog envelops the area in a mystic atmosphere for walks and picnics under cliffs, while the cool ocean breeze innate to the Sonoma Coast is heavenly during summer. There are also tide pools, whale-watching, and hiking, while the nearby Goat Rock State Park features its own spectacular beach and a harbor seal nursery.
The Sonoma Coast State Park is one of the state's most scenic water-bounded locales with natural arches and secluded coves calling to the explorers. There is also the 6,000-acre Salt Point State Park with 6 miles of coastline, more rocky coves, tide-pools, and an underwater reserve that divers enjoy. It also comes with great trails through second-growth redwood, Douglas fir, grand firs, tanoaks, and brilliantly-blooming rhododendrons in May. The Fort Ross Historical Park features a visitor center with exhibits of Russian history and artifacts from the early Russian community, along with a nearby fort of restored buildings from 1812. The tiny, concentrated town is full of great views and memorable stops like a gift shop, a coffee shop, and some awesome restaurants to enjoy following outdoor adventures.
Monte Rio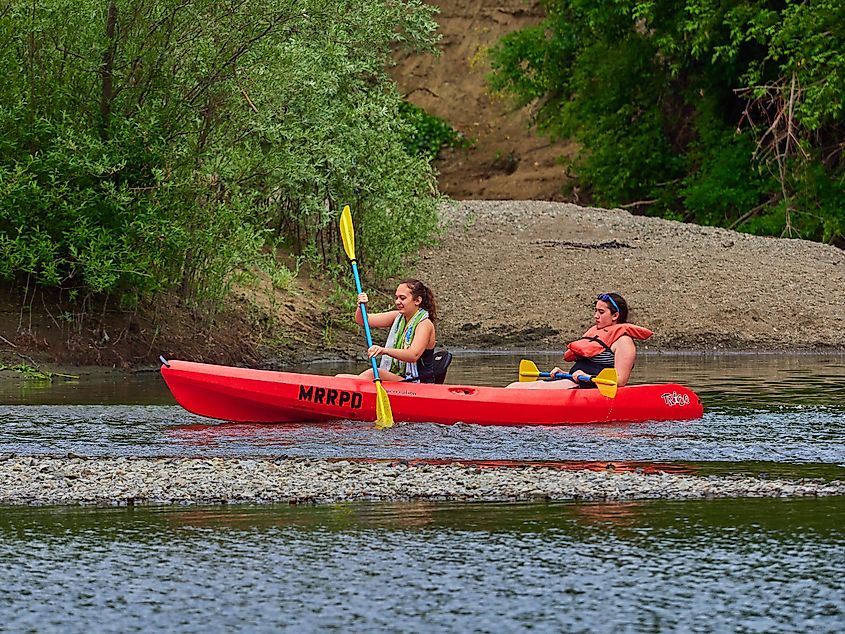 The tiny enclave just four miles west of Guerneville is best known for the beach area with easy access just-off Hwy 116. The sign "Welcome to Monte Rio, Vacation Wonderland" reminisces of when the town catered thousands of tourists with resorts and hotels. The cultural heart of the river communities has long-hosted annual retreat for country's leaders at the Bohemian Grove that welcomed presidents, senators, and other top politicians during summer. Now Monte Rio is a nostalgic respite with a quaint pace and few groomed attractions including a movie and live theater, tasty restaurants, a very classy wine and cheese shop, and a boutique plant nursery. The Quonset Hut Movie Theater is known for comfy seats, great snacks including delicious pop-corn, and interior decorated with vintage World War II murals and memorabilia. Monte Rio's population of some 1,200 residents spreads over three areas along the river, each distinctly wander-worthy. 
There are vacation rentals at the nearby Northwood with water to one side, and the beautiful Northwood Golf Course to the other with masterpiece courses by famous designers that are some of the nation's most scenic. The huge public beach bound by meadow and some restaurants offers boat rentals and a dog-friendly area. The historic Monte Rio bridge leads to the mile-long River Boulevard on the left with two charming historical inns and excellent restaurants serving contemporary cuisine veiled in old-time charm. There are also ambient bars for local hangouts with river views, and more water-bound vacation rentals. The Pink Elephant historic tavern is to the right of the bridge, while The Village Inn established in 1906 has a long and colorful history of starring in the film Holiday Inn with Bing Crosby and Fred Astaire. It was renamed in 1942 after the movie, remembered by the White Christmas song, and now hosts weddings. 
Nevada City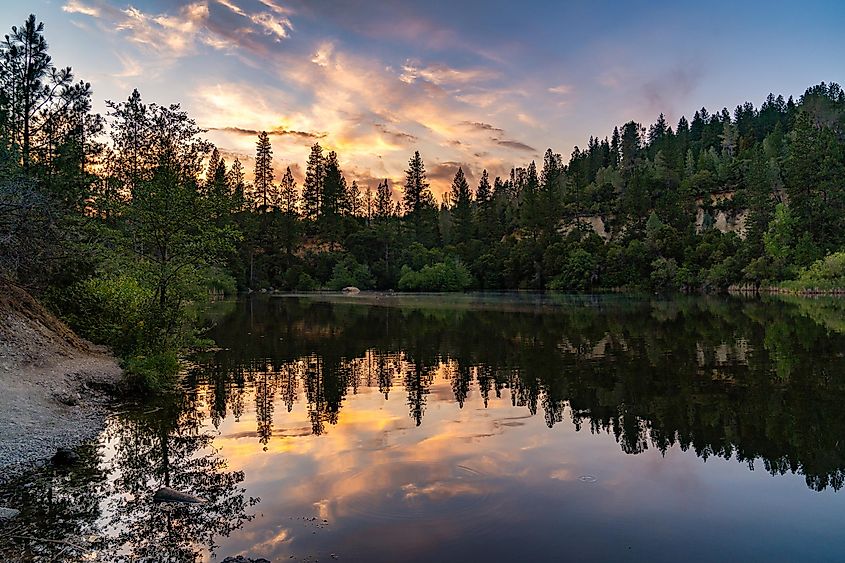 Nevada City spreads scenically along the Yuba tributary of the Feather River, at the base of the Sierra foothills. It is a fun town with an Old West vibe, impeccable dining, great B&Bs, and nearby outdoor pursuits like swimming and hiking. It is a "gold mine" era gem from 1856 with the Victorian-style National Exchange Hotel historical landmark surrounded by saloons, restaurants, and shops. One must hike down to the Yuba River suspension bridge, relax at the lush Crystal Hermitage Gardens, and stroll through the impressive, pine-scented Malakoff Diggins State Historic Park.
Nevada City's population of just over 2,500 enjoys easy access to the bounding Tahoe National Forest, and 120 miles of single-track mountain biking. There is also skiing at Sugar Bowl 45 minutes away, and five vineyards under half an hour from downtown. The South Fork of the "magical" and "sun-hugged" river offers trout fishing and class V kayaking. It is bounded by a gorgeous granite gorge that calls climbers, photographers, and picnickers to spread around the scenic rocks overlooking water. The town with heart and soul of culture boasts The Nevada Theater with monthly plays that also hosted Mark Twain's readings in the 1860s. Eight events take over the streets each year, including a masquerade ball, the Wild and Scenic Film Festival and a Mardi Gras parade. July sees closing-off two blocks to traffic for artisans and vendors to sell wine, craft cheeses, and local produce right on the road in a truly magical atmosphere. 
Coloma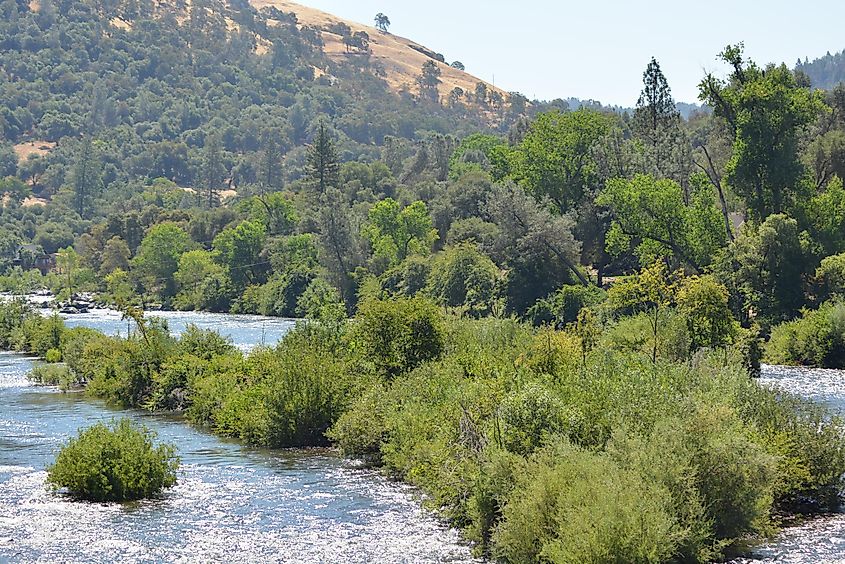 Coloma is the epicenter for California white-water rafting trips, set only 30 miles from the state's capital of Sacramento. The charming river townscape in Gold County is a common stop for the over 100,000 people that float by each year down the American River. It offers a quick getaway for city dwellers into the naturally-scenic locale with ample activities to satisfy hunger of any adventures. Coloma is also part of the state park featuring sites of James Marshall's gold discovery at Sutter's Mill in 1848 that sparked the Gold Rush.
The little sleepy village of only 600 residents gets especially lively in summertime, with various campground and lodging options for a wholesome escape into nature. There are also various rafting companies offering complimentary camping after a trip down the river, with basic and upgraded nightly "comforts". The neighbouring Auburn and Placerville towns have several hotel options, while the nearby Eden Vale Inn offers spa services to relax after a day on the waters.
The Golden State boasts rich culture, wine trails and vineyards, and vibrant downtowns with atmosphere and attractions to suit any taste. These charming towns offer to experience all the Cali magic any time of year, along with lovely river views and bountiful activities.