Chesapeake Bay, which is the largest estuary in the United States, is bordered by the mid-Atlantic states of Maryland (to the north, east, and west) and Virginia (to the south). The largest feeding river is the Susquehanna, coming from Pennsylvania, and the bay connects to the Atlantic Ocean in the Hampton Roads region of Virginia. Long a vital waterway for commerce, industry, fishing, and recreation, the twisting and turning Chesapeake shoreline is dotted all the way around with picturesque towns, ranging from sleepy villages to a busy state capital. Whether you are planning a coastal vacation or hoping to set down permanent roots, you can find a charming Chesapeake Bay community that meets your needs. 
Annapolis, Maryland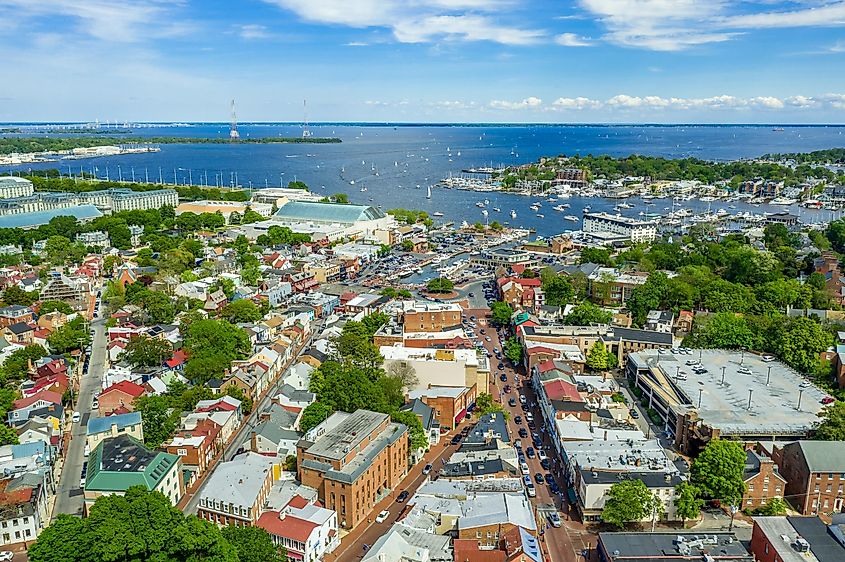 With a population under 40,000 and a bayfront location, Annapolis is one of the smallest but most beautiful state capitals in America. Established in 1649 and made state capital in 1694, Annapolis sits at the mouth of the Severn River and is fewer than 35 miles from both Baltimore and Washington, D.C. The United States Naval Academy has called Annapolis home since 1850. Starting at the still-in-use 1779 Maryland State House, Annapolis visitors can walk down a gentle hill through colonial-era streets full of shops, galleries, pubs, and restaurants to reach the stunning waterfront. Throughout this Historic District, Annapolis maintains many homes, buildings, and markers dedicated to preserving the history of African Americans in the area.
Cambridge, Maryland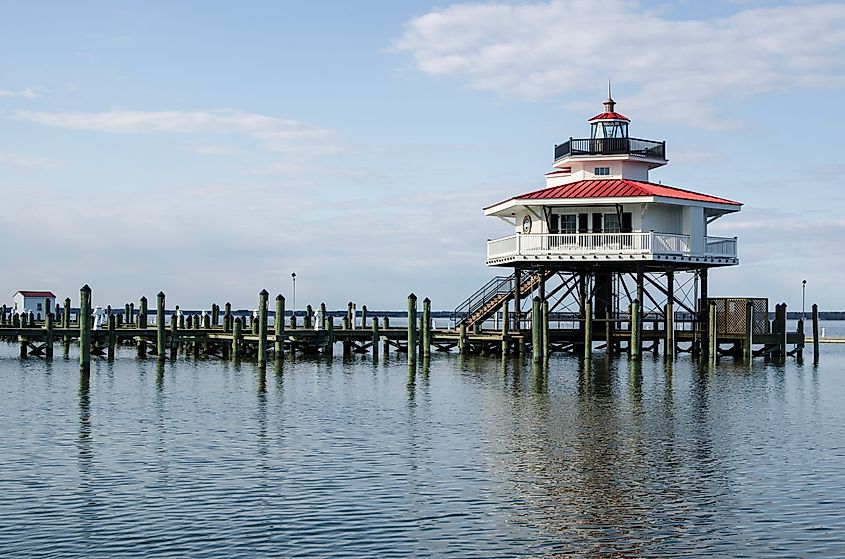 Established in 1684 as a seaport town at the mouth of the Choptank River, Cambridge is the seat of Dorchester County and home to around 13,000 residents. Harriet Tubman, a famed conductor of the Underground Railroad that guided enslaved African Americans to freedom, was born nearby, and she is honored with a downtown museum. Cambridge also celebrates its maritime past, with numerous museums, historical markers, and guided walking tours, but continues to reinvent itself for modern times. In recent years Cambridge has been rated one of the most livable small towns in America due in part to its revitalized downtown area that bustles with shops, restaurants, festivals, and farmer's markets.
Cape Charles, Virginia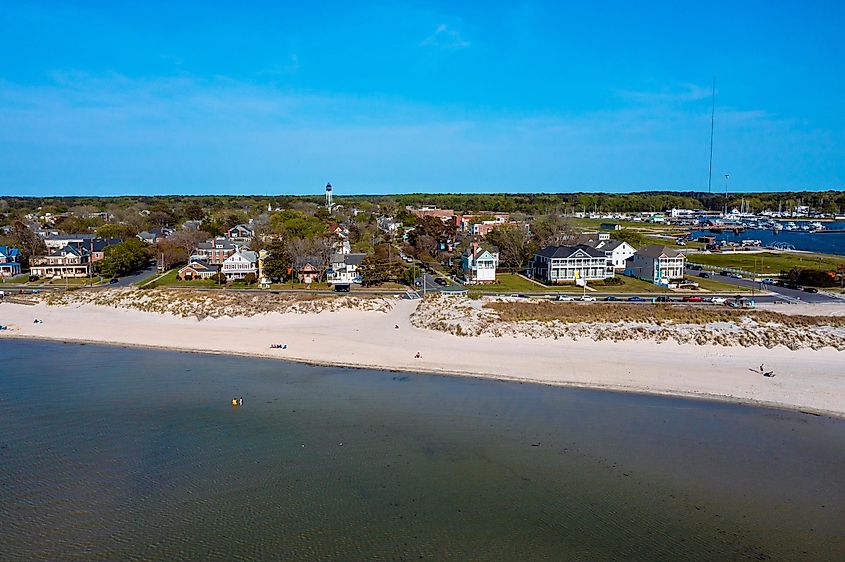 Cape Charles, which has a population of around 1,000, is located just shy of the southern tip of the Delmarva Peninsula on the eastern shore of the Chesapeake Bay. It is the first town drivers reach after crossing northward over the Chesapeake Bay Bridge Tunnel, which opened in 1964 and spans over 17 miles across the mouth of Chesapeake Bay. While small in size, Cape Charles is renowned for the number of well-preserved Victorian-era houses in town, vestiges of its past as an important railroad and ferry terminal. In addition to the boutiques, galleries, and dining options downtown, Cape Charles has a town beach and ample opportunities for kayaking, hiking, water sports, and other recreational activities.
Chestertown, Maryland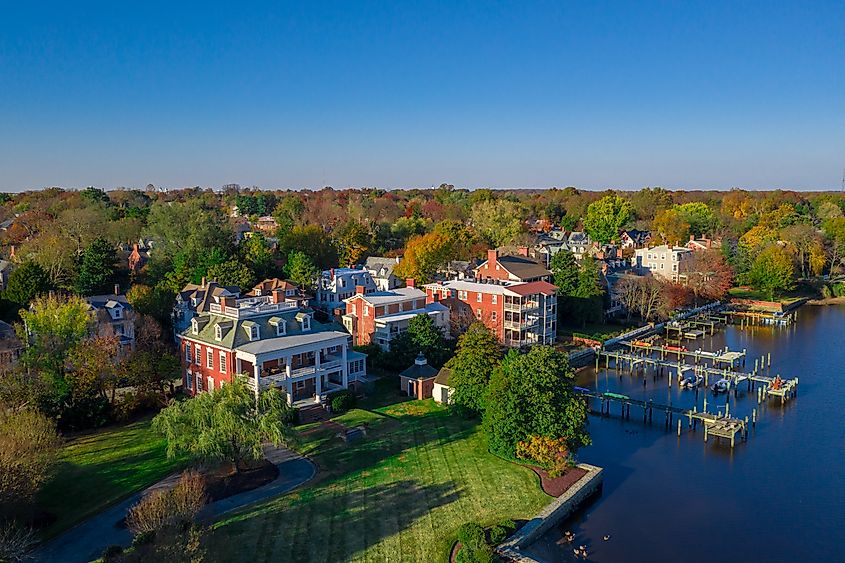 Chestertown, founded in 1706, is located along the Chester River, which feeds into the Chesapeake Bay only a few miles downstream. The town is the seat of Kent County and has a population of around 5,000. Chestertown is also home to Washington College, the first new college chartered in the independent United States in 1782. The downtown area retains many colonial-era buildings and houses a lively arts and entertainment scene. On the waterfront, Chestertown has an annual Tall Ship and Wooden Boat Festival, as well as an annual reenactment of the town's own 1774 "tea party" protest against British rule. A reproduction of the 1768 schooner Sultana is docked year-round as an on-the-water museum.
Urbanna, Virginia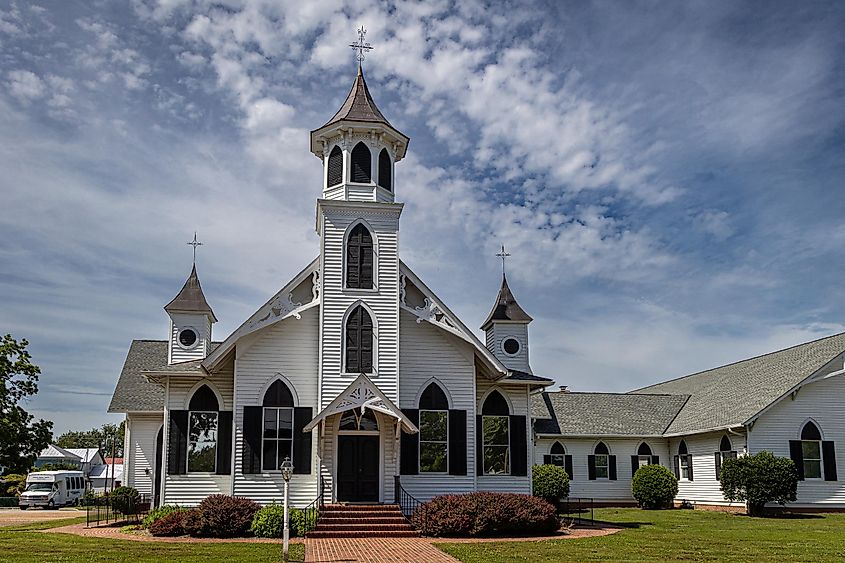 Located just up the Rappahannock River from its entry point into the Chesapeake Bay, Urbanna is best known today for the annual Virginia Oyster Festival, which can bring over 75,000 visitors each November to a town of only 500 residents. For the rest of the year, Urbanna retains a much quieter, laid-back vibe. Established in 1680, Urbanna was one of Virginia's primary tobacco ports in the colonial era. Therefore, downtown is full of historic homes and businesses, making it a great place to go on a guided walking tour. The town's marina remains busy, now with pleasure boats instead of tobacco boats. Urbanna also hosts a monthly farmer's market and an annual arts festival.
Oxford, Maryland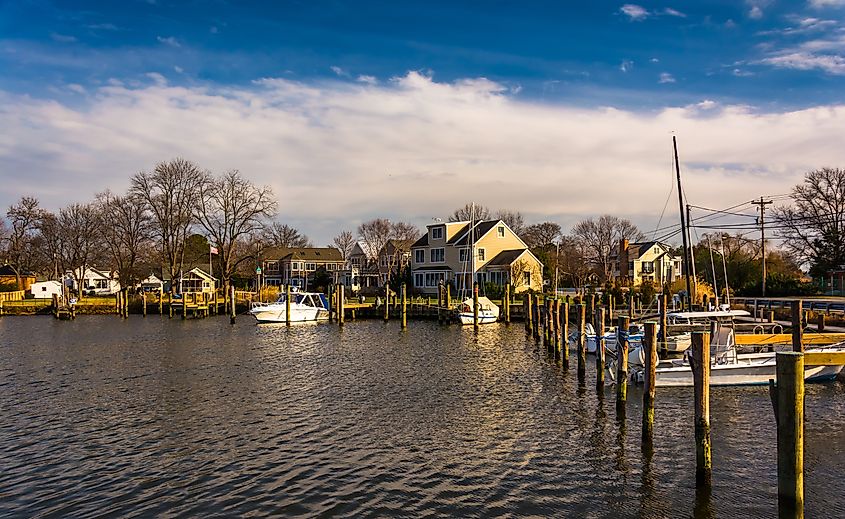 Situated along the Chesapeake Bay on Maryland's Eastern Shore, Oxford has a full-time population of fewer than 1,000. Although small, Oxford maintains a busy waterfront, including fishing boats unloading the catch of the day and sailboats unloading patrons of the town's restaurants and shops. Oxford was founded in 1683 as one of Maryland's first two ports (along with Annapolis) and maintains a restored colonial-era customs house and other historic sites. After spending a few hours walking the quaint downtown, visitors can take a trip across the Tred Avon River to Bellevue (and enjoy the picturesque views) on the Oxford-Bellevue Ferry, in operation in various forms since 1683.
Once heavily polluted by surrounding industries, the Chesapeake Bay is now one of the premiere spots in the United States for water recreation and tourism. All around the bay, towns from the colonial era that were once tobacco ports, fishing centers, or railroad and ferry hubs have transformed into beautiful bayfront communities. Visitors to these charming towns get to taste the past, with colonial architecture and historic sites, along with modern dining, shopping, and entertainment options.