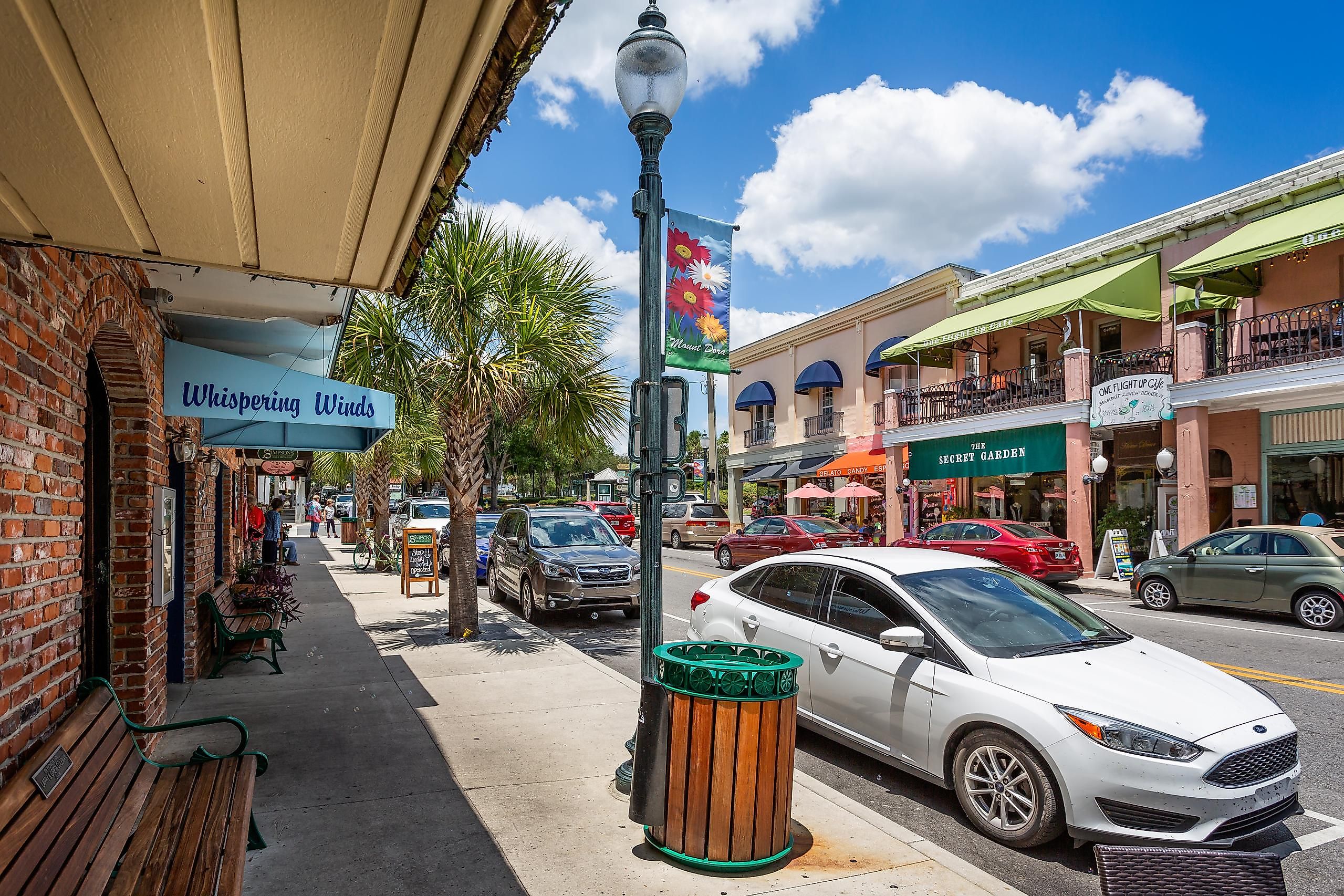 14 Small Towns in Florida Were Ranked Among US Favorites
With amusement parks, sandy shores, beautiful sun, and historical destinations, there is everything in Florida that makes it an extraordinary U.S. state to visit. You will find nightclubs for a buzzing nightlife, unmatched seafood restaurants, lighthouses capturing history, mansions radiating Victorian architecture, and whatnot. There are numerous towns filled with unique personalities and histories that are worth discovering, thanks to their charming streets, friendly residents, and pristine natural areas. So, if wondering which place to head to for your next beachside Florida vacation, look no further. Below are the 14 small towns in Florida ranked among US favorites, for they strike the right balance for a perfect vacation.
Apalachicola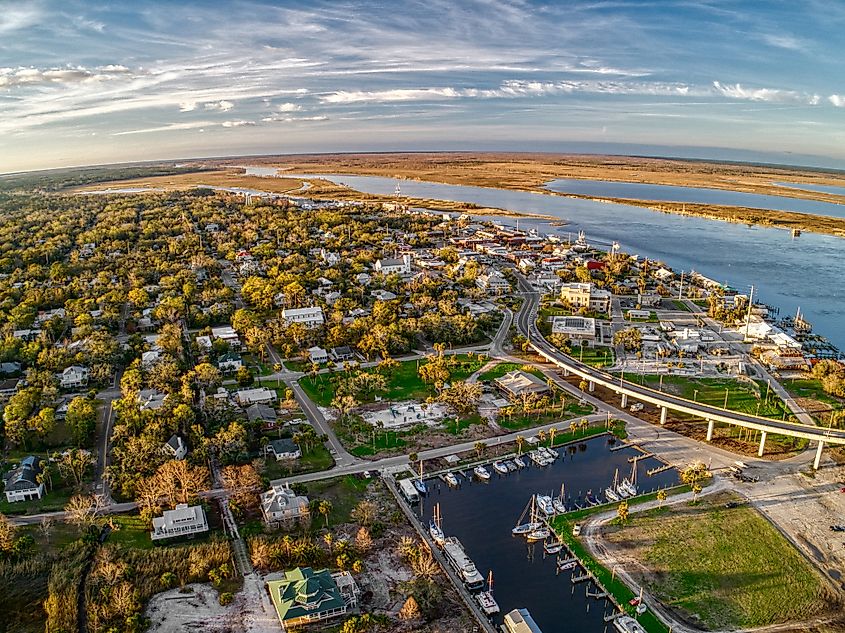 Apalachicola is a quaint town singing the tales of maritime history along the serene Gulf Coast and beauty. The Apalachicola National Estuarine Research Reserve is a natural gem, perfect for watching Laughing Gulls, Philadelphia Vireo, and American Oystercatchers. Raney House Museum takes you on a trip through artifacts, antique furniture, and records of an eighteenth-century mansion. Furthermore, the "Oyster Capital of the World" does not have just world-class oysters but also an Oyster brewery. Oyster City Brewing Company Apalachicola is where exquisite craft beer like Mangrove, Hooter Brown, Legacy Lager, and Apalach IPA sets the mood of the evening. 
Winter Park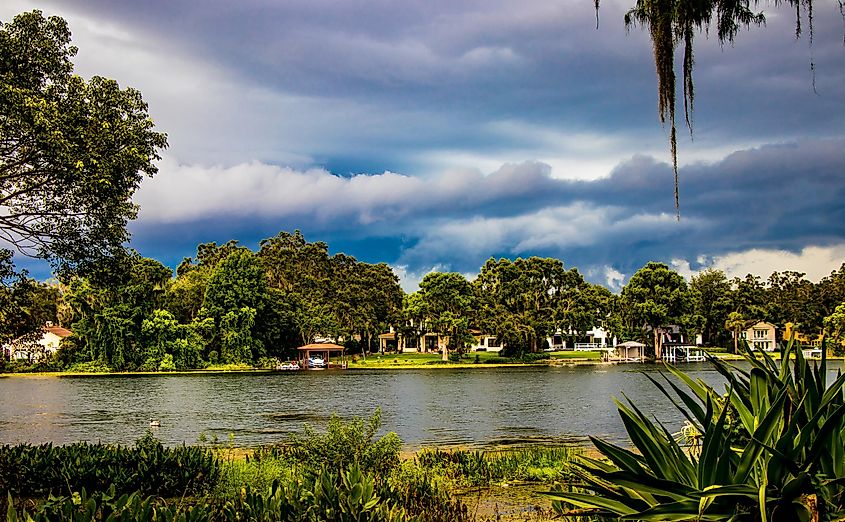 Orlando is not far, but Winter Park is your place for a refreshing escape from crowds with its chic boutiques, lush gardens, and cultural attractions and slides into one of the most beautiful small towns to visit in Florida list. The town exudes an air of sophistication, boasting upscale dining options of AVA MediterrAegean, blu on the avenue, and Prato, along Park Avenue and Lake Virginia's scenic allure on the Rollins College campus. Art enthusiasts will relish the Morse Museum's collection of Tiffany glass, while nature lovers can discover the oak canopy, the fragrant Rose Garden, and gushing fountains in the serene Central Park. 
Mount Dora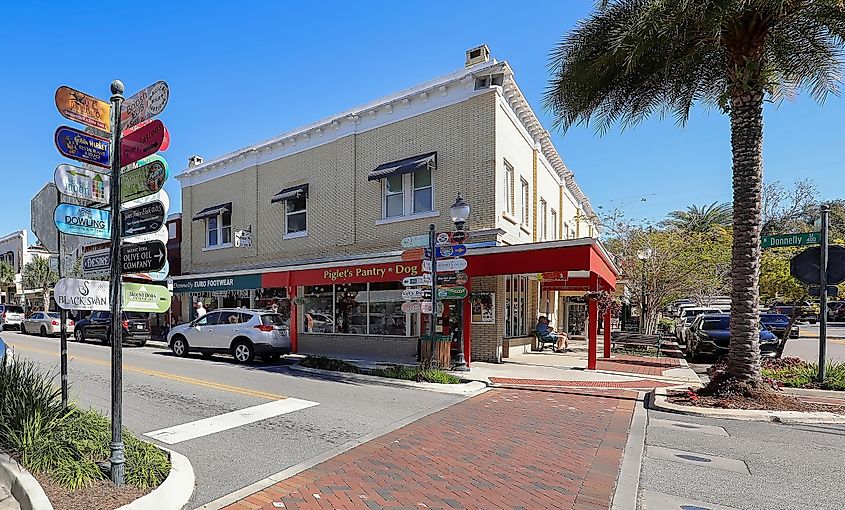 Rolling hills and freshwater lakes helps Mount Dora capture the essence of old Florida. Take strolls along the Lake Dora waterfront, find your way to the Wild Ibis Art Studios & Gallery, or hop on a mini catamaran tour with CatBoat Adventure Tours. An annual calendar brimming with festivals and events, such as the Mount Dora Arts Festival- a place for unique handcrafted finds, infuses this town with vibrant energy, making it a captivating destination year-round. Have fun hiking, geo-seeking, paddling, and birding in nearby Wekiva Springs State Park. It is also one of the most adorable small towns in Florida. So, don't miss out.
Seaside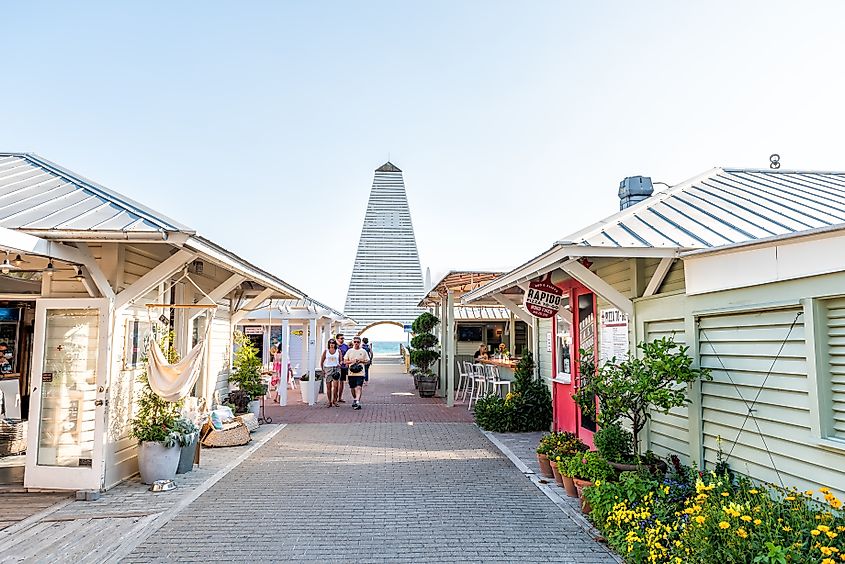 Seaside stands as a testament to New Urbanism, a master-planned community that's become a celebrated beachside retreat. Its pastel-colored cottages, white picket fences, and lively town center evoke a sense of nostalgia and carefree coastal living. Whether lounging amid lush greenery in the Cerulean Park, enjoying open-air concerts in the Seaside Amphitheatre, or exploring the unique shops of The Art of Simple and Amore By the Sea, Seaside embodies a laid-back ambiance. Escambia Farms' grass-fed beef, Register Family Bee Farm's fresh honey, and Crust Artisan Bakery's baked products beckon you to Seaside Farmers Market for local flavors. 
Vero Beach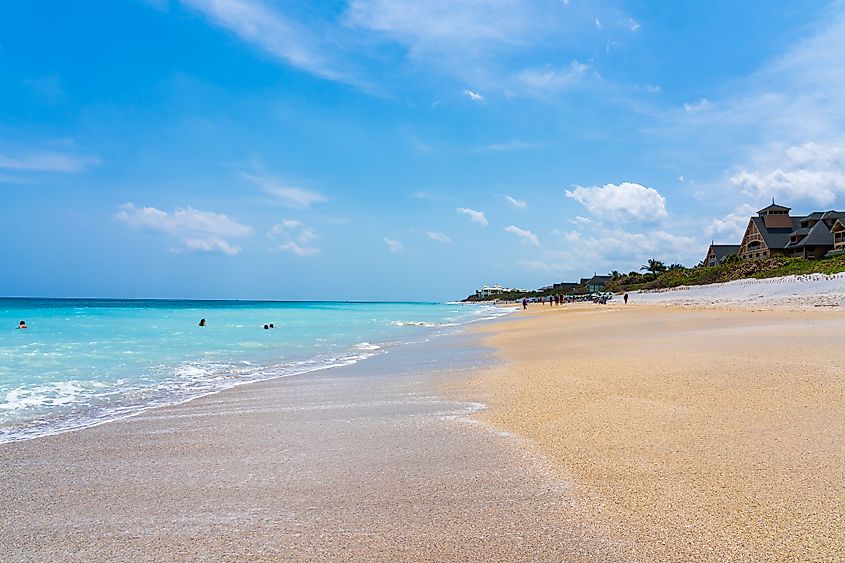 Vero Beach boasts a harmonious blend of cultural offerings and unspoiled natural beauty and is home to one of the most beautiful beaches in Florida, its namesake. The town embraces artistic expression being home to the Vero Beach Museum of Art's art talks and art school and the Riverside Theatre's comedy zone, distinguished lectures, and musicals. The unblemished coastline provides opportunities for swimming, fishing, and observing sea turtle nesting. The McKee Botanical Garden dazzles with its lush landscapes, tropical flora, The Hall of Giants, and Hans Godo Frabel's sculpture exhibits. The yearly water lily celebration is surely to catch minds when visiting the garden. 
St. Augustine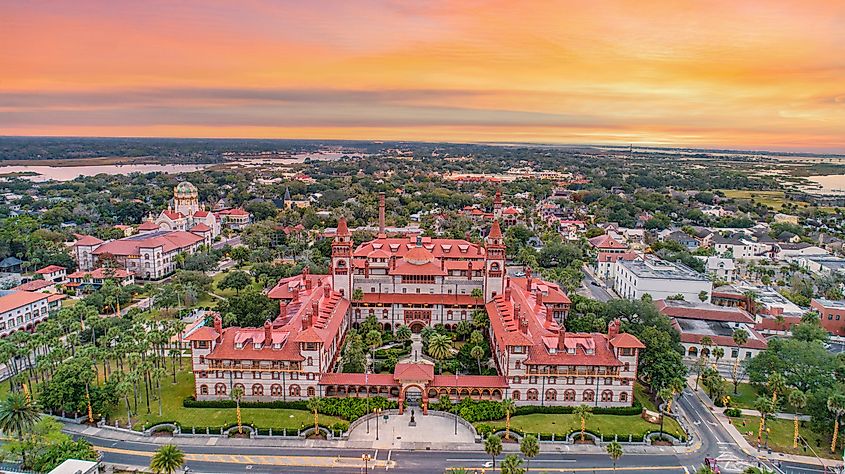 The country's earliest established city, St. Augustine, needs no introduction with its vintage elegance and modern highlights. St. George Street is where the Spanish colonial architecture sets the stage for art galleries- Micro Masterpieces Art Gallery and Sea Spirits Gallery & Gifts, boutique shops- Shopaholic Boutique Inc. and Artsy Abode - St George Street, and vibrant cafes- The Cuban Café And Bakery, Dream Boat Coffee, and St. Augustine Coffee House. Visitors can also explore Flagler College's opulent campus or take a scenic cruise along Matanzas Bay.
Fernandina Beach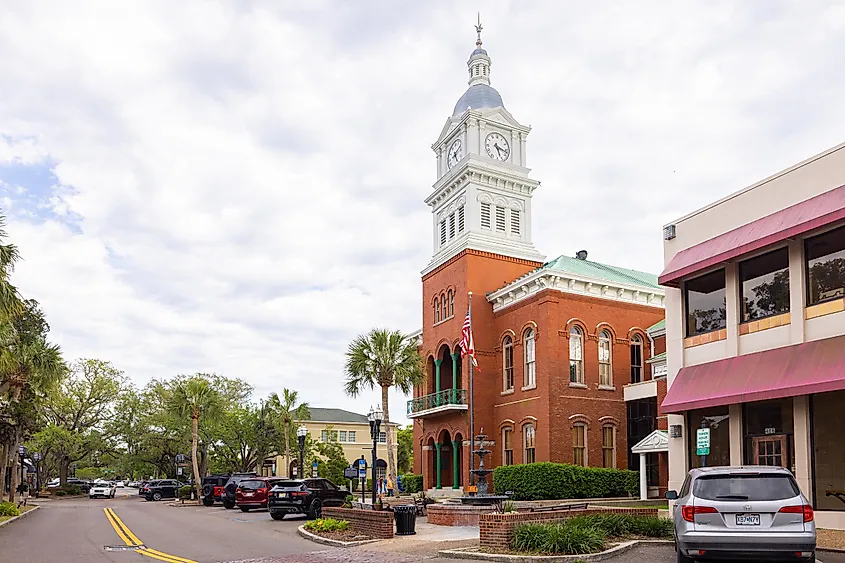 The magnificent Amelia Island is home to the postcard-worthy city of Fernandina Beach. The historic district invites exploration with its colorful storefronts like the Indigo Alley and B&Bs among which Fairbanks House, Hoyt House, and The Addison on Amelia Island are the most sought-after. Fort Clinch State Park offers a glimpse into Civil War-era military life amidst stunning coastal landscapes. On a midnight ghost tour, the tour operators at Anchor Trolley & Transport will lead you on a spine-tingling journey through the town's macabre past. The Isle of Eight Flags Shrimp Festival brings the bloom of Spring with delectable seafood delicacies, flamboyant shrimp boats, and lively parades.
Stuart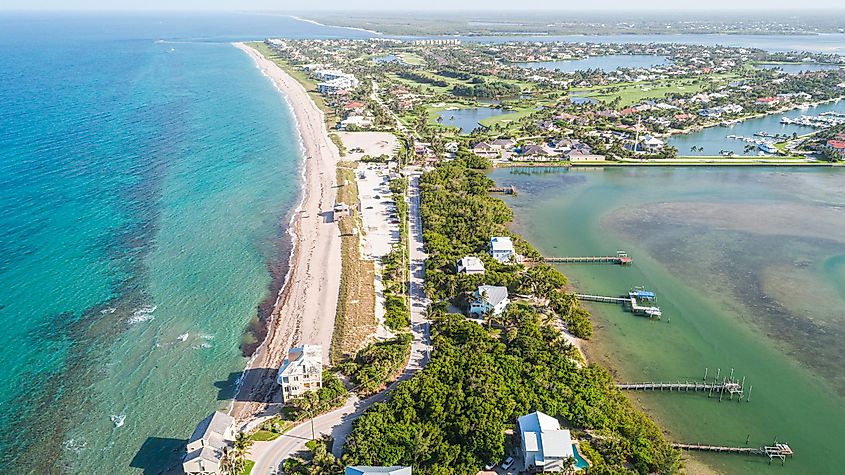 Basking along the Treasure Coast, Stuart embraces the essence of a coastal haven with its unspoiled beaches, bustling downtown, and art scene. The town's Riverwalk features boutique shops like The GypSea Cottage, the art haven of Geoffrey C. Smith Galleries, and lively events like Christmas decorations and Halloween extravaganzas, while the nearby Jonathan Dickinson State Park beckons with hiking trails and canoeing adventures. One of the most beautiful small towns in Florida you should visit and termed the "Sailfish Capital of the World," Stuart also has spots, including Sailor's Return, Lola's Seafood Eatery, and Fresh Catch Seafood Grill, to sample the finest seafood bites.
Matlacha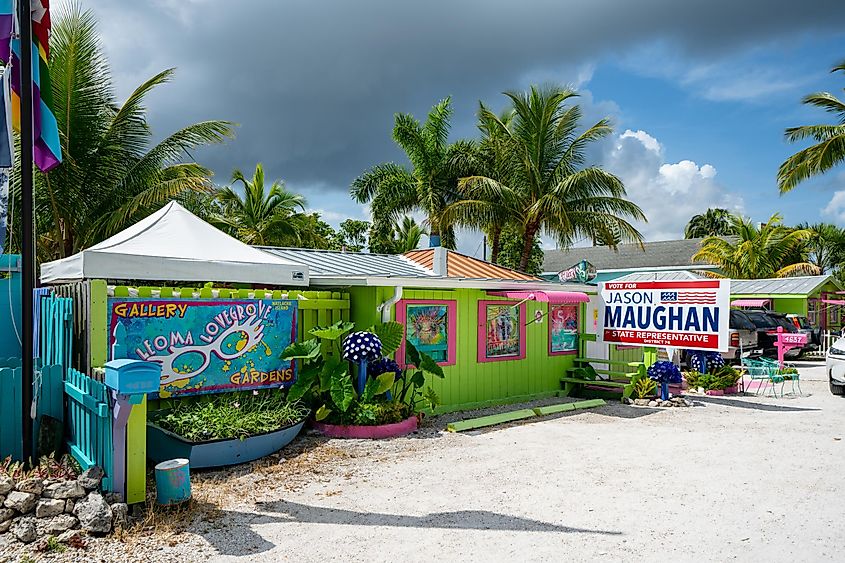 A vibrant splash of color in southwest Florida, Matlacha is a quirky artist's paradise nestled among mangroves and estuaries. Its artsy charm is evident in Gallery Of Matlacha, Matlacha Menagerie, and Leoma Lovegrove Gallery & Gardens, showcasing whimsical creations inspired by the surrounding nature. Matlacha Pass Aquatic Preserve is a kayaking paradise, crossing seagrass flats, mangrove islands, and oyster bars. For expert guidance on the finest fishing grounds for Snook, Sheepshead, Tarpon, Redfish, and Trouts, Matlacha Fishing Charters are your guys. 
Anna Maria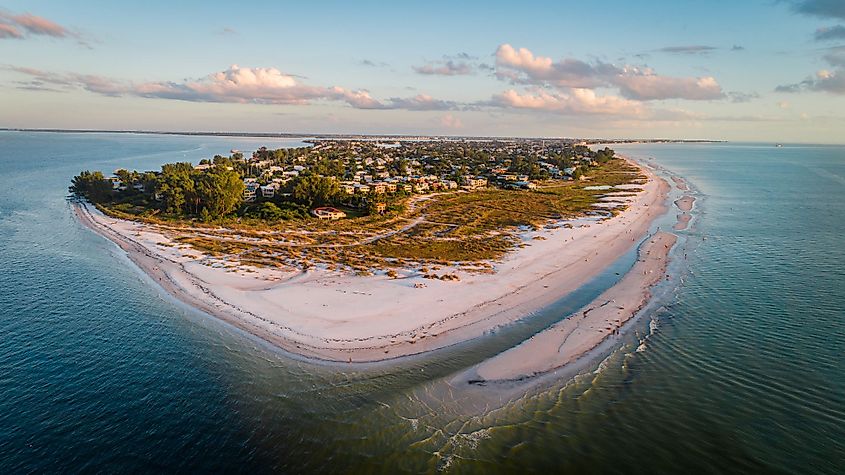 A barrier island is the site of Anna Maria, known for its pristine beaches, relaxed atmosphere, and stunning Gulf sunsets. The town's "Old Florida" charm emits from its low-rise buildings and quaint streets of Pine Avenue and Bridge Street. Lazy Turtle Beach Rentals and Bradenton Bike & Kayak are the bike rentals to look at when looking for cycling expeditions. Anna Maria River invites you to partake in everything from paddleboarding to fishing with the services of AMI Paddleboard and Kayak Jack's Paddle Sports. 
Cedar Key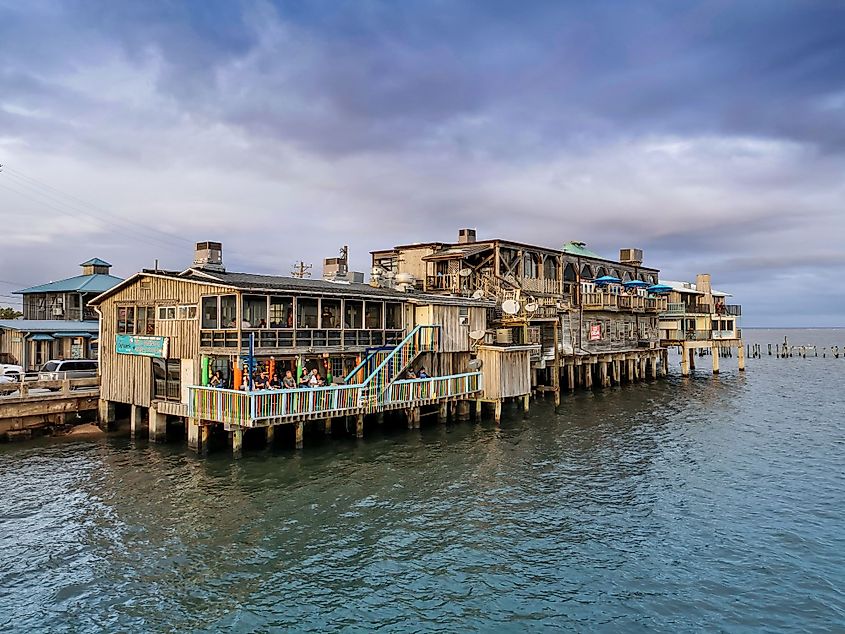 The Gulf of Mexico is nothing short of a treasure, and here is one more to add to the list. One of the most beautiful beach towns on Florida's Emerald Coast, Cedar Key is a secluded oasis renowned for its natural beauty, laid-back ambiance, and artistic spirit. The Cedar Keys National Wildlife Refuge is the key draw with its boasting tours of Seahorse Key rookery and about 20,000 birds, including reddish egrets, white ibis, and night herons. The absence of towering resorts accentuates Cedar Key's unspoiled charm, inviting travelers to experience the tranquility of a coastal haven in the pastel blues of Pirated Cove Coastal Cottages, seaside scenery of Cedar Key Harbour Master Suites, and Cedar Key Bed & Breakfast's beautiful suites. 
Islamorada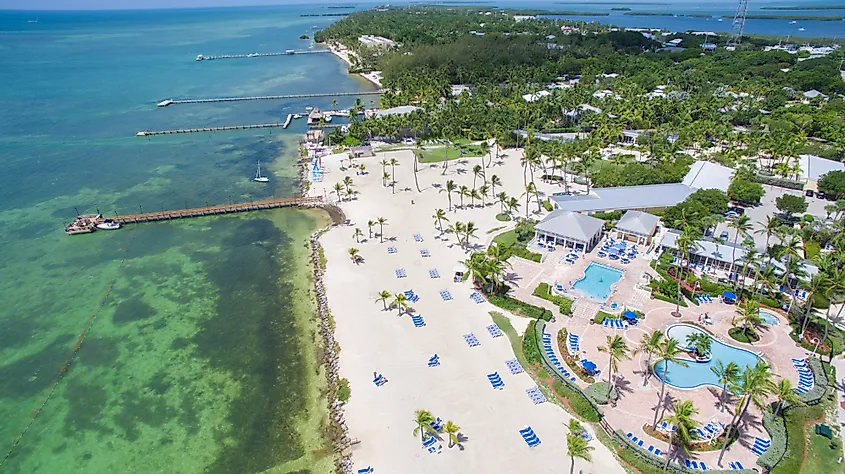 Dubbed the "Village of Islands," Islamorada is a tropical paradise of the Florida Keys. It's a haven for snorkeling, diving, and sport fishing with its pristine coral reefs. The Theater of the Sea showcases marine life through interactive experiences like splashing with sea lions, frolicking with dolphins, and diving with sharks. Visitors can savor fresh seafood at beachside restaurants of Tides Beachside Bar & Grill and Morada Bay. And if you are tired of all these exhilarating activities, fret not. Islamorada Brewery & Distillery sounds perfect with its aged spirits and tap brews to end the day.
Crystal River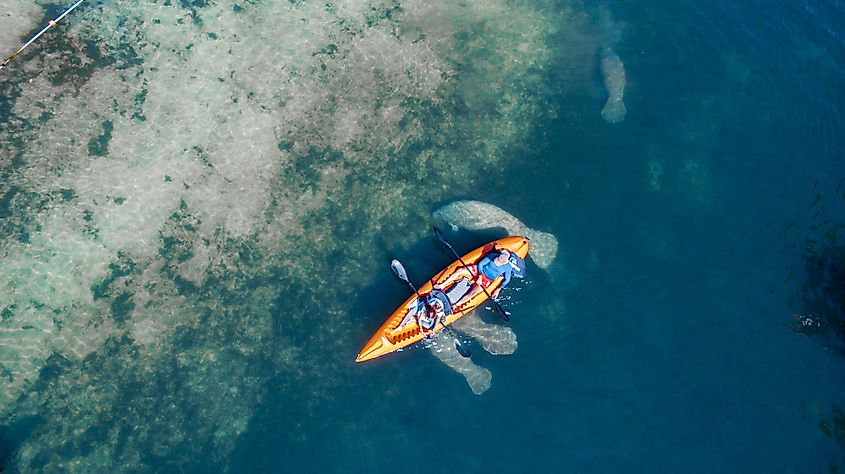 Crystal River earns its way into the list with its warm springs and interactions with manatees. Crystal River National Wildlife Refuge is the gem that allows visitors to swim alongside these gentle giants in their natural habitat. The Crystal River Archaeological State Park offers insight into the region's indigenous history through temple sites, burials, and not to forget the Great Florida Birding Trail. Kayaking and swimming in Kings Bay and Hunter's Springs Park are refreshing experiences. 
Naples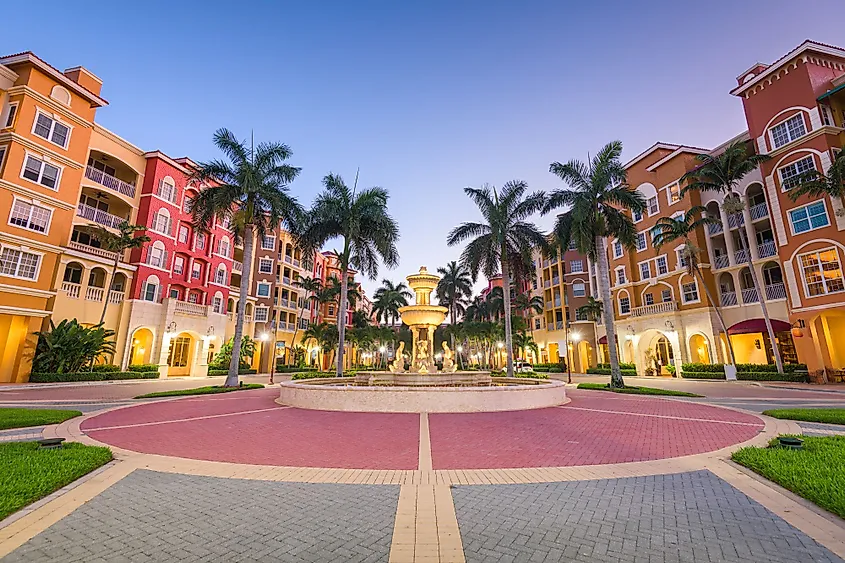 Not like the Italian one, however, Naples exudes elegance and luxury against the backdrop of pristine beaches and swaying palms. Fifth Avenue South boasts upscale shopping, gourmet dining, and cultural attractions like the Naples Art Association. The town's pier offers stunning sunset views, while nearby Everglades National Park invites adventurers for kayaking, guided paddling, and canoeing. Waterlilies are the best sights to capture or admire at Naples Botanical Garden. The Corkscrew Swamp Sanctuary is perfect for wildlife watching, featuring red-bellied turtles, white-tailed deer, and alligators, on its scenic nature walks.
Small towns in Florida have earned a well-deserved reputation as popular vacation spots among Americans. Each town offers its own blend of experiences, from the historic appeal of St. Augustine's cobblestone streets to the thriving arts scene in Matlacha. These cities continue to enthrall and inspire visitors with their various offerings of art, history, outdoor activities, and gastronomic delights, carving out a place for themselves in the heart of the Sunshine State's extensive list of attractions.