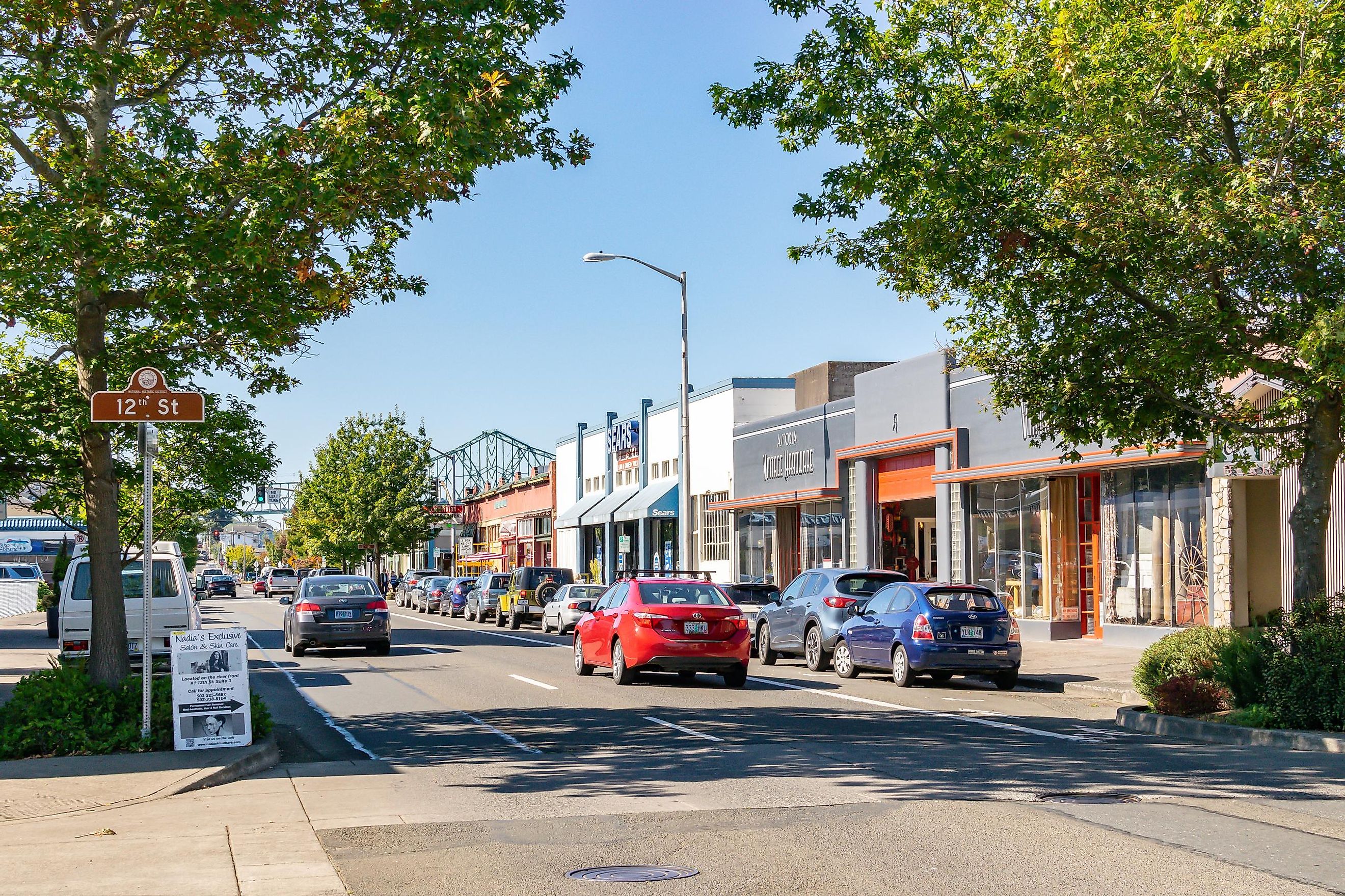 14 Most Scenic Towns in Oregon
With such a variety of landscapes, Oregon is paradise for all nature lovers! Showcasing multiple mountain ranges, lakes, rivers, craters, waterfalls, forests and of course the stunning coastline you will go on many unique adventures as you through journey Oregon. Travel up a mountain, down the coast, through a basin, and make unforgettable memories along the way.
As you escape the city, take a tour through these charming towns that allow you to fully immerse yourself in the natural beauty of this northwest state. Be sure to pack your camera, hiking shoes and favorite beach towel and get ready to take in all that Oregon has to offer!
Lake Oswego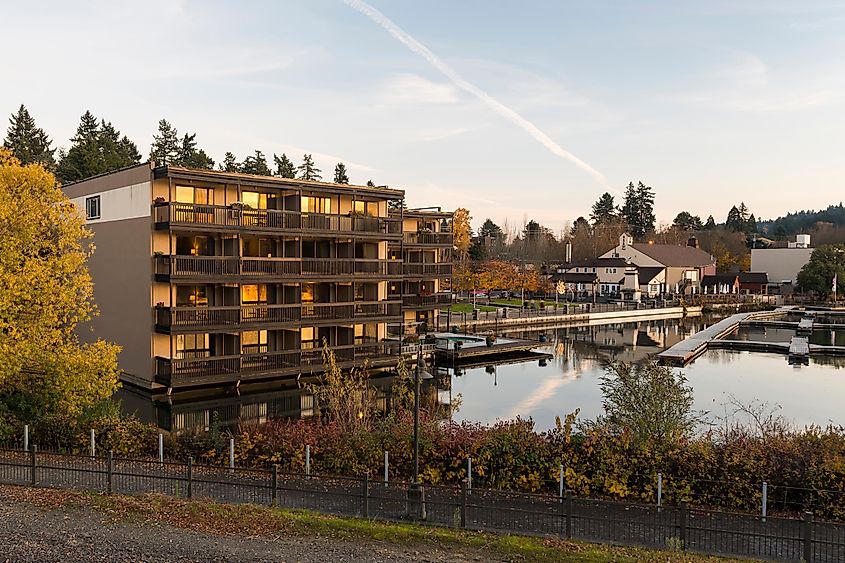 Let's start with Lake Oswego, only a short drive from Portland. Escape the big city and explore Lake Oswego, nestled on the 405-acre lake of the same name. Start your day in Lake View Village, stroll through downtown and stop at Millennium Park Plaza where you can enjoy majestic views of lake and Mount Hood. While your first thought may be the lake itself, there are many other natural areas and parks that you will not want to miss! Lake Oswego has over 460 acres of natural parks with diverse plants and wildlife. One of the most unique places you will find in Lake Oswego is Cooks Butte, an extinct 718 foot volcano! Your trip is just getting started and Oregon has many more stunning landscapes to offer.
Falls City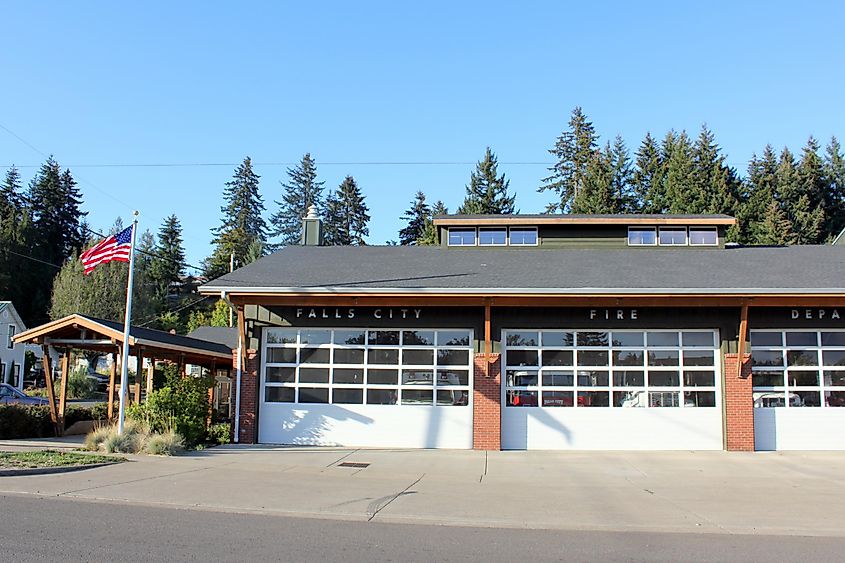 If you are looking for a scenic small town near Oregon's capital, Falls City is perfect for you. Only 25 miles from Salem, this small town offers many natural wonders to explore. Whether you are an avid mountain biker or want a calm stroll through town you will be immersed in the natural beauty. Your first stop in Falls City is, of course, the falls! Little Luckiamute Falls is located just outside the town center. For an extra pop of colour in your photos, be sure to visit in the fall to capture the changing foliage. For a more rigorous adventure, mountain bikers can head to Black Rock and take a ride on one of the trails. The trails are catered to different skillsets to allow for optimal enjoyment.
Heppner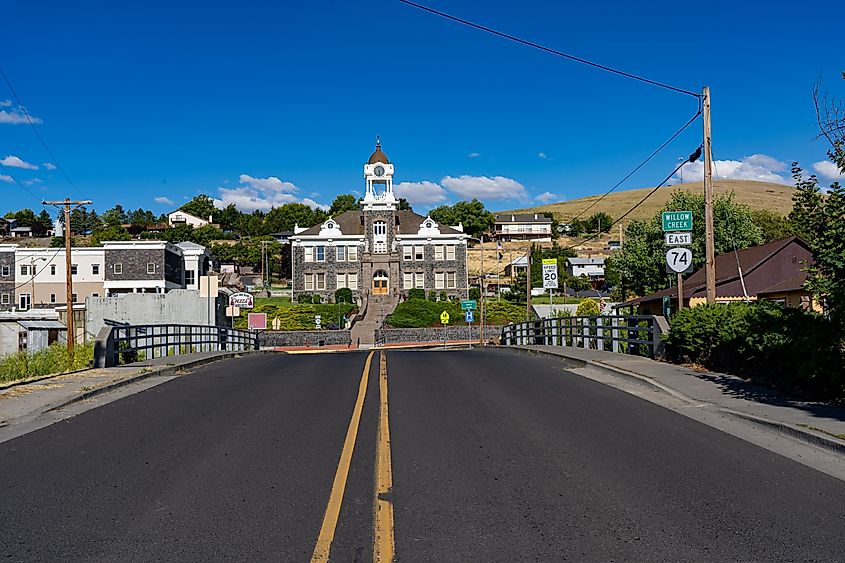 Ready to travel deeper into the Oregon wilderness? Known as "The Gateway to the Blues", Heppner is the perfect place to start an adventure along the Blue Mountain Scenic Byway. As you travel through the historic downtown you can enjoy the stunning backdrop of rolling hills and blue skies. When you plan a trip for the fall or winter you can take in the view with yellowing foliage or snow covered hills. This small town is perfect to explore in every season. Whether you choose to take drive to enjoy the sunshine, cycle along the fall foliage or cross-country ski through the snow covered hills. As you leave Heppner on the Blue Mountain Scenic Byway you will continue your journey through the Blue Mountains and Umatilla National Forest.
Ukiah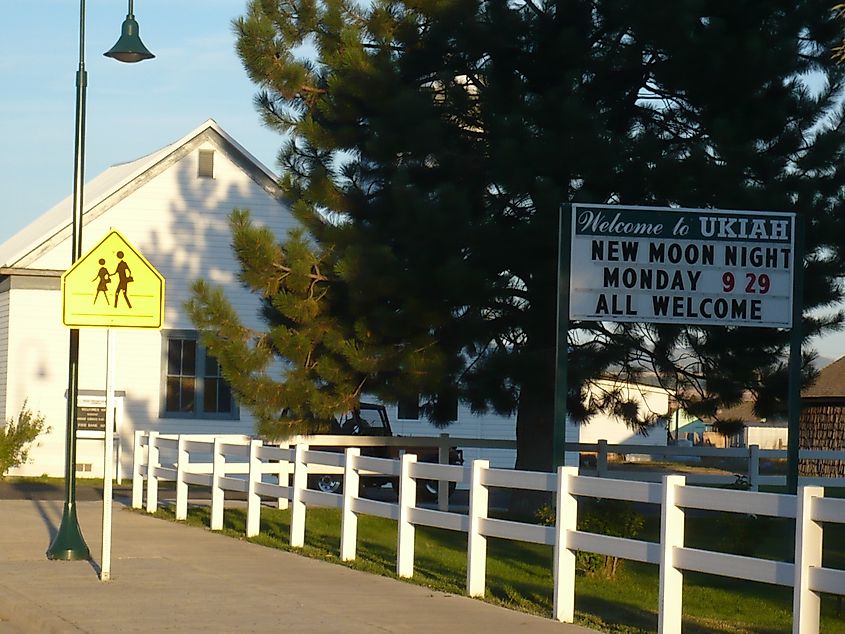 As you continue down the Blue Mountain Scenic Byway, you will pass through the forests and begin to descend into a lake basin and arrive in Ukiah. Although this area was once covered by a lake, an ancient earthquake caused the lake to drain leaving the basin in its place. This change in elevation allows for an optimal environment for many plants and wildlife. Ukiah provides visitors with many opportunities to take in the surrounding nature including hiking, bird watching and camping. In the spring you can take in the fields of bright-blue camas in full bloom and in winter the area becomes home to over 1,000 Rocky Mountain elk.
Sumpter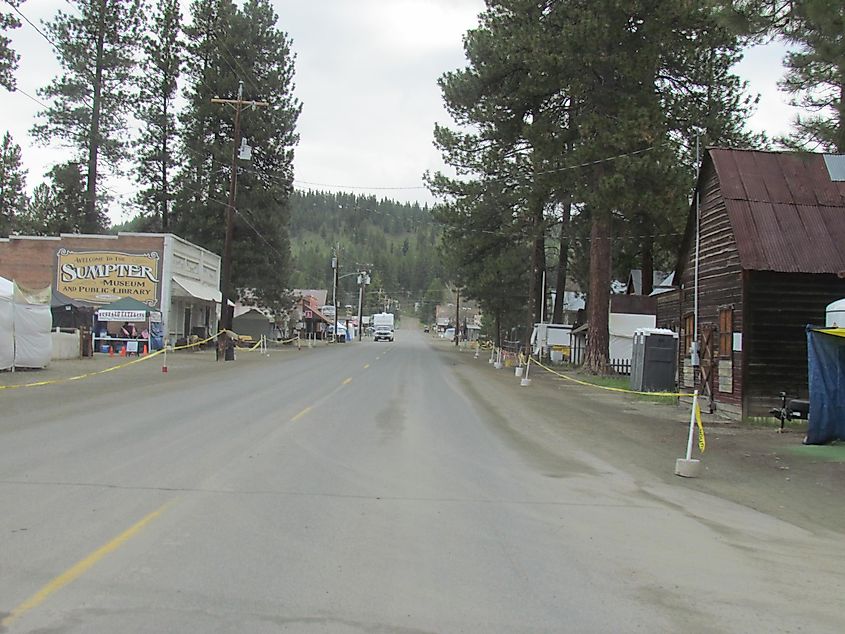 Next up on your mountain adventure you will travel through the Elkhorn Mountain Range and arrive at the town of Sumpter. Transport yourself back in time as you explore this mining town as well as multiple ghost towns in the area. Sumpter and the surrounding area also offers many trails for cross country skiers, snowmobilers, hikers and all terrain vehicles to explore rivers, streams, lakes and mountains. Elkhorn Crest Trail allows you to explore the John Day wilderness with over 23 miles of trails that give you a great view of many peaks like Elkhorn Peak, Angell Peak, Lees Peak and Gunsight Peak.
Baker City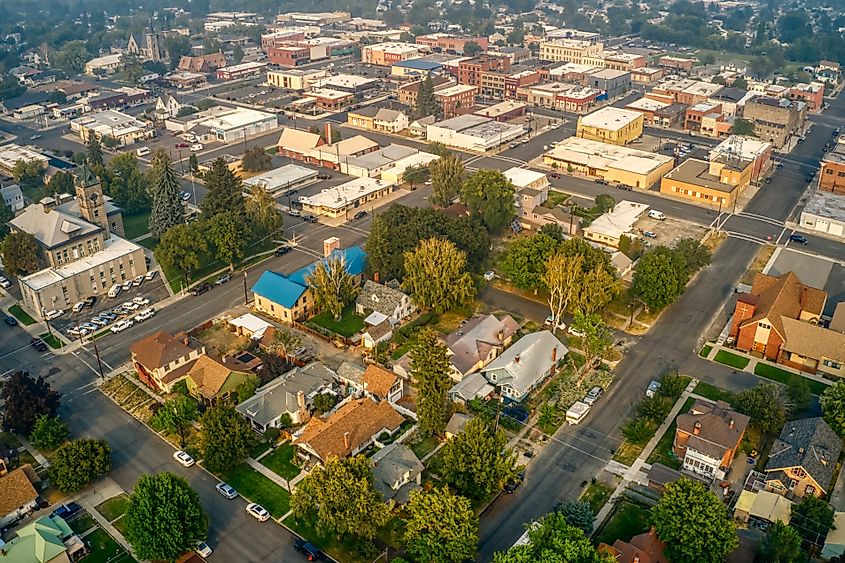 Less than an hour east of Sumpter, you can explore Baker City. Often referred to as "the base camp of Eastern Oregon", Baker City offers many natural beauties for you to explore. Situated between the Elkhorn and Wallowa Mountain Ranges, you will be amazed by the stunning mountain views even from the heart of downtown. Take your time strolling through town while you find that perfect picture for your Instagram story! You can also explore the beautiful views of Snake River, Hells Canyon and the Oregon Trail. Baker City is close to many recreational areas, perfect for enjoying the scenery as you embark on a hike or cross country ski trip.
Astoria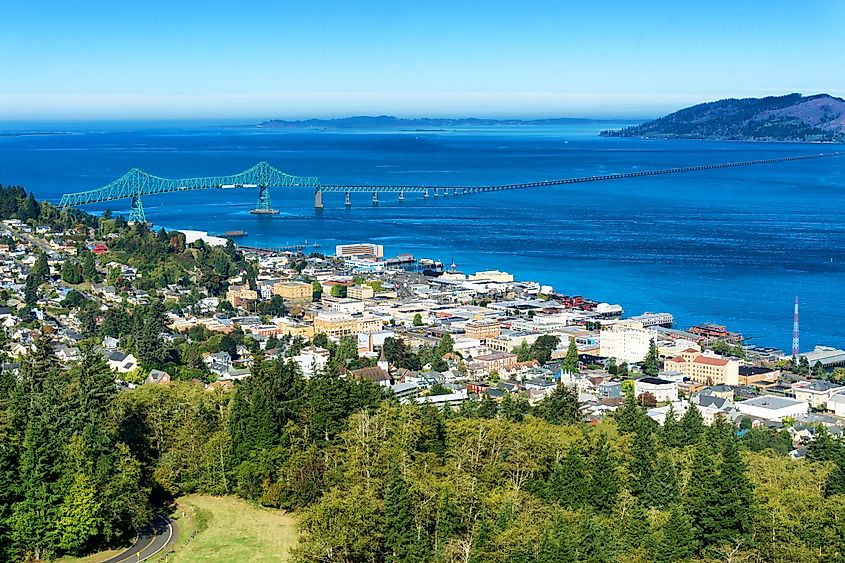 After all this exploring throughout the mountains it is time for a change of scenery. Let's hop over to the northwestern corner of Oregon and explore the oldest settlement west of the Rockies, Astoria. Situated on three rivers, Astoria is the perfect setting to start your next adventure. Hop on the Astoria Riverfront Trolley for a one hour trip to take in the riverfront views. Alternatively, you can take walk down the Riverfront Trail and stop at the multiple viewpoints for that perfect Instagram photo! Astoria is also surrounded by majestic forests and sits just inland from the shores of the Pacific Ocean. Next up, you can hop on the Oregon Coast Trail to discover many more scenic highlights.
Seaside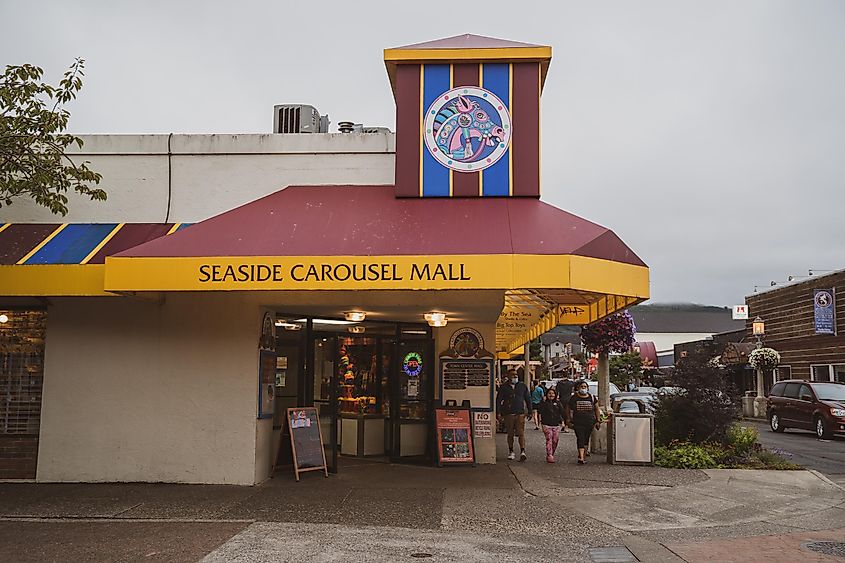 The Oregon Coast Trail stretches from the Columbia River to the California border and offers a variety of natural gems. You can start with the popular coastal town of Seaside. Begin your stay with a stroll down the over 100-year-old Promenade. As you walk down the 1.5 mile long path, you can enjoy the view of beachgrass-covered dunes that stretch into the Pacific Ocean. Seaside is also a great spot for birdwatching. The natural beauty allows for the perfect environment for many migrating shore birds. Be sure to also check out the Tillamook Head Recreation Trial so you can explore the coastal forest just minutes away from Seaside.
Cannon Beach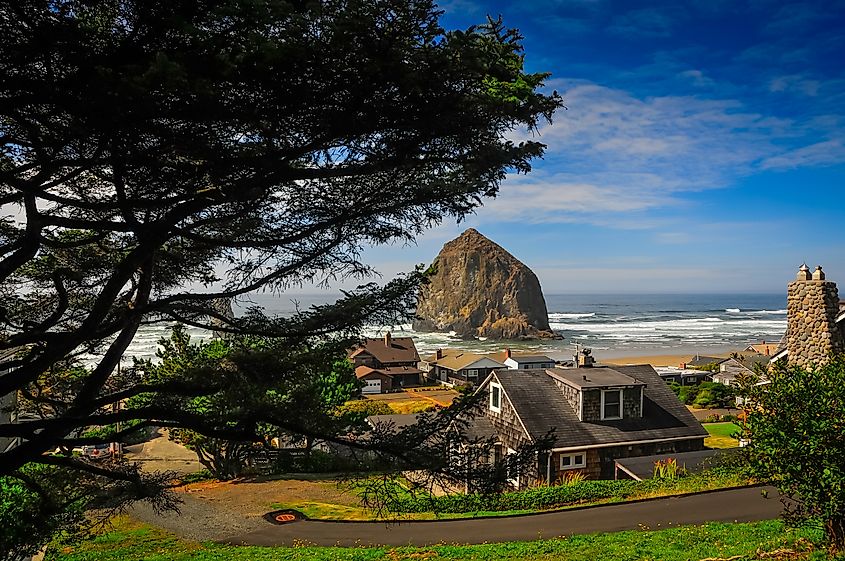 Only a 15 minute drive south of Seaside, you will find the quaint Cannon Beach. Cannon Beach is most known for the iconic Haystack Rock towering over the shoreline and serving as a home for Tufted Puffins. There is also many other unique natural features to explore. As the tide recedes on the rocky coastline, many tide pools become visible. These tide pools are home to colourful coral, sea sponges, crabs and many other animals. If you prefer sea creatures a bit bigger in size, then you should be on the look out for 30-ton Gray Whales. These majestic animals can be spotted twice annually during their migration seasons and will complete your perfect West Coast photo.
Manzanita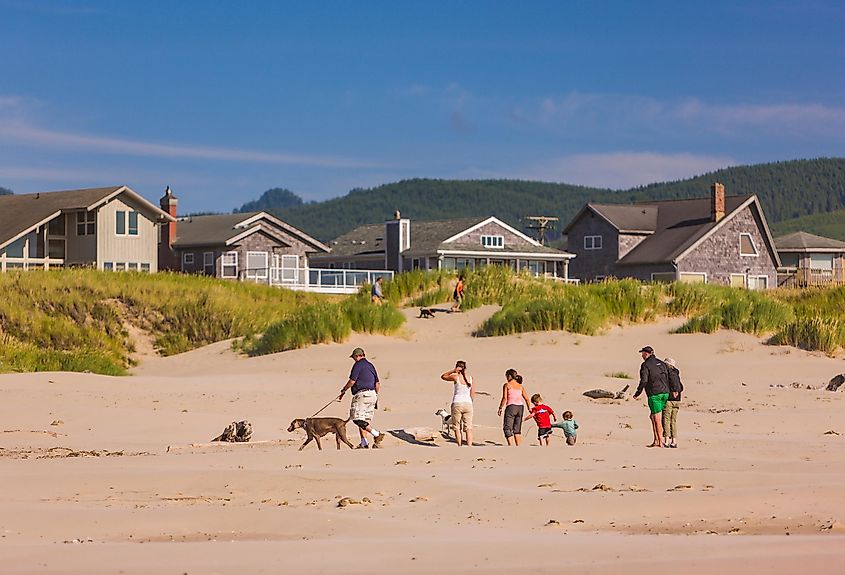 Next up on your coastal journey is the beautiful town of Manzanita. The coastline and other amazing scenery of Manzanita holds an important place in Oregon's history. It was these spectacular views that inspired Oregon governor Oswald West to declare that Oregon's beaches should be open for public use and available for all to enjoy. As you stroll down the beach it will not take long for you to understand this appreciation for the coastal landscape. Another unique feature of Manzanita is Neahkahnie Mountain. From the beach, you will be able to take in the cliffs that reach to the ocean. For a different view, embark on the family friendly hike to the top of Neahkahnie Mountain where you can look over the coast, the town and the lush forest.
Coos Bay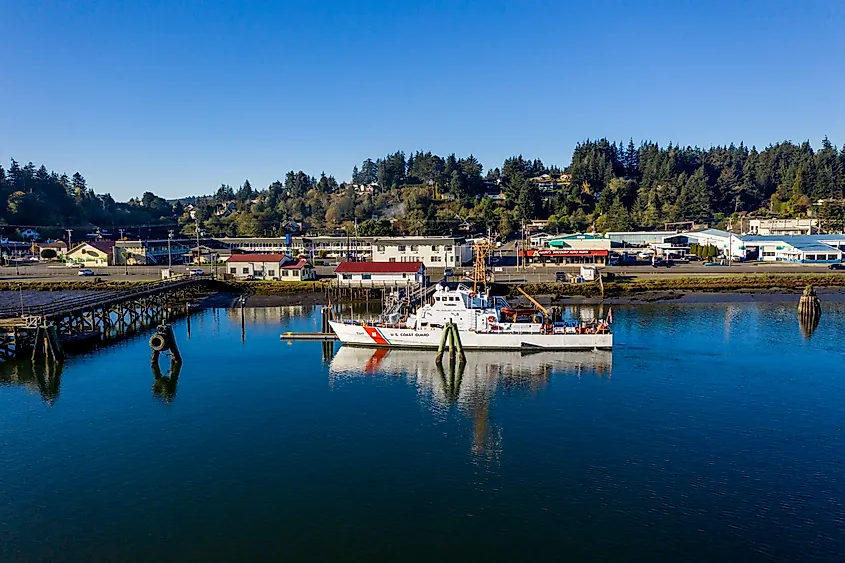 As you continue your trip down the coastline you can stop at the maritime town of Coos Bay. Interested in water activities? Coos Bay has close access to rivers, lakes, the ocean and the bay! You can swim, paddle and sail as you explore a variety of fresh water and salt water environments. After your water adventures, you can dry off while you explore the sand dunes. Travel through the Oregon Dunes National Recreation Area where you can marvel at the expansive sand dunes, some of reaching over 500 feet high! Coos Bay offers some of the most scenic spots on the the west coast to hike, camp and explore. Just one more coastal town on our list for you to discover!
Gold Beach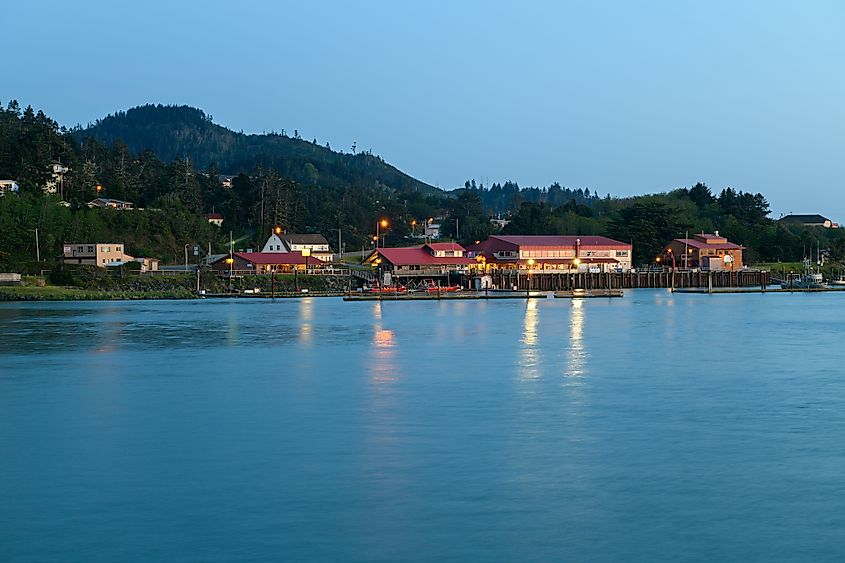 Only 40 miles north of the California border, Gold Beach is the perfect place to complete your journey along the Oregon coast. Gold Beach sits where the Rogue River meets the Pacific Ocean. Take in the scenery while you are jet boating up the river or taking a fishing boat out onto the ocean. A trip to the West Coast is not complete without taking the time to enjoy the shimmering sunset over the Pacific Ocean. Find your perfect spot on the sand and sit back and reflect on your many experiences along the coastline. As the stars begin to shine, it is time for the next chapter in your Oregon adventure.
Ashland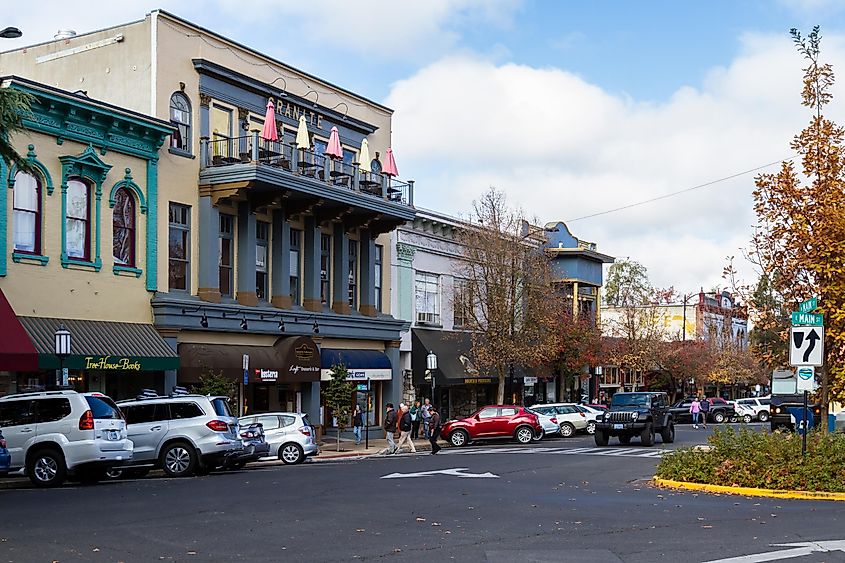 Next, you are going to move inland and continue your journey through southern Oregon. With stunning natural beauty, Ashland is perfect for your next stop. Situated at the base of both the Cascade and Siskiyou Mountain Ranges, Ashland has a mild climate that will allow you to enjoy the scenery year round. Even in the heart of downtown you will feel immersed in nature. Just outside of Ashland, you can appreciate the landscape while skiing or hiking. While you enjoy the view keep your eye out for many species of birds, including bald eagles. The largest concentration of bald eagles in the lower 48 states is found right here in the Klamath Basin.
Klamath Falls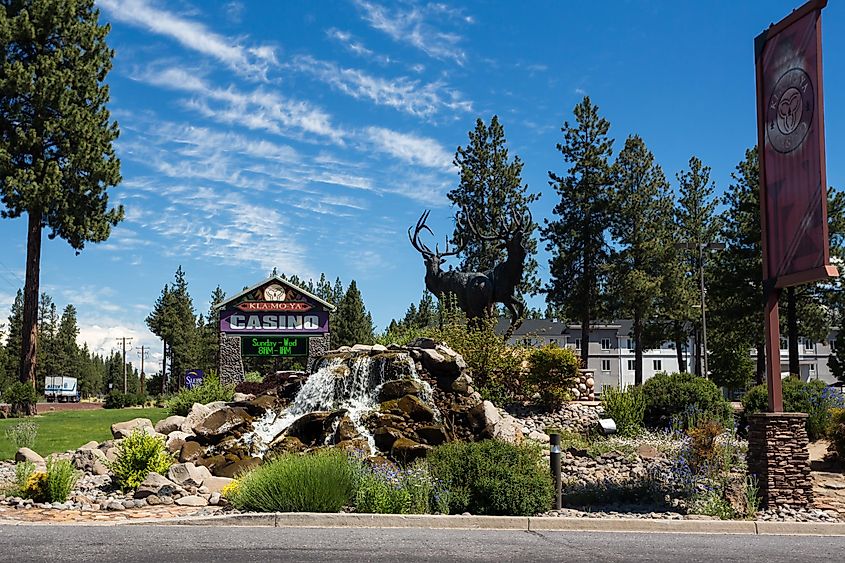 As you continue through the Klamath Basin you will reach Klamath Falls and have a chance to experience "Oregon's City of Sunshine". With over 300 days of sunshine each year, you can explore the natural beauty year round. You can marvel in the landscape as you hike, mountain bike, paddle and white water raft through the scenery. Want a bird's eye view? Check out Oregon's longest zipline and get a 360 degree view of the nature below! Don't forget to visit Crater Lake National Park and the Lava Bed National Monument so you can traverse through remnants of an ancient volcano. Klamath Falls has many unique excursions for you to explore as you complete your journey through Oregon.
Conclusion
The landscapes of Oregon are unique and offer unforgettable experiences to all who visit. These welcoming towns offer guests all the natural phenomenons that define the Pacific Northwest. It's almost hard to believe that so much natural beauty can all be found in one state. Swim in the ocean, ski on the mountains, bike through the forest and hike across sand dunes - all in one trip. With many year round options and activities, it's time to pack you bag and begin your own Oregon adventure!