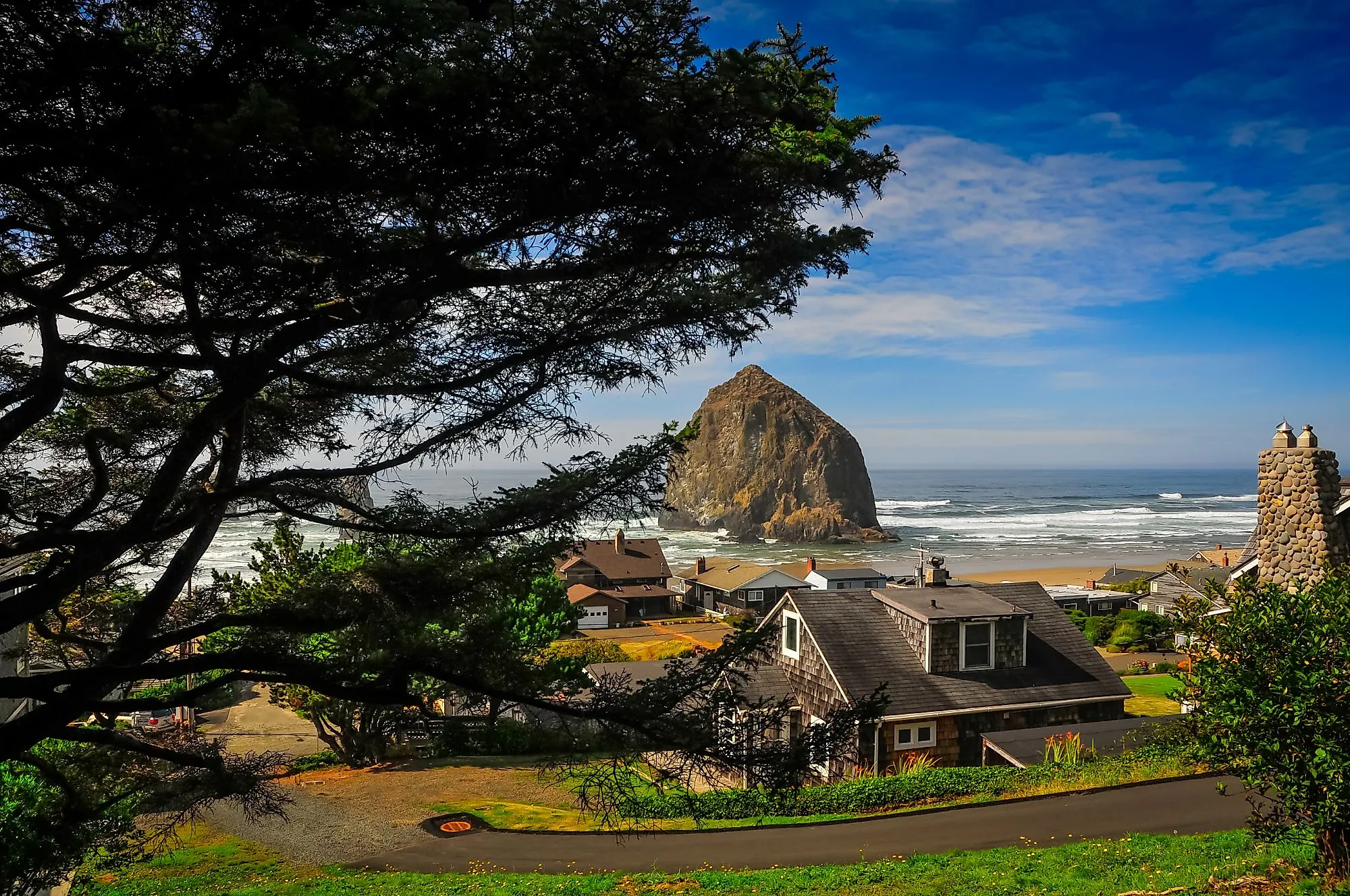 It is no wonder that Cannon Beach should be considered one of the top art towns in the Pacific Northwest – the little village is perched along Oregon's coast of rocky beaches and offers the most idyllic seascapes and captivating views. The numerous beaches, hiking trails, cliffs, and caves scattered throughout the region make Cannon Beach an absolute must on the bucket list of anyone seeking an adventurous escape into nature. Accommodations in Cannon Beach commonly overlook the shoreline, which is filled with multi-colored sea stars and bustling with massive flocks of sea birds of all varieties. Peacefully grazing elk can be seen wandering through the coastal meadows, and it becomes extremely easy to lose all sense of time while watching the puffins of Haystack Rock dive for fish. 
Geography Of Cannon Beach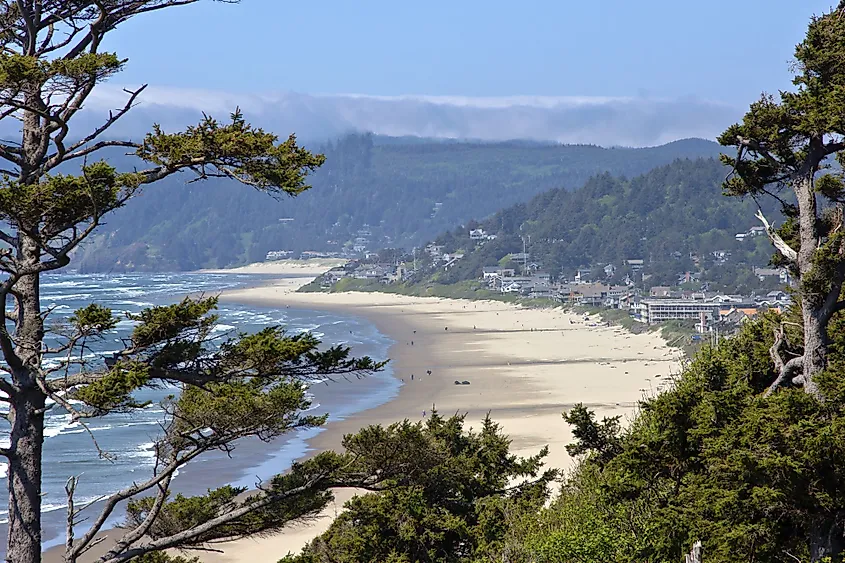 Located 25 miles south of Astoria and 80 miles west of Portland, Cannon Beach rests on Oregon's Pacific Northwest Coast. As such, the city is surrounded by forests, rivers, mountains, and a coastline. The city itself takes up only 4 miles of the Oregon coast. The geological history of Oregon was shaped by volcanic eruptions millions of years ago; as such, the region is recognizable by the rocky outcrops and protrusions scattered across the shoreline. Some of these have been included in the Oregon Islands National Wildlife Refuge in the interest of protecting the essential and endangered marine life that makes a home in the tidepools. There are seven Marine Gardens throughout Oregon, and the cyclical rising and retreating of the ocean tide provide ample opportunity for responsible exploration of the ecosystems that flourish in such conditions. One can observe many intertidal animals along the Cannon Beach coastline, including anemones, sea stars, chitons, nudibranchs, limpets, and crabs. When substantial outpourings of lava flooded from the Columbia Plateau to the Oregon Coast millions of years ago, a certain amount ended up spilling into the ocean's marine sediments. The resulting effect was the formation of basalt rock, which would eventually rise above sea level as the earth shifted over time. Haystack Rock, the best-known of these 'sea stacks,' towers 235 feet above the shoreline. The geological formation might be recognizable from the numerous novels, movies, and television shows it has featured in over the years.
Climate Of Cannon Beach
The perfect time to visit Cannon Beach is said to be during the warmer months of July and August, when the average temperatures vary between 12.7°C and 19.4°C. Winters can feel especially cold because of how wet and windy it becomes; however, the cool season is limited to the final days of November through to the end of February. During this time, temperatures rarely reach higher than 11.1°C. Cannon Beach's coldest month is December when the average high is 9.4°C, and the low is 4.4°C. The city's wet season lasts from the beginning of October to the start of May, but the precipitation in this area varies considerably over the year: the average number of rainy days in November is 17.8, while July's average is a mere 2.7 days of noteworthy precipitation.
Brief History Of Cannon Beach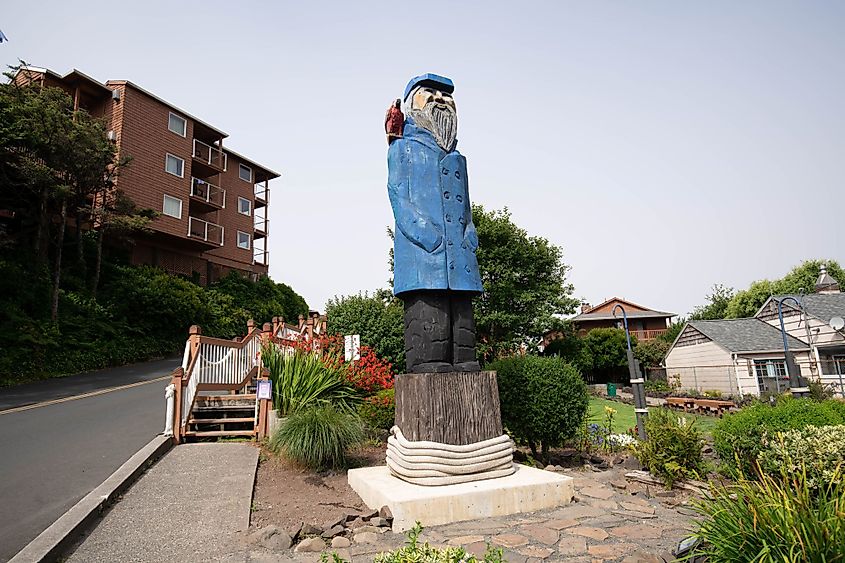 The Oregon Trail was a significant route for European colonists, who displaced the many Indigenous tribes who frequented the region in their traditional migratory patterns. Cannon Beach was a popular destination for pioneering settlers determined to establish themselves in America, as well as the so-called 'Remittance Men' – British men who arrived in North America generally accompanied by generous amounts of money from their families in the interest of claiming and cultivating lands. Many of these men were drawn to the Oregon coast because they recognized its potential as a popular tourism destination. Two such men, Logan and Walsh, selected the land once called Elk Creek for the location of their personal cottages, carrying on to establish homes for neighbors to expand their homestead. When these men cleared nine miles of shoreline – along which Cannon Beach is now located – they built an extremely winding road, wide enough for one wagon to travel at a time. This road was the only solution to the geographic challenges posed by the Neahkahnie Mountain to the south and Tillamook Head to the north between 1891 and 1890, the year that put Cannon Beach on the map by making it more easily accessible to tourists via train from Astoria. Before the establishment of European settlement on Cannon Beach, infamous explorers Lewis and Clark ventured along this very stretch of Oregon coastline, led by their Indigenous leader Sacagawea, to procure whale blubber in 1806. Despite this long history of habitation, the village of Cannon Beach was not officially declared a city until 1957.
The Population And Economy Of Cannon Beach
While the resident population of Cannon Beach is only a little over 1,700 people, the seaside resort welcomes over 750,000 tourists each year. The racial composition of Cannon Beach is a reported 79% white (non-Hispanic), 6% mixed race (two or more), 6% white-Hispanic, 4% other (Hispanic), and 2% Asian (non-Hispanic). Rather unusual is the fact that no reported households in Cannon Beach speak anything other than English as a primary language. In Oregon, the average income of male employees is 1.29 times that of female employees (who earn an annual median income of $52,010). However, a Gini index measurement places Oregon's overall income inequality below the country's average.
Attractions In Cannon Beach
Ecola State Park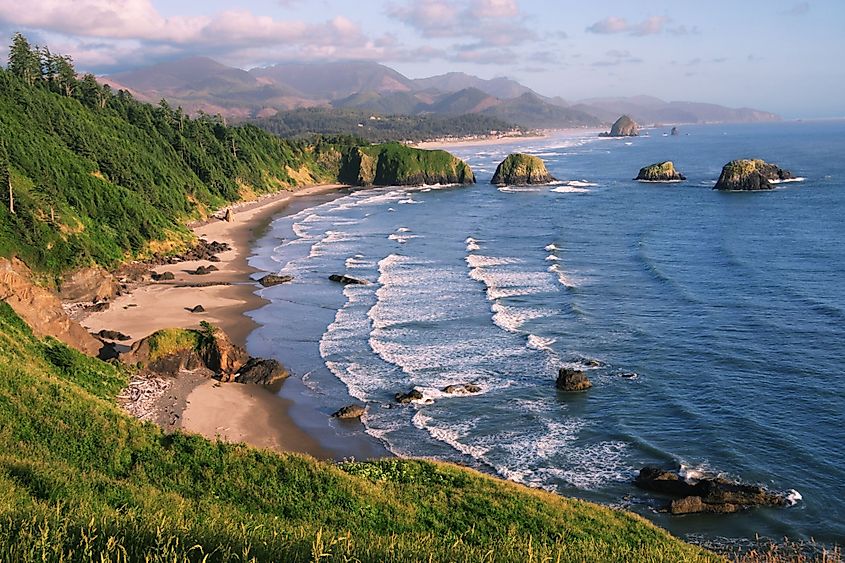 The attractions of Cannon Beach are virtually endless. Among the most notable is Ecola State Park, the vibrantly green rainforest just north of Cannon Beach. One needs to only drive through the mossy brilliance in order to find themselves face-to-face with one of Oregon's most impressive viewpoints. From this outlook, the old Tillamook Rock Lighthouse is visible, and if you're lucky, you might even spot breaching whales. Visitors can find numerous hiking trails and designated picnic locations throughout the park.
Arcadia Beach State Recreation Site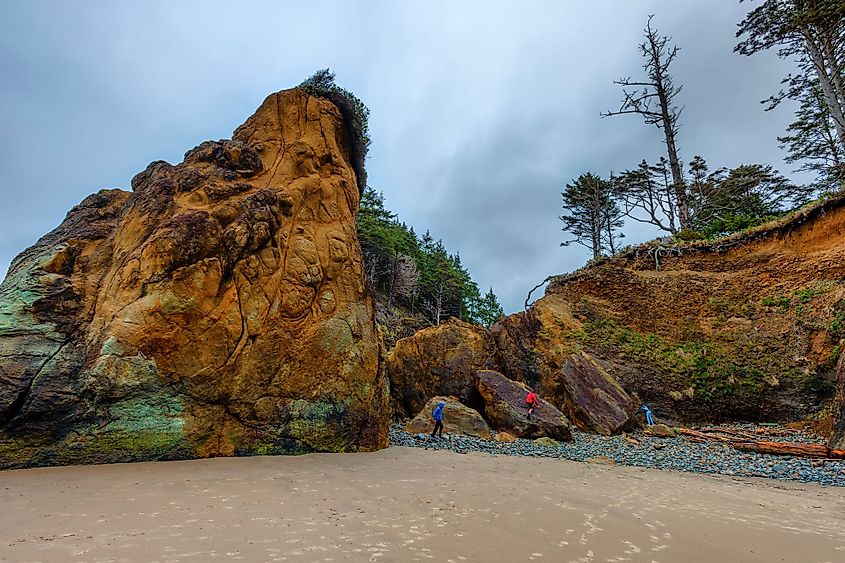 Included on the list of Cannon Beach's must-see places is Arcadia Beach State Recreation Site, located just a couple of minutes' drive south of the city. Lion Rock, another of Oregon's well-recognized and majestic rock formations, can be accessed from this beach, as can several lengthy beach-side walking paths to be strolled at your leisure.
Hug Point
Hug Point, just 3 miles south of the city itself. When the tide is out, the intriguing ruins of a derelict cliffside roadway are accessible. Walking north along Hug Point will reveal small waterfalls and sea caves just waiting to be explored. Only a touch further south lies Oswald West State Park, another destination that boasts hiking and views too good to be true.
In addition to the natural extravagance of Cannon Beach's landscape is the rich culture that thrives within the city. Visitors describe it as a walkable city – and who wouldn't want to walk the streets of this seaside sanctuary, with its flower-adorned streets and colorful courtyards, its prevalence of public art, theatre performances, galleries, museums, historic buildings, and impressive architecture? Even with less than 2,000 residents, Cannon Beach has captured the hearts of visitors worldwide and even earned a place among National Geographic's 100 most beautiful places in 2013. Whether you are seeking an encounter with some of Oregon's most serenely protected wildlife, a scenic beach to surf at, or an other-worldly submersion in a culture that appreciates art like no other, Cannon Beach has it all.