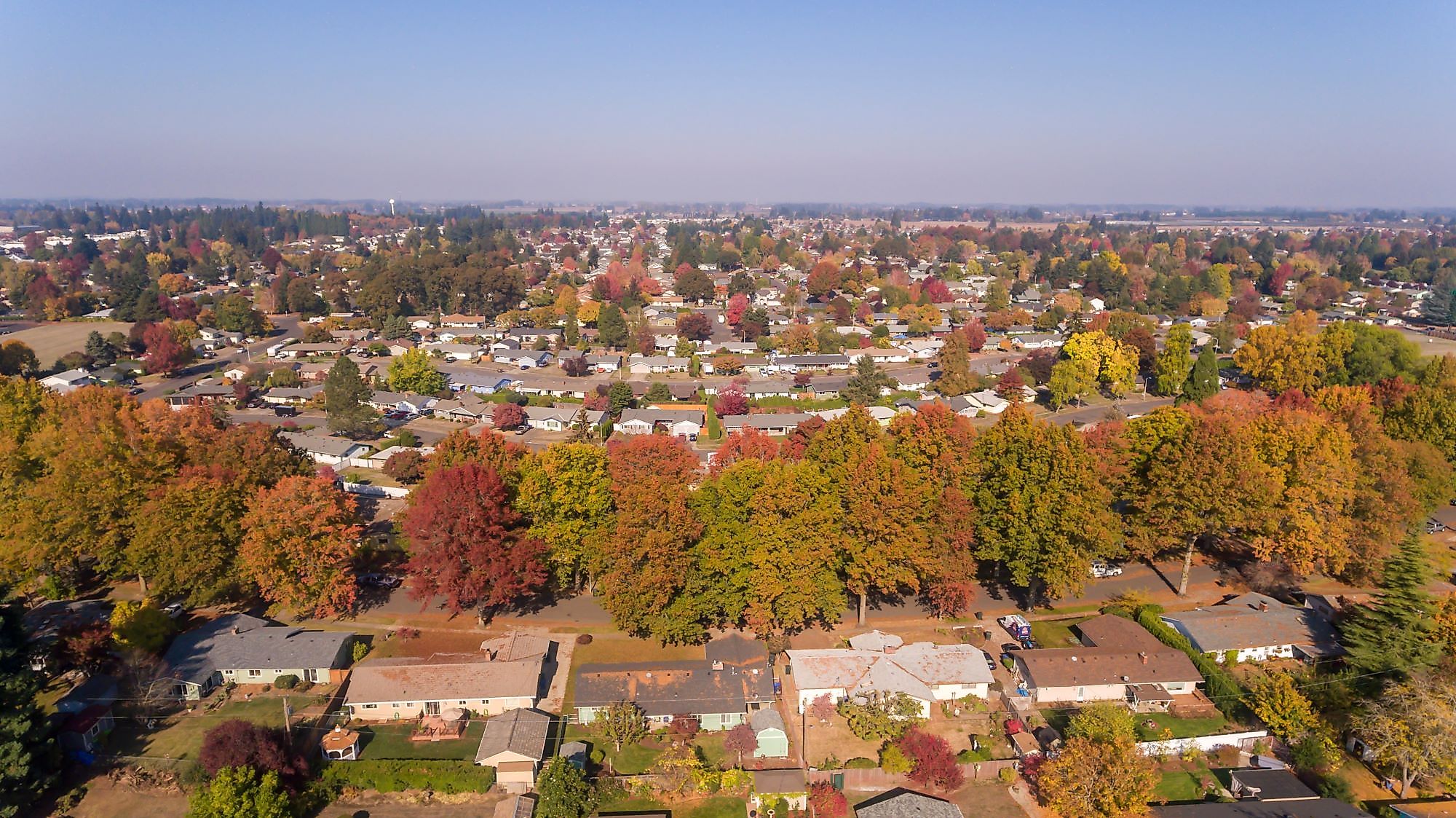 Salem is a big city situated in the north-central portion of Willamette Valley along the Willamette River in Marion and Polk Counties of the US State of Oregon. Salem serves as Oregon's capital and its third-largest city. Being the chief city of the Salem Metropolitan Statistical Area, Salem has a lot to offer, including many first-rate amenities, activities, and opportunities. The city is also home to many educational institutes, including Willamette University - the oldest college in the Western United States.  
Geography And Climate Of Salem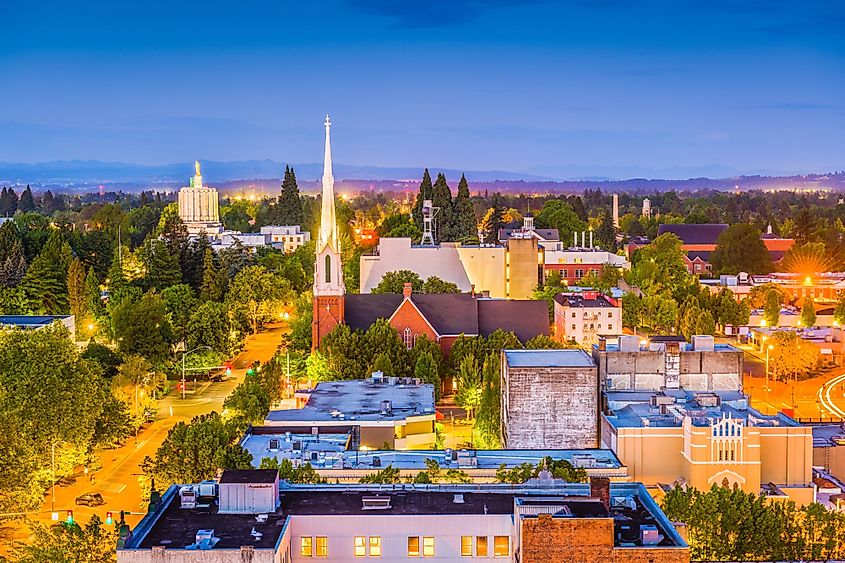 Salem is the third-largest city in Oregon, after Portland and Eugene. It is situated about 47 miles southwest of Portland and 64 miles north of Eugene in the Willamette Valley, one of the world's most fertile and agriculturally productive regions, along the 45th geographic parallel. The city is placed along the Willamette River, which flows through the Willamette Valley in a northerly direction. The Marion and Polk counties are separated by the river, and the city neighborhood of West Salem is located in Polk County. Within the city borders, the elevation varies between 37 to 244 m. Salem covers a total area of 127.51 sq. km, of which 126.09 sq. km is occupied by land, and 1.42 sq. km is covered by water.
According to the Köppen Climate Classification, Salem has a Mediterranean climate. The winters are extremely cold, wet, and generally gloomy, whereas the summers are brief, warm, dry, and mostly clear. The average yearly temperature ranges between 36°F to 85°F; it rarely falls below 25°F or rises more than 96°F. August is the year's hottest month, having an average daily high temperature exceeding 77°F. Having an average daily maximum temperature of less than 54°F, December is the year's coldest month. On average, Salem receives 4 inches of snow and 45 inches of rain annually. 
Brief History Of Salem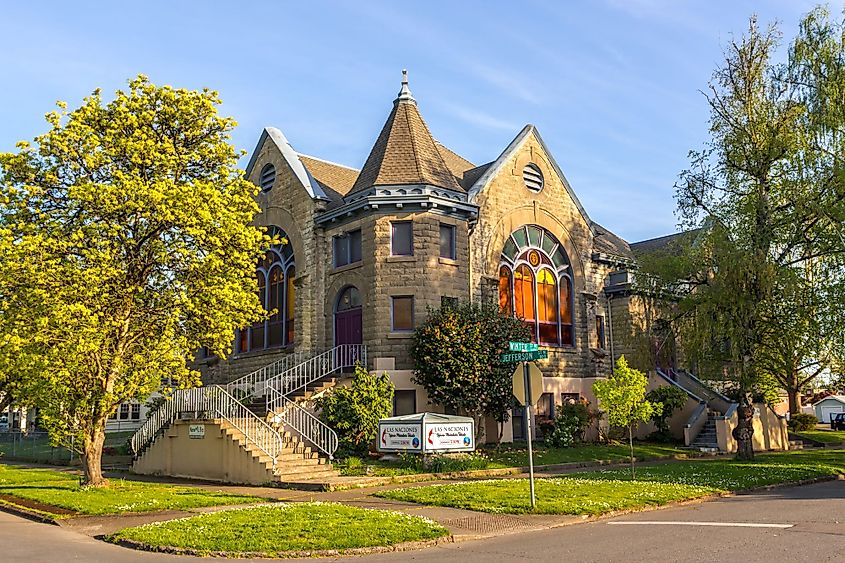 On the site of a Calapooya Indian settlement, Salem was established as a city in 1842 along the Willamette River. Jason Lee's Methodist missionary team "rediscovered" the location. Lee founded a community called Chemeketa close to the mission. The people moved down the Oregon Trail in pursuit of new lands after leaving New England. Because of its closeness to the Willamette River, the location of the Calapooya Indian hamlet, known as Chemeketa, was chosen. William Willson gave it a new name in 1846, Salem, derived from the Arabic term salam, which means peace. When the Kalapuyans were relocated to the Grand Ronde Reservation by the American government in 1856, the Salem region became available for additional resettlement.
Salem, which was incorporated in 1857, assumed the role of the de facto state capital in 1859, and by popular vote, it was designated as the capital in 1864. The capital's location in Oregon sparked a heated debate that lasted over 15 years. The territorial administration relocated its seat of government from Oregon City to Salem by way of a legislative Act in 1851. It was relocated to Corvallis in 1855, but the following year it was returned to Salem.
The Population And Economy Of Salem
Salem has a population of 175,535 inhabitants, as per the latest US Census. Salem's population is currently rising at a pace of 1.18% each year. White (Non-Hispanic) (66.6%), White (Hispanic) (12.3%), Other (Hispanic) (5.67%), Two+ (Non-Hispanic) (4.2%), and Two+ (Hispanic) (3.88%) make up Salem's five largest ethnic groups. Salem has a 15.27% poverty rate and a $73,609 median household income. The median monthly rental cost in recent years has been $1034, and the median value of a home is $266,200. Salem's median age is 35.9 years, with males being on average 34.7 years old and females being on average 36.8 years old.
The major employer in the city is the state of Oregon, with Salem Hospital ranking as the top private employer. The city serves as a significant agricultural food processing hub and distribution point for locally grown produce. The state government, Salem-Keizer School District, Salem Health (hospital), and Chemeketa Community College are the city's top employers, each of which offers thousands of employment opportunities to locals. Initially, the city's economy was centered on agriculture, which is still essential to today's market. Salem boasts a thriving cherry-growing business, earning it the title "Cherry City." Today, Salem has undertaken several projects to expand the city's business space as well as the housing stock in the downtown region.
Attractions In And Around Salem
Riverfront City Park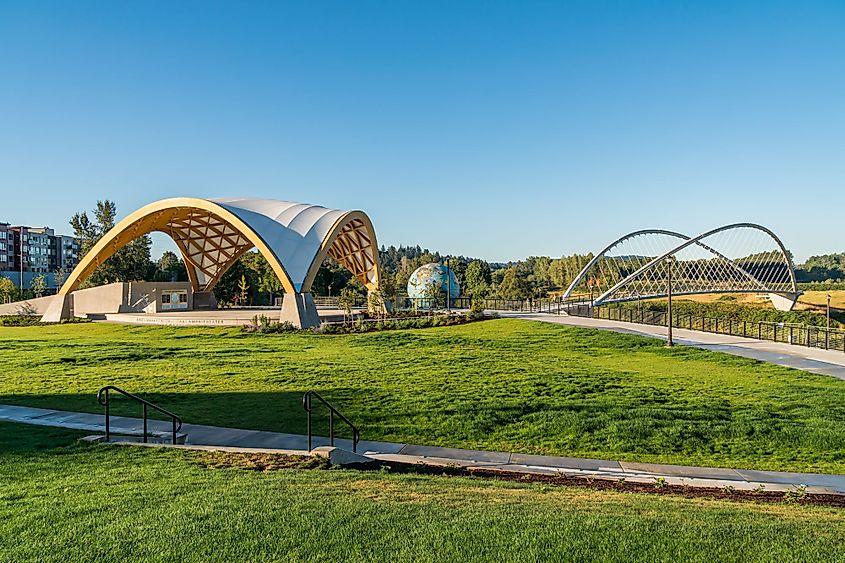 Riverfront City Park, which was formerly an industrial and mill site, is now a magnificent open area with walking paths, playgrounds, boat docks, and a breathtaking view of the Willamette River. The Salem Riverfront Carousel is located in one of the city's most well-liked public areas. The 26-acre park does an excellent job bridging the urban environment with the natural surroundings.
Bush's Pasture Park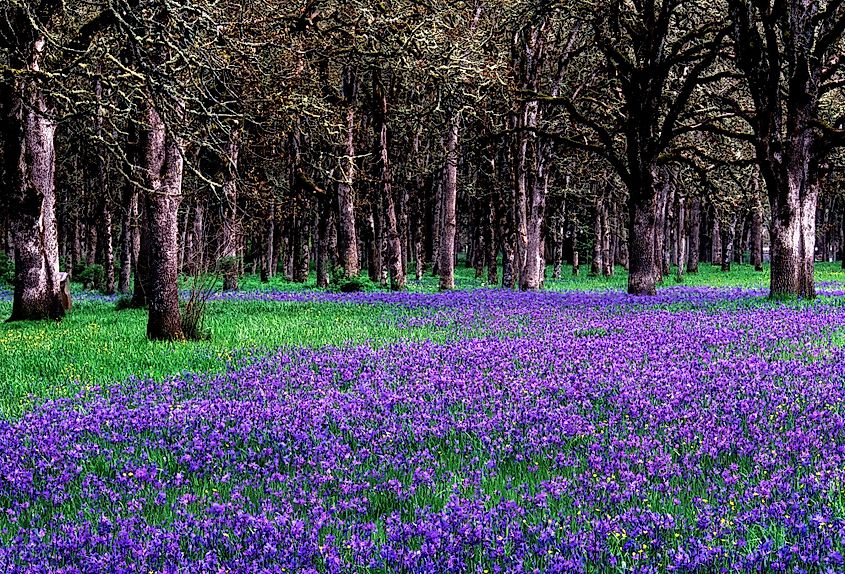 Visit Bush's Pasture Park, a 90-acre public park and botanical garden in the city's center. It is the most well-known location for enjoying a wide variety of open spaces, sporting events, gardens, and historical structures. Today, there are numerous activities you can do in the park to fill your day. A picnic area, as well as walking, running, and biking pathways, are available. There is a garden with more than 2,000 roses and cherry and apple orchards for those who enjoy flowers.
Deepwood Museum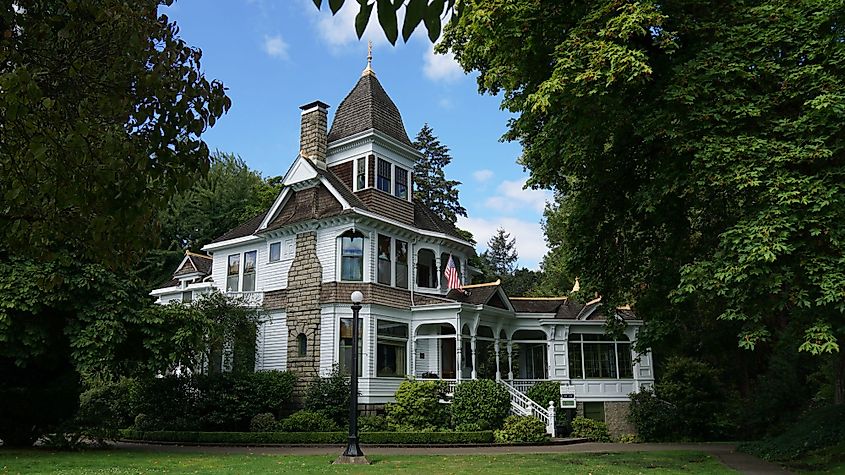 Deepwood Estate is a historic property now preserved as a museum exhibit. It is surrounded by stunning grounds and gardens and features outstanding architecture. The charming property, which is only five minutes drive from the city, offers the ideal balance of history and nature and has stunning views of downtown Salem. The historic home, constructed in 1894, features stunning Queen Anne-style architecture, with magnificent turrets, gables, colored glass windows, and a wraparound porch. One can take tours of its well-kept chambers and witness magnificent furnishings, vintage items, and early 20th-century decorative arts.
Oregon State Capitol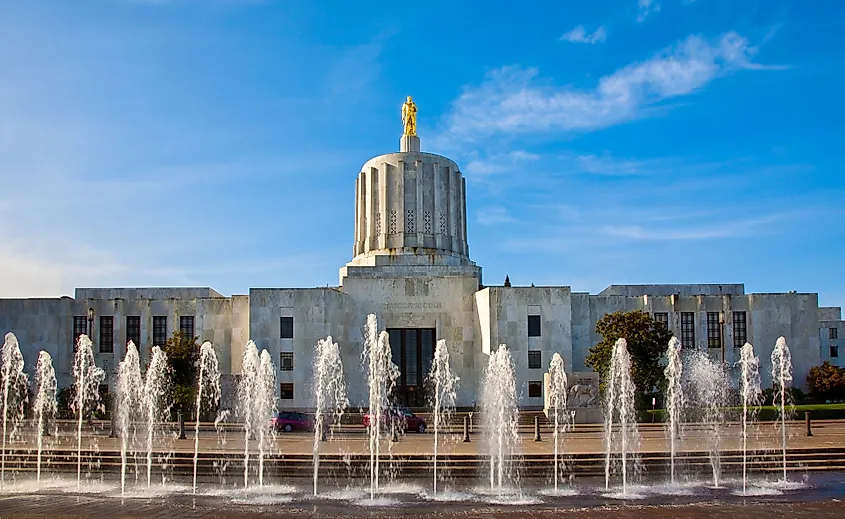 The Oregon State Capitol is a striking building with gleaming white marble construction that catches the sunlight. But the gilded Oregon Pioneer sitting atop the main tower is what draws attention to this Modernist Art Deco structure. The well-kept Oregon State Capitol State Park, filled with monuments and informative materials, surrounds the capital. While it's fun to wander the capitol's grounds, the interior of the capitol itself is where you'll find the real splendor.
Reed Opera House
The stunning Reed Opera House is a beautifully restored historical structure in the heart of Salem's downtown. The Reed Opera House has had a significant historical impact on Oregon's history ever since its official debut in the 1870s. The structure accommodates a large number of offices, shops, and restaurants. In 1978, the Italian brick building was included in the National Register of Historic Places. At present, the Reed Opera House is home to excellent bakeries, boutiques, and barber shops.
Silver Falls State Park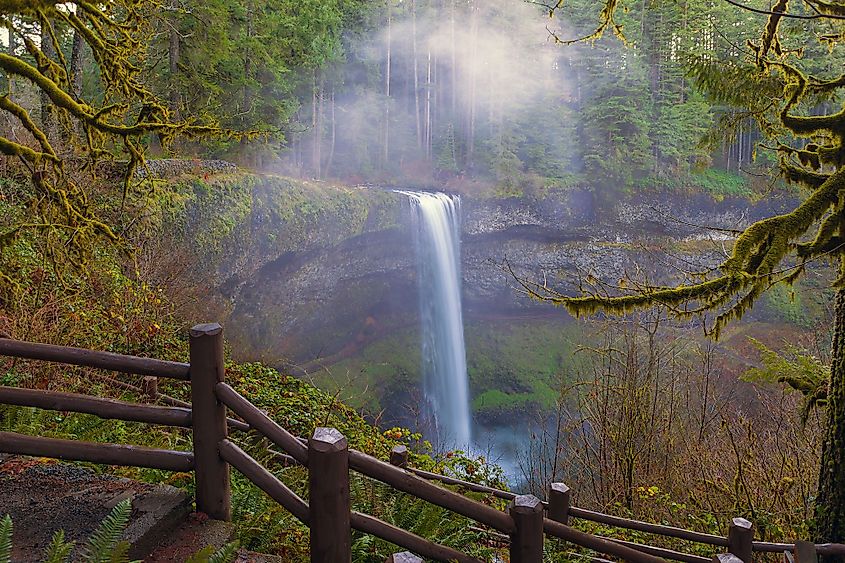 Silver Falls is right outside Salem; thus, a visit to the city would be incomplete without seeing its magnificent cascades. It is only a 30-minute drive east of the city, and in addition to its breathtaking scenery and natural beauty, it offers guests amazing outdoor activities. Silver Falls State Park, the biggest and most beautiful of Oregon's state parks, was established in 1933 and today draws about a million visitors a year to its abundance of glittering waterfalls and natural vistas. While it's undeniable that these magnificent falls are the park's main attraction, its extensive forests and hills also make for some fantastic hiking, equestrian riding, and camping opportunities.
Salem is a vibrant city with a variety of wineries and vineyards that make incredibly good wines. There is never a dull moment here. One will adore this city because it offers so many exciting things to do and for its amazing attractions.