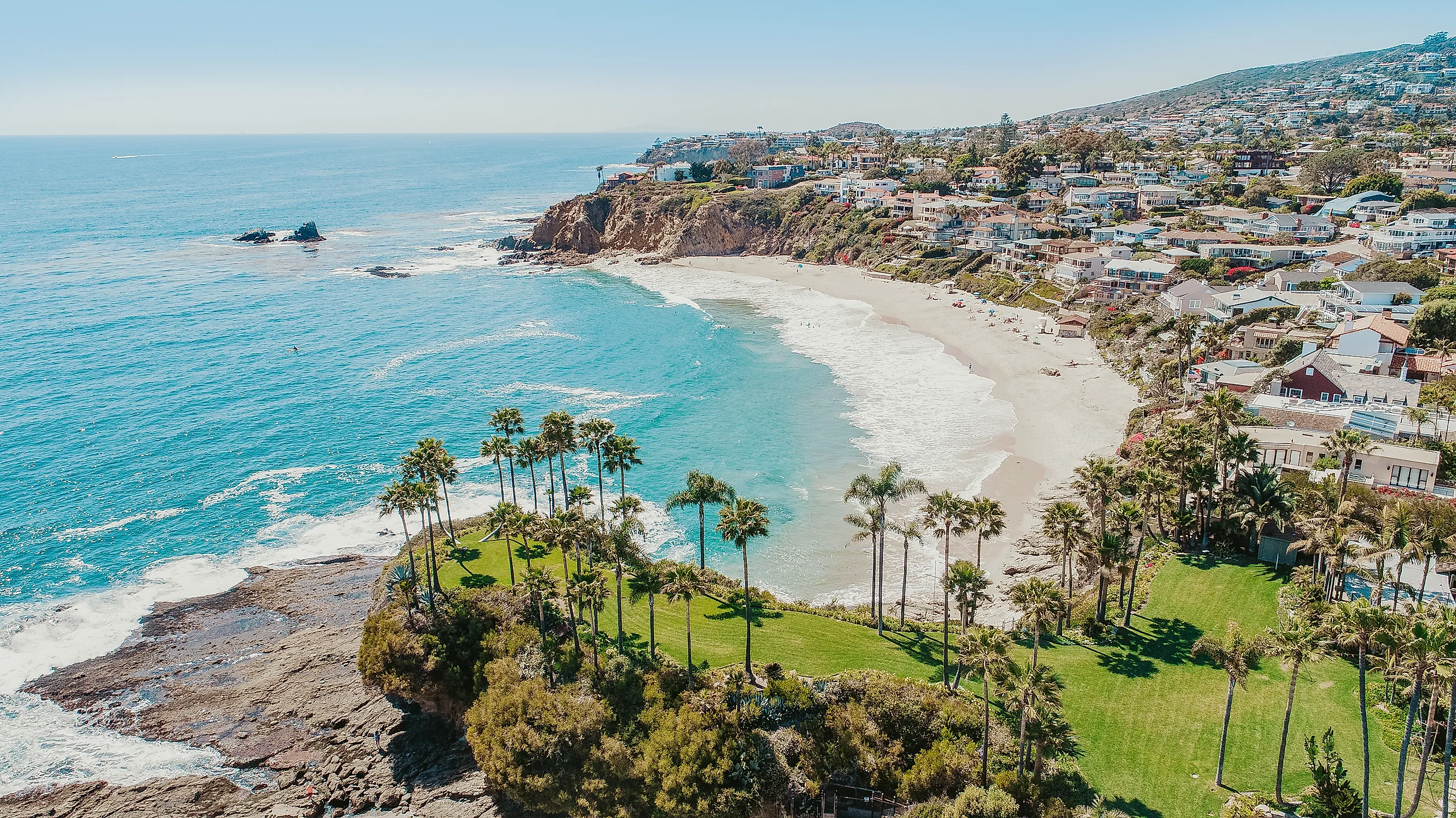 13 Best Small Beach Towns In California
California is a bonafide place of wonder, with rich culture, wondrous natural geography, and plenty of warm and sunny weather. Widely sought after for its beachside communities, the "Golden State's" ocean towns are truly amongst the best in the United States. Here one can swim, lounge, sail, fish, surf, and so much more in veritable slices of paradise. This article looks at the 13 Best Small Beach Towns in California.
Laguna Beach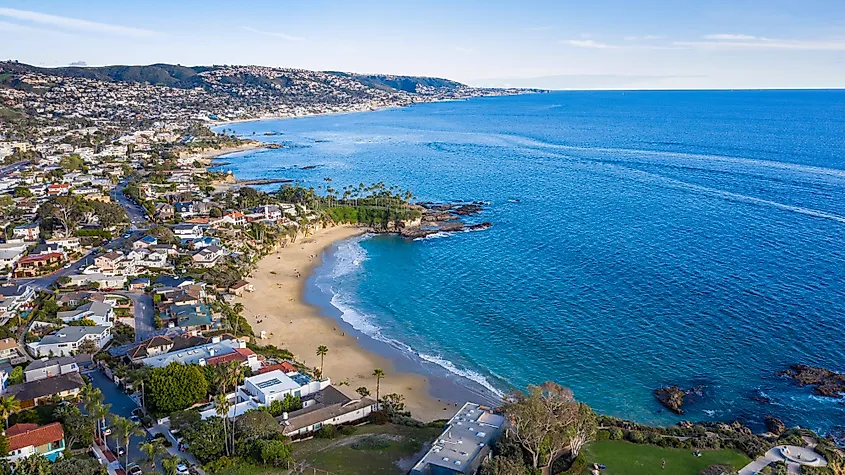 One of Southern California's most famous beach centers, Laguna Beach is a short 90-minute drive from San Diego. With a thriving tourism industry, which sees up to six million visitors annually, this town of 23,000 residents has long been celebrated for its beautiful coastline and stunning coves. Full of wonderful art festivals year-round, including the Pageant of the Masters and the Sawdust Art Festival, Laguna Beach satisfies its residents and visitors both culturally and naturally. A walk along Main Beach and its charming boardwalk is always a popular excursion, while time spent at Heisler Park and Crystal Cove State Park is full of exceptional views. And, of course, catching a surf wave is an absolute must for the truly adventurous sea-loving tourist.
La Jolla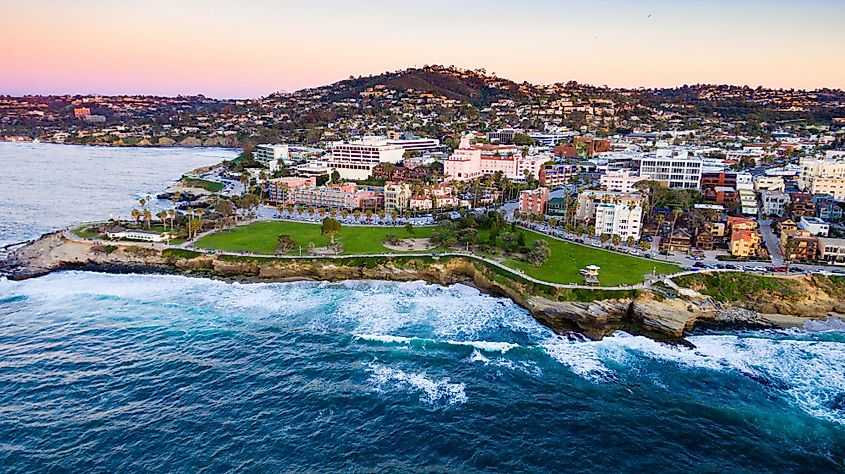 Spanning an area of 11 kilometers of the Pacific Ocean coastline, the beautiful town of La Jolla is indeed a gem of a destination. Part of the greater San Diego area, La Jolla may be considered more a neighborhood of the city than a town in its own right, but it still offers some of the most exquisite natural vistas of any place in California. 
Home to several businesses and educational centers like the Salk Institute and the University of California, San Diego, La Jolla is an affluent place with mild and comfortable temperatures. Throughout the year, visitors can enjoy places like the Torrey Pines State Natural Reserve, with beautiful hiking trails and gorgeous canyon panoramas. 
Arcata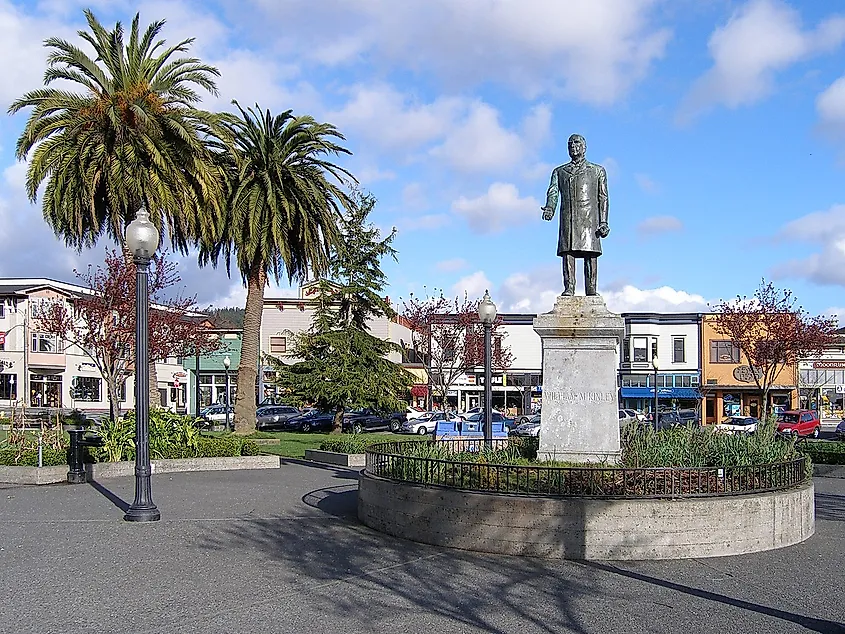 Located close to Humboldt Bay in Northern California, the town of Arcata is a charming locale with cool summers and mild winters. A great stop to enjoy the beach, seaside breezes, tasty restaurants, bars, and other entertainment venues, Arcata was incorporated in the 1850s and continues to blend the past with the present.
Stroll through town and marvel at a number of lovingly restored Victorian-style houses and buildings, or catch a movie at the historic Minor Theater, built in 1914! And, of course, when not on the water, time at the Arcata Plaza is a must. Here beautiful green space meets numerous small buildings, giving one the opportunity to discover some of the hidden gems only a smaller town can offer.
Davenport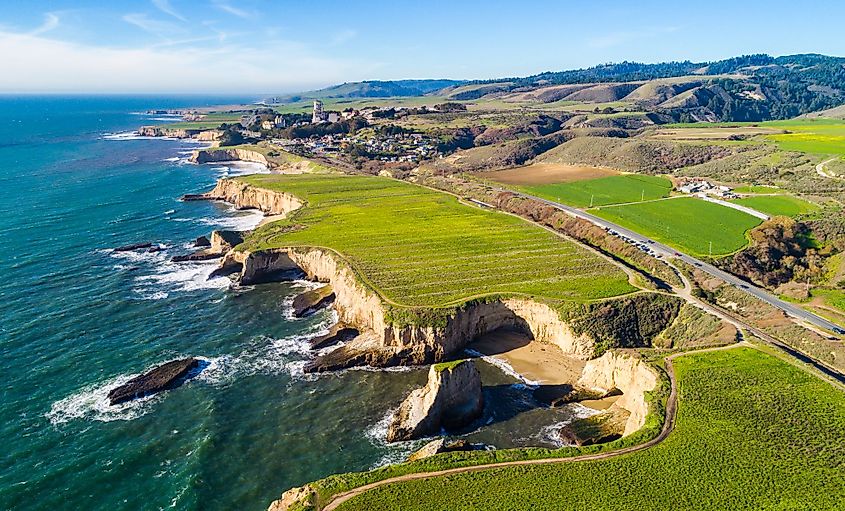 Sitting at an elevation of 259 feet above sea level, Davenport is a small community of just under 400 residents. Just some 14 kilometers from the city of Santa Cruz, this Pacific Ocean coastal town is full of wondrous cliffs, secluded beach areas, and great surfing waves. First settled in the mid-1860s, Davenport was once a bustling whaling village but now offers visitors a piece of quiet natural surroundings and small-town charm. Stop by Davenport Beach and the famous Shark Fin Cove for some truly stunning waterside views. Constructed in 1914, the Davenport Jail Museum enlightens visitors with the fascinating history of the area and its coastal development.
Cambria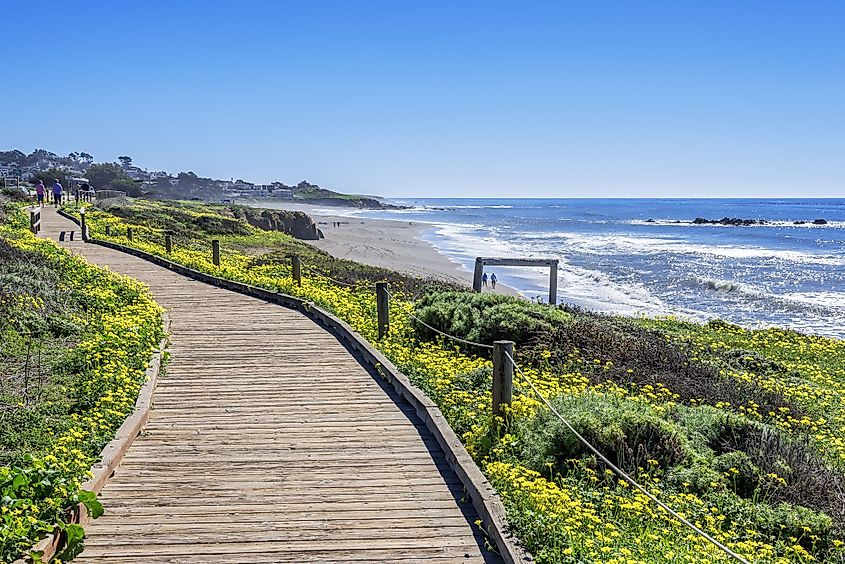 The village of Cambria is located in San Luis Obispo County and is known for its wonderful white sandy beaches, rocky cliff formations, and majestic Monterey pine trees. Tourism is this town's main economic mainstay, and its mild climate throughout the year makes it attractive no matter the month. 
Dotted with many quaint lodgings, bed and breakfasts, and park spaces, visitors can expect a most charming and fun time in Cambria. With many natural sites like the beautiful Moonstone Beach and the historic Nitt Witt Ridge house, this sunny seaside town indeed fulfills its guests in many ways. On the way out, why not stop at the nearby Hearst Castle historic landmark for a most unique day trip.
San Clemente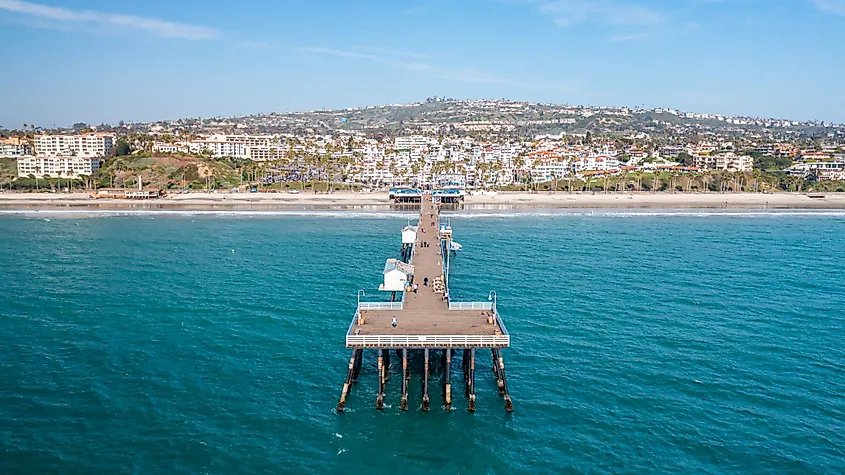 Around 90 minutes south of Los Angeles, the coastal town of San Clemente is also affectionately known as the "The Spanish Village by the Sea." Widely sought after for its striking mountain and ocean views, its warm climate, and its rich Spanish colonial architecture, this Orange County town is indeed a gem to experience.
In San Clemente, residents and visitors alike can enjoy swimming, fishing, surfing, sailing, and even diving in some of the Pacific Ocean's best coastal waters. And while in the town itself, a tour of some of its historic buildings and neighborhoods make for a most special cultural vacation. Visit the Casa Romantica Cultural Center and Gardens, the San Clemente Pier, and the famed Del Mar Street with a great selection of restaurants, shopping outlets, and wine bars.   
Carpinteria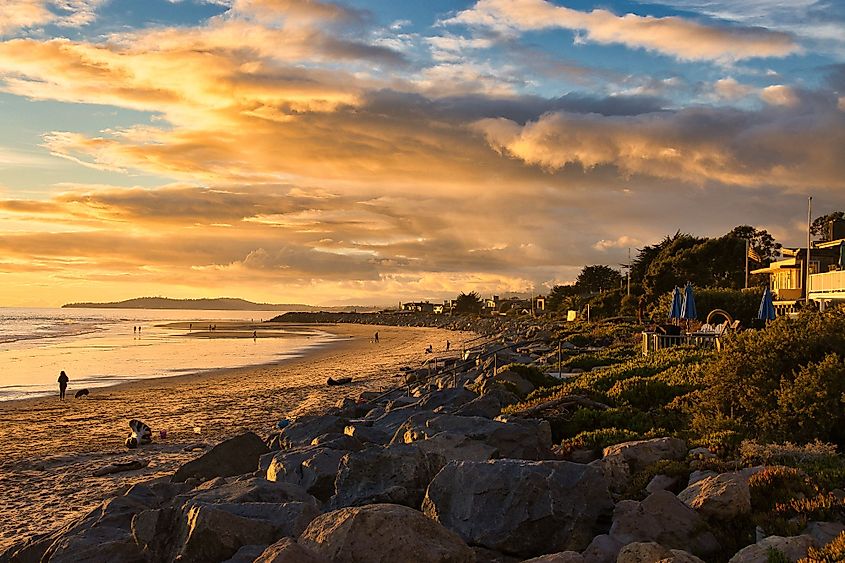 Derived from the Spanish word for "carpentry," the seaside town of Carpinteria is another uniquely charming California coastal treasure. Located close to the city of Santa Barbara, this town, with a modest population of 13,264 residents, is a relatively quiet locale with beautiful beaches and a welcomingly mild and warm climate.
 Indeed for visitors looking for typical California beaches in a less crowded and bustling center, Carpinteria may just be the place. Spend a day at sites like Carpinteria State Beach or Padaro Beach, or simply take a stroll through the alluring downtown district. In October, do not forget to go to the Avocado Festival, where an assortment of avocado products and other local goods are sold.
Fort Bragg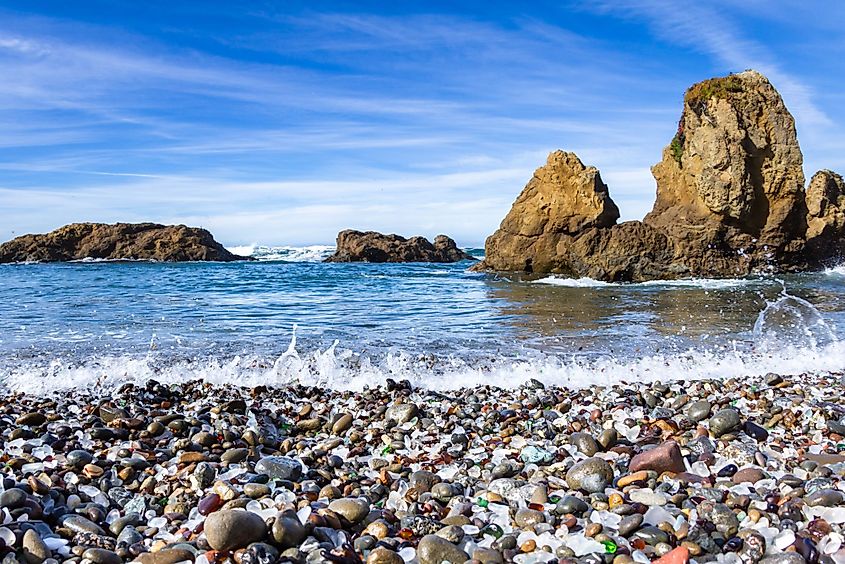 Fort Bragg is home to a humble population of just under 7,000 residents in Northern California's Mendocino County. Situated along the scenic Shoreline Highway, this town has plenty of wonderful beach areas, hiking trails, and public parks. Among its most popular destinations are Glass Beach, the MacKerricher State Park (with wetlands, dunes, and coves), and the Mendocino Coast Botanical Gardens. With moderate year-round temperatures, spending time outside in Fort Bragg can be enjoyable no matter the month.
Avalon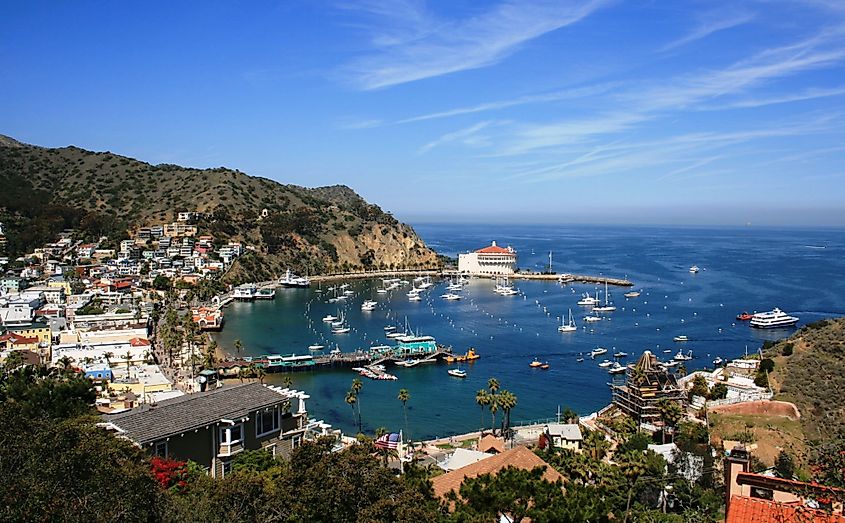 The only town on the picturesque and beautiful Santa Catalina Island, this stunning locale only has a population of 4,000 residents but sees up to one million tourists a year! A short 35 km distance from Los Angeles, Avalon and Catalina Island (part of the Channel Islands) are wonderful destinations for a day trip for solo travelers and families alike.
Take a ferry trip to reach the town and enjoy plenty of opportunities for swimming, fishing, sailing, scuba diving, and even snorkeling in these pristine Pacific Ocean waters. Visitors will also love the Avalon Harbor and its brilliant panoramas, while a visit to the Catalina Island Museum is a fun and informative way to learn about the special history and geography of this place.
Oxnard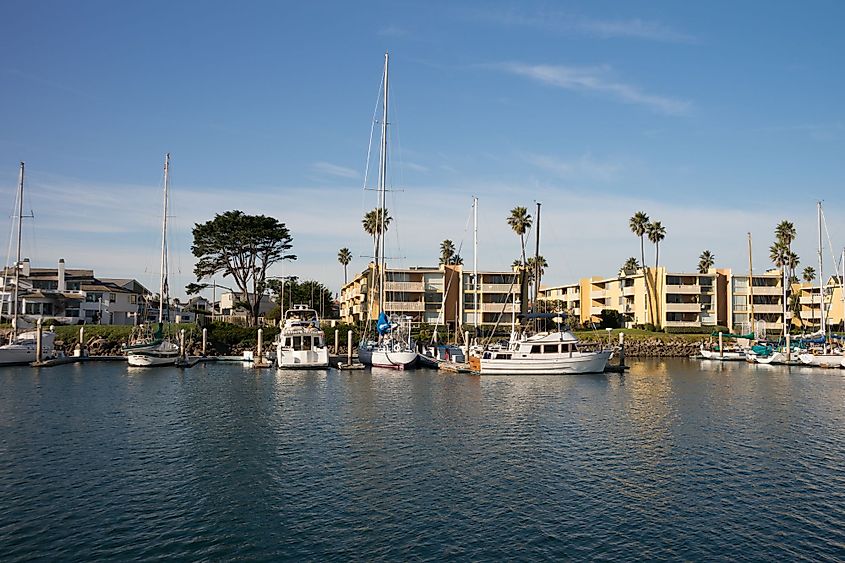 The town of Oxnard lies just 97 km from Los Angeles. In this bustling beach center of some 202,000 residents, tourists can enjoy fun opportunities sailing, swimming, fishing, and even whale watching. With moderately warm summer temperatures and mild winters, Oxnard is indeed a comfortable locale to spend time in and also offers an assortment of cultural activities.
Visit the Carnegie Museum of Art or catch a performance of the New West Symphony, there is a great mix of fun in the sun and indoor excitement to be had in Oxnard. And, of course, a day at Mandalay Beach is never a bad idea, with beautiful palm trees, white sand, and gentle surfing waves.
Shelter Cove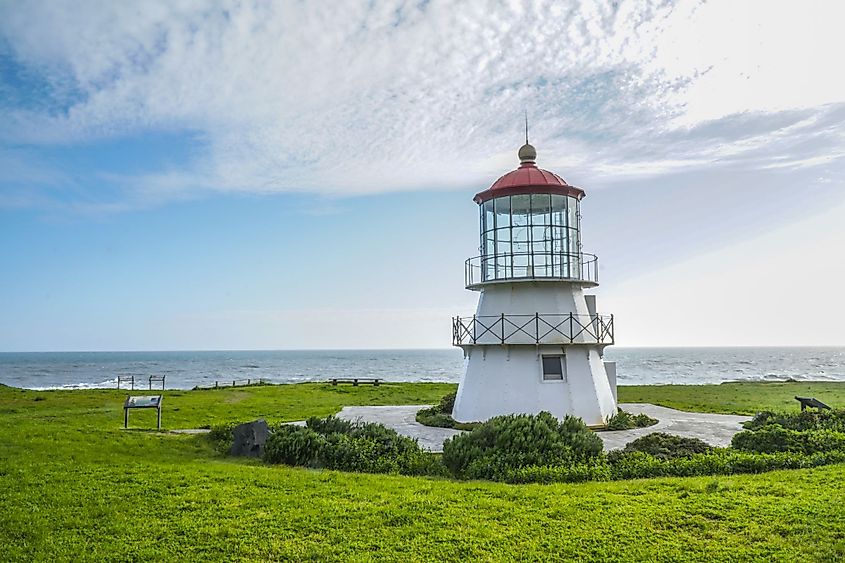 Situated at an elevation of 138 feet, the small and peaceful community of Shelter Cove is home to just under 1,000 residents. Right on the beautiful Lost Coast area of Northern California, the town does indeed give its visitors a sense of isolation. Yet this relatively quiet community has so many natural wonders to offer its guests. 
Take a panoramic hike along the coastline, bike along some beautiful paths, enjoy a delicious meal at restaurants all along the waterfront or browse cute boutique shops and cafes. With cool temperatures and ocean breezes, Shelter Cove can also be a welcome relief from some of California's hottest destinations while still maintaining a most special local charm.
Encinitas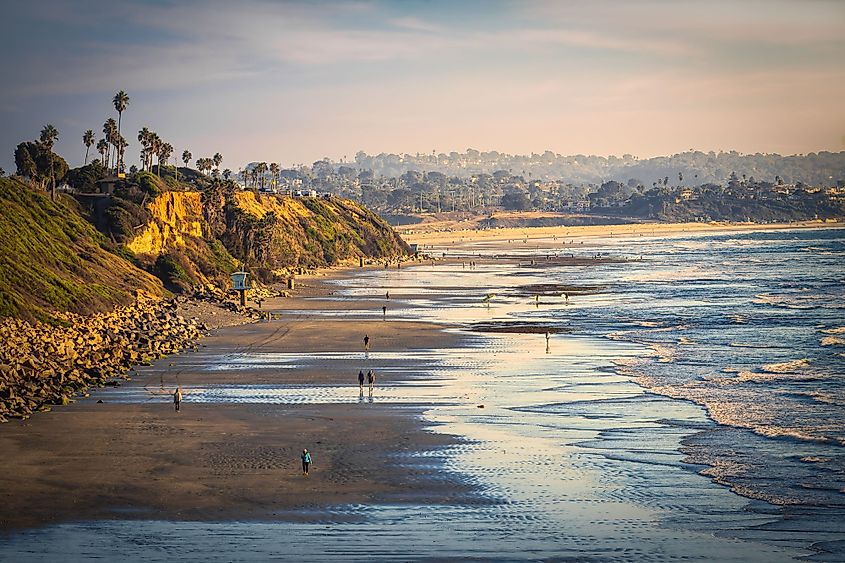 Encinitas is a beautiful surfing destination just a 30-minute drive from San Diego. Derived from a Spanish phrase meaning "Small Oaks," this town was once named by National Geographic Magazine as one of the best posts to ride a wave. In addition to the great activities on the water, Encinitas has a variety of beautiful festivals throughout the year, sure to satisfy a wide range of tastes. From Oktoberfest to the April Street Fair to the Fall Festival, there is indeed something for everyone here. The town is also extremely famous for its larger flower and garden nurseries and has been called the "Flower Capital of the World." And for Christmas lovers, the chance to buy an Encinitas Poinsettia is an absolute must!
Avila Beach
Avila Beach is a small unincorporated community situated within San Luis Obispo Bay. Home to three piers, Harford, Avila Beach, and Cal Poly SLO, respectively, this town of around 1,600 residents offers great opportunities for hiking, swimming, sailing, and wildlife gazing. A popular spot for whale watching, Avila Beach has a warm climate and pleasant waters and sees only 380 mm of rain per year, on average. Used as a location for shooting film and television programs, Avila Beach is a largely quiet and calm locale, perfect for those seeking natural beauty and an escape from the busyness of major urban centers.
The beach communities of California are renowned not only within the "Golden State" itself but across the United States. Featuring truly beautiful natural environments, warm and sunny climates, and histories full of unique culture, California and its beach towns are absolute delights for anyone to explore. These listed beach towns are but a sample of some of the great treasures waiting to be discovered in this land along the Pacific Ocean.