Encinitas is a beach town in the US state of California, north of central San Diego. Its position on six miles of the Pacific Ocean and the legendary swells that form offshore have given rise to its reputation as a top surfing destination. Summers are short, warm, and dry, while winters are cool and cloudy. It is an eclectic, diverse city with a laidback charm and myriad opportunities to experience the outdoors.
Geography And Climate Of Encinitas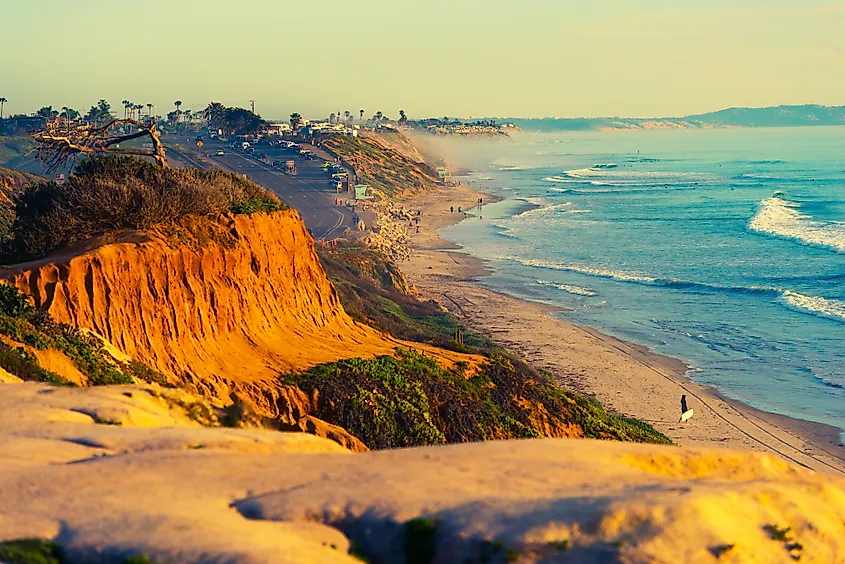 Encinitas is 26 miles north of the center of San Diego and 96 miles southeast of Los Angeles. The city is within San Diego County and is considered a suburb of the city of San Diego. Situated directly between Batiquitos Lagoon and San Elijo Lagoon, Encinitas basks along six miles of the Pacific coastline. However, as parts of the city are built on beach and dune ridges, 80-120 feet above sea level, blufftop and cliff erosion are a concern. Swami's State Marine Conservation Area lies directly offshore, designated to protect kelp forests, surf grass beds, and rocky reef areas. Low tides expose rich sea life, including brittle stars, sea hares, and octopuses.
The Köppen climate classification ranks Encinitas as having a cold summer Mediterranean climate. The annual average temperature is 61.5°F, ranging from average lows of 48°F in January to highs of 75 and 76°F in February, May, and June. Humidity is at its highest in August, when it is 76.2%, and at its lowest in November with 70.9%. The city sees around 16 days and 14.9 inches of rainfall annually, compared to the contiguous US average annual precipitation of 30.28 inches in 2020. May to August is the driest time. The area sees 263 sunny days a year and an average of 0 inches of snow.
Brief History Of Encinitas
The Diegueño (or Kumeyaay), Dieguitos, and La Jollan people originally settled the area on both sides of what is now the US-Mexico border. Diegueños, who had converted to Catholicism, assisted the Spanish in building coastal missions. Mexico governed Encinitas until 1800. Jabez Pitcher filed a claim for 160 acres near the railroad tracks in 1883. The population doubled when eleven members of the Hammond family arrived in 1883. Cottonwood Creek provided a water supply for people and steam locomotives. The 1920s saw a proliferation of bulb planting operations. The city was named for the oak trees that flourished when Encinitas was first explored by Gaspar de Portolá, the Governor of Baja California. From its exploration in 1767 to today, there are fewer of these oak trees, but such an abundance of flowers, poinsettia, and other plant and bulb nurseries, that the city has earned the nickname of "Flower Capital of the World."
Demographics And Economy Of Encinitas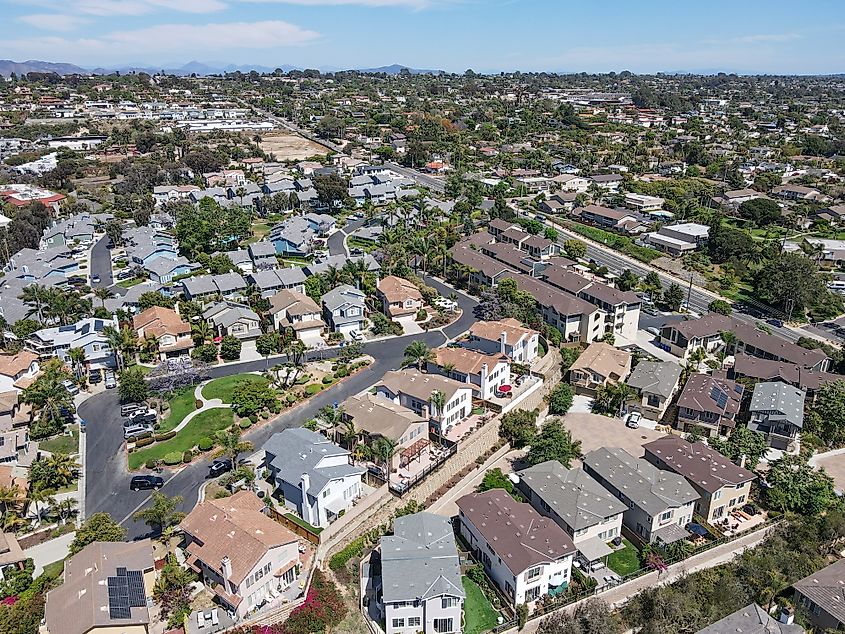 The United States Census Bureau (USCB) estimated Encinitas's population to be about 62,082 as of April 1, 2020, up from the 2010 figure of 59,518. Of these, 50.3% were female and 49.7% male, with 5.6% under five years of age, 21.2% under eighteen, and 18.6% over 65. The USCB reported that 76.4% of residents identify as White (not Hispanic or Latino), 3.8% as Asian, 0.4% as Black or African American, and 15.9% as Hispanic or Latino. Furthermore, 12.7% of the city's population were born outside the US, and 3,009 identified as veterans. According to the USCB, the median household income was $120,488, while the previous twelve months' per capita income was $65,990, placing Encinitas just above the national US average of $63,416. The poverty rate was 7.2%. Between 2016 and 2020, 64.4% of those over 16 were in the civilian labor force.
Attractions In And Around Encinitas
San Diego Botanic Garden
This 37-acre plant paradise was established in 1970 and today houses more than 5,000 species, including many rare items. Fifteen gardens represent world regions, plus there are twelve demonstration gardens, three children's gardens, and the US's largest bamboo collection.
Swami's Beach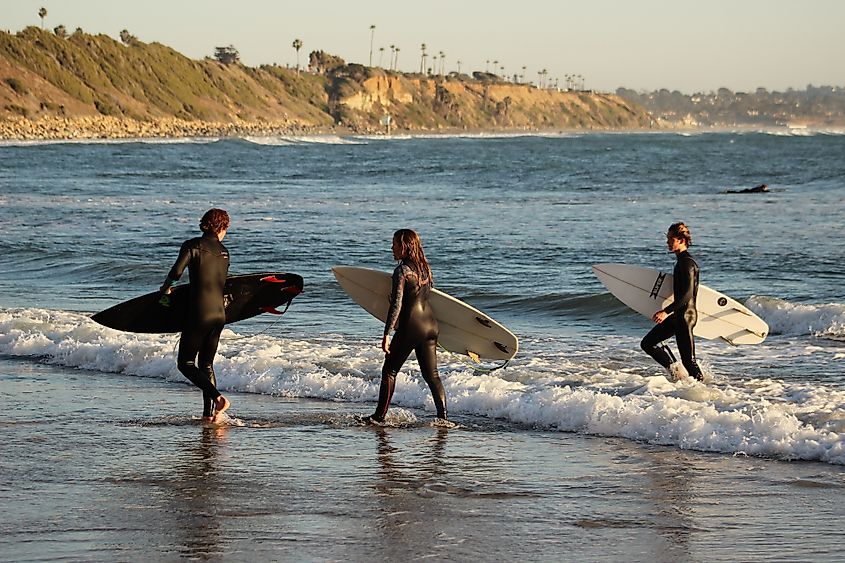 You will find Swami's Beach—a popular surf break—at the southernmost part of the city's coastline. It's an ideal spot for surfing, people-watching, or watching the sunset reflect off the golden spires of the clifftop Self-Realization Center.
Moonlight State Beach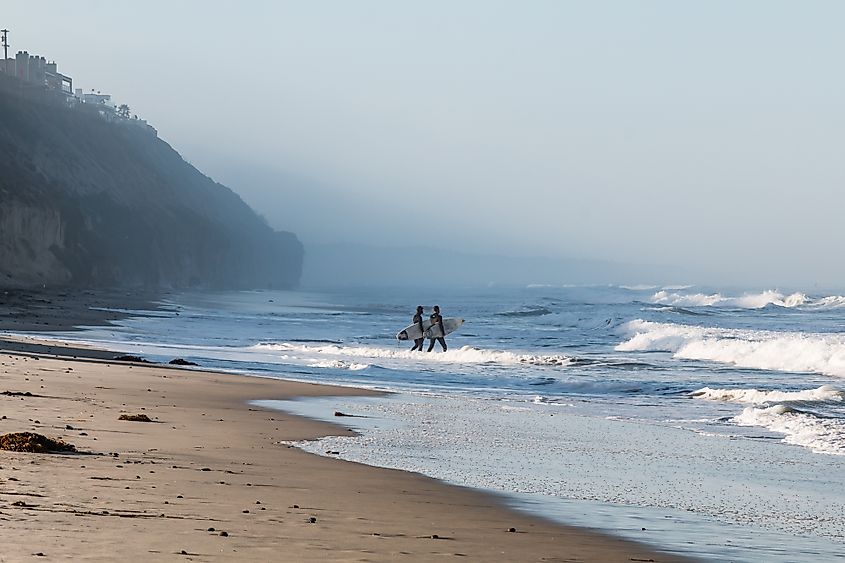 One of the most accessible of Encinitas's beaches, Moonlight State Beach is found at a point where the cliffs, bluffs, and dunes drop down closer to sea level. It boasts volleyball courts, a playground, snack bars, showers, and beach fire pits.
San Elijo Lagoon Ecological Reserve and Nature Center
Nearly one thousand acres of wetland stretch across this shallow-water estuary, an incomparable destination for birders, artists, and runners. Trails traverse varied terrain, from slat marsh to mixed chaparral to riparian scrub.
Laidback Encinitas, with its stunning beaches, incredible coastline, and desirable quality of living, is home to stars of the surf and skate worlds, such as Tia Blanco, Tony Hawke, Rob Machado, and Shawn White. With its eclectic boutiques, coffee shops, and historic theater, its captivating downtown is a wonderful place to retire after a morning in the surf or on the beach. A year-round calendar of outdoor events and festivals keeps this laidback city entertained, from Oktoberfest, the Fall Festival, and April Street Fair, to Encinitas Bazaar Marketplace.