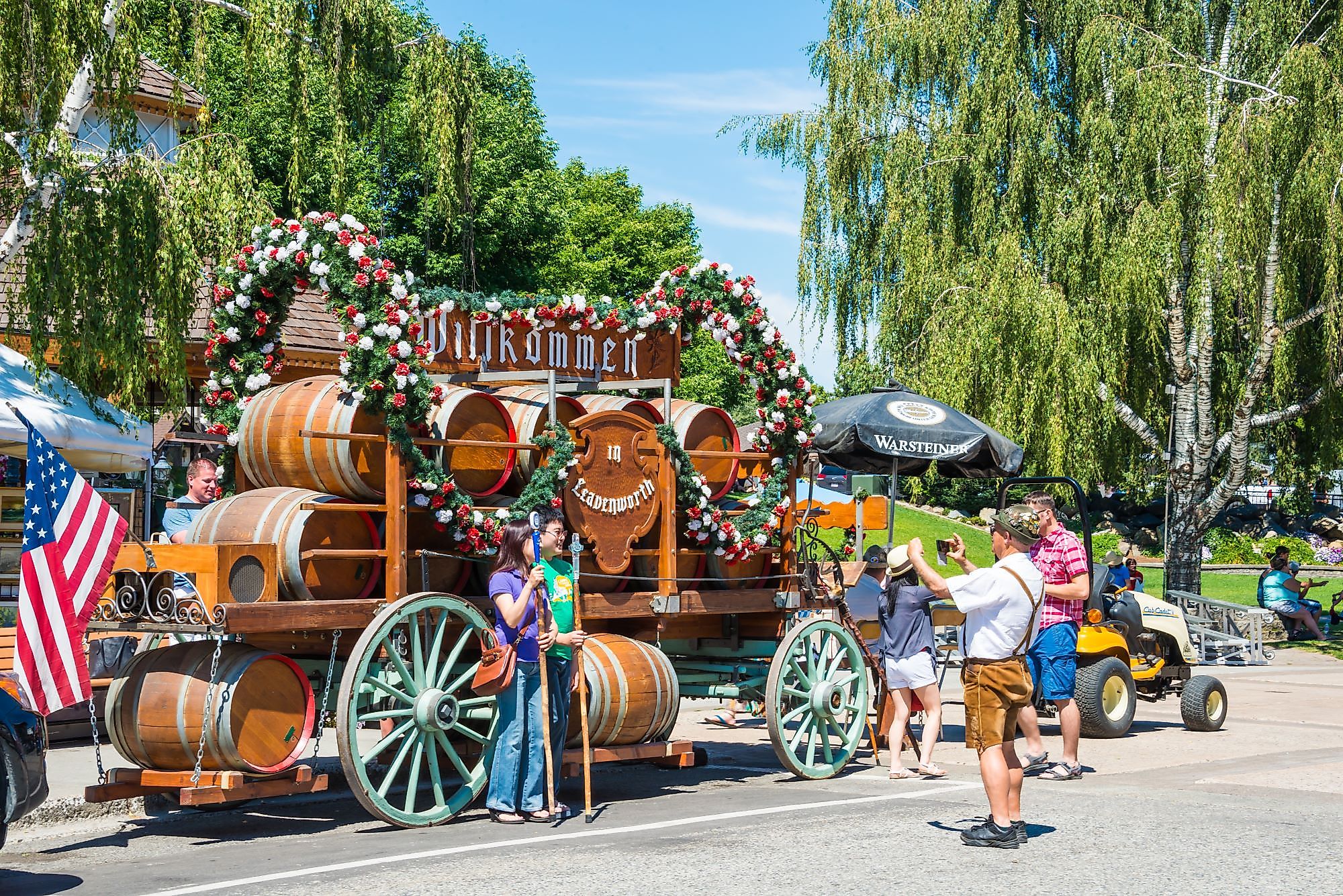 8 Adorable Small Towns In Washington
Washington state is located in the Pacific Northwest, and borders the pacific ocean, Canadian border, and states of Oregon and Idaho. Known for its gorgeous natural scenery spanning multiple national and state parks, the Evergreen State has some of the best small towns in the country for those who love the outdoors. From the hiking trails and historic buildings to wineries and breweries, Washington has so much to offer residents and travelers alike. These charming small towns are full of hidden gems, unique getaways, and not-to-be-missed attractions.
Leavenworth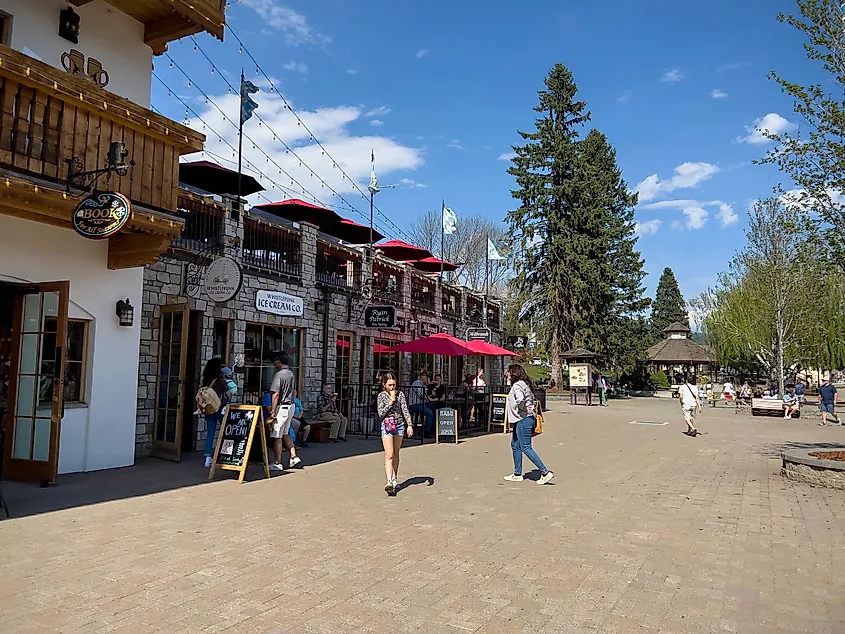 Leavenworth is a charming little village in central Washington, nestled against the Cascade Mountains. This Bavarian village is a popular destination for visitors looking to experience a European feel without leaving the United States. From German architecture to eateries and breweries, this town has an enchanting feel. Leavenworth is a great place to visit year-round. Enjoy skiing, German markets, the Leavenworth reindeer farm, and The Christmas Lighting Festival in winter for a magical Christmas experience. Oktoberfest is a huge draw in the fall, bringing beer drinkers and German enthusiasts from all around. The local Waterfront Park is great for water sports, hiking, and wildlife viewing. This picturesque town is certainly worth a visit.
Port Townsend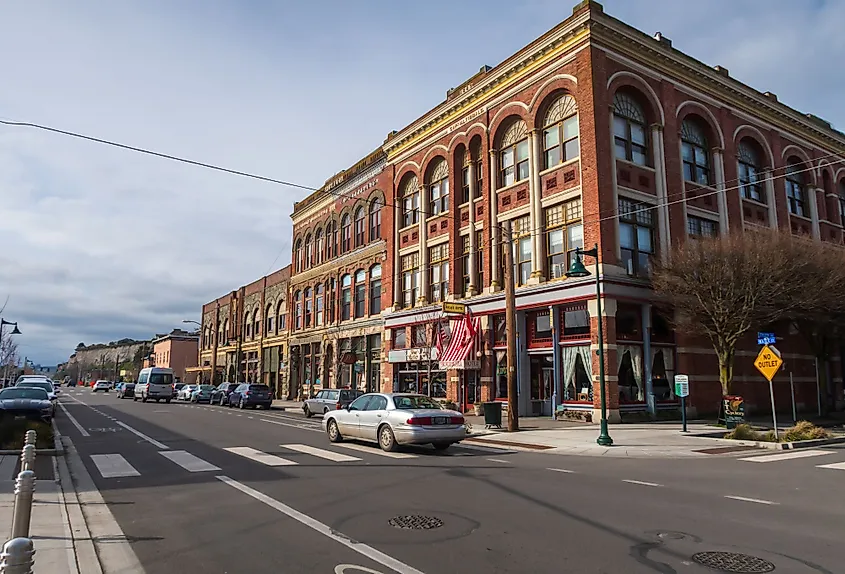 Port Townsend is located along the Olympic Peninsula, just northwest of Puget Sound. Known for its Victorian architecture and maritime feel, Port Townsend is a beautiful historic town full of natural beauty. Stroll the beaches and take in the coffee shops and local stores. Dine at world-class restaurants, enjoy the art galleries, or take in the boats at the harbor. This laid-back town is the perfect place to experience the charm of small town Washington. Enjoy wildlife cruises, boating, exploring the harbor, or walking along the miles of coastal beaches. The town also hosts great events and festivals throughout the year, including local farmers markets, the Port Townsend Film Festival, and the Shipwright's Regatta.
Sequim
Sequim is another town on the Olympic Peninsula, full of scenic nature and charm. Perfect for outdoor enthusiasts and nature lovers, its location in the Sequim-Dungeness Valley makes it a lush area for wildflowers and fruits. In fact, Sequim is known as the Lavender Capital of North America, and the local lavender farms are popular visitor destinations, especially during July when the town hosts a Lavender festival. Sequim also has an excellent arts and culture scene with a vibrant downtown area. Take in the New Dungeness Lighthouse, John Wayne Marina, or local shops. Sequim is also a great place to stay for those looking to visit the gorgeous Hoh Rainforest or Olympic National Park.
Poulsbo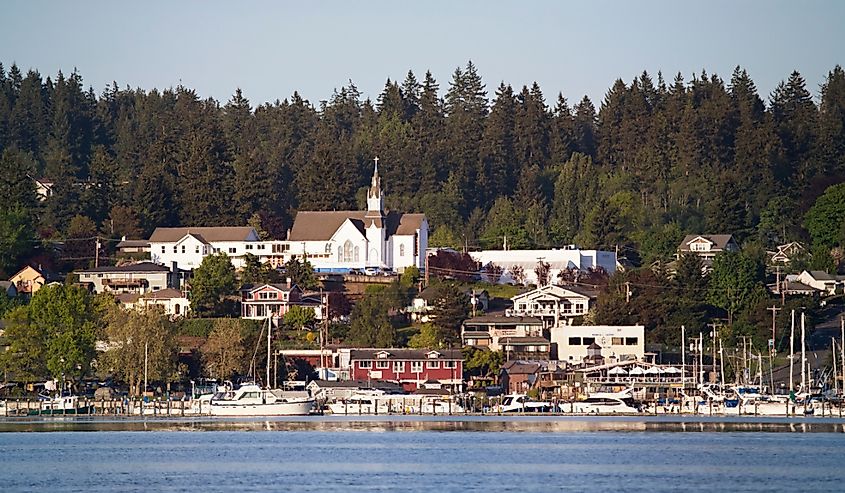 Poulsbo sits along Liberty Bay in Kitsap County and is a unique small town outside Seattle. Its heritage is Scandinavian, leading the area to be known affectionately as "Little Norway." The historic downtown area is full of museums, Norwegian-inspired buildings, and various shops, restaurants, and cafes along the main streets. Visitors can enjoy shopping at the farmers' markets, exploring the waterfront park, hiking the many trails, or soaking up some culture at the Poulsbo Historical Society Museum, Poulsbo Community Orchestra, or Maritime Museum & Visitors Center.
Winthrop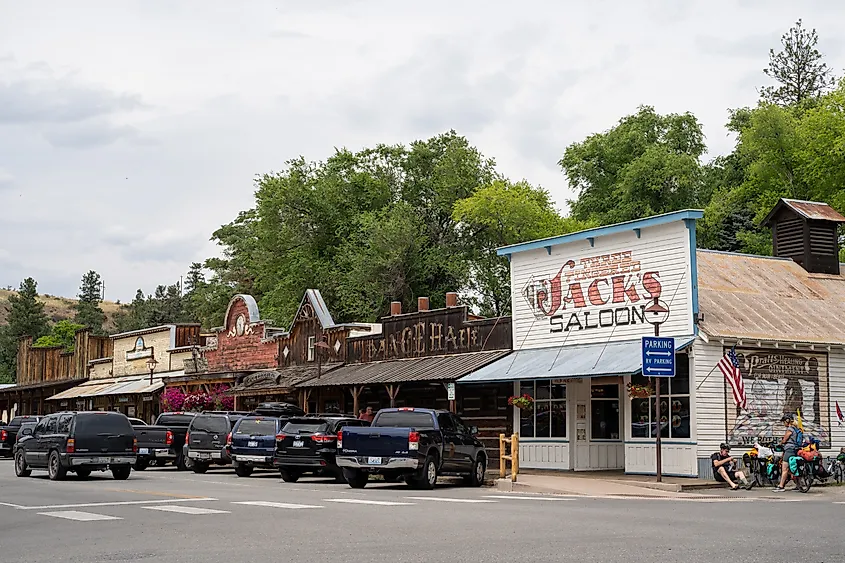 Winthrop is a tiny town in the Methow Valley of Okanogan County, Washington, with a population of just over 500. This Washington town feels like stepping back in time, as it has a distinct old-western feel and look. Winthrop is an excellent place for a fun-filled weekend getaway, with saloons, western storefronts, themed eateries, and horseback riding opportunities dotting the town. Aside from the Western attractions, the town boasts beautiful scenery, which can be explored along the Methow Trails. The town also hosts memorable festivals and events, including the Rhythm and Blues Festival and the stunning Balloon Roundup. It also makes a great place to stay for those looking to take a day trip to the nearby North Cascades National Park.
La Conner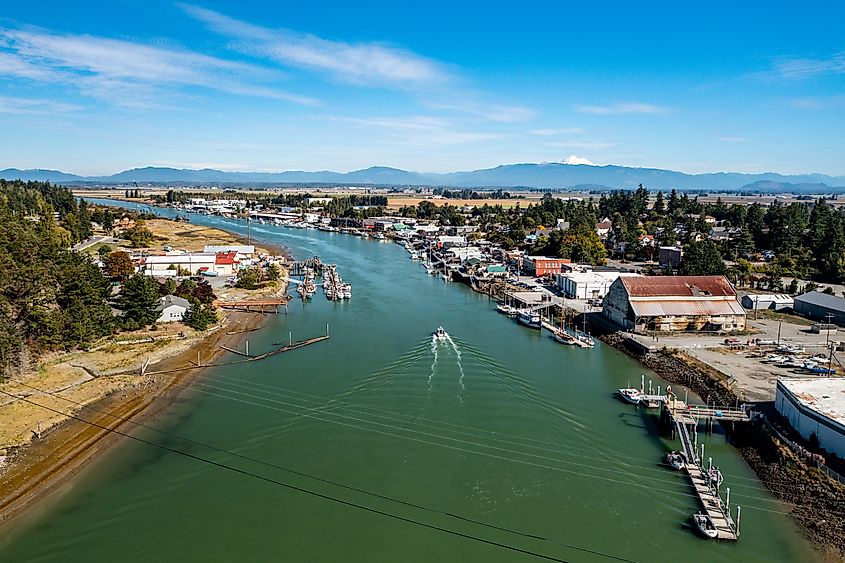 La Conner is an adorable small town in the Skagit Valley and is part of the Mount Vernon–Anacortes, Washington Metropolitan Statistical Area. The area is full of opportunities for outdoor recreation and soaking up small town charm. This fertile region is well known for its flowers. It hosts both the La Conner Daffodil Festival and the Skagit Valley Tulip Festival in spring, which bring travelers and tourists from all over the United States and beyond. La Conner is a prime example of the Pacific Northwest community and charm. Downtown visitors can enjoy several local shops, art galleries, wineries, boutiques, the Quilt & Fiber Arts Museum, the Museum of Northwest Art, and the Skagit County Historical Museum.
Gig Harbor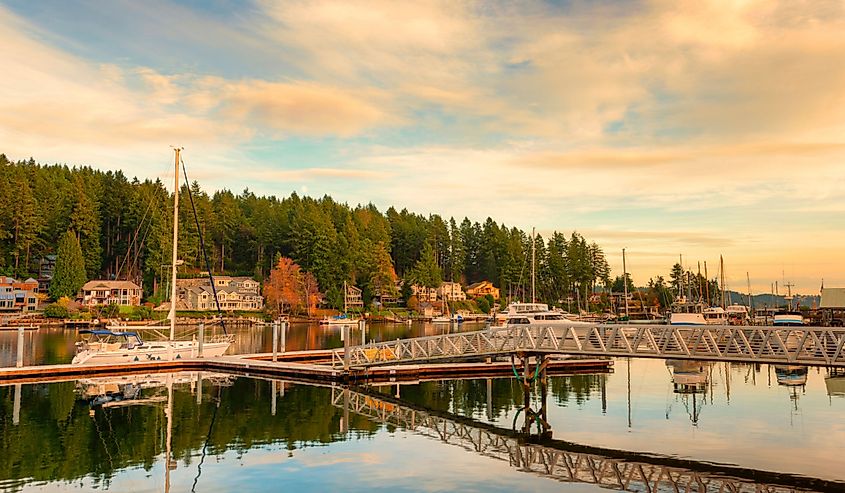 Gig Harbor is only 12 miles outside Tacoma on Puget Sound. This scenic getaway is full of maritime charm and offers impressive views of nearby Mount Rainier. This town has an ideal small town feel while being easily accessible from larger cities in the area, making it the perfect place for a weekend away. The historic waterfront is full of eateries, shops, and galleries and proudly boasts its historical maritime heritage. Visitors can enjoy the waterfront boardwalk paths, explore Skansie Brothers Park and Kopachuck State Park, or stroll through downtown.
Coupeville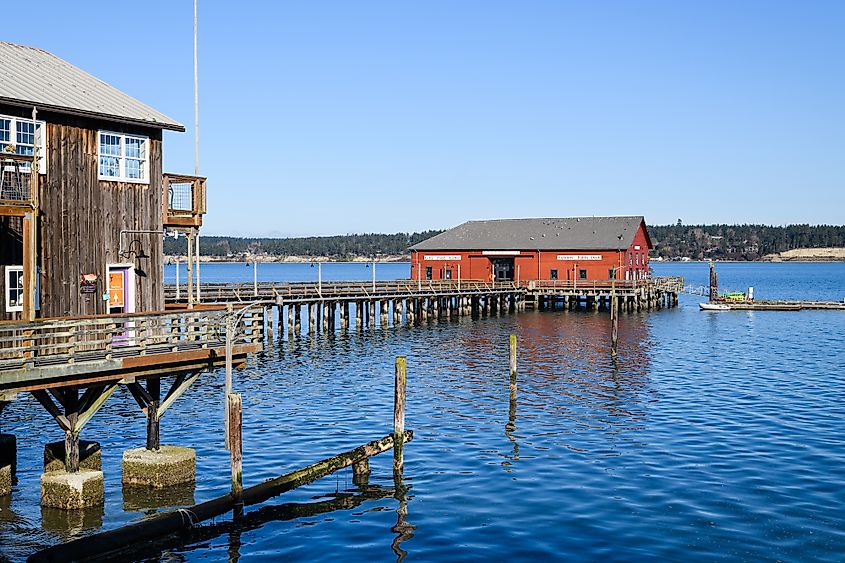 Coupeville is a little town on Whidbey Island in Island County, Washington. It is the state's second-oldest community and boasts several old buildings and a rich history of over 100 years. Unique shops, quaint bookstores, wine tasting, and island eateries fill the downtown. The town holds one of the state's oldest standing pioneer homes protected under Ebey's Landing National Historical Reserve. Established in 1978, this reserve protects old buildings and farmlands and aims to maintain the original feel and history of the area. Adie, from the history, the many trails, beautiful beaches, and extensive shoreline make this a great place for a weekend getaway. Visitors may also enjoy one of the many yearly festivals, including Musselfest, The Oyster Run, the Coupeville Arts Festival, and the Coupeville Memorial Day Parade.
Friday Harbor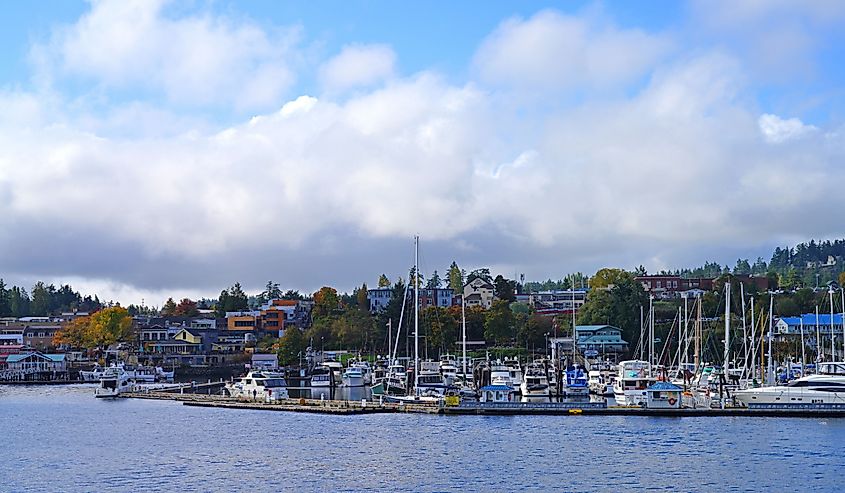 Friday Harbor is a town on San Juan Island that is a popular tourist destination - especially in the summer months. Visitors can enjoy the beauty of the island and ocean views, as well as the abundance of wildlife in the area. One of the biggest draws to the area is whale watching. June through September is a great time to see a variety of larger whales, including humpbacks, grey whales, minks, and orcas. Kayaking, boating tours, and water recreation are also popular here. Learn about the area's history at the Whale Museum and San Juan Historical Museum, or explore the San Juan Islands Museum of Art and the San Juan Community Theatre. This beautiful small town is full of adorable sights and places to explore. These lovely small towns in Washington offer a different take on this great state. From seaside villages to bustling harbors, western-style towns to forested towns perfect for any outdoor enthusiast, Washington is a lush and scenic place. These small towns offer charm and warmth and are great places to stay for a weekend getaway, outdoor adventure, or family trip. 
In Conclusion
As a culmination, Washington State's myriad small towns offer a rich tapestry of experiences. They reflect the beauty of the Pacific Northwest, from scenic hiking trails to historic landmarks. Their unique charm serves as a magnet for travelers, making Washington a much-loved destination. Indeed, the state's small towns are hidden gems that are truly worth exploring.