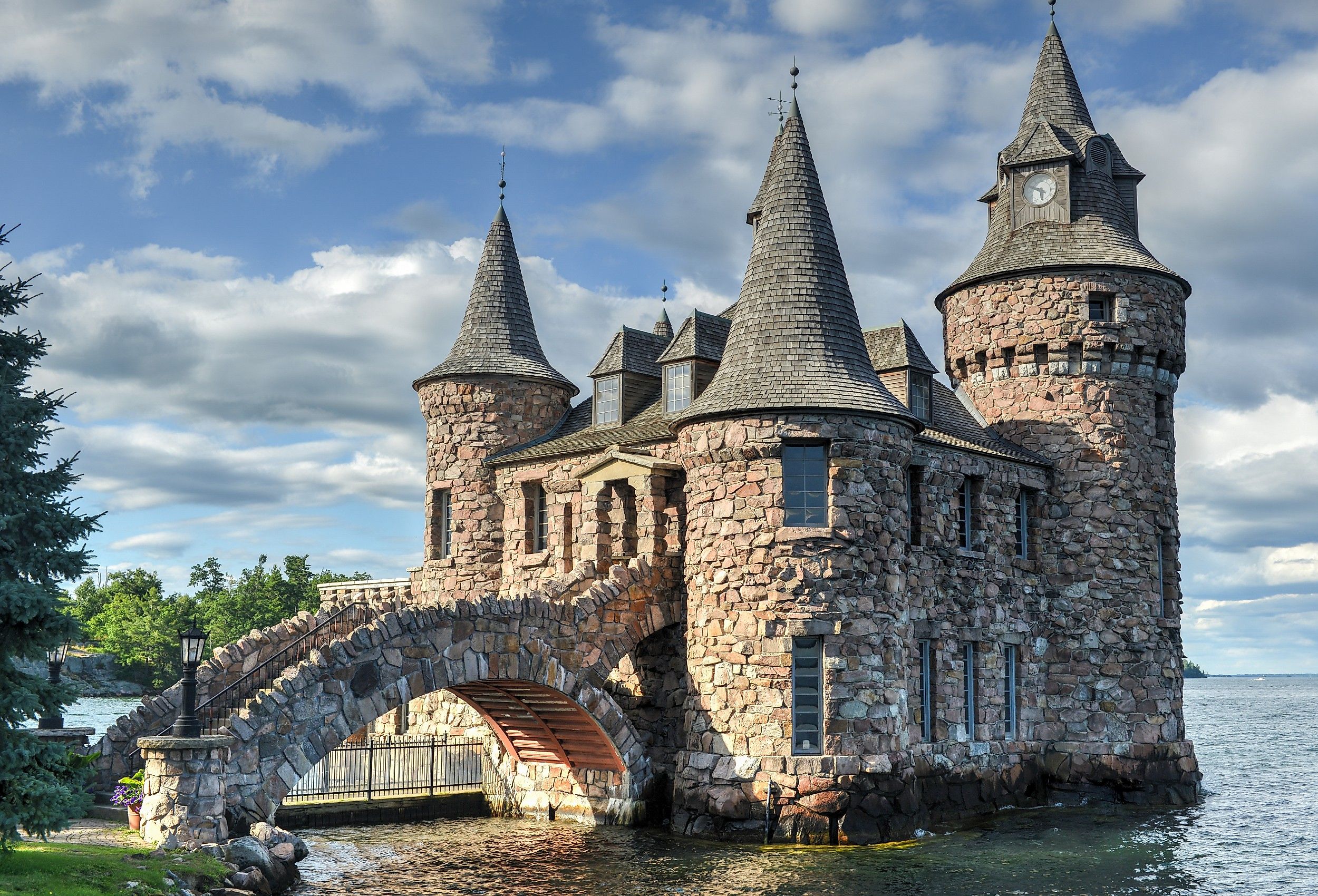 11 Most Unique Upstate New York Towns
The Empire State, a foremost destination for the Big Apple scene, is full of unique towns, with the Upstate honing some of the most intriguing species in the box. As unique as they come from the NYC scene, or a typical NY town for that matter, these eleven towns guarantee a memorable sightseeing getaway and one-of-a-kind experiences.
Learn about the counterculture at the Woodstock festival site in Bethel, taste tea in Millerton, smell lavender in Skaneateles, or experience the paranormal in Lily Dale. All hosting a small town atmosphere with iconic landmarks, the strange-to-your-city-eyes enchanting nature is most welcome from the daily stressors to unwind and enjoy epic adventures. Escape your city, New York City, or across the state—any length of drive is worthy of these unique, once-in-a-lifetime experiences ahead!
Alexandria Bay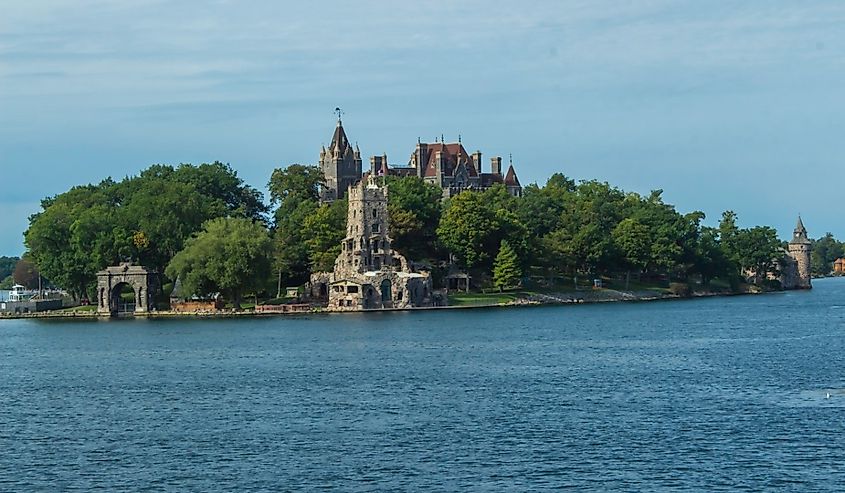 This unique town in the heart of the beautiful 1,000 islands is replete with experiences like taking the eagle's eye view via a helicopter or in a hot air balloon. The beautiful waterfront, lined by recreational vessels like sailboats, guided fishing charters, and pontoon boats, is a strollable affair. With plentiful coffee houses and eateries for farm-to-table cuisine, Alexandria Bay is the ultimate jumping point for exploring the nearby islands, like a quick shuttle ride to the famous Boldt Castle on Heart Island with its Fourth of July fireworks or Millionaire's Row.
Located along the St. Lawrence River, just a stone's throw away from Canada, the magnificent town is all about enjoying the water, like summertime swimming. From mini-golf, batting cages, go-karts, tennis courts, and eight state parks to arcades and a hedgerow maze, there is something for every age. You can hop on a sunset dinner cruise via a Mississippi-style paddle-wheel boat or a triple-decker for a narrated tour around the bay. Join the regular events like the family-favorite Bill Johnston's Pirate Days, while Powerboat Poker Run, Blues in the Bay Festival, Fish Day in the Bay, and Roaring '20s Weekend have their own fans.
Beacon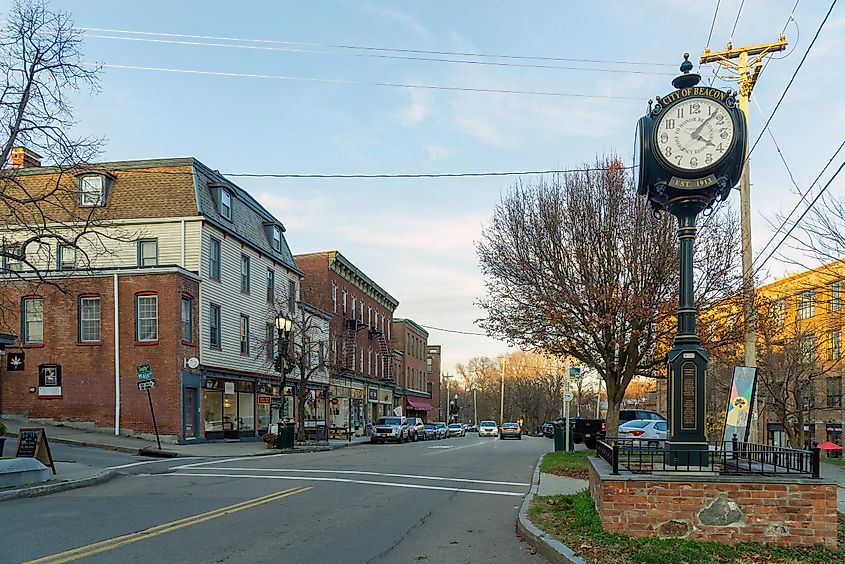 Beacon, showcasing the best contemporary art on the East Coast at its unique Dia: Beacon, set in an old printing factory and with top-notch shopping and dining, it is no wonder that this city has been an escaper's destination for quite some time! About an hour and a half on the MetroNorth from NYC, you can be browsing the city's crown jewel with works by Donald Judd, Richard Serra, Joseph Beuys, Dan Flavin, and Louise Bourgeois. From BAU, a fine art gallery and project space, to new and inventive Mother Gallery exhibits, each gallery is uniquely dedicated, including massive-scale sculptures and exhibits lit by skylights for a dramatic flair inside.
Beacon, the king of day trips and weekend getaways in Upstate New York, never fails to delight curious and returning faces. There is always a reason to browse the multi-block Main Street, with new places and decadent sweets at Hudson Valley Marshmallow Co. For adventure in nature, the towering Mt. Beacon, the highest summit in the Hudson Valley, is a mountaineering destination and a beautiful day hike to a picnic spot against the sweeping views of the city and the Hudson River.
Bethel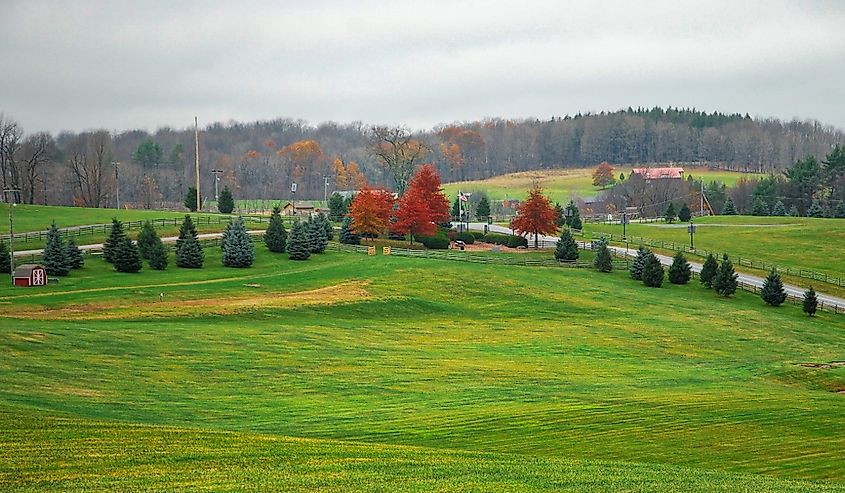 This unique town pokes its pretty, fame-ridden face about 60 miles southwest of Woodstock. The pretty town of Bethel is the real setting for the famous Woodstock festival that took place in the area back in 1969, now showcasing the counterculture of the era through many attractions. Yasgur's Farm and Bethel Woods Centre for the Arts are the "pasture," with 500,000 fans in August that year, while the Museum at Bethel Woods offers behind-the-scenes insight into the 1960s cultural and social changes that triggered the historic music festival.
The small town, molded by the concert, still welcomes music fans with a lot to offer for their non-musical friends, like Catskill Distilling Company at the Dancing Cat Saloon and an Instagram-worthy "peace"-painted old-school bus. You can unwind in nature within city limits along many ponds and streams. The annual Mountain Jam at the end of May is the Northeast's largest and longest-running rock-n-roll music and camping festival, with multistage performances over several days on the former Woodstock festival grounds.
Catskill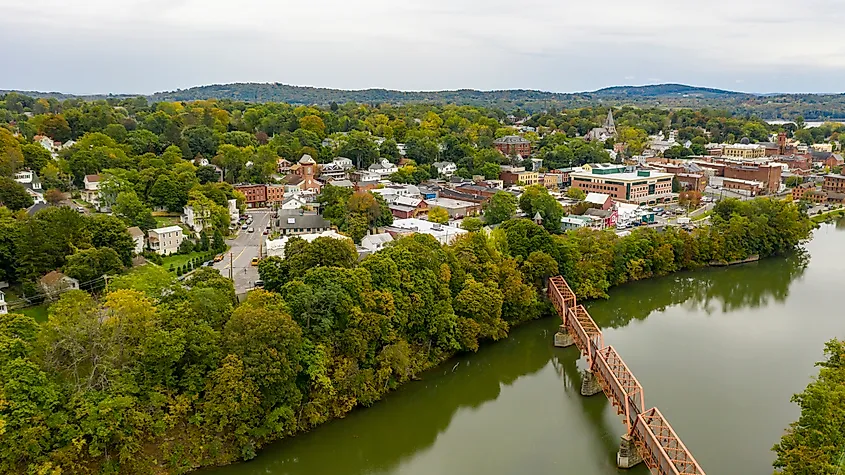 This historic town, renowned for its magnificent mountain views, is a unique and sought-after destination for art lovers. Home to the famed painter Thomas Cole, you can visit his former dwellings, designated as a National Historic Site, but also know that you are in the town on which Washington Irvington based his famous Rip Van Winkle short story. Catskill, a long-time base and a favorite destination for poets and photographers, is only hyped on by the views of the enchanting Catskill Mountains. The appreciated nature has outdone itself here, with one of the state's tallest cascades, Kaaterskill Falls. From RamsHorn-Livingston Sanctuary to the Hudson River's largest forested tidal swamp, the Dutchman's Landing is idyllic for picnic, and sighting boats.
For more inspiration and the best natural scenery, the Hudson River Skywalk, with scenic outlooks over the Hudson River Valley, connects the Thomas Cole National Historic Site to the Olana State Historic Site, former home to the painter Frederic Edwin Church. Visit Memorial Day through mid-September for the traditional artistic renditions throughout the town, or take the Catskills Beverage Trail with three breweries and a cidery within city limits. Rip Van Winkle Brewing Company is a microbrewery that will satiate you with Italian-inspired pub fare, while Subversive Malting + Brewing serves 100% locally sourced pours in an atmospheric farmhouse.
Cooperstown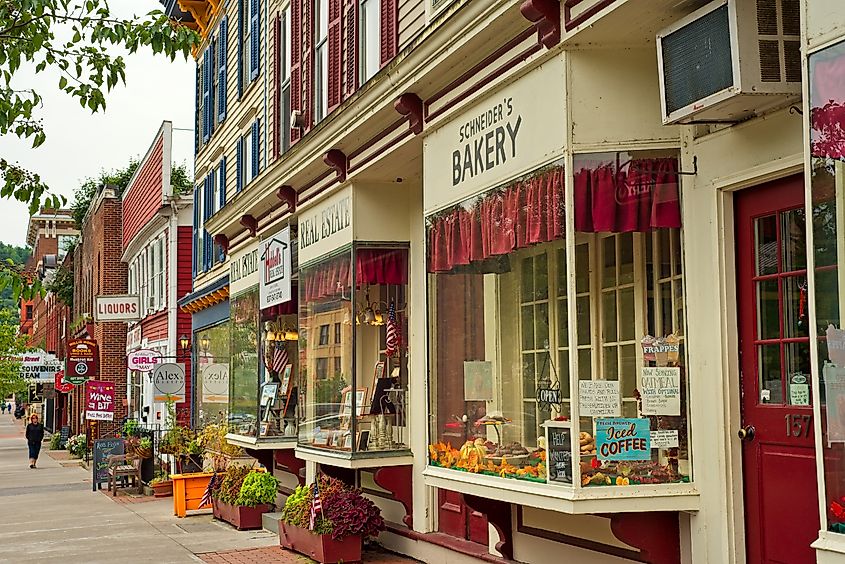 The unique town of Cooperstown in New York is home to the iconic National Baseball Hall of Fame, and the stunning natural beauty overlooking Otsego Lake doesn't hurt either. After an anticipatory four-hour ride from New York into the small village, sometimes referred to as the Village of Museums, you can enjoy easy-on-the-eye nature and cultural sights. The baseball center is a real showstopper must-visit, even if you are not a fan of the nation's favorite pastime, before trudging on to others, like the country's oldest living museum and the Farmer's Museum.
From waterside summer pursuits to the spectacular Glimmerglass State Park for hiking, the outdoors here look more like Norman Rockwell paintings. The quaint town is home to pretty streets with decorated bed-and-breakfasts in florals, serving hearty, all-American-style meals. For authentic Italian food, Bocca Osteria nails it, while the charming Stage Coach coffee shop has your back to keep on prowling on, like the Fenimore Art Museum with the nation's most impressive collections of folk and American Indian art.
Croton-on-hudson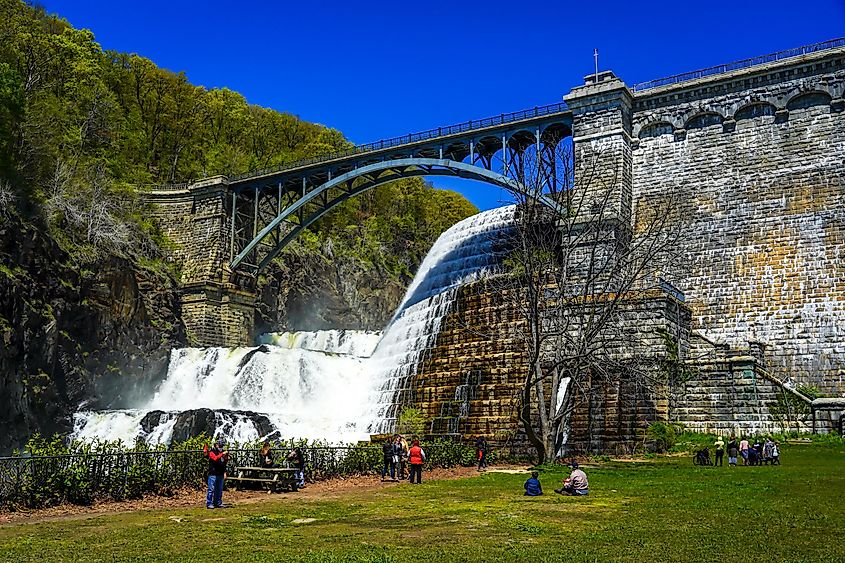 You know you are in for a treat when this bluntly named riverside village in Westchester greets you with a stunning arch bridge over a flowing dam on the Hudson River. Croton-on-Hudson offers a stunning escape to see the beauty and power of nature. Among popular attractions, the 97 gorgeous acres of Croton Gorge Park feature a beach, nature trails, pretty views, and a pavilion to take it all in. The glorious Van Cortlandt Manor from the 18th century is the former home of New York's famous Van Cortlandt family, consisting of a stone house and a brick ferry house.
You would never guess that the gigantic, historic stone New Croton Dam, with water cascading over the sides into the Croton Gorge, could be a picnic spot. This, one of the largest structures in the US, set high above the town, offers views for miles for memorable timespent. For your next meal, you can mingle with the friendly locals at Croton Tapsmith over cold brews and a family-style meal. With locally sourced ingredients from nearby Hudson Valley producers, the Blue Pig for dessert and the best Oreo ice cream are a must-try.
Ithaca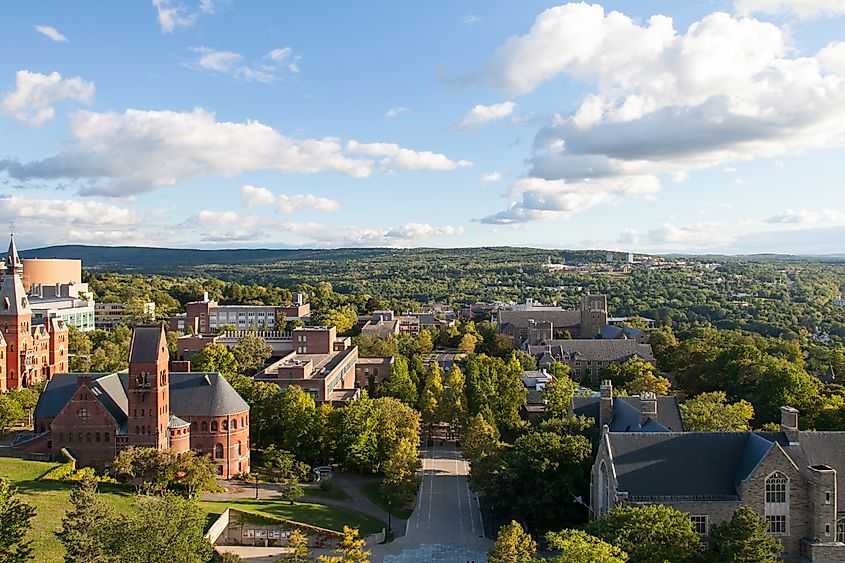 Home to two major colleges—Cornell University and Ithaca College—annually bringing over 20,000 students, almost doubling the population, Ithaca is a fun and easygoing town for socializing with a thriving downtown at the Ithaca Commons. This charming lakeside town along Cayuga Lake is also popular among historians and wet-pursuit fans, while the welcoming atmosphere will have you prowling through charming shops, cafes, and bookstores to hang out, relax, dine, and find gifts.
Sitting in the Finger Lakes region, the area offers water access for hundreds of miles for studying and scenic strolls without crowds in the summer. There are Amtrak trains into town and Ithaca's own airport with regular flights to and from NYC, while the nearest city, Albany, is three hours away by car.
Lake Placid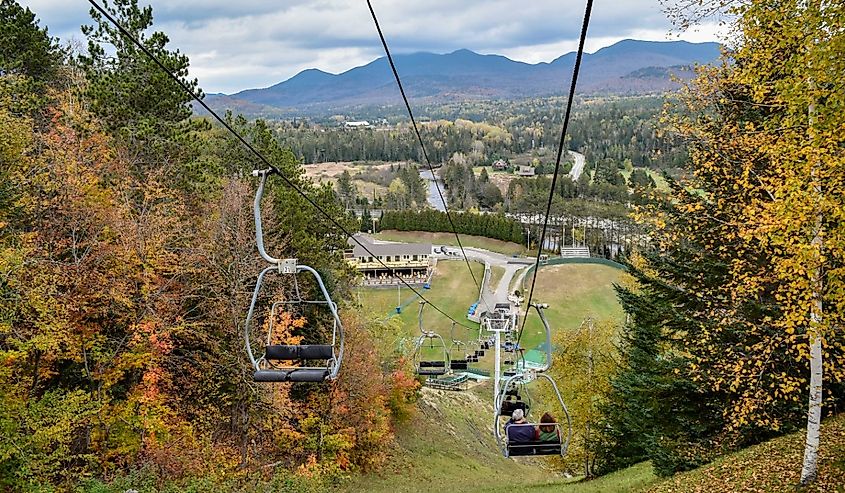 Lake Placid is a two-time former host of the Winter Olympic Games, in 1932 and 1980. This fame-riddled little town, called one of six of North America's "forgotten vacation spots" by US News & World Report, sits in the pristine Adirondack Mountains natural beauty to unwind and unplug from the city. A popular year-round destination for outdoor adventures through spectacular scenery, you can enjoy everything from lakeside recreation in the summer to chasing fall foliage and a wealth of winter activities.
The lush banks with oak, maple, birch, and beech burst into fiery red, vivid orange, and yellow hues among the green conifers up the mountains in the fall. Come in the winter for skiing and snowboarding and see world-class ski jumping, luge, bobsled, and skeleton racing at the former Olympic venues, which you can utilize when not in use for training. The View Restaurant in Mirror Lake Inn resort and spa will recharge you with deep sleep, delicious eats, and an extensive wine list over some seriously stunning vistas, while the casual Smoke Signals BBQ has friendly servers and skilled chefs who cook mouthwatering meats.
Lily Dale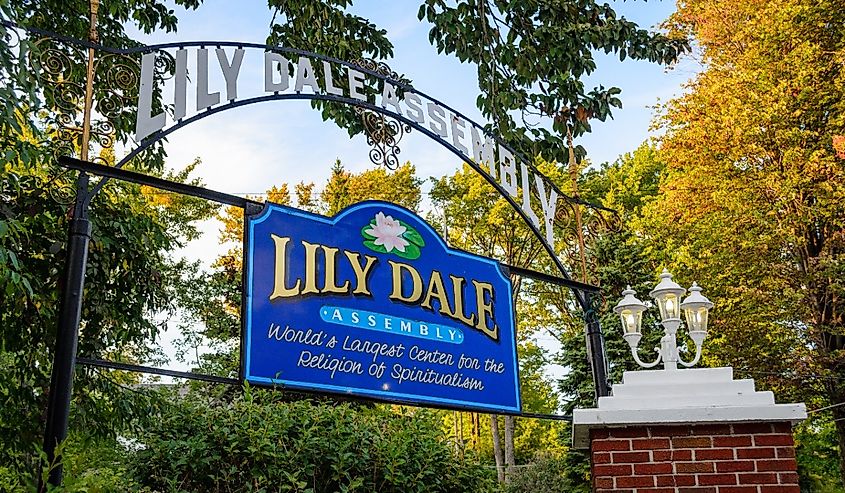 This tiny, pretty town in Upstate New York, some 15 miles from Lake Erie, is the Seance Capital of the Empire State. Home to a compact, attractive downtown area and a unique culture of spiritualists, its barely 300 residents know how to intrigue new visitors. Lily Dale welcomes thousands of annual tourists returning year after year for its one-of-a-kind scene where the paranormal feels more attainable.
With exciting historical insights and New Age attractions, the Lily Dale Museum inside a former school depicts the pioneering movement, while just a few blocks over, the Lily Dale Assembly hosts regular events and activities for all tastes. At the heart of Lily Dale, Lucy's Coffee Shop is a favorite mingling scene to meet other curious visitors and skilled mediums enjoying a drink and a snack in a potent atmosphere of mystic vibes.
Millerton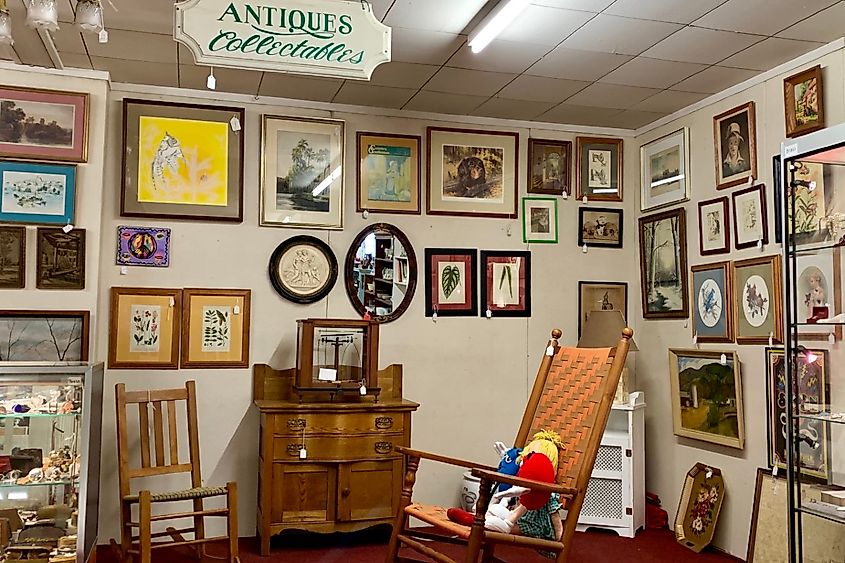 All you tea lovers, rejoice. Millerton, the headquarters of Harney & Sons, is packed with fragrant tea leaves at the 90,000-square-foot factory of this leading tea brand. Harney & Sons' flagship store along the main street offers a tasting room and shop to stock up on chocolate-coconut Soho blends, or sniff and sample until you find your taste. If the Queen's favorite drink isn't your cup of tea, there are cute streets and paved paths to explore on a bike, with a stop at the independent, original Oblong Books store.
From art galleries, antiquing, and cozy cafes to a movie or a live-feed cultural performance at The Moviehouse, you can also venture into nature right in town. The recently restored, tree-lined Harlem Valley Trail extends to Wassaic in the south as one of the region's first rail trails along the Webatuck Creek and 10.7 miles of roads, woods, and fields to the other town's train station. Great for scenic walks or an easy bike roundtrip, the fresh air will make you hungry for a relaxing dinner at 52 Main, beloved for tapas and wine flights. With something for everyone like coffee houses, Harney's Tea Room, or Irving Farm with refreshments, Millerton's regular events include Spring for Sound, the holiday Festival of Lights, and Fall for Art.
Skaneateles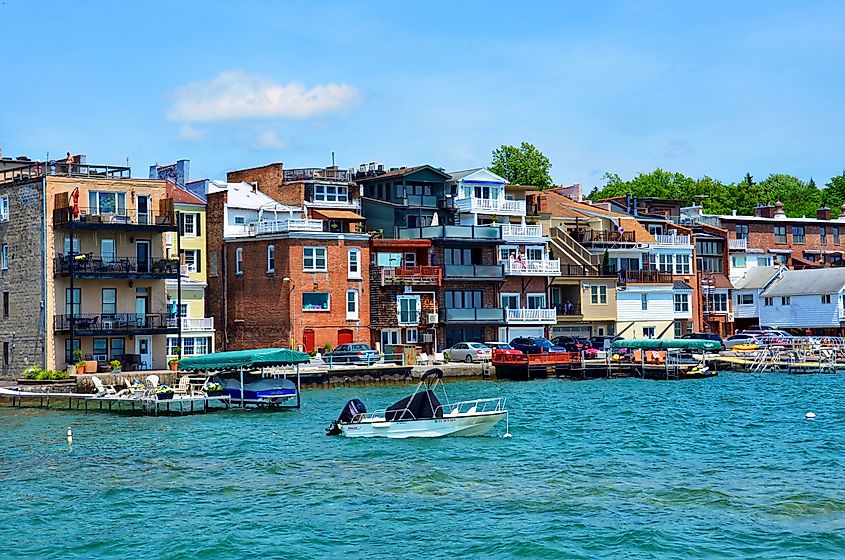 Skaneateles is a unique lakeside town in the Finger Lakes Region. The pretty town, just 30 minutes west of Syracuse, with a landscape dotted by white grazing lambs and adorned with fragrant bushes, feels like countryside France. Add in the surrounding lush vineyards of the cold-weather grapes that do splendidly in Upstate to produce wines, and you've got yourself a French-inspired getaway.
From the cottage-bonded blue lake to the historic downtown with charming B&Bs, Skaneateles seeps romance from every pore. With its selection of shops and unique restaurants like the highly rated Doug's Fish Fry and bountiful local markets, you can escape with your girls, family, or significant other. Picnic bankside along the northern tip of the skinny, long lake, or take the famed Charlie Major Nature Trail that follows Skaneateles Creek north.
These unique towns are strewn across the Upstate, from bucolic charms at the feet of the Adirondacks and Catskills to the 1,000 islands and the pretty Hudson Valley. You can get back to youth in Ithaca, see the best contemporary art in Beacon, or master skiing where two Winter Olympic Games took place. With many more unique destinations, these towns take everything "next-level," where sights aren't just sights but views are jaw-dropping gorgeous. Just visit Croton-on-Hudson for a taste from the top of the Croton Dam over a picnic, a hot-air balloon ride over Alexandria Bay, or summiting the top of the Hudson Valley of Mt. Beacon.