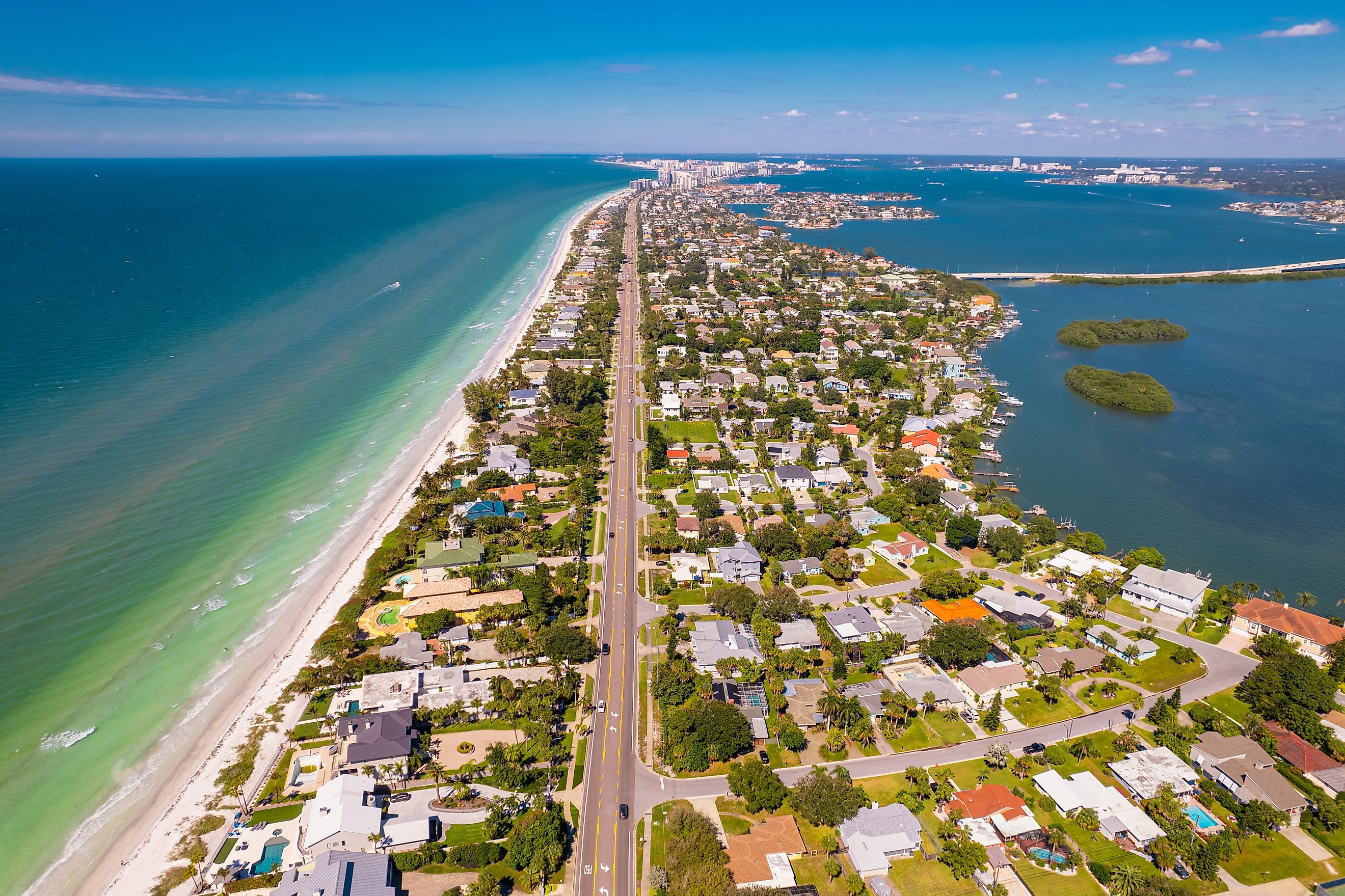 11 Most Underrated Towns On the Gulf Coast
The beautiful Gulf of Mexico, with soft white sand beaches and exciting offshore wildlife, is dotted with big cities and many towns in between to set base and explore. Enjoy days of lounging, strolls, and seafood dinners waterside at sunset, with plentiful fishing on the Gulf thanks to its tidal streams and local estuaries.
The family-friendly warm waters and on-the-town attractions welcome families for a quick getaway from the city and vacationers to soak in views, vitamins "sea," and D for the rest of the year. These eleven overlooked towns along the Gulf Coast offer unique culture, a unique vibe, and unobscured sights without crowds, with a cozy feel and a refreshing landscape all around.
Bay St. Louis, Mississippi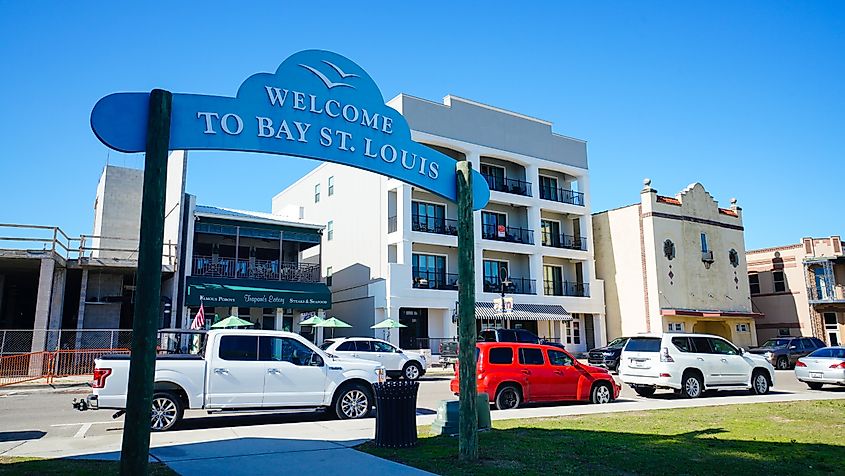 This quaint seaside town, named one of the coolest in America by Budget Travel as well as the "Best Place to Live in Mississippi" in 2020, is definitely worth your attention. Bay St. Louis is a favorite local escape that remains "a place apart" in Mississippi in the eyes of others, perched at the tip of the promontory facing its namesake bay. Enjoy easy Highway 90 access from inland or the same over-bay highway via the St. Louis Bridge for the peaceful getaway of your dreams. Complete with beaches and acres of parkland for hikes and camping, you will have an unforgettable adventure exploring the town under the sea breeze.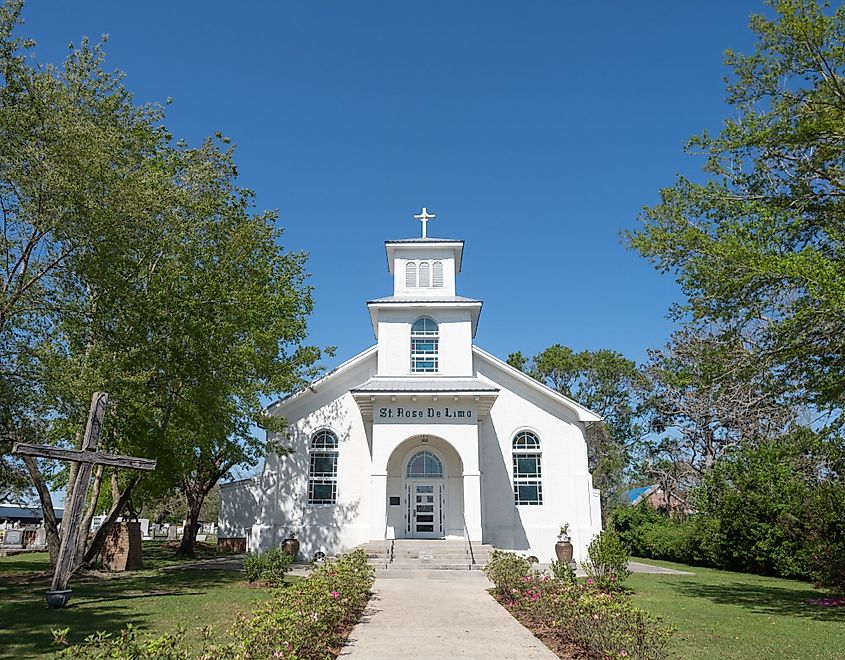 The unique town of around 11,000 friendly residents embraces its part of the Coastal Mississippi heritage with historic buildings amid small businesses, eight of which were named "Best" in their respective categories. Check into the Bay Town Inn and check out the Smith & Lens art gallery for a start. Absorb local culture over a meal at the outdoor Blind Tiger and shop around places like the fashion-forward Social Chair. You can grab a healthy snack at Starfish Cafe to hold you over until a fun evening at the new Fields Steak & Oyster Bar or a fancy fine dining experience at Sycamore House.
Biloxi, Mississippi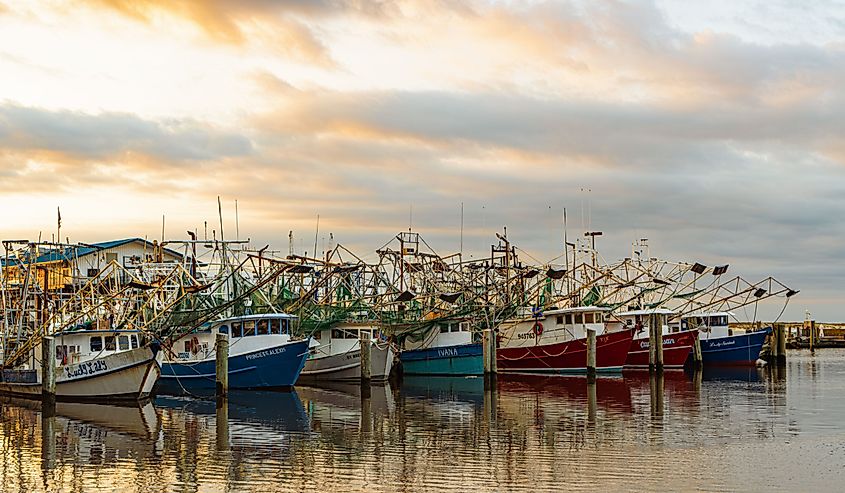 While some remember Biloxi as the "Seafood Capital of the World", it remains a highly underrated Gulf Coast town that revives and relaxes on a getaway any season. Visit in winter for the unique opportunity to jet-ski in the Gulf of Mexico, or take a shrimping trip at sunset for sights and a meal you can quickly whip up over a beach fire. Enjoy swimming, sailing, and sunbathing along the soft sands, which are as white and beautiful as the foam of the Mississippi Sound.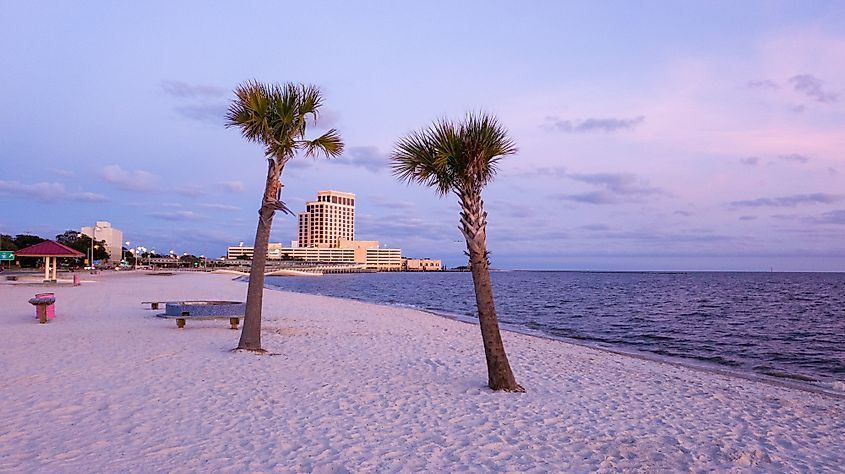 There is fun for every taste, from Shuckers baseball games to casinos with headliner shows and a local brewing scene with refreshing flavors perfect for a hot summer's day and a memorable night out. Enjoy a drink in a to-go cup as you explore all the sights around the historic district, from the IP Casino to around Back Bay, with access to the beachfront and Interstate 110. There is also plentiful entertainment right along the beachfront, so you don't even have to leave the seaside for the evening.
Carrabelle, Florida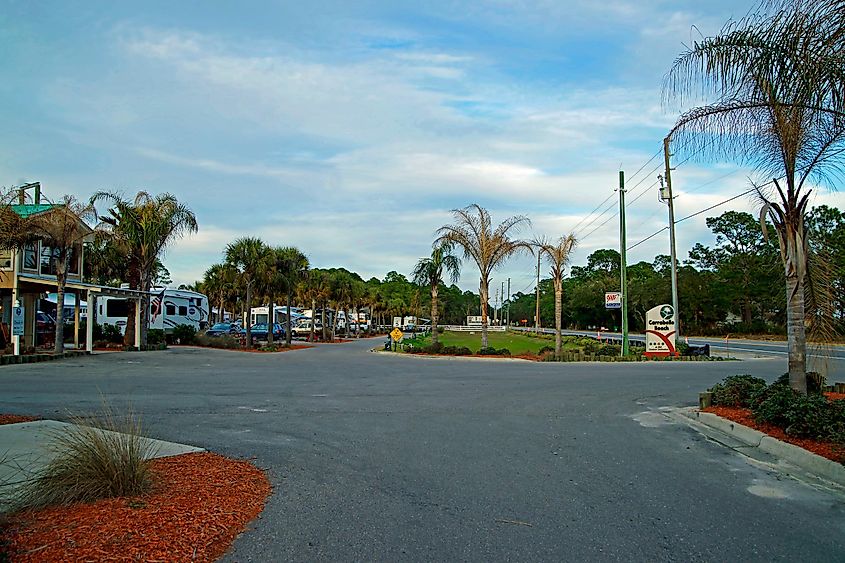 Carrabelle is a fantastic town along the crowdless eastern Florida Panhandle coast, facing the beautiful Gulf of Mexico. This historic fishing village, over 100 years in the making and still "knees-deep" in the same industry, is your go-to for seafood, integrated into culture like art that has been perfected to a t. Try your own hand at shrimping, oystering, and game fishing with the locals before checking out the town's thriving restaurant and bar scene.
Embraced in nature, Carrabelle's is a real playground to explore the surrounding state and national forests to one side and endless seas to the other. The overlooked town with an Old Florida feel is home to a beautiful deep-water seaport for scenically serene strolls and boating ventures. Find this and more only 53 miles southwest of Tallahassee, with easy access via County Highway 98 and County Road 67, through state and national forest lands, or a scenic boat ride along the Carrabelle River.
Dauphin Island, Alabama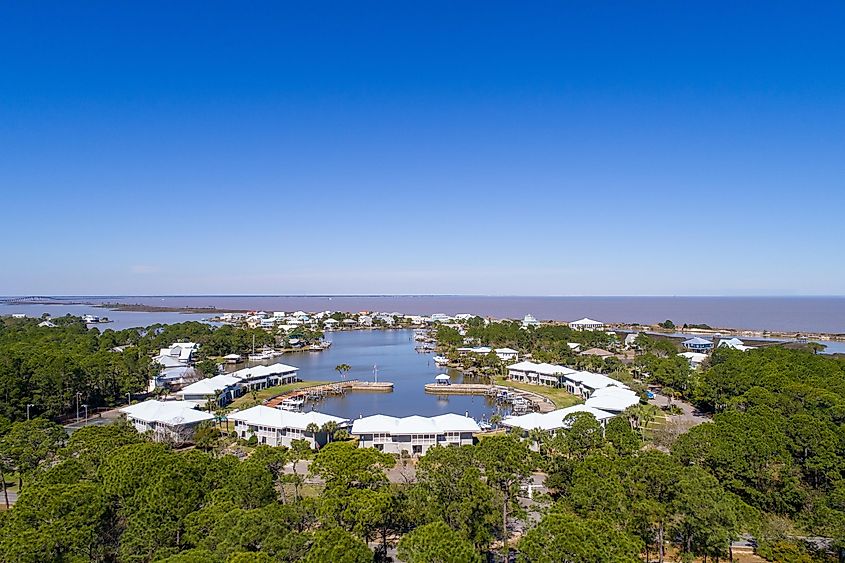 Dauphin Island is a real jewel on the sea in the Gulf of Mexico, with easy 45-minute car access from Mobile or a boat ride from the mainland. The town for all the adventurers and their pets awaits, with the friendly Dauphin Island Public Beach for dips in the crystal clear waters and a multitude of beautiful trails and parks to explore.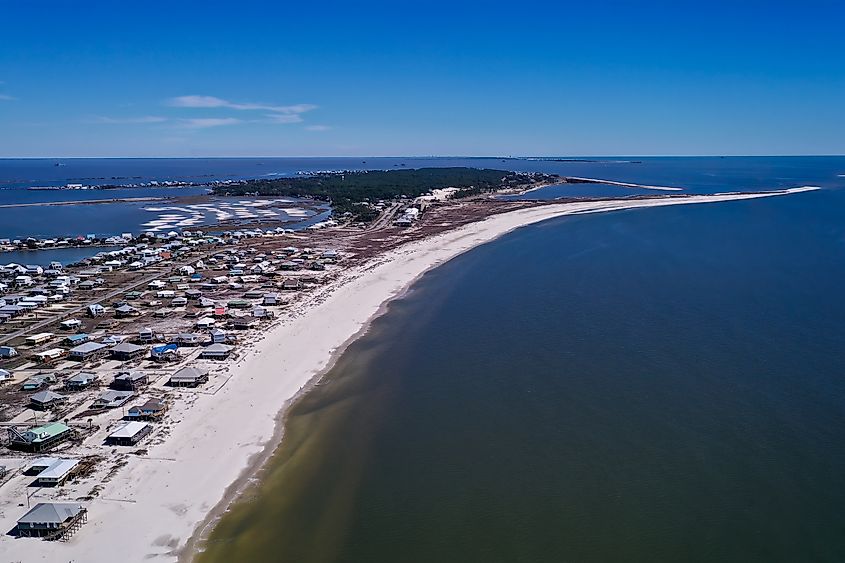 Check out the charmingly historic downtown area, laden with exhibits, and the must-see Fort Gaines from the Civil War for an outdoor venture complete with an unparalleled panorama over the bay and the Gulf. Enjoy a fun family day at the Audubon Bird Sanctuary and the Dauphin Island Sea Lab with animal interactions.
Grand Isle, Louisiana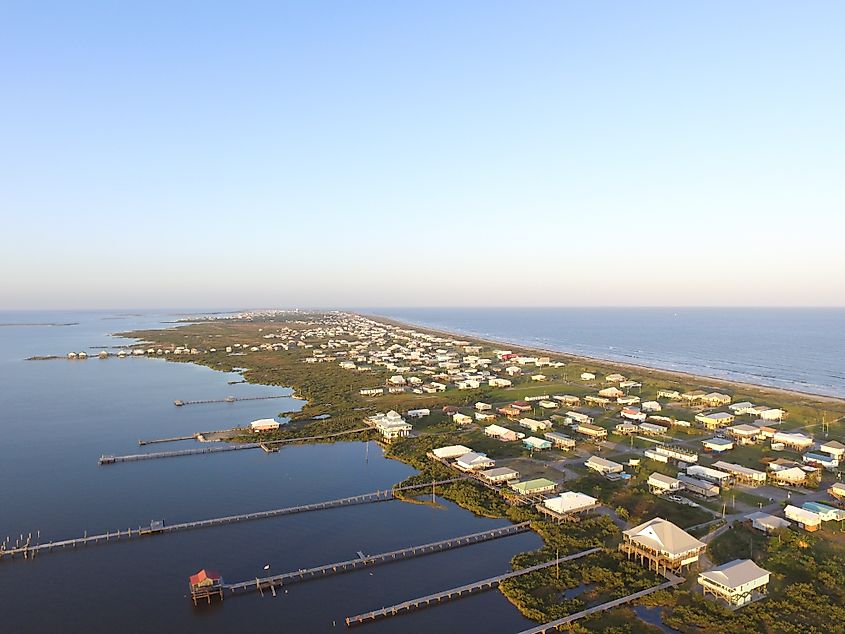 Visit Louisiana's only inhabited barrier island for an adventurous getaway with unique adventures, no crowds, and easy access right on the southern end of Highway 1. This seven-magical-mile-long island encompasses the best of Louisiana's coastal nature, like windblown oak trees, oleander and crepe myrtle, palms, and ferns. Stroll along the Cheniere ridges for migrating bird sightings or through the wetlands with aquatic life.
Grand Isle along the expansive state's shoreline feels a world away, under a slower pace change from the city's to savor many "only here" experiences. A real "Sportsman's Paradise," it is your go-to for world-class fishing and water pursuits, or lounging along the miles of pristine beaches with unobscured views of the Gulf and bounding wildlife. Have a real love affair with life when in Grand Isle as you indulge in true southern hospitality and mouth watering seafood.
Indian Rocks Beach, Florida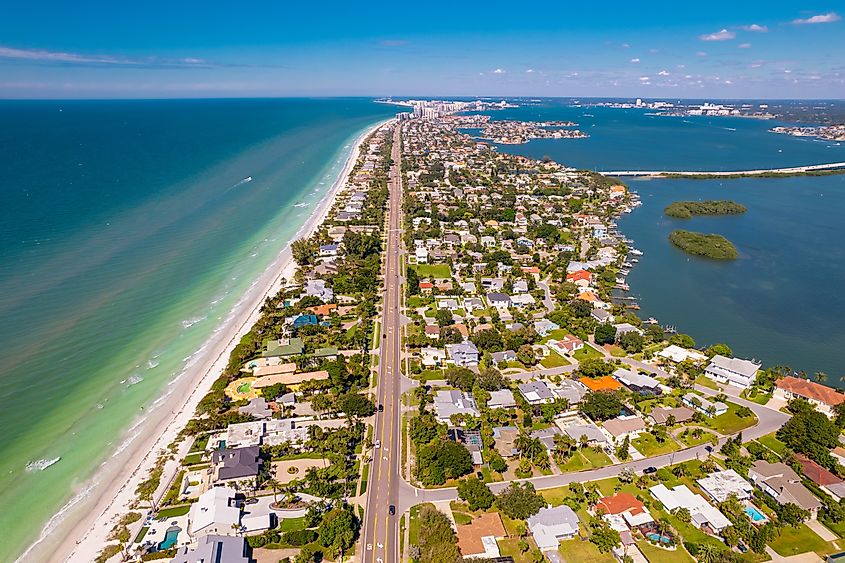 Indian Rocks Beach is a beloved getaway from the city, with something for every group and age. Explore, relax, and repeat, relishing in the slower pace of life and soaking in the views and the sun from the beautiful beaches. With easy access from Tampa, Clearwater, and St. Petersburg, you can enjoy a great choice of local, homegrown restaurants, green parks, and unique beaches. Take a scenic stroll through the Heritage Village and learn more at the Indian Rocks Historical Museum.
The beautiful town is your gateway to the Intracoastal Waterway on the east, a real kayaker's heaven, and the Gulf of Mexico on the other side, with gorgeous white-sand beaches. With gorgeous white-sand beaches. Enjoy lounging and watersports during the day, all steps away from family-friendly attractions, quality shops, and local eateries downtown.
Indialantic, Florida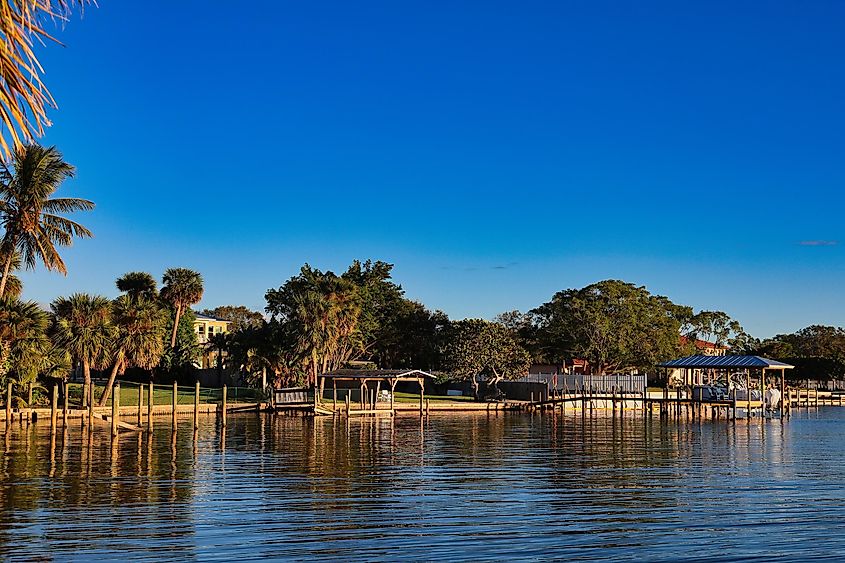 This beach town, bounding Melbourne to the east, is a quick coastal escape like no other. Indialantic is an imaginative and creative community, much like its name, with around 3,100 people attracted and inspired by the removed barrier island feel in between Indian River Lagoon and the Atlantic Ocean. Come with your family for the beaches, but stay for the nesting sea turtle sights and views from the renowned Indian Ocean Boardwalk with a park.
Access this favorite hangout on a 5-block scenic walkway at the furthest east end of S.R. 192, or 5th Avenue, with easy parking for strolls and sights. You can scope out the Java Surf beachscape behind the boardwalk and spot along the sands to call your own until sunset. Enjoy this idyllic beachside escape for lounging, with swelling waves that break gloriously far onto the shores.
Miramar Beach, Florida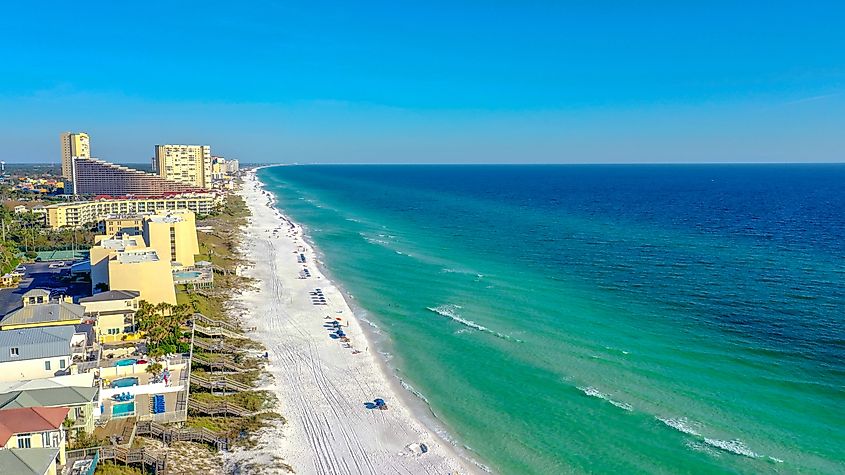 Miramar Beach is your seascape into all the peace and quiet you desire on a classic beach getaway from the city. Enjoy the typically scenic Gulf Coast views, charming seafood restaurants, resorts, and coastal drives. Relax or stay active with adventurous water-based activities such as jet skis and parasailing in the picture-perfect Gulf of Mexico. Stay beachside at a resort or a vacation rental with panoramic views. nostalgic vibes and ultra-modern amenities.
This South Walton neighborhood is a real vacation from your childhood days, with lazy morning strolls along the beach before fully waking up at a diner in town. Spend the afternoon perusing the local shopping scene of surf shops and one of the nation's largest designer outlet centers, Silver Sands Premium Outlets, with a waterside dinner at one of the fabulous seafood restaurants.
New Port Richey, Florida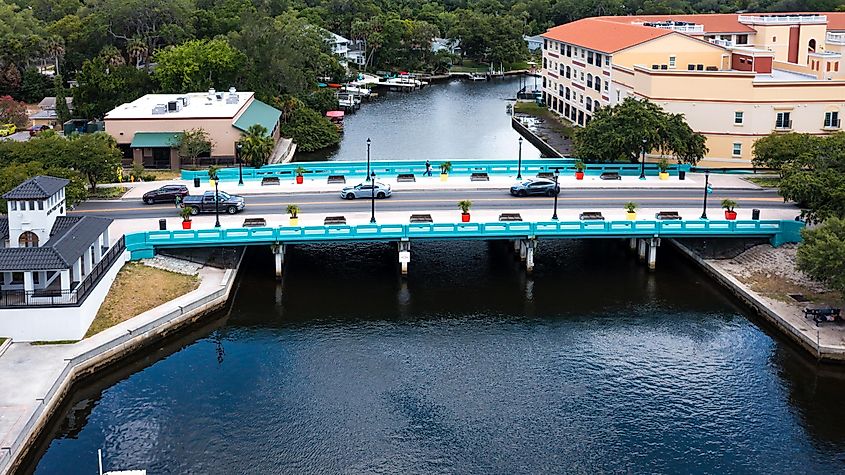 New Port Richey is a coastal town with an appealing streetscape and a lively downtown area full of historical charm. Escape the city to the seaside with a broad array of businesses wrapped in small town charm, diverse culture, and a unique riverfront landscape. Enjoy easy and scenic access just 30 miles northwest of Tampa, along the coast, to this St. Petersburg suburb with a wonderful blend of wild nature, pristine beaches, and family-friendly attractions downtown.
The town is a sister city with Cavalaire-sur-Meropens, a new window on the French Riviera since 1995, and NPR's Downtown's Cavalaire Square was named to honor that event. Enjoy great shopping and restaurant choices with various cuisines in between your natural outings, as well as cultural festivals that keep the heritage alive. Find vibrant venues for arts and cultural performances along the square, and enjoy the relaxed atmosphere with a sea breeze from nearby beaches. There are plentiful nature trails to explore inland, like the dense James Grey Preserve.
Ocean Springs, Mississippi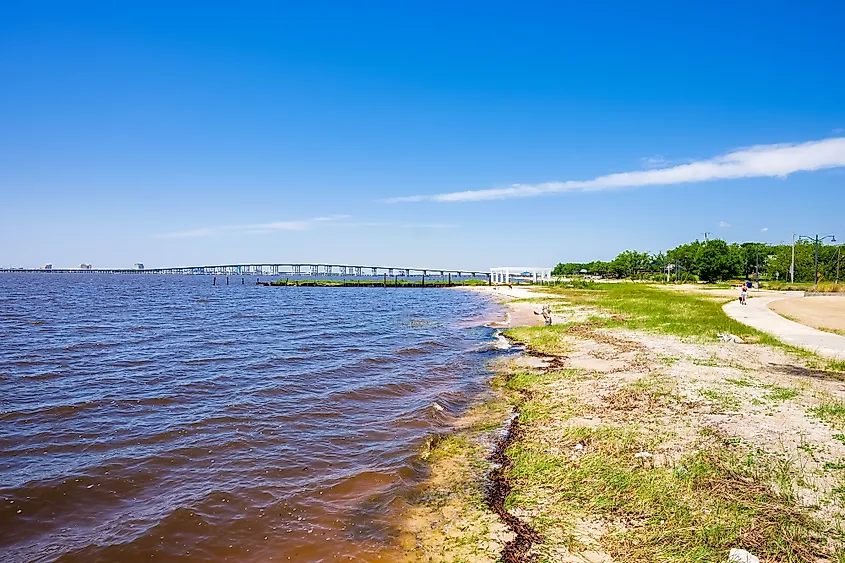 Ocean Springs is a cozy historical town of under 18,500 people along the Mississippi Gulf Islands National Seashore. Its moniker as the "City of Discovery" nods at the charming adventures awaiting by the coast for all ages. Enjoy a quiet coastal escape to relax and sightsee the gamut of historical sights along the vibrant downtown. The colorful streets under centuries-old live oaks are a joy on a stroll to the scenic shore of Coastal Mississippi, with its sea breeze, refreshing landscape, and small town appeal.
Join in lively cultural events and the state's largest fine arts festival, the Peter Anderson Arts & Crafts Festival, presented by Blue Moon. There are over 200 family-friendly attractions throughout the strollable town, run independently by the locals, for shopping, dining, and viewing. Stop by the Ocean Springs Art Association to really feel the town's spirit, and seek more at the Walter Anderson Museum of Art, Shearwater Pottery, and the Mary C. O'Keefe Cultural Center of Arts and Education. Enjoy days of tranquil lounging along the picture-perfect Front Beach and an active nightlife, including three entertainment districts serving drinks in go-cups.
Redington Beach, Florida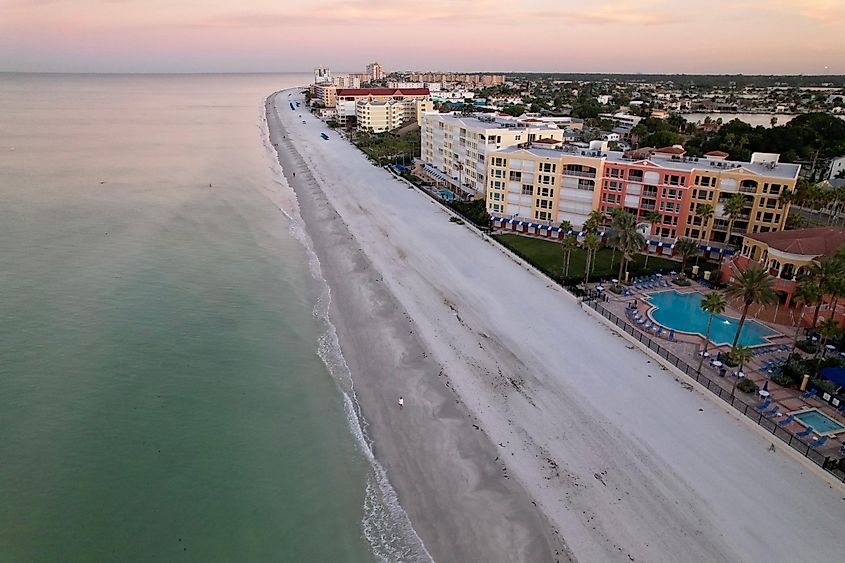 This charming town comprises two whole communities that manage to stay hidden from the oblivious, in between Madeira Beach and Indian Shores. Explore North Redington Beach and Redington Shores, with over a mile of broad beachfront featuring vividly emerald Gulf waters. The naturally beautiful landscape around you will take your breath away and keep you captivated along the sands.
With the beaches never being too crowded, even during the summer, these absolutely jaw-dropping views are unobscured from your own private viewing spot while relaxing in deep serenity. When hunger strikes, seek out the great restaurants and cafes just nearby. The beachside town on the barrier island in Pinellas County is also home to historical attractions and a number of local bars for every taste of pastime.
Choose a town for your taste along the 1,000-mile-wide Gulf of Mexico for a quick getaway under the sun. Many towns boast the removed feel of a barrier island, so you really feel a world away from your home city despite easy access. Check into a vacation rental by the Gulf along a string of sandy beaches. Enjoy days of lounging along the quartz sand with jewel-toned waves and average temperatures of 70 in the winter and 90 in the summer.
Spend time splashing in the shallows by the shore with the kids, or venture into the blue sea up to 14,000 feet deep. There is fishing, boating, swimming, and diving, with views all around and exciting boardwalks back in town awaiting your return. These waterfront towns also have entertainment drinks where you can enjoy your fun in a cup as you mingle, explore the culture, and sightsee history.