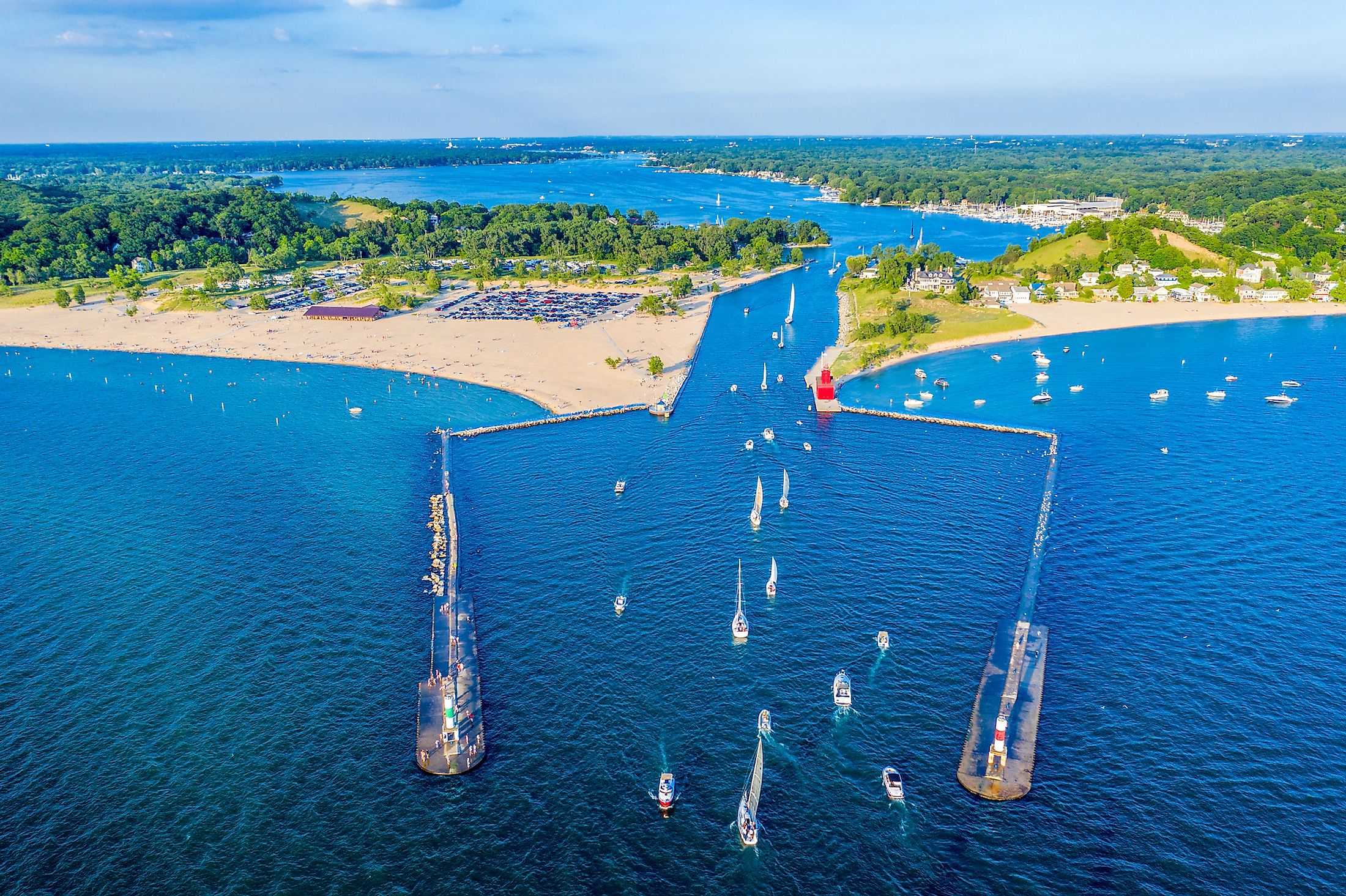 11 Most Scenic Great Lake Towns
They have the breadth and fierceness of an ocean, but the peace and simplicity of a classic lake retreat: no body-of-water commands respect and nostalgia quite like a North American Great Lake. For that reason, people have settled on its shores for thousands of years. Towering cliffs, pummeled by jealous waves, sit across from gentle creeks and sandy beaches. The communities that have formed here, in states like Michigan or provinces like Ontario, take in floods of visitors. So the path to a perfect tour of sightseeing is (mostly) paved — but don't get cocky. Mother nature is still in charge.
Mackinac Island, Michigan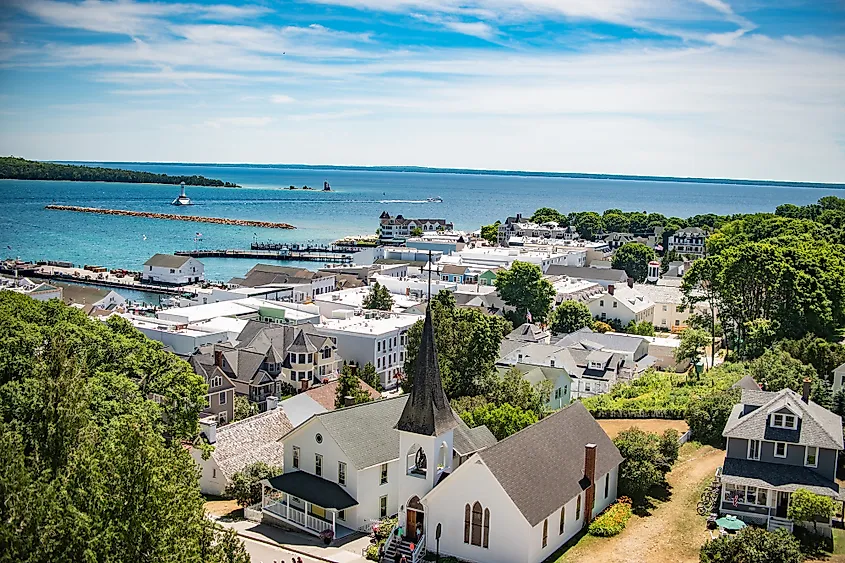 You can almost hear the clip-clop of horse hooves echoing through time on Mackinac Island, Michigan. Gracing the edges of Lake Huron's shoreline, the island was a significant place for Native Americans and a prominent hub during the fur trade era. Tourists today explore the expansive Mackinac Island State Park, climbing to the heights of Arch Rock for a breathtaking view. The island, filled with history, houses Fort Mackinac, which was built in 1780 as a military outpost. Adding a dash of elegance, The Grand Hotel, established in 1887, is blessed with the longest front porch globally. One can blissfully relax, sip tea, or fall asleep under the stars in a place like this. In Mackinac, the growl of engines is an alien sound, as no motor vehicles are allowed. To that end, the island's paths are traveled by bicycle or classic horse-drawn carriages, which makes it a step away from living inside a painting.
Washington, Wisconsin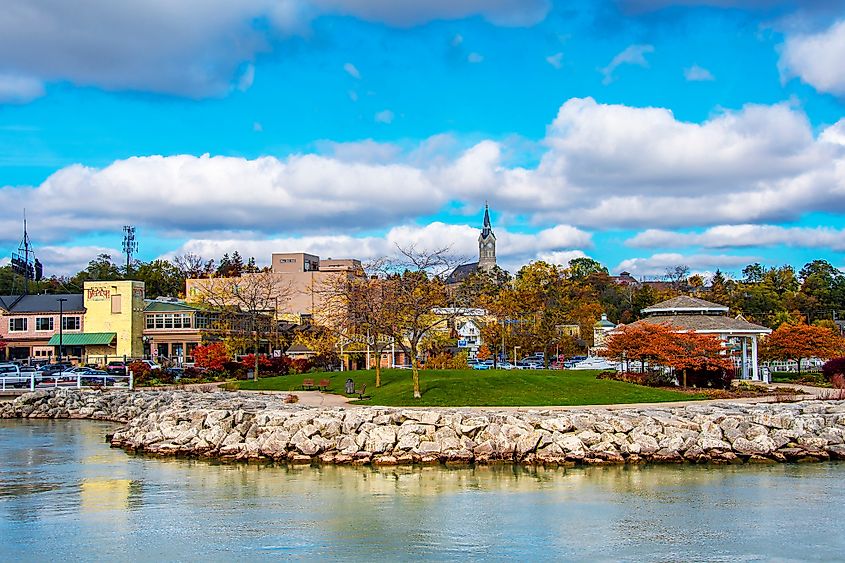 Have you ever heard the chilling tales of the "Death's Door" passage? That is the ominous namesake surrounding the small town of Washington, which is located on an island sitting between Green Bay and Lake Michigan. The town's history is centered around this treacherous strait known for shipwrecks, but today's visitors find only beauty and enjoyment. Pop into Nelsen's Hall Bitters Pub for an equisitely arranged selection of brews 'n' stews. At a couple select eateries, such as the K.K. Fiske Restaurant, you can also relish in the local tradition of Fish Boil dinners. The peninsula of Door County where Washington sits is dotted with 11 historical lighthouses as well as a substantial State Park. Last, the beach on the neighboring Rock Island is perhaps one of the most serene places for a person to lounge and rest.
Grand Marais, Minnesota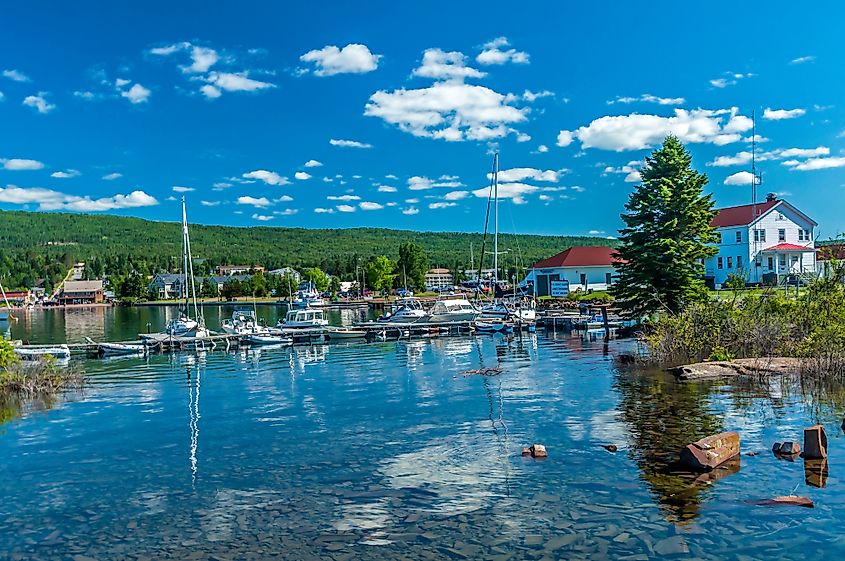 Take a stroll along the North Shore of Lake Superior in Grand Marais, Minnesota, where ancient Ojibwe roots merge with legends of a fur-trading-post past. The refreshing breeze guides adventurers towards the renowned Boundary Waters Canoe Area Wilderness, a launching point for adventuring in the local scenery. Then, consider stepping back in time and visit Chippewa City, a historic site where buildings from the 1800s stand resilient. Yearning to craft? The North House Folk School offers lessons in traditional northern crafts. Do not forget to join a trip to Judge C.R. Magney State Park to gaze upon the mystery of Devil's Kettle waterfall, where half a river seemingly disappears into the rock; is it real magic or an illusion? The joy is real, and that is what matters.
Bayfield, Wisconsin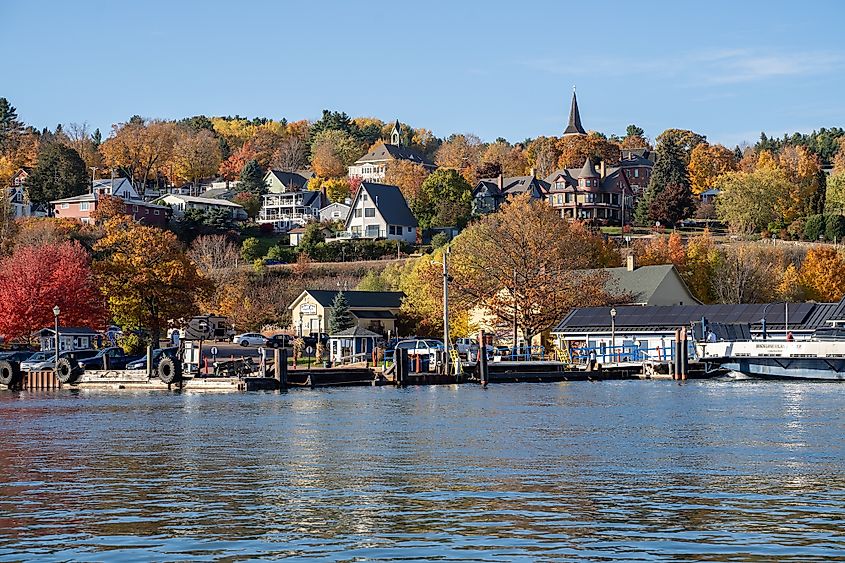 Bayfield, Wisconsin, sings a siren song of maritime mystery and ancient stone. Upon the cold, fresh shore of Lake Superior, it pays homage to Henry Bayfield, a British naval officer who lent his name to this historical place. At the Apostle Islands National Lakeshore, there are some wild geological formations that seem to float above the surface of the water despite consisting of thousands of pounds of solid rock. You can also explore the haunting beauty of the Meyers Beach Sea Caves, accessible within 2 miles from the trailhead. If you are already in the area, check out a marvelously large blue tent called "The Big Top Chautauqua," where music and performing arts take center stage. Last, the Bayfield Maritime Museum is famous for its walls decorated with the legends of the community's past.
Put-in-Bay, Ohio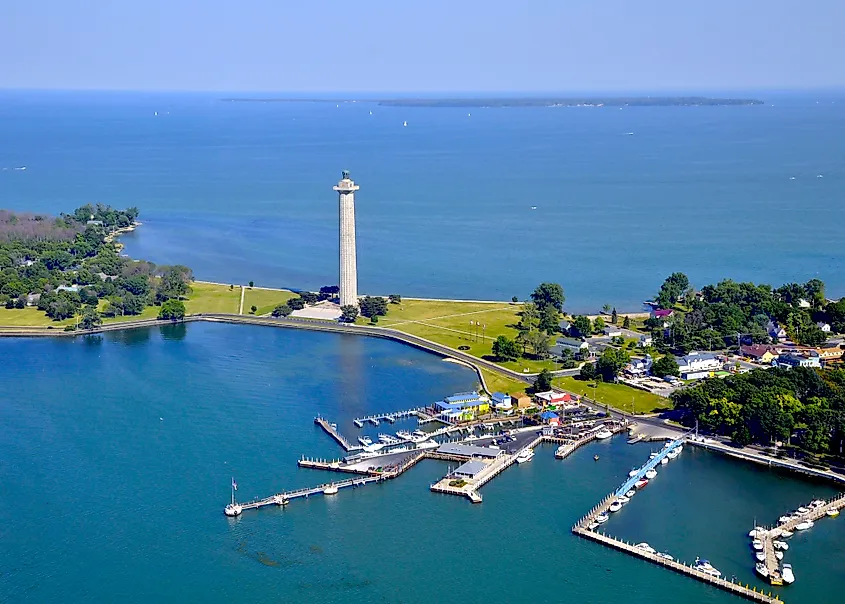 Put-in-Bay, Ohio, sits just within reach of the shores of South Bass Island in Lake Erie. It played a vital role in the War of 1812, where a turning point occurred thanks to the leadership of Oliver Hazard Perry. Many visitors seek to pay homage by stopping by Perry's Victory and International Peace Memorial, a tribute to lasting peace and friendship. Further, check out the mysterious depths of Crystal Cave, home to the world's largest geode, which traps your gaze with its endless shimmer. For those looking to loosen up, Heineman's Winery, established in 1888, has plenty of legacy bottles to go around. Saving the best for last, one might visit the South Bass Island Lighthouse because the view of the coast and inland forestry is just unbeatable from up there.
Harbor Springs, Michigan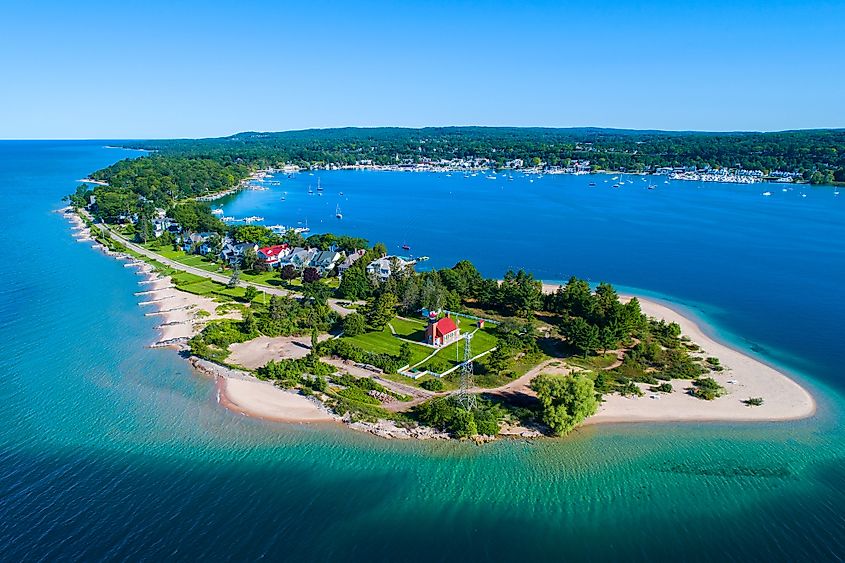 Pass through a historical tunnel of trees, and you will find yourself in Harbor Springs, Michigan. With a harbor providing the backdrop, this northern Michigan area was once revered by the Ojibwe for its mineral springs. Today, visitors take in movies at the Harbor Springs Lyric Theatre, a notable attraction. For the outdoorsy, the Thorne Swift Nature Preserve is a must-visit, as is the Tunnel of Trees Scenic Heritage Route, both of which create fulfilling encounters with nature. Then, for the curious, allow yourself to dig deep into native history at the Andrew J. Blackbird Museum, named after a leader who encouraged education for the Odawa tribe.
Munising, Michigan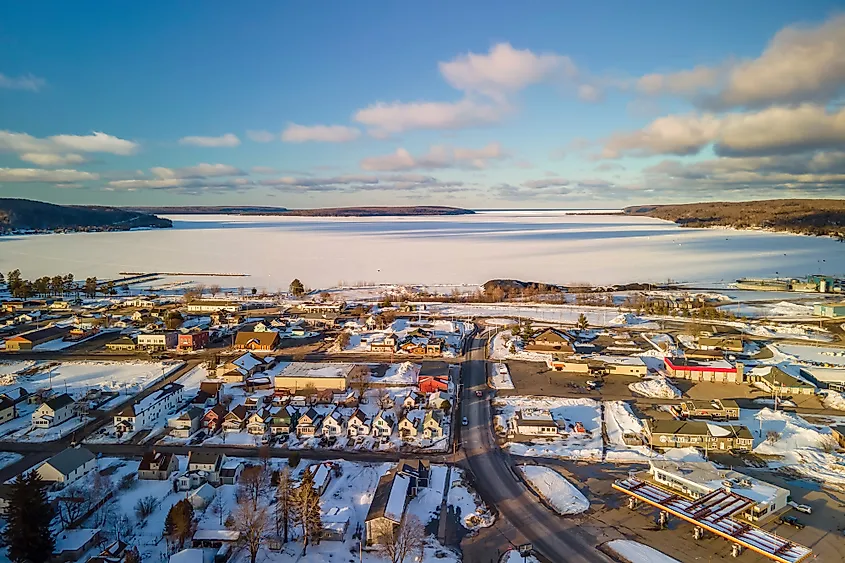 Kisses of freshwater breezes greet you in Munising, Michigan. Standing proudly on the southern shore of Lake Superior, this town bears a name once spoken by its ancient people, Minnising, and it has survived through the ages. Here, the Pictured Rocks National Lakeshore displays the otherworldly Munising Falls, which cascades for 50 feet. Many tourists are privileged with an opportunity to observe the depths without getting wet through the Glass Bottom Shipwreck Tours. Plenty of shipwrecks and natural formations reveal a world wholly different than our own and, therefore, one worth admiring. Some pilgrims to Munising have a neverending thirst for stories, and they can be sated at the Alger County Historical Society, which has artifacts to boot.
Geneva-on-the-Lake, Ohio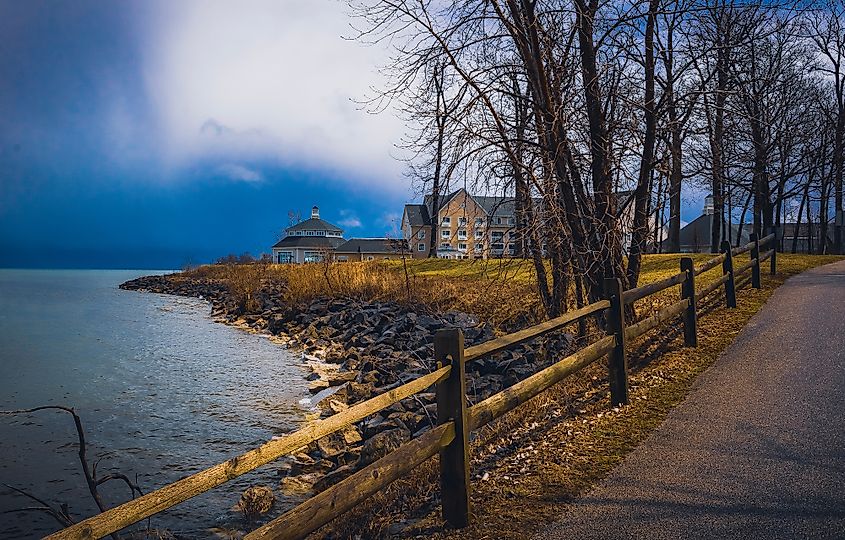 Stride along the southern shore of Lake Erie and stumble upon Ohio's first-ever summer resort town, Geneva-on-the-Lake. The ample Geneva State Park possesses lovely spots to camp and check out monuments, and it also has one of the best beaches on Lake Erie. The Lakehouse Inn, known for its lavish vineyard and delightful wine-tasting sessions, is another hot spot for adventure seekers looking to relax. Seeking some action? Adventure Zone will fill your day with excitement with mini-golf and go-karts. But, for those needing to maintain their swing, tee off at the Geneva-on-the-Lake Golf Course, which has an engaging 18-hole, par-72 layout.
Port Austin, Michigan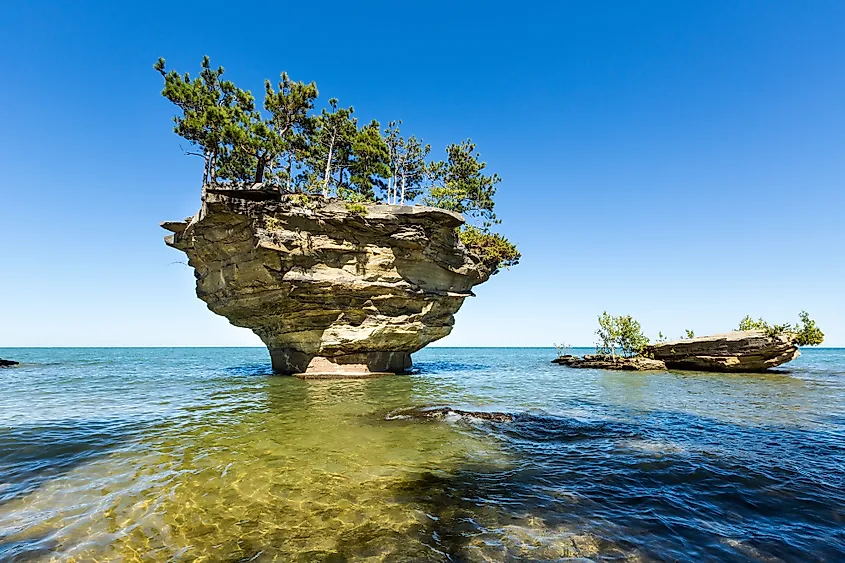 At the tip of Michigan's Thumb on Lake Huron lies Port Austin, a place dripping in the memories of its time as a lumber and shipping center. Today, navigate the waters as you kayak to the famed Turnip Rock, a surreal sight to behold. The Port Austin Reef Light, only reachable by boat, is another highlight, standing as a literal fortress in the expansive lake. Every weekend, do not miss the region's largest Farmers' Market for fresh produce and local goods. As night falls, one can witness the breathtaking celestial show at Port Crescent State Park, designated as a Dark Sky Preserve, which means the night sky can be observed the way it was meant to be.
Two Harbors, Minnesota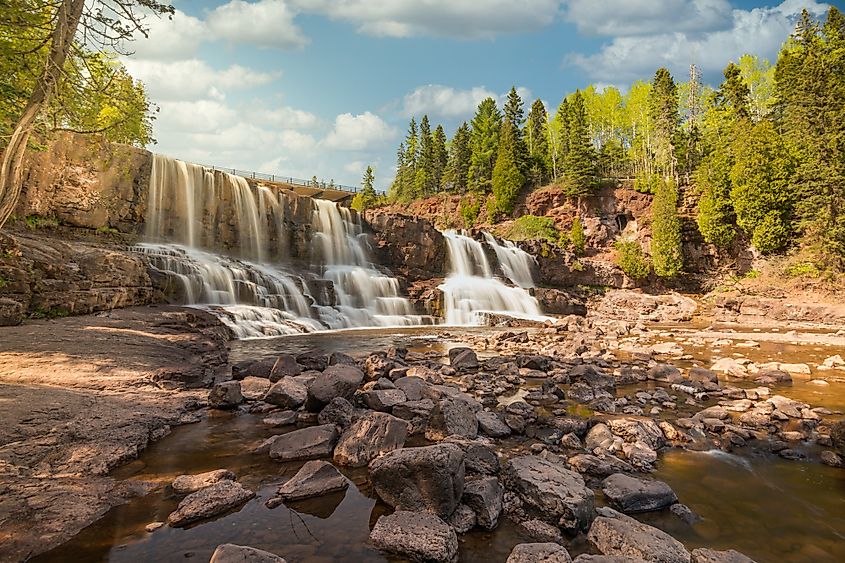 Two Harbors dances on the North Shore of Lake Superior with a legacy as a major iron ore shipping center. The magnificent Gooseberry Falls begs the visitor's attention as if it were a preface to the more eastern Niagara. Also, the Two Harbors Lighthouse has been guiding sailors since 1892; its persistence and dedicated upkeep remind the townsfolk that some things do not have to change. A fairly impressive structure looms nearby, The Duluth and Iron Range Railroad Depot, and it operates as a museum that records the workings of its architect, Peter Olson, who was tasked with building the historical headquarters. Locals will persuade you not to risk missing out on the Edna G. Tugboat, a true survivor, the last steam-powered tug on the Great Lakes.
Holland, Michigan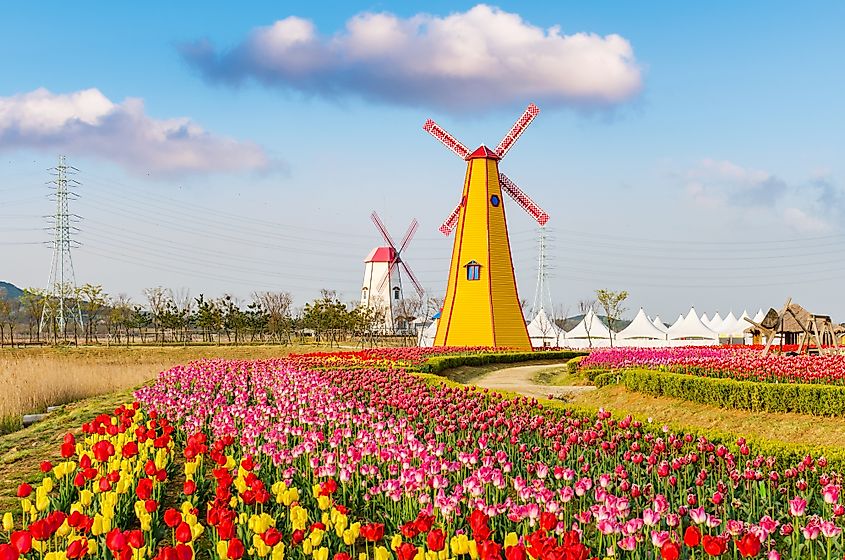 Holland, Michigan, blooms on the Eastern shore of Lake Michigan, its foundations laid by Dutch immigrants in 1847. If you are lucky enough to rent a sailboat, head toward the Big Red Lighthouse; it is an iconic part of these old shores. Nearby, Windmill Island Gardens risks hypnotizing its guests with the swirls of a 250-year-old working Dutch windmill. If the math seems impossible, I ought to let you know that it was transported from the Netherlands in 1964. Building on that historical momentum, The Holland Museum showcases exquisite Dutch artifacts. Seeking a natural retreat? Holland State Park unfurls sandy beaches and inviting camping spots, the perfect outdoor complement to Holland's classic Dutch attractions. 
After experiencing the oddity of inland lighthouses or a horizon that sets on an endless expanse of freshwater, most guests walk away feeling refreshed rather than stupified. The history leaves you with something to chew on, too; long before the Vikings or the Spanish, there were folk fishing and living their lives on those bountiful coasts. In that sense, sharing in the celebration of the region and its towns is the best way one can honor those who came before.