Knowing when it is time to retire is a personal decision that varies from person to person based on career goals, financial readiness, and desired lifestyle. Of all the U.S. states to pick from, Michigan is an ideal retirement destination because of its natural beauty, affordable cost of living, and its many small towns with welcoming communities for seniors of all ages. From the quaint village of Harbor Springs to the vibrant city of Petoskey, Michigan offers plenty of options for those looking for a peaceful place to settle down. Here, each small town is filled with character and charming sun-soaked beaches, local farmers' markets, art galleries, and outdoor trails stretching far beyond urban limits. With so much to do during retirement, one can certainly find a region in Michigan that fulfills all needs and desires. From historic lighthouses to venerable wineries, there is plenty to explore in these eight cherished towns.
Harbor Springs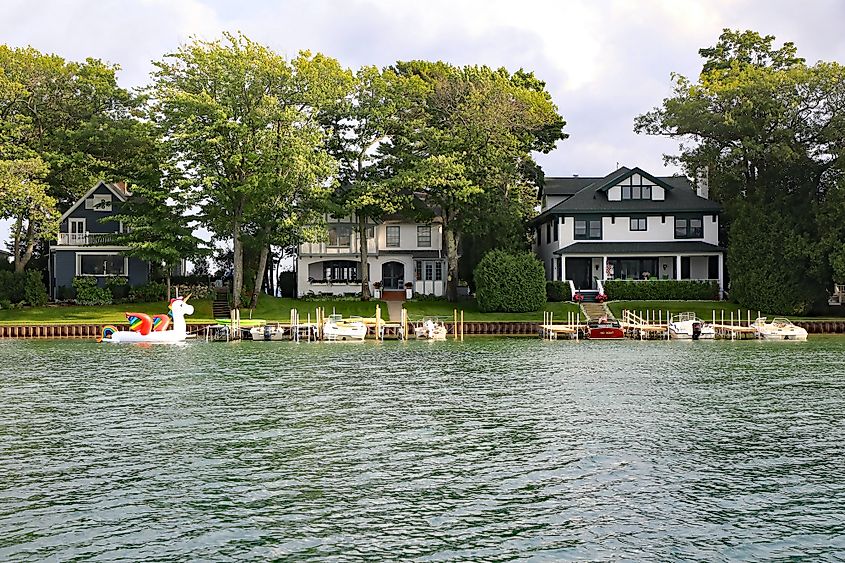 Harbor Springs is a picturesque coastal community nestled along the shore of Little Traverse Bay in the northern part of the state. Founded by early settlers in 1880, Harbor Springs rapidly became a popular destination for visitors looking to take advantage of its many recreational opportunities and stunning natural beauty.
Today, the town is a paradise for those seeking outdoor adventure. The area rarely fails to impress, from its lakefront beaches to sailing and kayaking. Hiking trails snake around the landscape, where superb fishing and hunting opportunities await. The village shopping district on East Main Street is also filled with enthusiastic entertainment like live music events and art galleries.
The area's strong sense of community has established Harbor Springs as one of the finest destinations in Michigan. Residents proudly embrace their leisure lifestyle while creating an environment rooted in preservation and sustainability through practices such as protecting local water resources, thanks to an ordinance prohibiting spilling or dumping into Lake Michigan or its tributaries.
Furthermore, Harbor Springs' public school system ranks among the top high schools statewide. These metrics assess student achievement, teacher-student ratios, and the capacity of the staff and the environment to provide unique learning experiences that incorporate outdoor activities with classroom instruction. Therefore, seniors looking to settle in the area can be blessed with the knowledge that the neighborhood promotes a responsible and active youth community.
Chelsea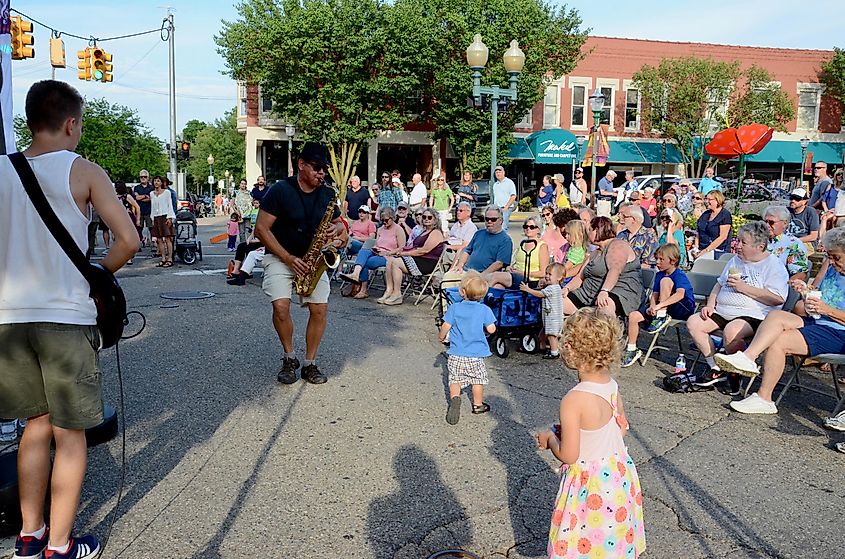 Chelsea is an idyllic small city in the southeast region of Michigan; it possesses a population of around 5,400 people. The historic downtown area contains many boutique shops, restaurants, and other attractions that cater to visitors from across the state. Additionally, several parks and recreational areas in and around the city allow visitors to participate in outdoor activities such as biking, hiking, or fishing.
When it comes to education, Chelsea offers excellent public schools as well as high-quality private schools. Higher education options include the nearby University of Michigan and Eastern Michigan University. A community college campus is within the city limits, which provides students with access to career training courses and degree programs at an affordable cost. Many university students on a budget choose to live with their family's seniors while attending such schools.
Local businesses and industries largely support the economy of Chelsea. The manufacturing sector plays a significant role in providing residents with jobs, while retail stores contribute significantly to the local economy. Over the years, more people have moved into the area looking for job opportunities or a better quality of life. As a result, real estate values have risen, particularly throughout the downtown area, which ensures any investment in property; sadly, this has come with the consequences of gentrification that are identically seen in many other parts of the Ann Arbor region.
Saugatuck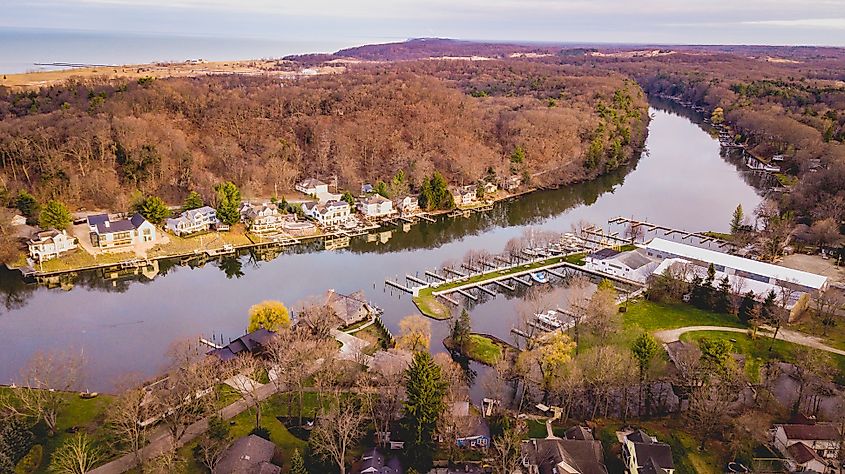 Saugatuck is a small town located in the southwestern corner of Allegan County. It is situated along the shore of Lake Michigan and has been a popular vacation spot for many years. The town has a population of 865 and covers approximately 1.47 square miles. However, like many of these small towns, the county population that frequents the area is much higher and contributes significantly to the local culture.
Saugatuck is home to numerous activities, attractions, and events that appeal to all kinds and ages of visitors. One popular destination is the local Oval Beach, which features white sand beaches with grassy dunes overlooking the lake. For more adventurous individuals, there are also opportunities, such as kayaking on the Kalamazoo River or taking a tour through the adjacent Saugatuck Dunes.
Saugatuck has plenty of options for those seeking culture, including galleries featuring local artwork, antique stores, live music venues, and even theatres for performances. Visitors can also explore historic sites like the Chain Ferry Museum.
Moreover, nearby towns offer other attractions, such as Mount Baldhead Park. These vistas provide beautiful views from above, and other areas allow guests to embark on wine tours at one of the several vineyards in Allegan County. As far as lodging goes, there are plenty of options ranging from hotels to bed & breakfasts or private rentals, so no matter your family's needs, they will find something suitable in this area while they stop by on visits.
Charlevoix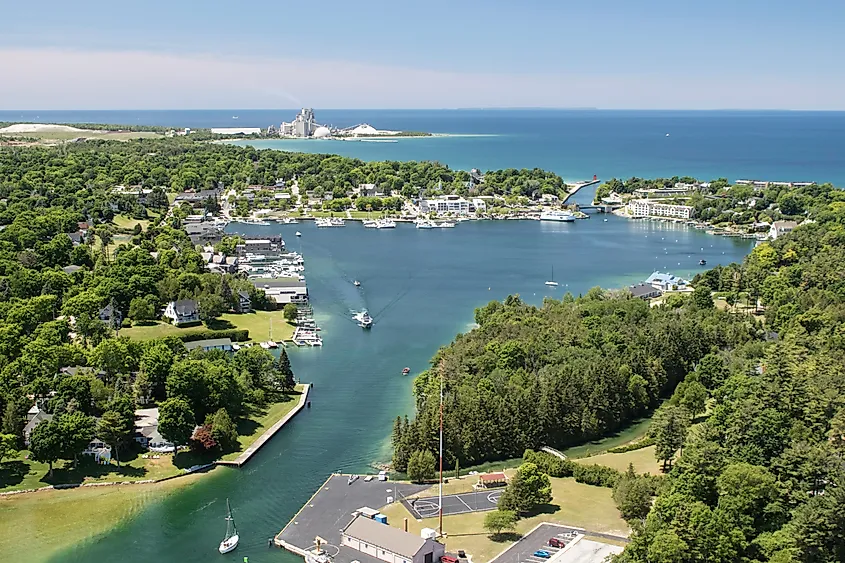 Charlevoix is a picturesque city on Lake Michigan's shores. The area has been inhabited for over 12,000 years, where archaeological evidence has been discovered beside modern-day condominiums. Today, Charlevoix is known for its vibrant arts community and spectacular surroundings.
The city incorporates two sections: downtown and residential. Downtown Charlevoix is full of bustling activity year-round; it features an array of shops and galleries offering unique items from local artisans and many fine restaurants, cafes, pubs, and wine bars. The nearby Charlevoix Public Library offers patrons a rich selection of books and magazines for leisurely browsing or study. Residents of Charlevoix also enjoy access to various recreational activities such as sailing, fishing, kayaking, and golfing at one of the area's several courses.
The city's residential area consists primarily of single-family dwellings, with some available multifamily housing options. Additionally, many cottages are located on the waterfront or along some of the area's beautiful cliffs that provide expansive views of Lake Michigan.
Charlevoix is home to many events throughout the year that draws both locals and tourists alike; notable festivals include the Venetian Festival in July, which celebrates Italian heritage with parades, music performances, fireworks displays, and art exhibitions. Christmas in Charlevoix brings Santa Claus to town atop horse-drawn carriages.
Mackinac Island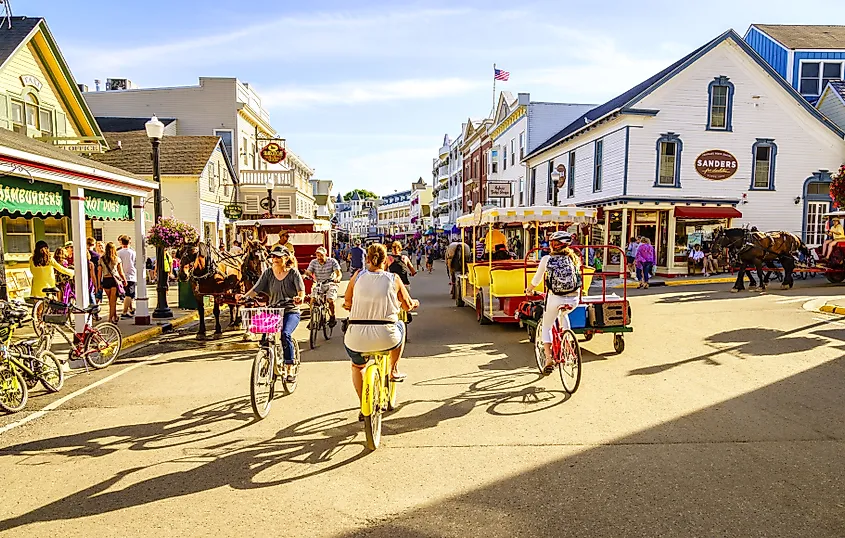 Mackinac Island is an idyllic, car-free island located in Michigan. The island is home to many activities, attractions, and amenities, making it an ideal destination for retirees. The island is most famous for its historic sites and grand architecture. Fort Mackinac, built by the British in 1780 during the Revolutionary War, is one of the most popular destinations. A stroll along Main Street shows off many of the Georgian and Victorian Era homes located on the island. Visitors can take part in guided tours of these places and learn about their history from knowledgeable local guides.
Nature lovers have plenty to explore on Mackinac Island too. Miles of hiking trails lead visitors through stunning natural scenery, including limestone formations known as 'Sugarloaf,' marshland trails with views across Lake Huron, and vistas from atop Arch Rock.
No inhabitance of Mackinac Island would be complete without partaking in a carriage tour, horseback ride around town or experiencing some recreation on its beaches—the perfect place to relax and enjoy the fresh air. For those who want to move faster, bicycles are available for rent. Water sports like Jet Skiing or boating tours around Lake Huron offer fantastic views of Michigan's Upper and Lower Peninsulas. 
Petoskey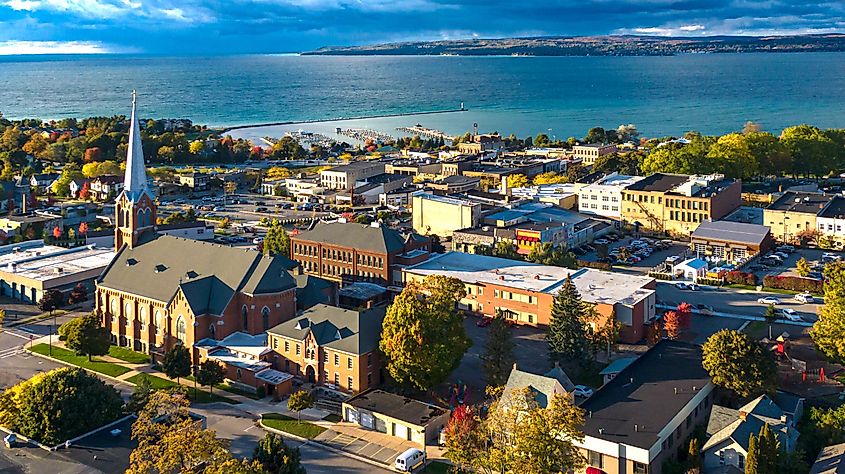 Petoskey, Michigan, is located on the west side of Michigan's Lower Peninsula. It lies in Emmet County, near Little Traverse Bay, across from Harbor Springs. The area was first settled by Native Americans and later by European immigrants in the early 19th century. Petoskey is known for its picturesque views, numerous outdoor recreation opportunities, and vibrant cultural life.
Petoskey is a vibrant city filled with many attractions. Visitors can explore the Petoskey State Park, which offers miles of trails for hikers and bikers. Along Howard Street, one will find shops like Fustini's Oil & Vinegars on one end and North Central Michigan College on the other. Regarding dining, Chandler's offers high-quality fresh sushi and American dishes. Those who enjoy browsing local crafts congregate at WARD Gallery for unique artwork. Other attractions include walking tours of downtown Petoskey, boat cruises around Little Traverse Bay, wine-tasting events at local wineries, and golf courses like Highlands Resort. During winter, snowmobiling and skiing attract visitors from all over northern Michigan. Festivals are year-round, and particular favorites include Classic Car & Boat Shows as well as numerous art walks.
Petoskey has public transportation available year-round, plus an antique trolley that operates April through October during peak season times. With easy access to gas stations, grocery stores, hospitals, banks, and pharmacies within minutes of most residences, it is easy to understand why Petoskey is a go-to community for retirees.
Frankenmuth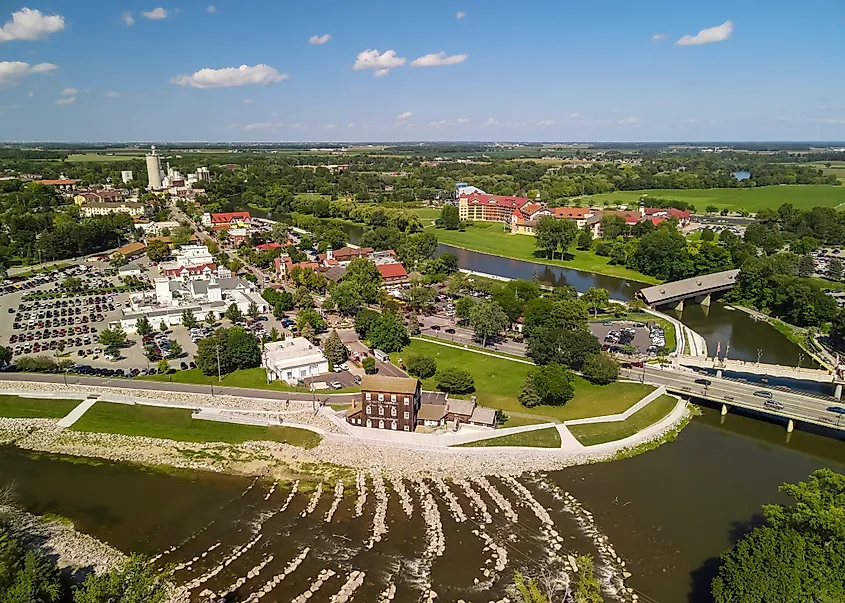 Another iconic destination located in the Great Lakes region of the United States is Frankenmuth. With its Bavarian-style architecture and rich history in the area, Frankenmuth is an oasis of scenic beauty and hometown charm.
The city was founded in 1845 by a group of German Lutheran immigrants, who named it Frankenmuth after their native Franconia region back home in Germany. Since then, the town has become one of Michigan's most popular tourist destinations. Each year, visitors flock to experience their unique blend of historic sites, classic Bavarian-style buildings, family-friendly attractions, local shopping districts, and other varieties of entertainment.
One of Frankenmuth's most iconic attractions is Bronner's Christmas Wonderland – one of the world's largest Christmas stores with over 50,000 gifts and decor items – which attracts shoppers from around the globe each year to find exclusive holiday products and experiences unique to Frankenmuth.
Frankenmuth also offers a variety of outdoor activities to take advantage of its picturesque setting along the Cass River. Some popular activities include tubing at Zehnder's Splash Village Water Park or ice skating during winter. Once spring arrives, kayaking and fishing on nearby lakes are enticing recreational opportunities that never cease to satisfy residents.
Leland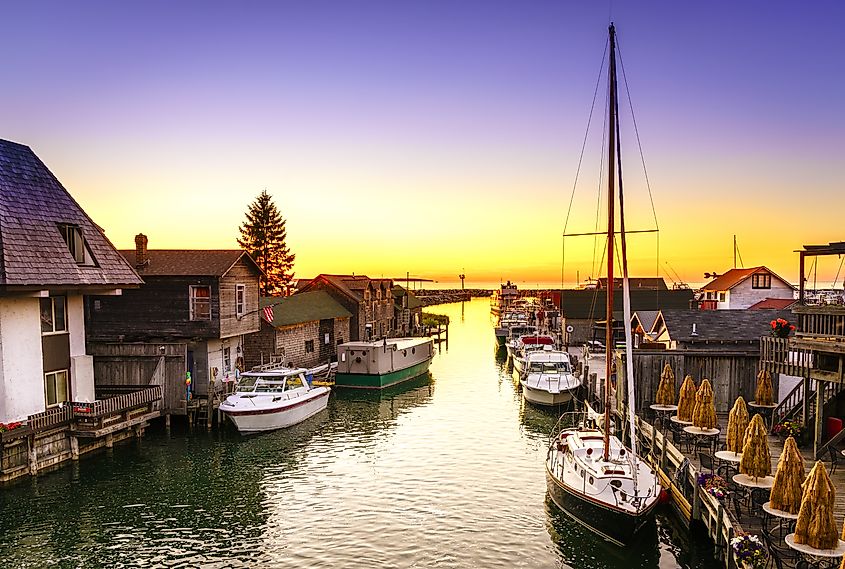 Leland is on the north side of Lake Michigan. It is situated in Leelanau County and has a population of around 410 people. French fur traders settled in the area in the early 19th century, and it later became an important commercial center for lumbering, fishing, and summer tourism. The town's main attractions currently include its beautiful beaches, historic architecture, scenic harbor, lively arts scene, and unique local culture.
The economy of Leland relies heavily on its tourism industry and other industries such as general retail stores, banking services, lodging, and restaurants. The growth of the tourism industry in the area has brought an influx of new businesses to the community, helping boost economic activity even further. Many visitors come to explore nature at places like Glen Lake or to experience some of the histories at Fishtown or the Grand Traverse Band Reservation Grounds.
The climate in Leland is typical of northern Michigan, with cold winters and temperate summers. The summers bring more tourists to enjoy activities such as beach-going or boating on Lake Michigan. In contrast, winter brings snow, which provides excellent conditions for skiing or snowmobiling on local trails.
Leland is a cultural and recreational hot spot with yearly events. Music festivals are on weekends from June through August, as well as art shows, farmer's markets, art walks, theatrical performances, and boat tours of Fishtown. Live music venues, film festivals, camping opportunities, sailing charters, and kayaking excursions are all available for visitors. Plus, dozens of galleries and museums in Leland feature original artwork from local artists.
Retiring in a small town in Michigan is an ideal way to spend your golden years. From Mackinac Island's secluded charm to Frankenmuth's modern-day vibrancy, these tranquil towns offer something for everyone. Whether strolling the streets beneath a canopy of stars or participating in a weekly farmers market, Michigan's small towns can bring joy and peace to those ready to step into retirement. With these kinds of settings, vibrant communities, and abundant activities, each town is worthy of consideration when deciding on a brand-new future.