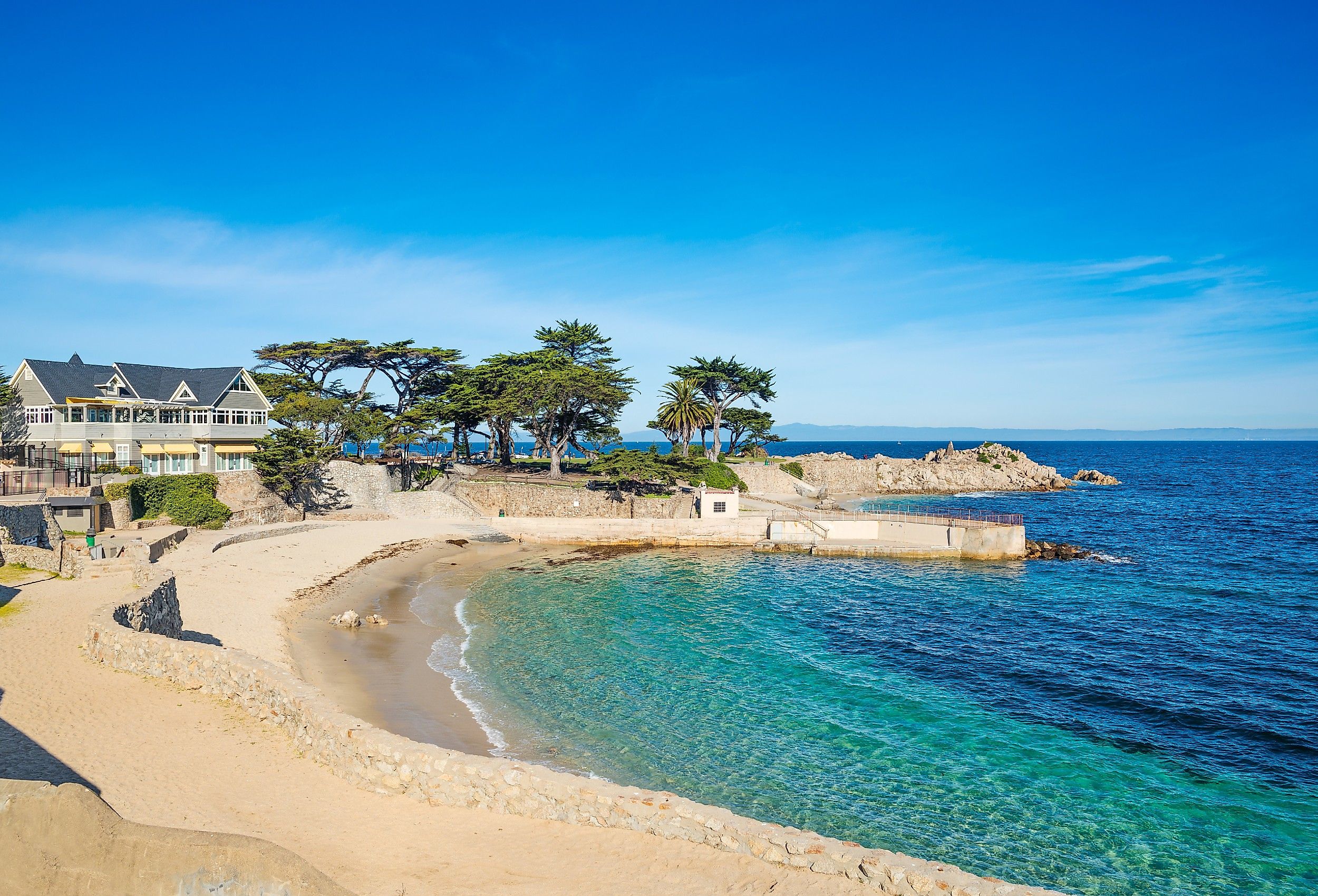 11 Cutest Small Towns in Southern California
California, known as the golden state, rests on the western coast of the United States, bordered by Oregon to the north, Nevada and Arizona to the east, and Mexico to the south. California is a state mostly known for its sun, sand, and surfing, although its natural diversity is astonishing. Along the coastline, California exhibits golden sunsets set on a stage of glittering beaches and sparkling clear water. As you move eastwards towards the heart of the state, it takes on a different form. The state remains golden but becomes barren and lifeless as the vast desert takes over. Towards the northern side, in Redwood National Park, the state boasts megalithic trees that have grown over 300 feet tall and date older than 3,000 years. This tightly packed and dense forest of ancient inhabitants, alongside the barren wasteland of the state's deserts and its golden-showered beaches, show the diversity of the Californian landscape. On the southern side of the state, plenty of towns are full of exquisite and unique experiences worth exploring. These towns boast a wide variety of activities that will guarantee unforgettable experiences.
Avalon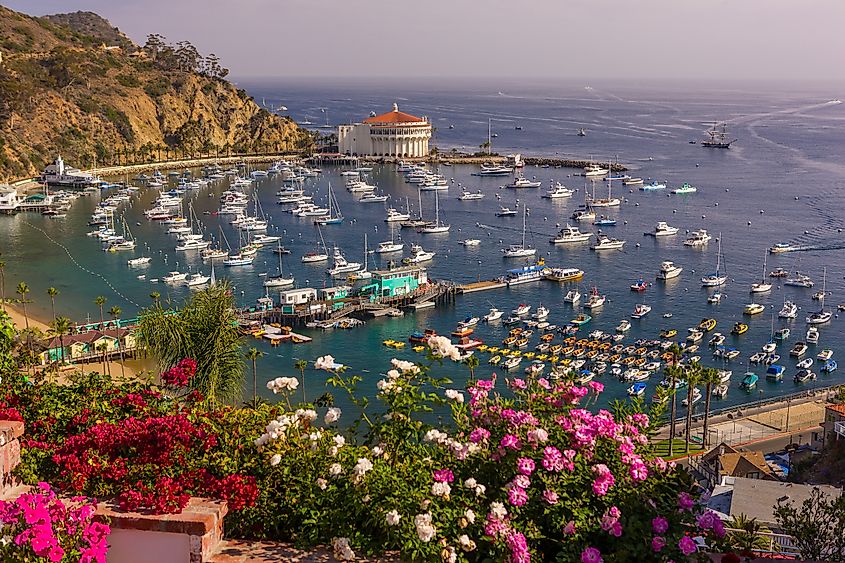 Avalon is a magnificent town located on Santa Catalina Island. Although it is a short ride from Los Angeles, it feels as though it is in a world of its own. This town only allows for a certain number of cars, ridding itself of any traffic jams, noise, and air pollution. So, visitors can move about by public transportation, biking, and walking, and there is even an option for golf cart rentals, giving this town a charm like no other. The town's atmosphere gives off laid-back and mellow vibes, which is perfect for a relaxing getaway vacation.
This town offers many different activities to fill your time during your stay, from snorkeling to surfing, hiking to glass-bottom boat tours, and visiting and shopping at the town's main street Crescent Avenue. This street boasts scenic walkways and beautiful architectural displays, such as the Serpentine Wall and the Wrigley Fountain, lined with Catalina tiles. In addition, the Green Pier is the ideal spot for Ocean voyages and activities such as Undersea-Sub Expeditions, glass-bottom boat tours, and flyfishing. Avalon is also home to many other tourist destinations, such as the Descanso Beach Club, Catalina Island Museum, and the Catalina Casino.
Ojai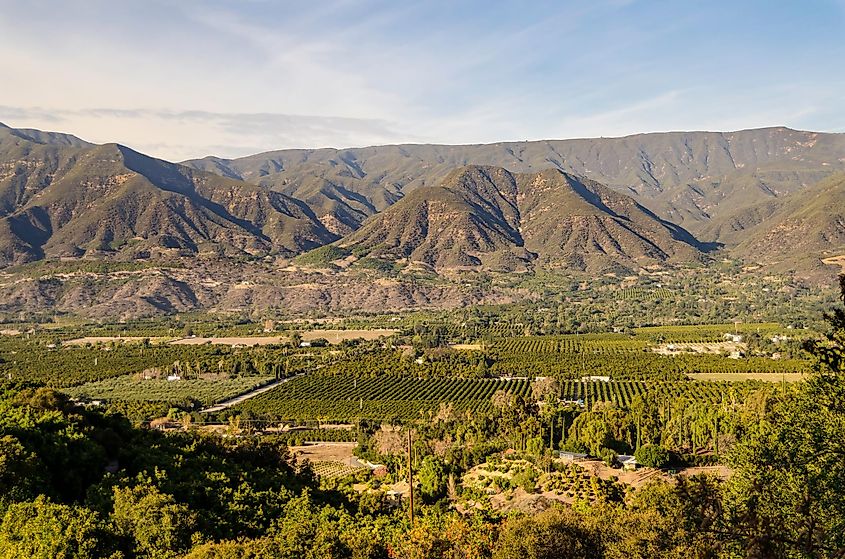 This town rests in Ventura County, which is only about 80 miles from Los Angeles. This tranquil and alluring little town has marked itself as a popular weekend destination for LA residents seeking some time off to recuperate. Popular activities include hiking along more than 20 paths, biking, and shopping at Ojai's boutiques and galleries. Visitors can also indulge in the wide selection of relaxing spas and resorts.
In addition, Meditation Mountain, which is the town's public meditation center, is the optimal place for meditation, relaxation, and getting in touch with one's spirituality. The Ojai Valley hiking trail is the optimal spot to get in touch with mother nature; this trail offers beautiful natural scenery with many opportunities for camping and swimming extending down to the Pacific Ocean. The Ojai climate also contributes to this town's beauty. The Mediterranean-like climate of this town makes for delicious food and exquisite wines. Grape and olive produce in this town is among the best in California. So, for all the food lovers out there, head to the Nest of Ojai for impeccable food and cocktails and to the Topa Mountain Winery for exquisite wines and a refreshing view of the Ojai Valley scenery.
Carmel-by-the-Sea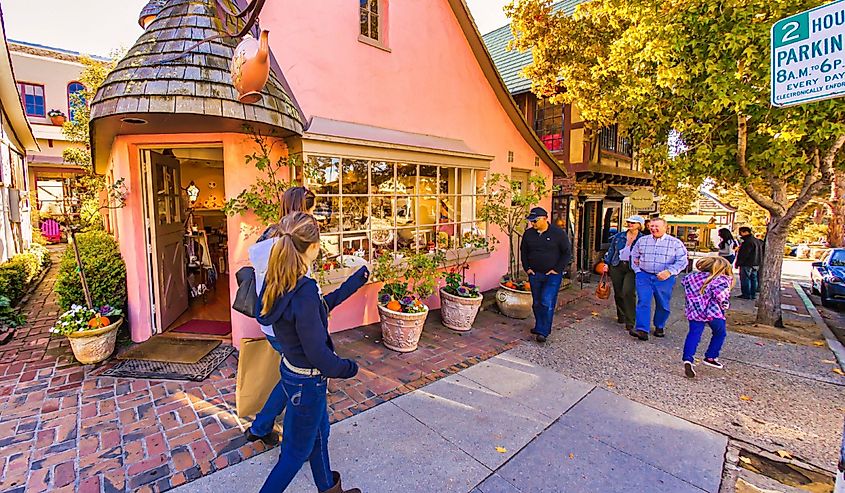 Caramel-by-the-Sea is among the exceptional towns in the state of California. This awe-inspiring town is the perfect white-sand beach setting getaway. This town also boasts European-style cottages that make this town all the more beautiful. Caramel by the Sea holds one of California's most stunning views of the Pacific Ocean surf and its coastline that would enchant those who behold it.
In addition, this town is up-and-coming in the performing arts. Venues such as the historic Carl Cherry Center, Golden Bough Playhouse, the Circle Theatre, and the newly renovated historic Outdoor Forest Theater are all places to celebrate theatrical performances. Many renditions of classic plays are brought to life in these theaters for the entertainment of its residents and its visitors. For years this town has been the main getaway destination for romantics, artists, musicians, and all types of people due to its charm, elegance, and inspiring nature.
Borrego Springs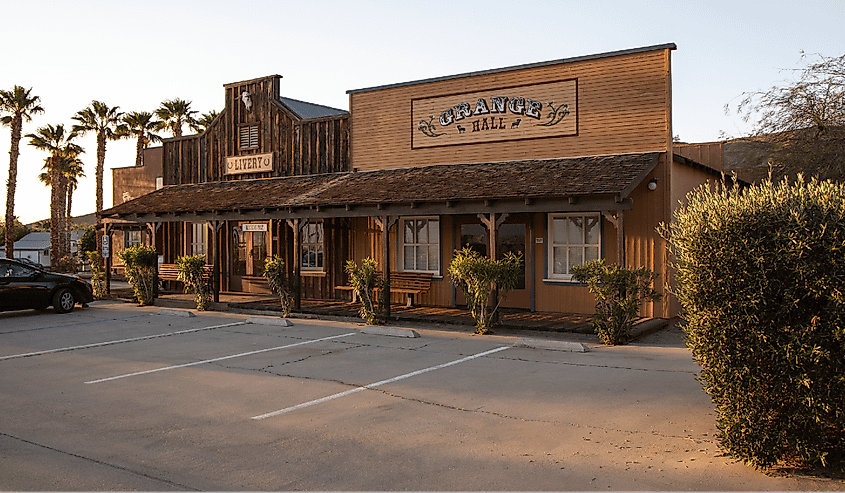 Borrego Springs is the only town in California located entirely in a state park: Anza-Borrego Desert State Park, which gives this town the surrealness and tranquility that mother nature provides. This town is also an official International Dark Sky Community, meaning that for all the stargazers out there, this town is the ideal spot to satisfy all your star-gazing cravings without the hindrance of light pollution.
Borrego Springs holds a very unique trait; 130 sculptures of prehistoric dinosaurs and other beasts are scattered all over the town. Maps showing the locations are available at the Anza-Borrego Desert Natural History Association desert store. The detail and thought put into these sculptures by their artist Ricardo Breceda is immaculate. Certain techniques implored in the sculpting make these metallic beasts come to life by giving them the appearance of fur and even eyelashes. This gives you another 130 reasons to visit Borrego Springs. One of the main attractions of this town is the annual snowbird migration to Borrego Springs every winter. This majestic bird embodies the spirit of Borrego Springs; when things get tough and cold for the snowbirds, they fly back home to nestle in the comforting aura of this town. This event is a spectacle that anyone headed for Borrego Springs should look forward to.
Pacific Grove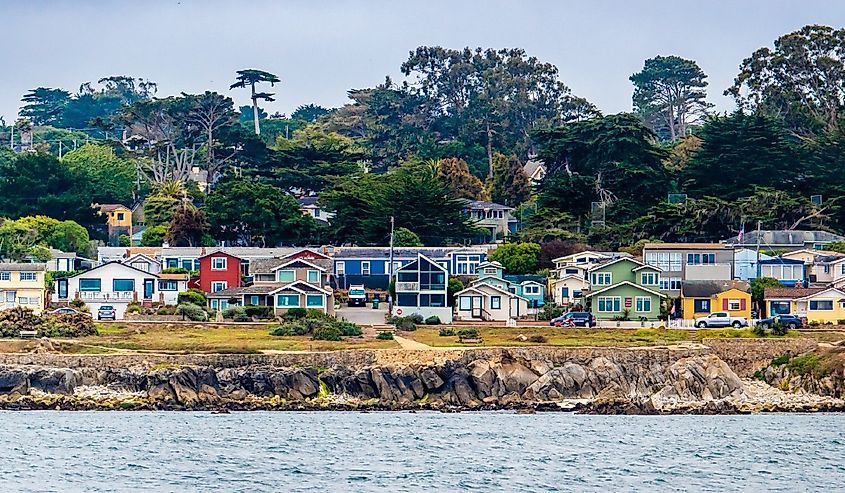 Located between Monterey and Pebble Beach, the picturesque town of Pacific Grove holds a special place amongst Californians. This town is home to thousands of elegant and gentle monarch butterflies that flutter and fly to Pacific Grove between mid-October and mid-February to spend the winter. This town's mild climate makes it attractive to both butterflies and people alike. Being there to witness this spectacle is a profound and unforgettable experience. The return of the monarch butterflies, along with the town's coastal and relaxed vibes, make it a perfect place to recuperate and enjoy the natural beauty of this town.
In addition, Pacific Grove also holds one of the best Aquariums in the country: Monterey Bay Aquarium. The Shores of Pacific Grove, mainly Monterey Bay, are outstanding. The Monterey Bay Coastal Recreation Trail runs for 18 miles along the shore and is perfect for strolling or biking through. Along the trail, one might encounter wildlife like seals and otters. All in all, Pacific Grove is the ideal spot for all the animal and nature lovers out there.
Joshua Tree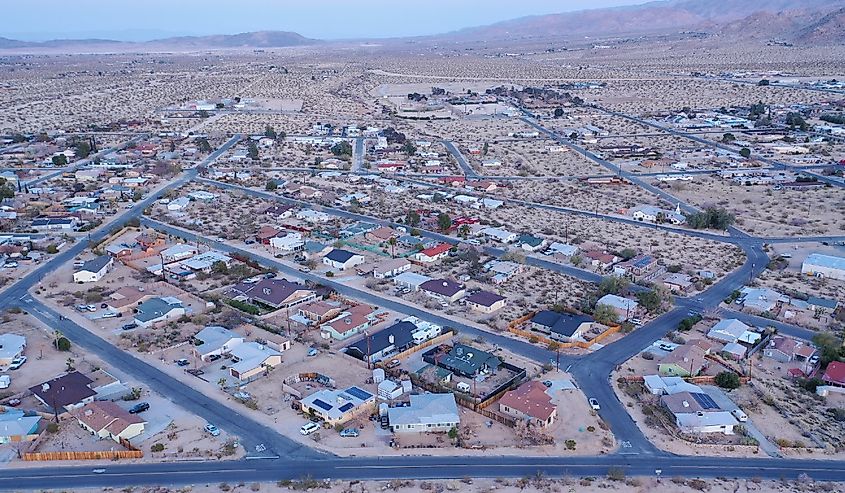 Joshua Tree's claim to fame is its immaculate outdoor activities. From hiking to climbing to camping, this town is ideal for visitors looking for a serene and relaxing vacation. Joshua Tree is aptly named due to its marvelous collection and diversity of trees and wildlife alongside stunning camping locations. Joshua Tree offers a plethora of spots for outdoor activities, such as the Indian Cove Nature Trail and Arch Rock Trail, both of which offer a lovely scenic trail along the town's namesake tree and massive boulder formations.
Echo Cove offers more than 8,000 known climbs and 400 unique formations ranging from beginner-friendly to advanced. Echo Grove is the perfect spot for rock climbing, no matter your skill level. Finally, Cholla Cactus Garden is a 0.25-mile elevated, wooden-walkway loop filled with many amazing but dangerous "teddybear" cholla cacti as well as pencil cholla, desert lavender, and desert starvine. This garden is a living museum of the Joshua Tree ecosystem and is a treat to behold. Visitors can also visit plenty of shops and restaurants and indulge in some of the town's famous baths.
San Juan Capistrano
Dating back to 1776, San Juan Capistrano is one of the most awe-inspiring small towns with a rich and fascinating history in South California. It first belonged to Spain, then it was seized by Mexico, and finally became a part of the United States in 1848, making this city rich and ripe with history and culture from all these countries. This means that this town boasts numerous historic sights to visit, in addition to beautiful boutique shops and highly-rated restaurants. These include Mission Juan Capistrano, one of the first missions in California and considered a monument to California's multicultural history, and the Los Rios District, which is the oldest neighborhood in the state.
So, for all the history fanatics out there, visiting San Juan Capistrano is a must. In addition to the rich history of this town, it is also known for its performing arts, mainly music and theatre. The Camino Real Playhouse Theatre offers year-round theatrical productions alongside the annual Shakespeare festival in the summer. The Coach House Concert Hall also showcases local and national music performances alongside a full dinner menu. This way, you can enjoy the music while experiencing the cuisine.
Bonsall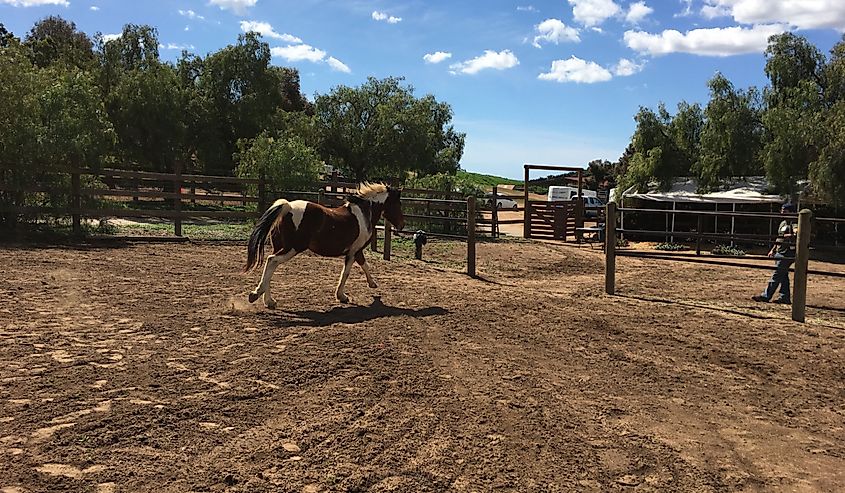 Located in San Diego County, Bonsall is a small town of only about 4,000 people. However, this town lets you experience the excitement and upbeat lifestyle of San Diego without the stresses of its daily routine. This town is known for its Mediterranean climate all year round and its rolling hills, which give it the comforting lifestyle of rural living while still being close to surrounding cities.
This town also possesses plenty of natural scenery, including incredible ocean views and lavish forests that provide the perfect opportunity for hiking, biking, and strolling in the gorgeous greenery. Wild Wonders is a wildlife rescue center that offers trips and tours to allow people to reconnect with nature and serves to educate the public about wildlife and the ecosystem. The Healing Horse facility is another spot for reconnecting with nature and wildlife. This facility focuses on the healing ability of horses and allows you to spend time with the horses to develop a connection and make for a truly incredible experience. Many people also seek out this town to raise families, largely due to having a great school district, which makes for a friendlier community, in addition to being very close to surrounding cities.
Wrightwood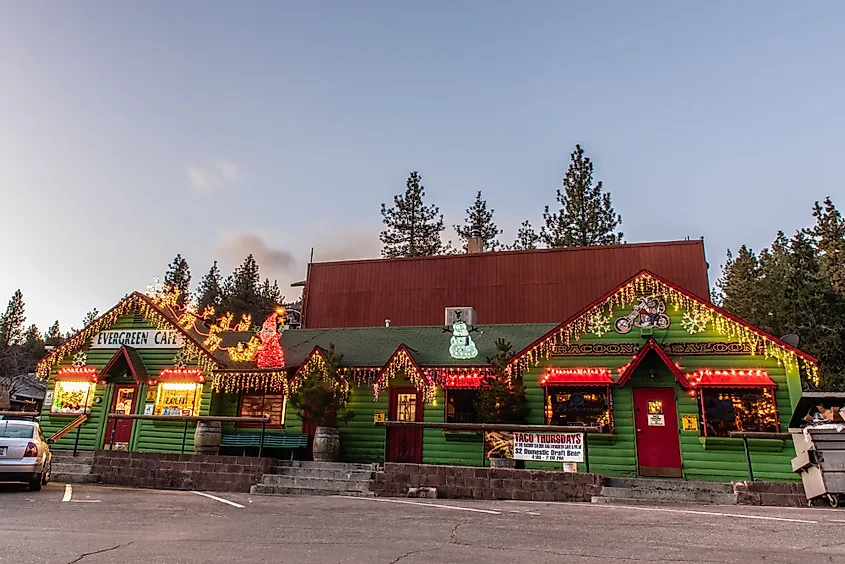 Perched on top of the majestic San Gabriel Mountains lies the town of Wrightwood. The town's proximity to Los Angeles makes it the ideal escape from the stressful life of the city. People looking to relax can do exactly that in this town as its gentle snows trickle down and cover its landscape. This town might seem dull, but do not let its calmness and tranquility fool you. Wrightwood is bustling with activities all year round. During the winter, Wrightwood is the ideal place for skiing and snowboarding, with many miles of ski tracks to run.
Throughout the summer, this town offers plenty of activities, such as the Mountain Classic Car Show and the Chili Cook-Off and Salsa Contest, in addition to hiking and camping. Mt. Baden Powell, the Pacific Crest National Scenic Trail, and  Angeles National Forest hold many wonders for hikers and campers to unravel. For the adrenaline junkies out there, Wrightwood is home to one of the most exhilarating zipline courses in the country. Ziplines at Pacific Crest has 14 different ziplines, up to 1,500 feet long, as high as 306 feet off the ground, and with speeds reaching up to 55 miles per hour. If you are looking to relax, play with the snow, ski, hike, camp, or zipline, then look no further.
Morro Bay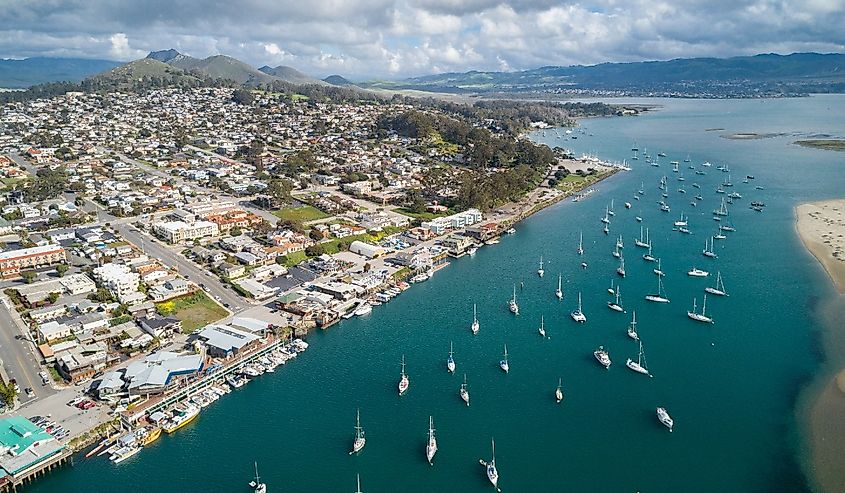 Located north of San Luis Obispo, Morro Bay offers a plethora of activities to fill your time. These include kayaking, fishing, biking, and surfing. However, the most famous landmark of this town is a massive, ancient volcanic plug known as Morro Rock which rises 581 feet (about 177 meters) above sea level. And while it is illegal to climb, visitors head to Morro Rock in search of peregrine falcons nestled at the top, dubbing it one of the country's best spots for bird watching.
For those looking towards the ocean to fill their time, Wavelengths Surf Shop will supply you with any gear you would need to enjoy the cool ocean waters. The shores in Morro Bay stretch from the south to the north of the town, so there is plenty of space for strolling and relaxing on the beach. Visitors should also check out the Embarcadero, a waterfront street with many shops and restaurants to explore. Aside from all the activities, the food in Morro Bay deserves mention. Frankie and Lola's Front Street Cafe and The Galley Seafood Grill are prime spots for a delicious meal with a mesmerizing view of Morro Rock. Dutchman's Seafood House also deserves mention. This restaurant has exquisite food and even has its own dock, so you can count on the fish being fresh.
Kernville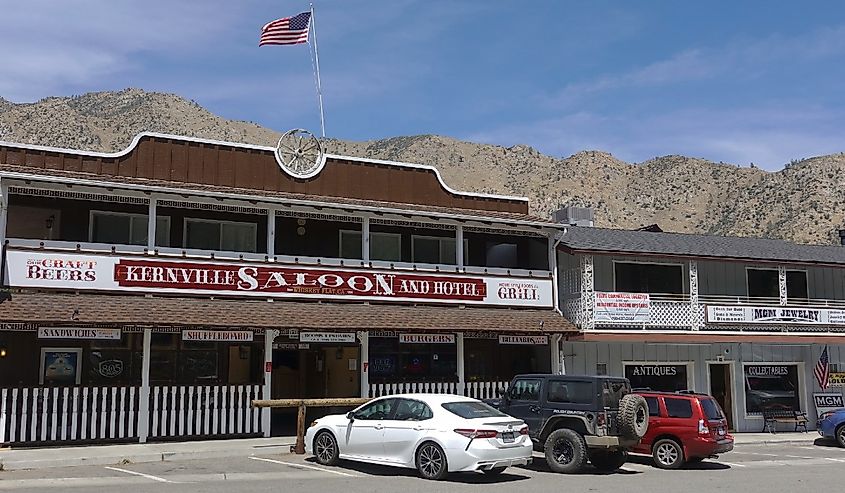 Kernville is of the most beautiful and charming towns in Southern California, boasting numerous activities and spots to visit. Set in the foothills of the Sierras, Kernville is most known for outdoor activities, mainly water sports like rafting, kayaking, and fishing. Spots for biking, hiking, and camping are also plentiful in this town. Hiking trails include the Cannel Meadow (20 miles long) and Whiskey Flat (12 miles long) trails that have truly stunning views. In addition, Kernville's small-town vibe, given its population of fewer than 1,000 residents, gives it a beauty and humbleness that very few towns possess. The surrealness and tranquility of this town are exemplified by a short boat ride on one of California's gorgeous rivers and lakes, and Lake Isabella doesn't fail to meet expectations.
Lake Isabella is the prime spot for kayaking, fishing, and enjoying the serene beauty of the natural surroundings. The Kern River, which feeds into Lake Isabella, is another spot perfect for rafting with friends and family while taking in the natural beauty. The lake is just 10 minutes from town, and local shops like the French Gulch Marina offer great boat rental options. The Kernville dining experience is a change of pace from that in LA. For breakfast, head to Big Blue Bear Cafe for a nice selection of salads, sandwiches, and soups from this cozy breakfast spot. For lunch and dinner, there are many places to choose from. Eddy Out Tap House is known for its fish menu alongside steakhouse menu items. Ewings on the Kern boasts a delicious steakhouse menu. And last but not least, Kern River Brewing Co. boasts the highest rating in town with both a diverse, delicious menu and a cast of local brews. So, head to Kernville if you are looking for an exciting getaway filled with activities and, at the same time, looking for a relaxing and tranquil ambiance.
The golden state has many places and experiences to offer, from golden sunsets to vast deserts, to megalithic forests. California has something for everyone. More specifically, Southern California is home to numerous cute and small towns that are worth visiting and vacationing in. Whether you are a beach lover, nature enthusiast, adrenaline junkie, or just looking for a relaxing time, South California has it all.