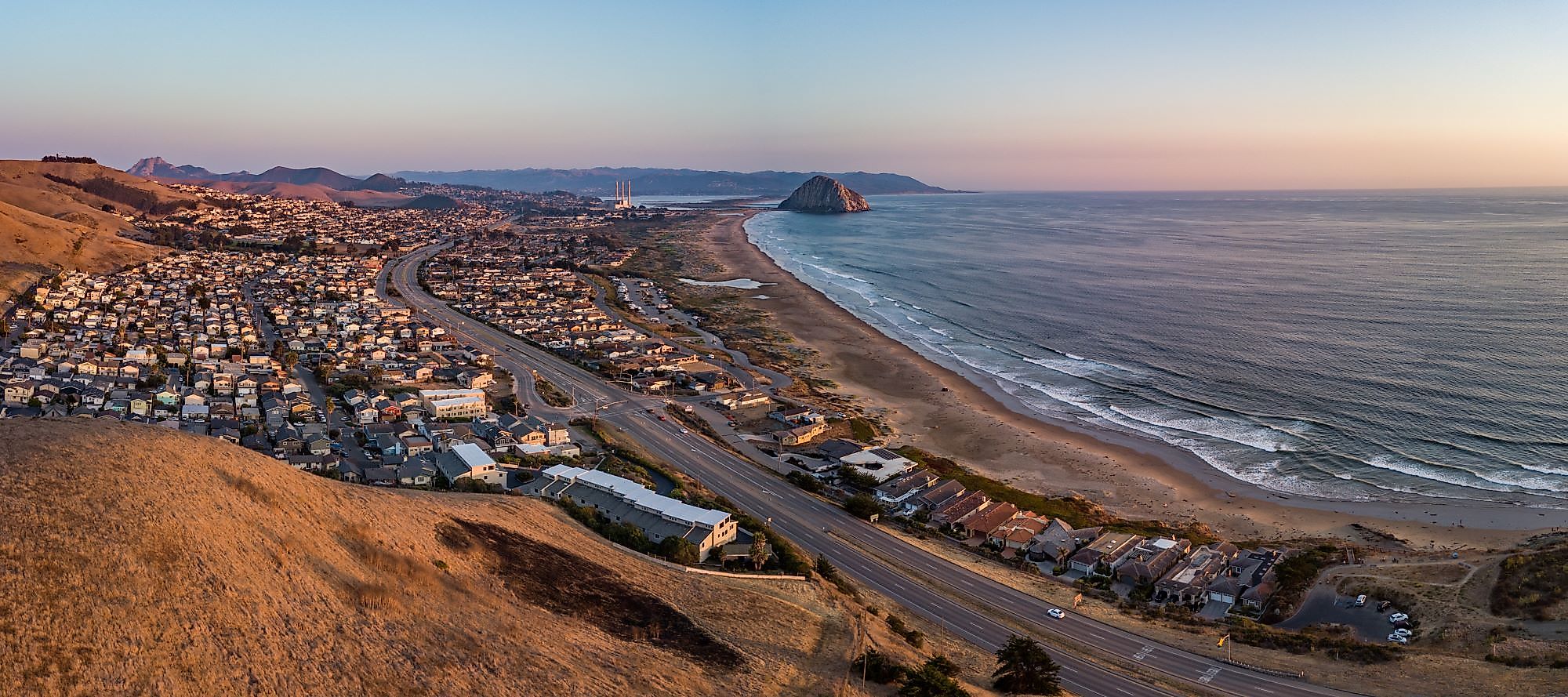 Morro Bay is a haven for vacationers. This laid-back city provides a refreshing coastal retreat with its breathtaking beauty and outdoor pursuits. The picturesque seaside city is also home to many wildlife, including peregrine falcons.
Geography And Climate Of Morro Bay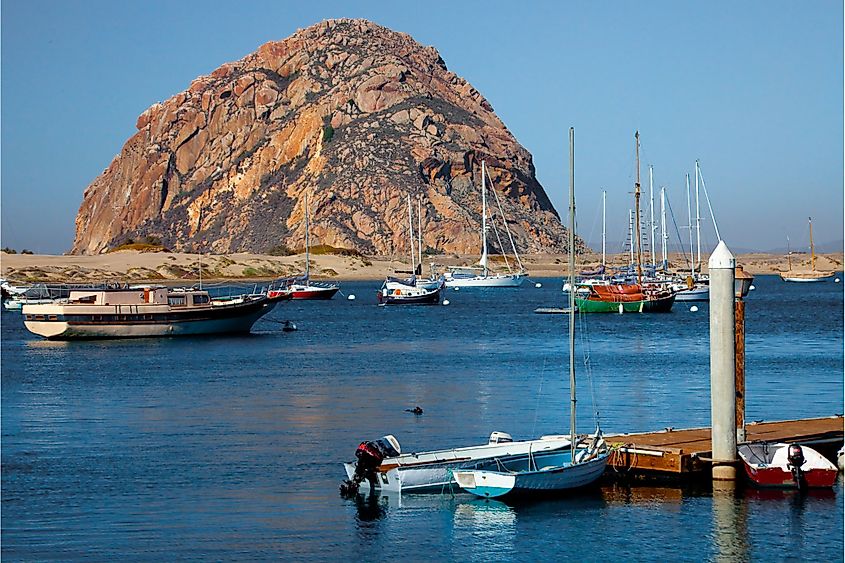 Morro Bay is a small seaside city situated in San Luis Obispo County on the central coast of the US State of California. Morro Bay is also the name of the huge estuary that runs along the bay's northern coasts. Estero Bay, which includes the towns of Cayucos and Los Osos, is the bigger bay on which the local area is located. Morro Bay is situated on Highway 1, about 20km northwest of the city of San Luis Obispo. Los Osos Creek flows into Morro Bay. The small seaside city covers a total area of 26.74 sq. km, of which 13.80 sq. km is occupied by land, and 12.94 sq. km is covered by water. 
Morro Bay has a mild warm-summer Mediterranean climate characteristic of coastal California, with dry, warm summers and wet, mild winters. The city's proximity to the Pacific Ocean contributes to moderate temperatures and produces a generally pleasant mild year-round climate, resulting in warmer winters and cooler summers. Throughout the year, the temperature ranges typically from 44°F to 74°F, with temperatures rarely falling below 37°F or rising over 83°F. According to the tourist score, the ideal time of year to visit Morro Bay for warm-weather activities is from late June to late September.
History Of Morro Bay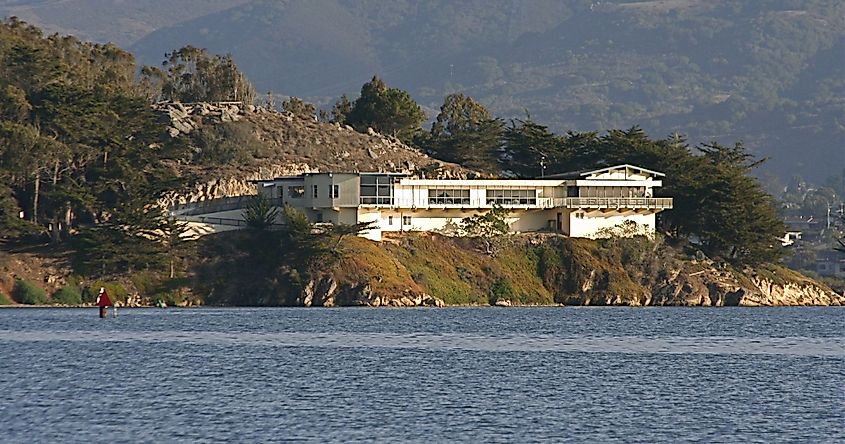 Morro Bay's history stretches back to the Chumash colony near the mouth of Morro Creek. The bay's most prominent rock was called 'El Moro' by Portuguese sailor Juan Rodriguez Cabrillo in 1542. That might be because the rock resembled a Moorish hat or because it had the hill shape of a 'morro,' the Spanish word for pebble. On October 18, 1587, the first reported Filipinos to enter America arrived in Morro Bay from the Spanish fleet Nuestra Seora de la Esperanza, one of whom was killed by local Native Americans while scouting inland. While the area was ruled by Mexico, massive land grants divided it into cattle and dairy ranches. These ranches need ships to transport dry commodities and crops, livestock, and other farm products to towns. Franklin Riley founded Morro Bay in 1870 as a port for the exporting of dairy and ranch products. He was crucial in the construction of the wharf that is now known as the Embarcadero. Schooners were frequently observed at the Embarcadero in the 1870s, bringing up wool, potatoes, barley, and dairy products. Morro Bay had an abalone fishing industry in the 1940s. It peaked in 1957, and abalone stocks have dropped dramatically owing to overfishing. Commercial and recreational vessels continue to catch halibut, sole, rockfish, albacore, and various other species.
The Population And Economy Of Morro Bay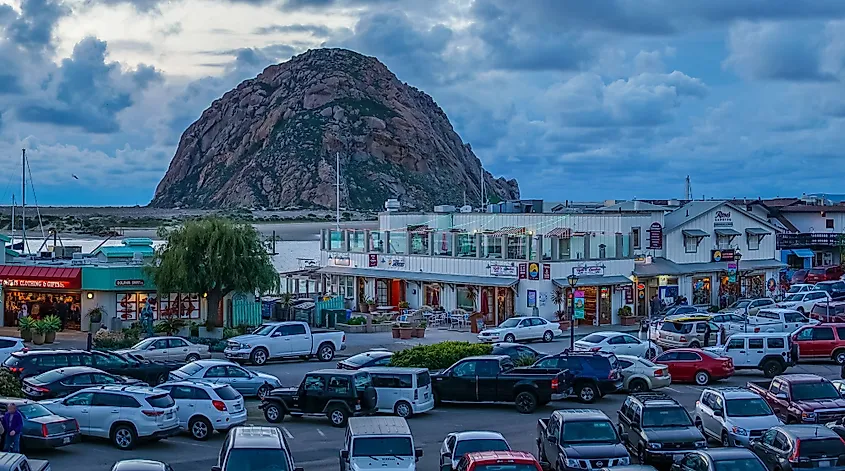 As per the latest US Census, Morro Bay has a population of 10,495 residents. Morro Bay's population is now falling at a rate of -0.15% per year, but it has risen by 2.45% since the 2010 census, which reported a population of 10,244 inhabitants. The racial composition of Morro Bay is 85.74% White, 5.49% Asian, 4.72% Two+, 3.73% Other race, 0.24% Native American, and 0.08% Black or African American. Tourism is the city's most important industry, along with commercial fishing. Various tourist attractions, including restaurants, stores, and parks, may be found along the shoreline and the streets nearest to it, particularly the Embarcadero.
Attractions In Morro Bay
Morro Rock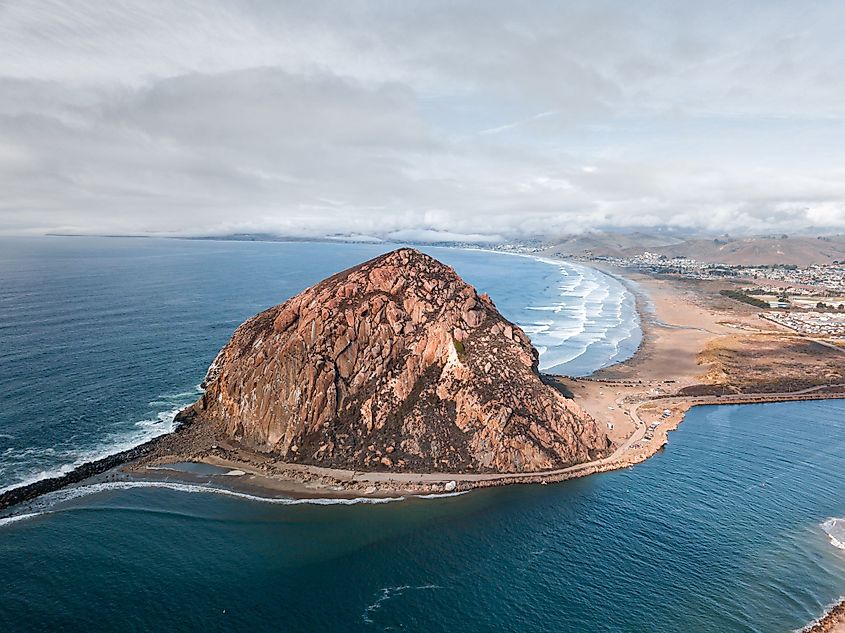 It is believed that Morro Rock was formed approximately 23 million years ago from eruptions of long-extinct volcanoes. Morro Rock has been an essential navigational aid for sailors for almost 300 years due to its height of around 576 feet, making it the most visible in a chain of nine peaks. In 1542, Portuguese adventurer Juan Rodriguez Cabrillo named the rock "El Morro." Morro is a crown-shaped hill in Spanish. Morro Rock, also known as the "Gibraltar of the Pacific," is the last summit of the Nine Sisters, stretching from San Luis Obispo to Morro Bay. The rock was mined intermittently until 1963. Morro Rock supplied material for Morro Bay and Port San Luis Harbor breakwaters. A law was presented in 1966 that granted complete title to the State of California. The Morro Rock was later designated as California Registered Historical Landmark. Morro Rock was designated as State Landmark in 1968. The rock is now a bird sanctuary for the peregrine falcon and other bird species.
Morro Bay Harbor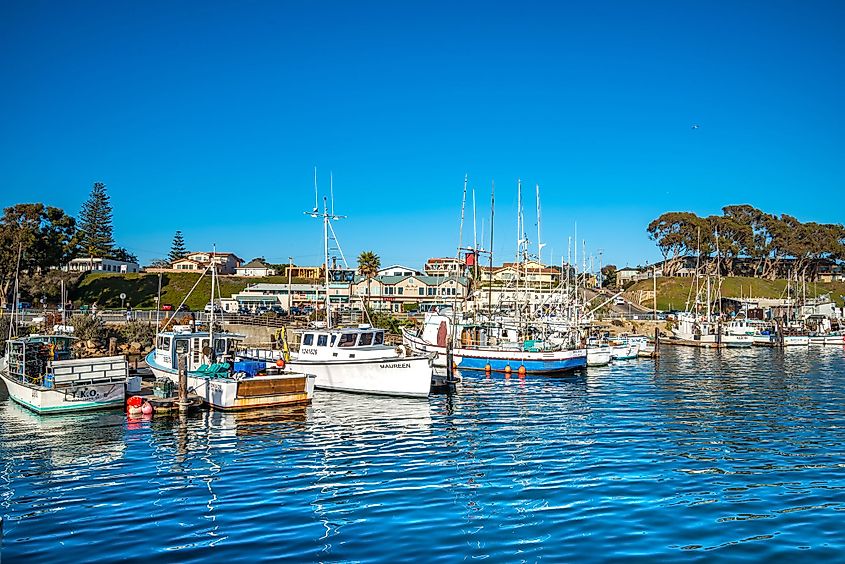 Morro Bay is a natural enclave with an artificial harbor built by the United States Army Corps of Engineers. Between Santa Barbara and Monterey, it is the only all-weather small vessel commercial and recreational harbor. Morro Rock was initially surrounded by water, but the Army constructed a vast artificial breakwater and road across the northern end of the harbor, connecting Morro Rock to the mainland. Many of the rocks utilized for this and the constructed breakwaters came from Morro Rock. Other rocks were brought in by ship from Catalina Island. The bay stretches inland and parallels the shore for approximately 6.4 kilometers south of its entrance at Morro Rock. The California Bays and Estuaries Policy has designated Morro Bay for protection. Only small craft are capable of going through the harbor channel. The harbor is protected from the Pacific Ocean to the west by a vast natural sandspit enhanced by breakwaters. The ruins of a bridge connecting the shore to the sandspit can be observed at its northern end.
Marine Protected Areas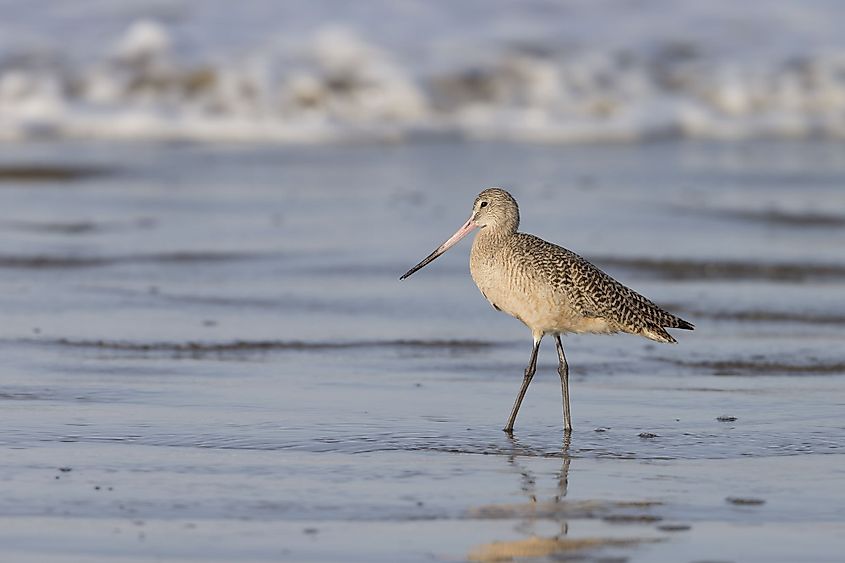 Morro Rock symbolizes the start of a place of refuge for local species that live in two marine protected zones along the estuary's shoreline. These protected waters are home to various wildlife, including the imperiled southern sea otter, the endangered Tidewater Goby, and the once-endangered American peregrine falcon. The Morro Bay State Marine Recreational Management Area and Morro Bay State Marine Reserve were added to California's statewide network of marine protected areas in September 2007. These two marine protected areas comprise approximately 3.3 square miles in total, including a vast and abundant estuary essential to most of central California's coastal plants and animals. The habitat is used by migrating birds that utilize the Pacific Flyway, such as the black brant, which comes to feed on the native eelgrass. Double-crested cormorants, great egrets, and great blue herons can be seen roosting and breeding in surrounding trees and hunting for fish and small crustaceans between February and June.