Hot summer weather is typically much sought after, especially for those who live in cold northern climates, but what if it becomes too hot? While sunshine is certainly always welcome, the summer months can become almost unbearably hot and humid in many places in the United States. A cool breeze, shade, and mild temperatures are a relief many actively search for during these periods while still relishing the summertime season. This article looks at the 11 Cool US Towns for Escaping the Summer Heat. 
Woods Hole, Massachusetts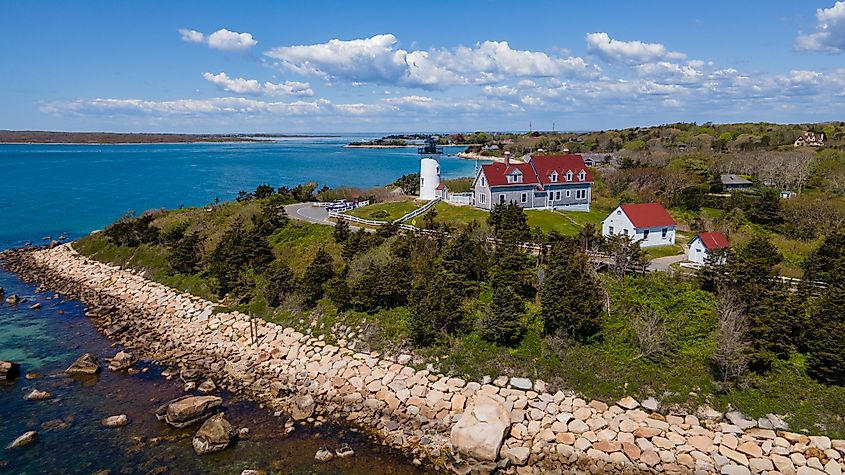 With a population of just under 800, Woods Hole is a charming sea spray village on the southwestern corner of Cape Cod, Massachusetts. Home to the Woods Hole Science Aquarium (the oldest in America), the Woods Hole Oceanographic Institution, and the 19th-century Nobska Lighthouse, summertime in this community is always full of adventure and ways to have fun. Daily highs from June to August hover around 25°C, making it a comfortable place to enjoy the outdoors and explore the many shops, restaurants, and seaside views of the Atlantic Coast.
Hood River, Oregon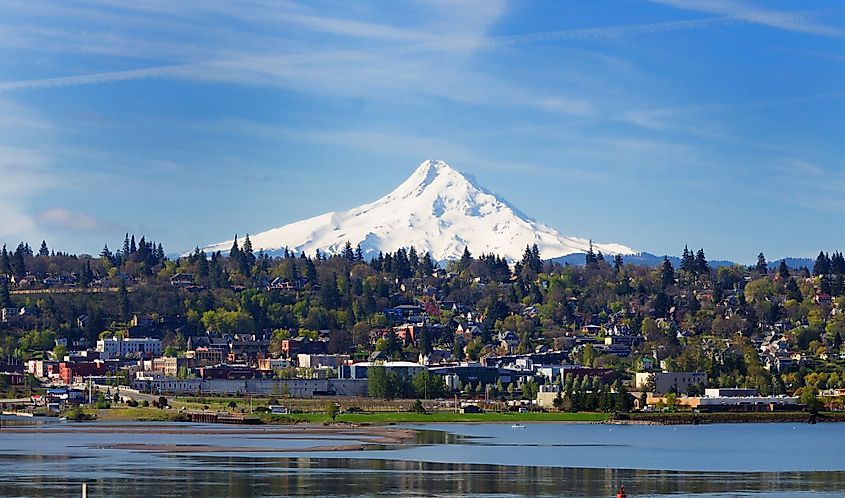 Just 95 kilometers from the city of Portland, the port town of Hood River is situated at the meeting point of the Columbia River and Hood River, surrounded by a variety of fruit orchards. Coastal breezes from the rivers and, in turn, from the Pacific Ocean make it a cool and pleasurable place to visit in the summer months. A popular destination for wind and kite surfing, tourists will also not want to miss the chance to see the stunning waterfalls along the Columbia River or explore the wine country in nearby Mount Hood.
Carmel-by-the-Sea, California
With daily highs around 20° to 22°C in the summer, Carmel-by-the-Sea is indeed a cool and charming stop perfect for solo and family trips. Located on California's Pacific Coast Highway and just south of Monterey Bay, this small city features hills, cliffs, and vast vistas along the Pacific coast. Carmel-by-the-Sea has been a well-known destination for tourists, artists, and writers for many decades. There are a number of old houses and cottages in the city, along with locally owned galleries and artists' studios. Tourists can also spend their time relaxing on the beautiful white sands of Carmel Beach. 
Traverse City, Michigan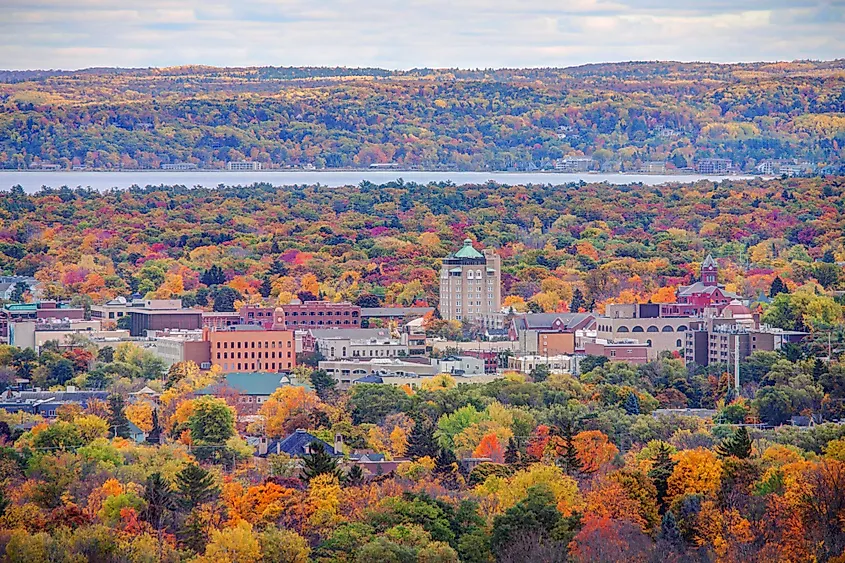 Summer temperatures in Traverse City range from 24° to 26°C, making this town on the shores of Lake Michigan a great place to be outdoors without the worry of overheating. Self-proclaimed as the "Cherry Capital of the World," visitors will certainly have plenty of opportunities to enjoy cherry-picking and an assortment of cherry products at the local shops and restaurants across town. In July, the National Cherry Festival attracts up to 500,000 visitors annually, while the area's surrounding countryside is well known for its grape and wine production. One can also relax on the lakeshore for a leisurely stroll or a boat ride on the water.
Durango, Colorado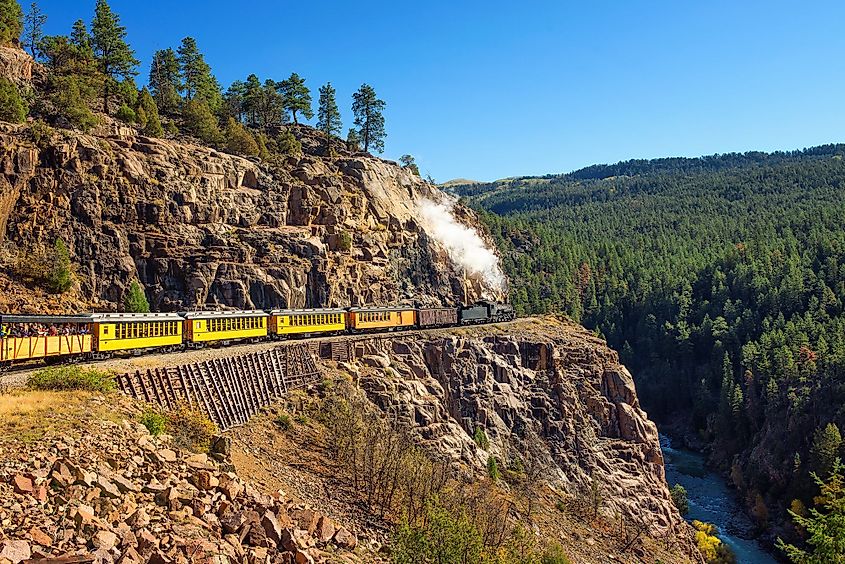 Durango is a railroad town situated along the San Juan Mountains and is a welcome reprieve from the southwest's often scorching summer heatwaves. Visitors will love a train ride on the Durango and Silverton Narrow Gauge rail line to the nearby mining settlement of Silverton. Or why not take a wet and cool raft ride on the Animas River? At the neighboring Purgatory Resort, the outdoor enthusiasts can enjoy mountain biking, ziplining, hiking, and more in a warm atmosphere of no more than 25°C.
Bryson City, North Carolina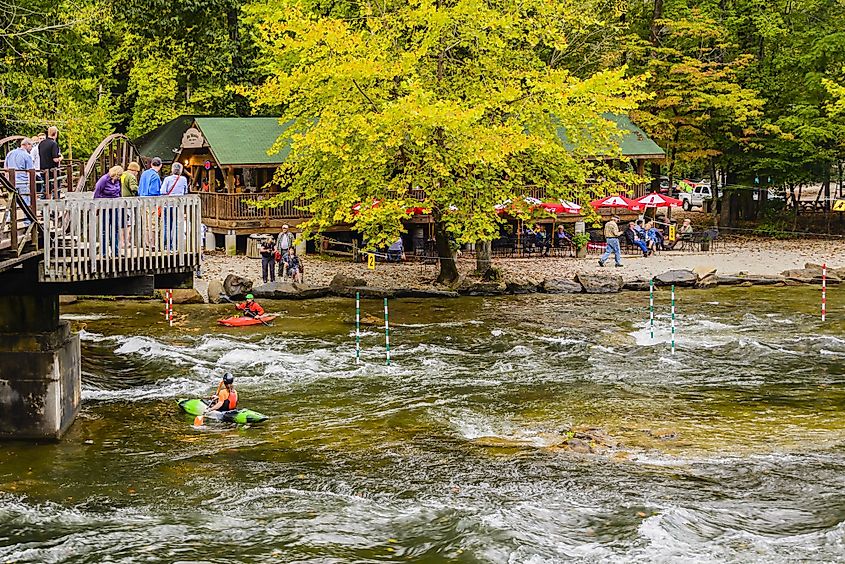 Right on the southern side of Great Smoky Mountains National Park, the town of Bryson City is a great place for summer outdoor fun, with temperatures in the mid-20s. Lovers of whitewater rafting, canoeing, kayaking, and more will find a great locale for fun in Bryson City. Meanwhile, the Nantahala Outdoor Center has plenty of boat rentals, hiking trails, and stores to make the most of one's time while in town.
Ouray, Colorado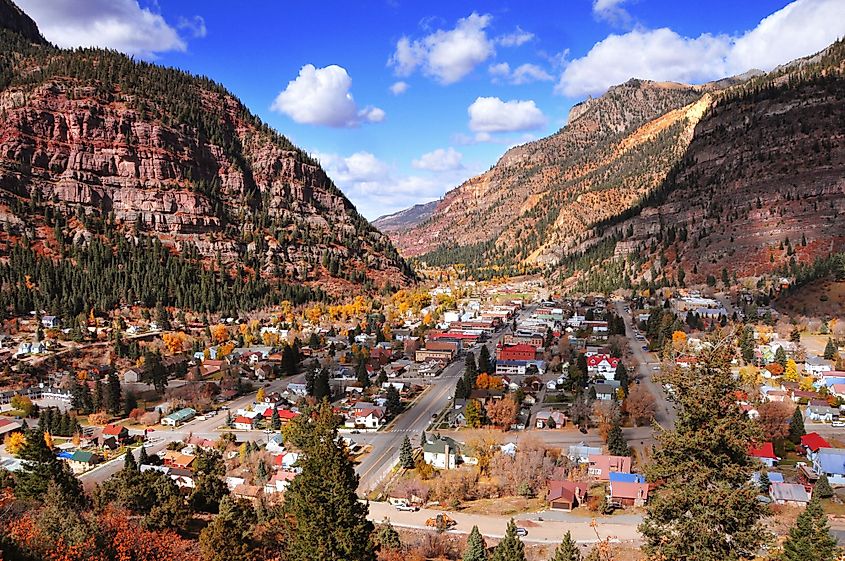 The county seat of Ouray County, the town of Ouray, hosts comfortable summer temperatures that do not exceed the mid-20s. Surrounded by mountains and cliffs, the town is unofficially known as the "Switzerland of America" and is the perfect spot for climbing, biking, and hiking. With great views of the San Juan Mountains, visitors will love the panoramic vistas of Ouray. In the town center, history lovers can enjoy Victorian-era buildings from the town's mining past. Indeed Main Street in its entirety has been designated a National Historic District!
Leavenworth, Washington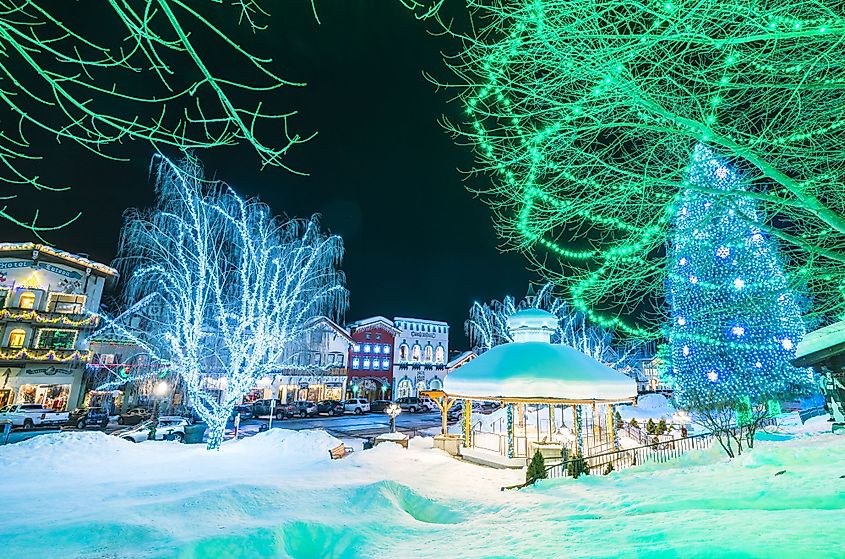 Modeled after a typical German Bavarian village, Leavenworth hosts a full calendar of events year-round. In the summer, tourists can enjoy some time on the Wenatchee River with activities like fishing, rafting, hiking, and bicycling through the numerous trails all around. Tourists can also shop at the charming boutiques and then have an authentic German American meal at any of the great local restaurants. With pleasant daily summer temperatures in the mid to high 20s, Leavenworth truly is a capsule to another world.
Jackson, Wyoming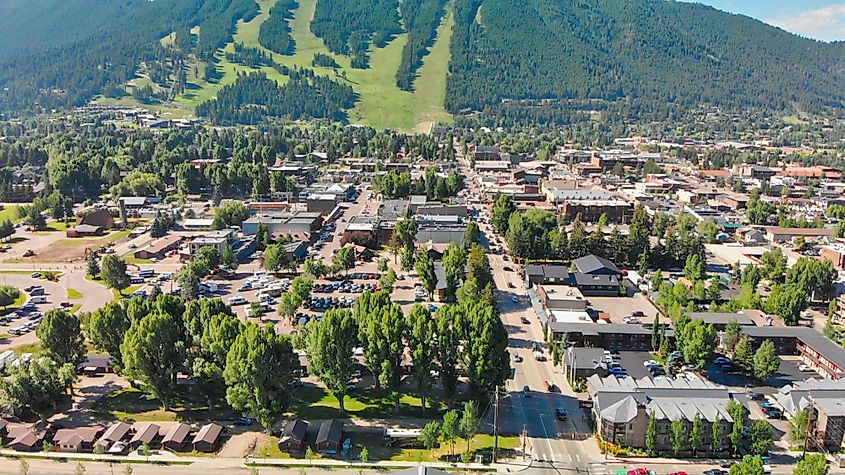 A historic Western town, Jackson is a gateway to both the Yellowstone and Grand Teton National Parks. Surrounded by stunning and majestic mountain scenery, wildlife, and a plethora of outdoor activities, this town in the Jackson Hole Valley is a great summer escape. The historic district has wooden walkways and old saloons, while in the downtown, tourists can enjoy a good variety of local eateries, shops, small theatres, and other galleries. For those looking for a day out in the sun, hiking, horseback riding, and even whitewater rafting are among the adventuresome options to choose from.
Stowe, Vermont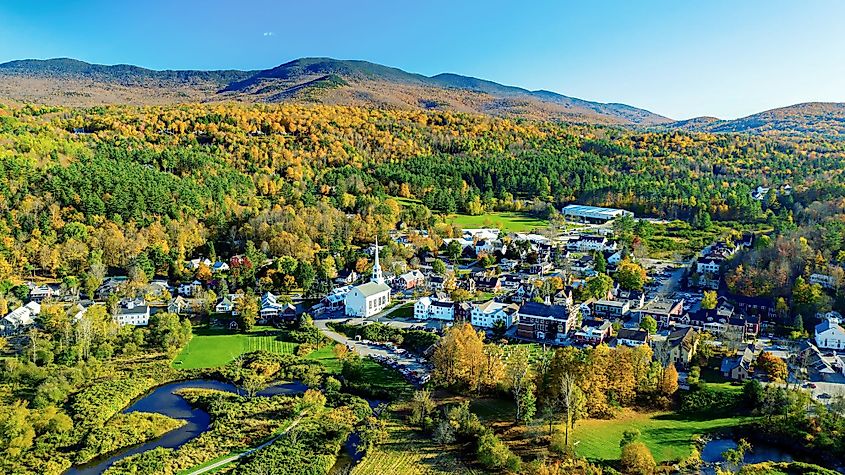 With daily high temperatures from June to August at around 18°C, Stowe is a great place to get away during the scorching summers. The Stowe Recreation Path runs for 8.5 km and crosses the West Branch River offering visitors great hiking and bicycle trails. Travel over beautifully charming wooden pedestrian bridges and then stop at any of the quaint boutique shops and local restaurants on Mountain Road. Though it is known primarily for its skiing in the winter, the Stowe Mountain Resort is also popular in the summer. Tourists and locals alike can enjoy ziplining and wild nature obstacle courses in a unique setting.
Sun Valley, Idaho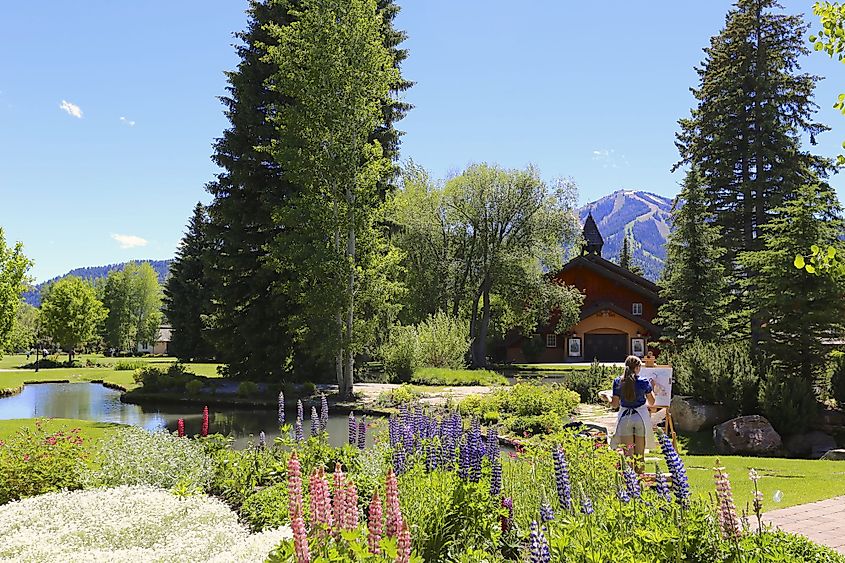 A resort city in Blaine County, Sun Valley may be known for its many hours of sunshine, but in the summertime, its comfortable temperatures in the mid-20s mean it is a great place to spend a holiday. Surrounded by exquisite views of the Rocky Mountains and vast blue skies, tourists to Sun Valley have a variety of outdoor activities to choose from, including horseback riding, mountain climbing, fly fishing, and golfing. 
America in the summertime is a place filled with endless possibilities, especially for tourists looking to spend some time outside and in the sun, but like the season, weather extremes can affect one's enjoyment, and scorching hot temperatures are often avoided. These small towns across the United States are not only cooler temperature escapes from the blistering summer heat but offer a range of cultural and natural activities that will enrich the travel of any visitor.