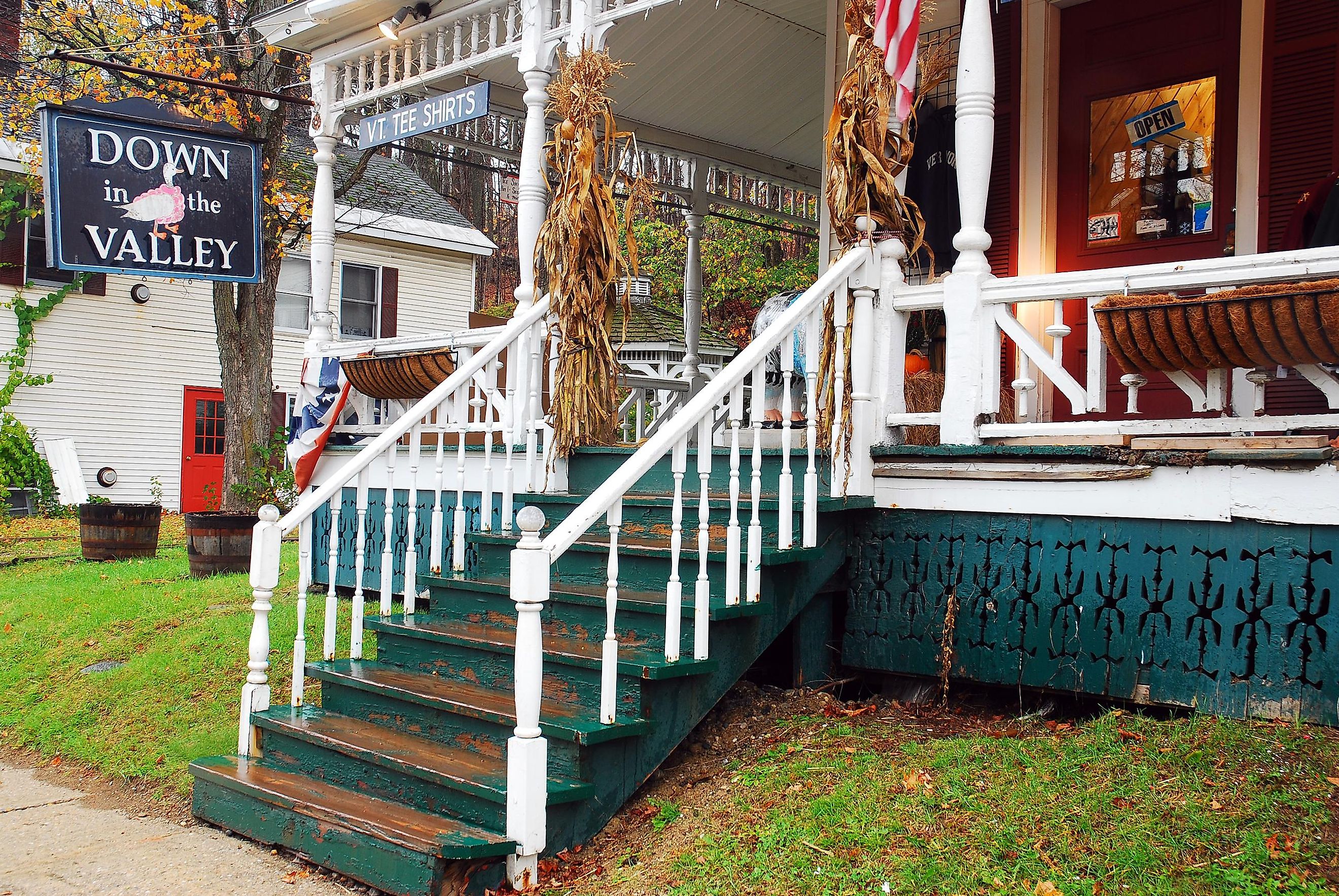 10 Prettiest Towns In Vermont
There are few places in the United States, if not the entire world, that have as seasonally differentiated an aesthetic as is found in the beautiful landscape of the state of Vermont. From the lush green rolling hills in the summer, the gorgeous autumnal colors of the fall season, to the picturesque and romantic snow covered winter months, and the vast meadows of the spring wildflowers, no matter when you visit Vermont you cannot go wrong. Paired with its natural beauty, Vermont is known for its charming small and historic towns, which serve only to add to the appeal of the state. So, if you're looking for that perfect town in Vermont to explore the state's beauty, look no further than these towns!
Waitsfield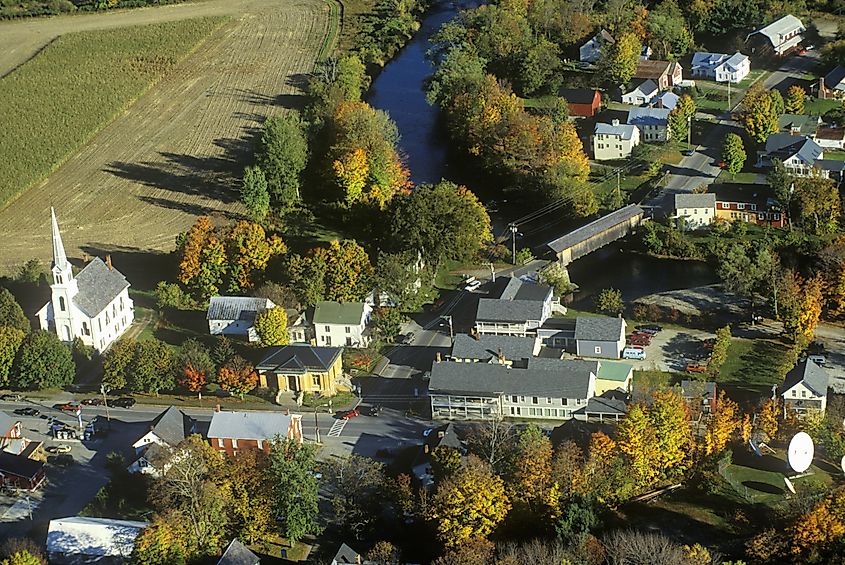 Just a short 30 minute car ride southwest of the capital of Vermont, Montpelier, sits the small town of Waitsfield. With a population of not even 300 residents, Waitsfield has just as much natural beauty as there is small town charm. With many striking historical homes turned Bed and Breakfasts just outside of town, these including Hyde Away Inn, Waitsfield Inn, and The Griff Inn, you have an abundant list of options when it comes to deciding where to stay. During the winter months, Waitsfield is perfectly situated for those interested in exploring the picturesque ski slopes of Vermont, and during the warmer months, there are some spectacular waterfalls to visit, including Warren Falls and Moretown Falls. A little farther afield there are some great outdoor sites where you can experience the lush greenery of Vermont, including Camel's Hump State Park, CC Putnam State Forest, and Mount Mansfield State Forest.  
Warren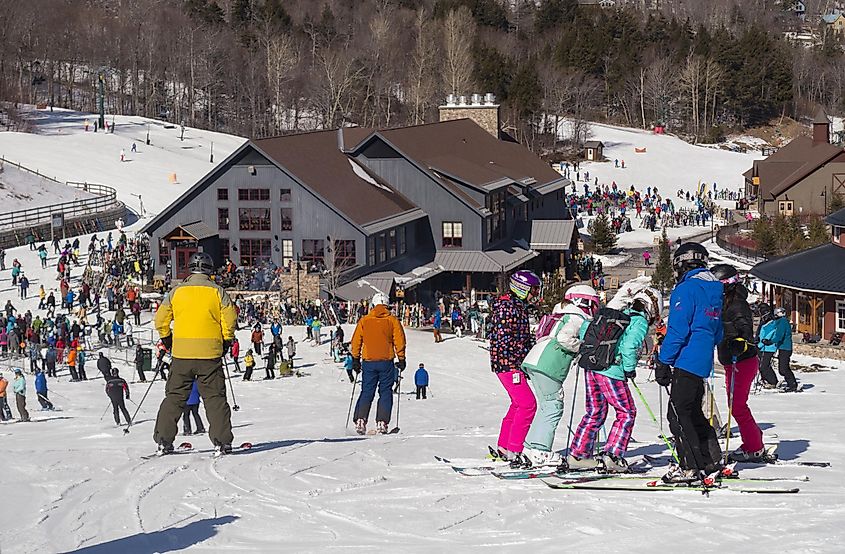 The town of Warren, Vermont, located to the southwest of Montpelier, has a population of just under 2,000 residents. During the summer months, there are many beautiful hiking trails to visit not far from town, including Eurich Pond Trail, Sunset Ledge Trail, and Blueberry Lake Trail. In town, you will want to visit some of the 75 historical buildings and sites which make up the Warren Historic District, highlights of which include the Town Hall, built in 1872, and the Municipal Building and Library, built in1867. For those visiting Warren in the fall make sure to check out Hartshorn Organic Farm and Maple Sugar House which has a fantastic autumnal aesthetic and a lovely restaurant to boot. 
Grafton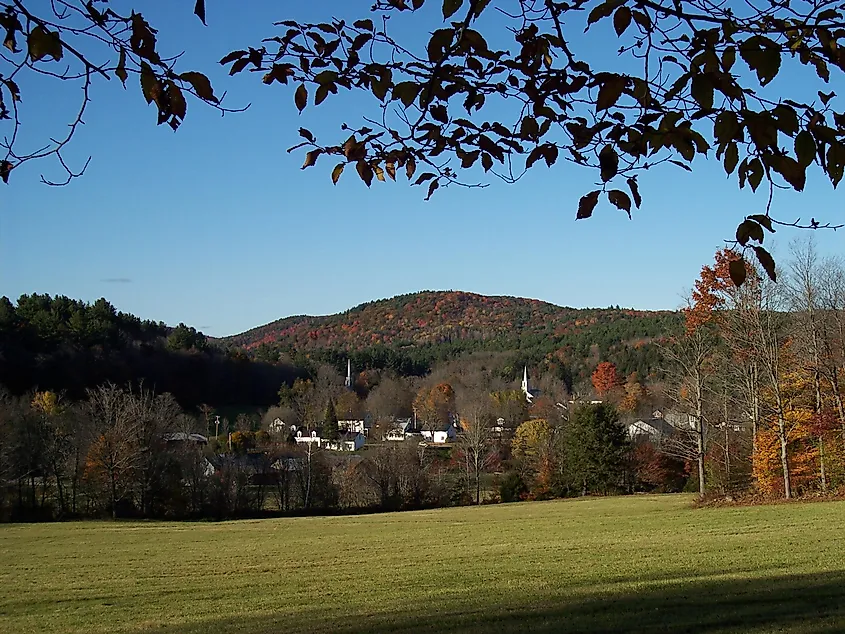 Considered one of the friendliest towns in Vermont, Grafton is also renowned for its abundance of lovely covered bridges. This town has approximately 700 residents and is sometimes referred to as Grafton Village. With a historic district that includes the center of town, you will want to visit some of the generational small businesses such as Plummer's Sugar House, where you can both sample some local maple syrup and see the gorgeous maple groves where maple sap is harvested, and Grafton Village Cheese Company, where you can sample some delicious local cheese. Outside of town, there are a multitude of hiking options, some of the most popular trails including Athens Dome Trail and the trails and walking paths that depart from Grafton's Outdoor Center. After a long day of hiking, you will want to return to a relaxing environment with Inn Victoria and Rowell's Inn, located just outside of town, and Grafton Inn, located in the center of town, being great accommodation option. 
Wilmington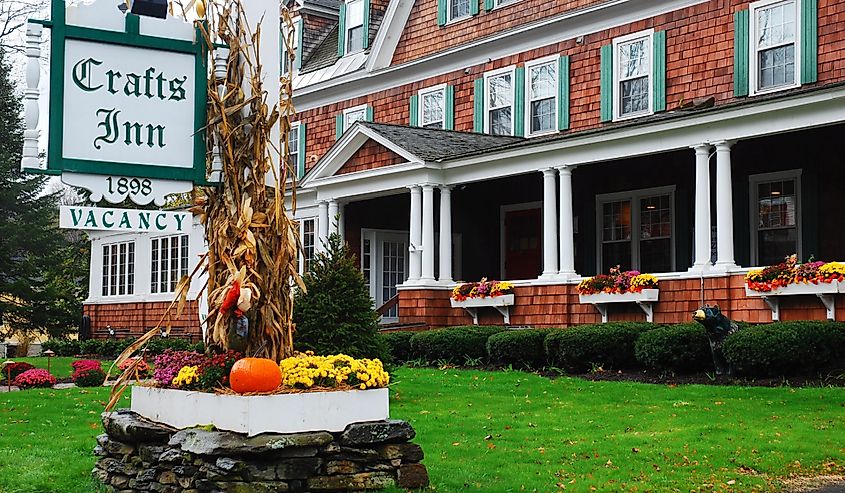 Found near the shores of Harriman Reservoir, the town of Wilmington, Vermont is a great place to explore the autumn colors this state is so famous for. With easy access to Hogback Mountain Conservation Area and Molly Stark State Park, there are lots of opportunities to hike trails that will have a canopy of orange and yellow foliage. If you are looking to enjoy the fall foliage in a more leisurely manner taking a ride along scenic Route 100, which runs from Wilmington to Jay, is a great option. Just east of town, you will also want to visit the Southern Vermont Natural History Museum where you can learn all about the natural beauty of Vermont.
Ludlow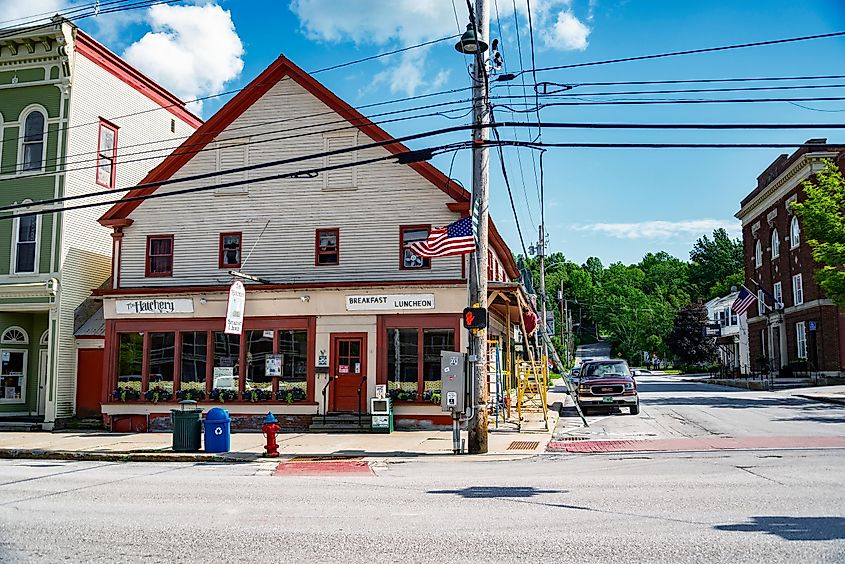 The lovely town of Ludlow, Vermont is located in the southwestern part of the state, and has just as much to see outside of town as there is in town. To the southwest of town, you will find Okemo State Forest and Green Mountain National Forest, to the east you will find Hawks Mountain Wildlife Management Area, and to the north, you will find Coolidge State Forest, the latter of which has some of the most popular hiking trails in the area, including Slack Hill Trail. During the summer months Camp Plymouth State Park is a great place to visit to beat the heat, with the picturesque Echo Lake open to visitors for water activities. In town, there is no shortage of things to see with highlights including visiting the Green Mountain Sugar House and visiting the Ludlow Brewing Company.
Quechee
Along the Ottauquechee River sits the Vermont town of Quechee, home to both natural beauty as well as some of the most beautiful art galleries in the state. For those enthralled by glass blowing a visit to the Simon Pearce Mill is an absolute must-do in town. Found on Quechee Main Street, this art gallery and glass blowing studio is in an old mill building, which is also fun to explore. With its rustic charm, even those with interests other than glass art will enjoy their visit. With its highly rated on-site restaurant, one can spend an entire day exploring the mill inside and out. Other top rated art galleries in town include Glenn Suokko Gallery, while Fox Gallery Fine Arts located a fifteen minute drive west of town. 
Sunderland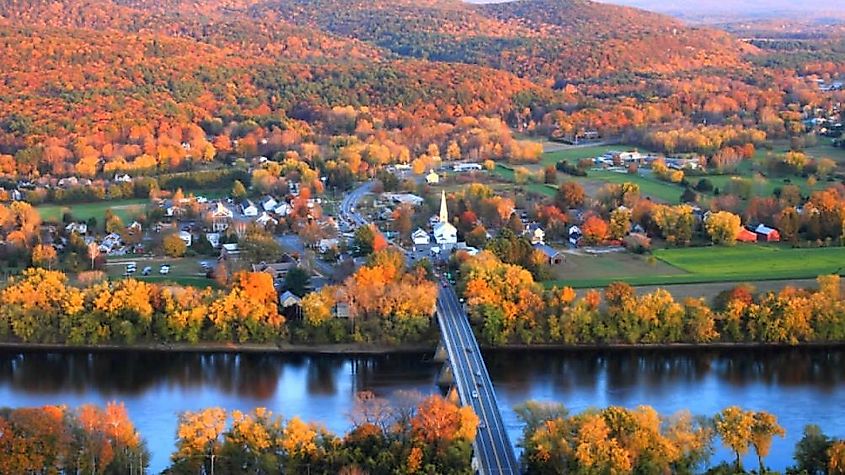 Conveniently situated along Mount Equinox Skyline Drive, the town of Sunderland is located in the southwest of Vermont, in Bennington County. Particularly breathtaking in the fall, the region of Vermont where Sunderland is located sits between the Taconic and Green Mountains. It has come to be known as 'The Shires of Vermont' as this region is particularly lush and green during the summer. For the outdoors people, or those looking to dip their toes into some adventurous excursions, Sunderland has great options. From canoeing, tubing, and swimming along the Battenkill River, located to the west of town, mountain biking and hiking at Lake Shaftsbury State Park in the fall, and skiing at Stratton Mountain in the winter, Sunderland is a great place to get back to nature. 
Middlebury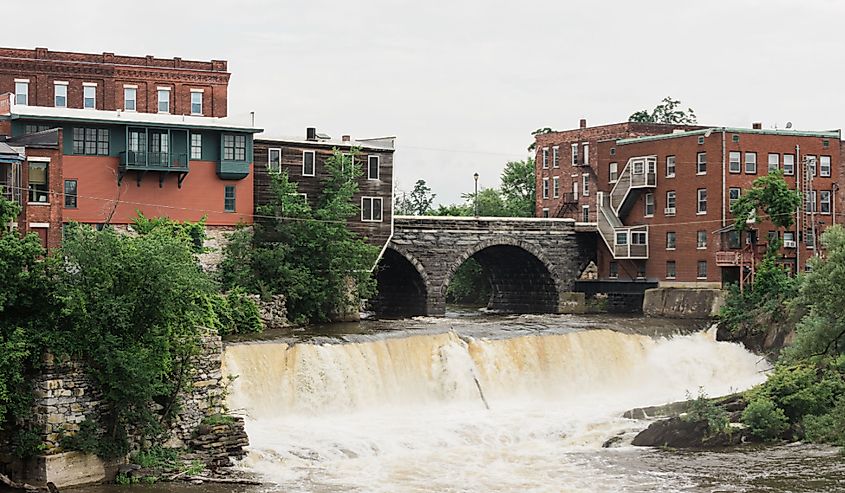 The town of Middlebury, found in central Vermont, has a population of just over 9,000 residents, making it one of Vermont's larger towns. Founded in 1761, there are some gorgeous old buildings around town including Emma Willard House as well as the building that now holds the Henry Sheldon Museum of Vermont History. In town, you will find the Vermont Experimental Cold Hardy Cactus Garden which houses a gorgeous collections of plant species and is fascinating to explore. Just outside of town, you will find the Lincoln Peak Vineyard and Winery. open to the public for tastings during the summer months. If you plan on visiting this winery it is suggested that you book a spot, as it is a popular destination for road trippers.
Manchester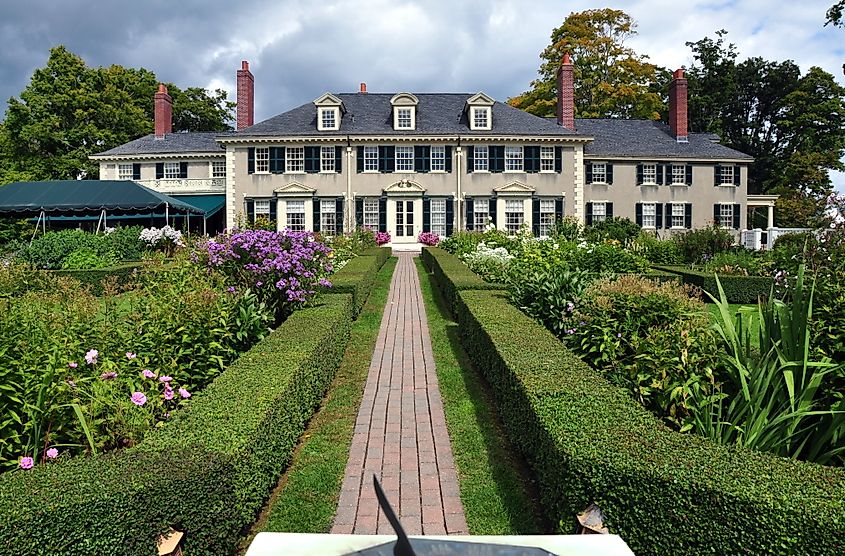 In one of the most popular counties of Vermont, this being Bennington County, you can find the town of Manchester, located a quarter hour by car south of Emerald Lake State Park. This park has beautiful scenic driving routes, and many hiking trails, with its pièce de résistance being its namesake Emerald Lake. Considered the most beautiful lake in Vermont, the clear deep waters of Emerald Lake make it a gorgeous place to relax with friends and family. In town, there are some beautiful sites to see including the Seven Springs Garden and Sculpture Park as well as Hildene House, which was the family home of Abraham Lincoln's son. Accommodations in town range from Bed and Breakfasts to luxury hotels, with Inn at Manchester being a top-notch small town inn. If you do stay at the Inn at Manchester make sure to take their Covered Bridge Tour during which you will visit many local covered bridges and learn about their history.
Bennington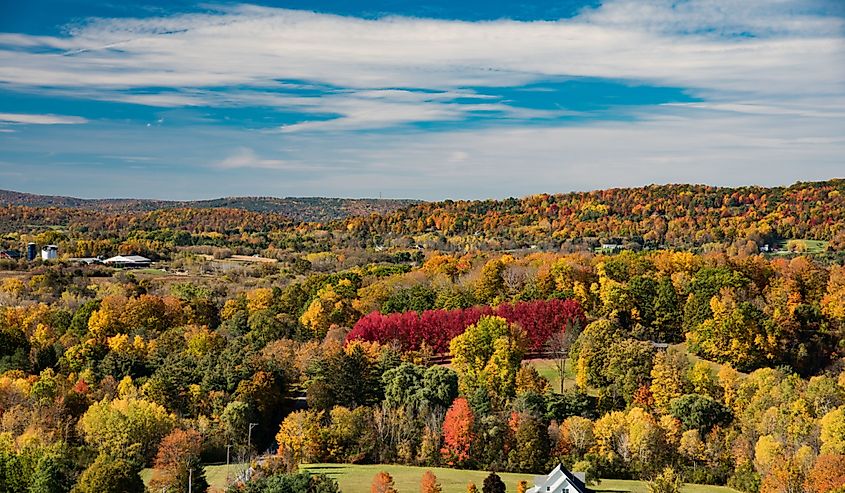 The town of Bennington, with a population of nearly 16,000 residents, is the gem of Bennington County. This town has a fantastic and historic downtown, with gorgeous historical buildings including the Henry House and the Park-McCullough Historic Governor's Mansion. For those interested in literature the Robert Frost Stone House Museum is a great activity for a more leisurely day, plus it is located in the beautifully preserved home lived in by Frost from 1920 to 1929. If you have time you can also visit the grave of Robert Frost, located within walking distance of the Frost Museum. In town, you will also find the One World Conservation Center, which is a 96-acre area of preserved meadowlands and wetlands that has many gorgeous hiking trails.
The Take Home
No matter the season you plan to visit Vermont you will find yourself surrounded by gorgeous scenery and picturesque landscapes. From the many crystal clear lakes, gorgeous covered bridges at every turn, and the fantastic historical architecture, Vermont encapsulates the beauty of both the natural and man-made worlds. With many botanical gardens, hiking trails, and public access parks and lakes, make sure to visit Vermont if ever given the opportunity, you will certainly not regret it.