World Facts
Which Provinces Border New Brunswick?
Quebec is one of the provinces bordering New Brunswick.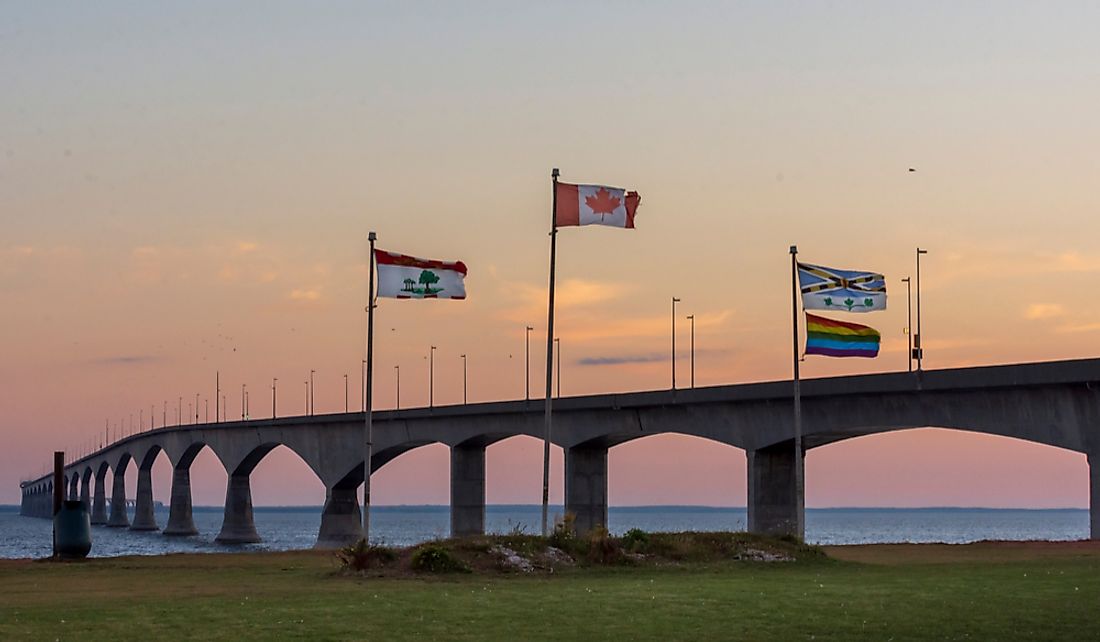 New Brunswick is a roughly rectangular-shaped province of Canada. New Brunswick was among the original provinces formed at the time of Canada's Confederation in 1867 together with Nova Scotia, Ontario, and Quebec. Its major cities are Moncton, Saint John, and Fredericton (the provincial capital). The province is the third smallest in Canada and is one of the Atlantic provinces due to its close proximity to the Atlantic Ocean. The main economic activities of New Brunswick are trade, mining, manufacturing, and construction. New Brunswick shares its border with Nova Scotia, Quebec, and Prince Edward Island as well as the US state of Maine.
Border with Prince Edward Island (PEI)
Prince Edward Island is the smallest province in Canada by both land size and population. It is the only province in Canada that has no land border. The PEI-New Brunswick border is the mid-point of the Northumberland Strait located south of the Gulf of St. Lawrence. PEI is an island, thus the two provinces do not actually share a land border. However, the 13 km-long Confederation Bridge connects New Brunswick to PEI. Confederation Bridge is among the world's most famous bridges. The Gulf of St. Lawrence and Northumberland Strait form New Brunswick's eastern border which is entirely coastal. The border is characterized by sunny and sandy beaches and magnificent scenery.
Border With Quebec
Quebec borders New Brunswick to the north. It is a land border which is located at the Chaleur Bay and Restigouche River. New Brunswick is located within Quebec's Gaspé Peninsula. A boundary dispute between the two provinces erupted several centuries ago and the matter was taken to court. However, an attempt to resolve the matter was unsuccessful. The courts were forced to refer the matter to arbitration in 1851 for a more peaceful resolution. Thankfully, the matter was amicably resolved and the present day boundary demarcations for New Brunswick and Quebec were placed.
Border With Nova Scotia
Nova Scotia is a province in Canada whose capital is Halifax. Nova Scotia borders New Brunswick to the south. The two provinces were partitioned in 1784. The two provinces are linked to each other by the Isthmus of Chignecto and Chignecto Bay. New Brunswick's southern border is located at the Bay of Fundy which contains the wildest and highest tides in the world.
About the Author
Sharon is a Kenyan native with a wide range of interests. An accountant and financial analyst by profession, Sharon enjoys writing about world facts, the environment, society, politics, and more.
This page was last updated on May 14, 2019.
Citations
Your MLA Citation
Your APA Citation
Your Chicago Citation
Your Harvard Citation
Remember to italicize the title of this article in your Harvard citation.