World Facts
The 10 Biggest Cities In New Brunswick
Moncton is the biggest city in the Canadian province of New Brunswick.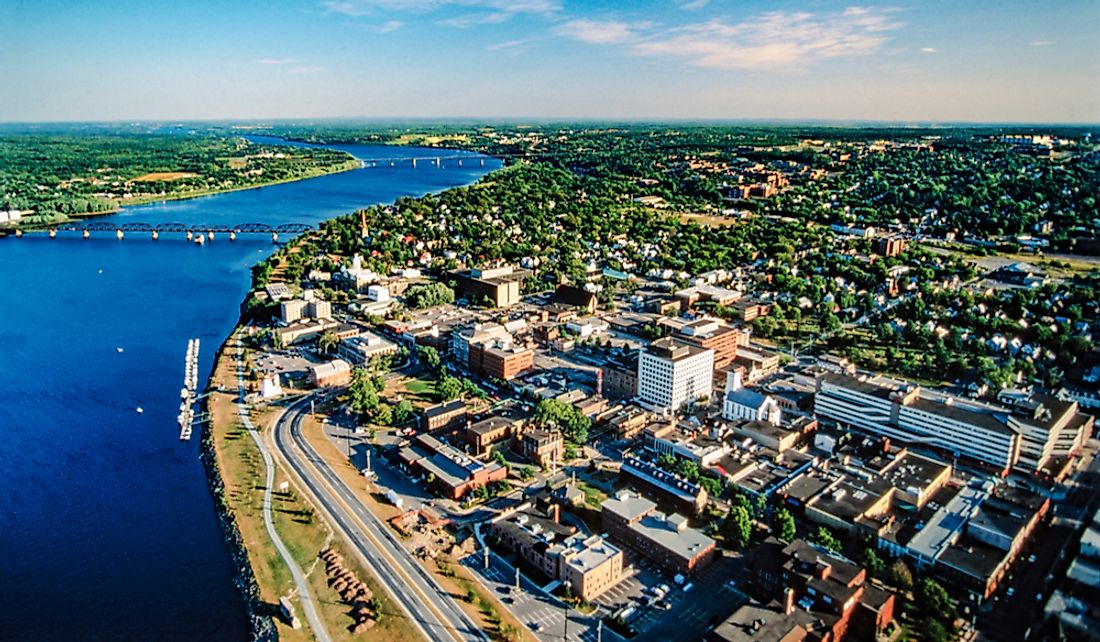 New Brunswick is a province in eastern Canada. Given its location along the coast of the Atlantic Ocean, it is considered one of Canada's four Atlantic provinces. Additionally, as a result of its relative proximity to Europe, New Brunswick was one of the first places in North America to be explored and settled by Europeans. New Brunswick covers an area of 72,907 square km and has a population of approximately 747,101, making it the country's 11th most extensive and 8th most populous province. New Brunswick contains eight cities, 26 towns, and 61 villages. It also has eight rural municipalities and one regional municipality. Fredericton is the provincial capital while Moncton is the largest city.
The Five Most Populated Municipalities in New Brunswick
1. Moncton
Moncton is the most populous city in New Brunswick, with a population of 71,889 in 2016. Moncton is located in the valley of the Petitcodiac River and is situated in the center of Canada's Maritime provinces. For decades, it has served as a major transportation hub for these provinces, and has therefore been given the nickname "Hub City." Moncton was founded in 1766 by the Pennsylvania Dutch and later incorporated in 1855. Today, the city has a stable and diverse economy that is driven by the transportation, distribution, commercial heritage, and retail industries.
2. Saint John
With a population of 67,575, Saint John is New Brunswick's second biggest city. It is a port city located on the coast of the Bay of Fundy and ranks as Canada's third-biggest port by tonnage. Saint John was incorporated in 1785, making it the country's oldest incorporated city. The city's economy and culture have both been shaped by its location along the coast. For example, shipbuilding and fishing have historically been important industries, and tourism is one of the fastest growing sectors of its economy. Additionally, the city's culture reflects its early British, French, and Irish settlers. The Imperial Theatre hosts many concerts, plays, and other productions throughout the year. It is important that Saint John, New Brunswick is not confused with the city of St. John's, Newfoundland and Labrador.
3. Fredericton
Fredericton is New Brunswick's capital city. It is also the third most populous city in the province, with a population of 58,270 in 2016. It is located on the Saint John River, which flows east-west and bisects the city. Fredericton is a hub of culture and education, and features events such as the Harvest Jazz & Blues Festival. The government, IT and infrastructure, universities, and commercial sectors are the city's major employers.
4. Dieppe
Dieppe is the fourth largest city in the province, with a population of 25,384. The city is located along the Petitcodiac River and is part of the Greater Moncton Area. Dieppe was incorporated as a town in 1952 and became a city in 2003. It is officially a francophone city, and more than 70% of Dieppe residents speak French as a native language.
5. Riverview
Riverview is the fifth biggest municipality in New Brunswick, with a population of 19,667. It is located in Albert County, along the south side of the Petitcodiac River. The town is near Moncton and Dieppe, and is part of the Greater Moncton Area. Riverview was formed in 1973 through the amalgamation of three villages.
Smallest City in New Brunswick
With a population of 6,883 people, Campbellton is New Brunswick's least populous city. It is located on the banks of the Restigouche River in Restigouche County.
The 10 Biggest Cities in New Brunswick by Population
| Rank | Name | Type of Municipality | Incorporation Date | Population (2016) | Land Area |
| --- | --- | --- | --- | --- | --- |
| 1 | Moncton | City | 1890 | 71,889 | 141.92 km2 |
| 2 | Saint John | City | 1785 | 67,575 | 315.96 km2 |
| 3 | Fredericton | City | 1848 | 58,270 | 132.57 km2 |
| 4 | Dieppe | City | 1952 | 25,384 | 54.05 km2 |
| 5 | Riverview | Town | 1973 | 19,667 | 35.45 km2 |
| 6 | Quispamsis | Town | 1966 | 18,245 | 57.21 km2 |
| 7 | Miramichi | City | 1995 | 17,537 | 179.47 km2 |
| 8 | Edmundston | City | 1952 | 16,580 | 106.85 km2 |
| 9 | Tracadie | Regional Municipality | 2014 | 16,114 | 516.61 km2 |
| 10 | Bathurst | City | 1912 | 11,897 | 92.04 km2 |
About the Author
Oishimaya is an Indian native, currently residing in Kolkata. She has earned her Ph.D. degree and is presently engaged in full-time freelance writing and editing. She is an avid reader and travel enthusiast and is sensitively aware of her surroundings, both locally and globally. She loves mingling with people of eclectic cultures and also participates in activities concerning wildlife conservation.
This page was last updated on January 30, 2019.
Citations
Your MLA Citation
Your APA Citation
Your Chicago Citation
Your Harvard Citation
Remember to italicize the title of this article in your Harvard citation.