Which Country Has the Most Dentists?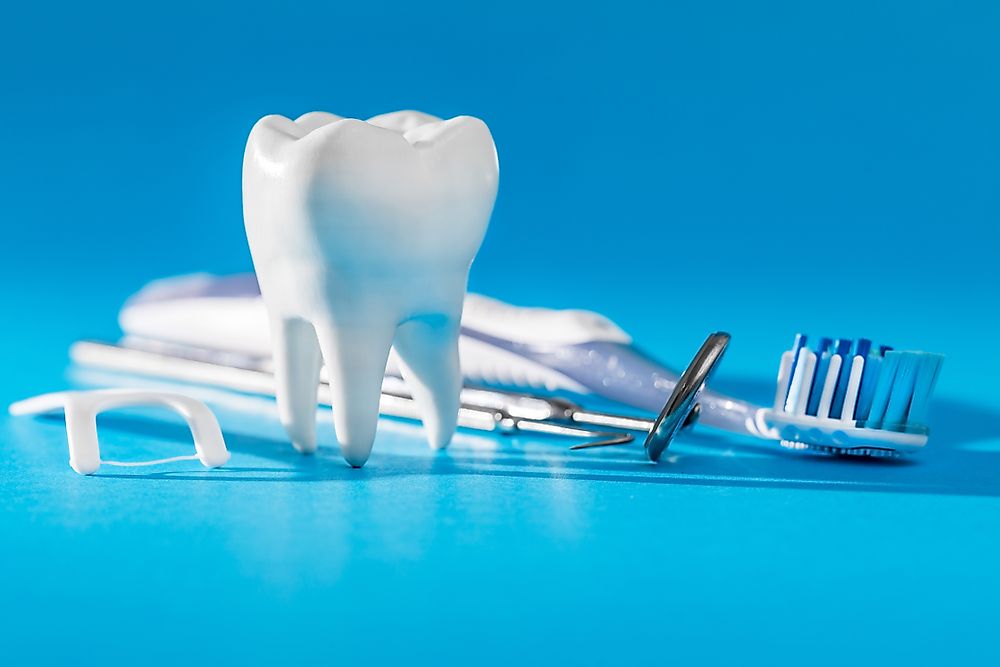 Dentists are surgeons who specialize in the prevention, treatment, and diagnosis of oral cavity conditions and illnesses. A dental team is made up of dental technicians, dental hygienists, dental assistants and in various nations' dental therapists. The dental surgeon's support team assists in providing numerous oral health services. Dentistry was initially practiced by barbers in China and France. They were divided into two groups: lay barbers and guild barbers. Guild barbers were more qualified and educated dental surgeons, while lay barbers were qualified to deal with less complicated hygienic services like tooth extraction and shaving. Today, India has the most dentists of any country in the world.
Countries with the Highest Number of Dentists
India
India is the second most populous state on earth with over 1,324,171,354 residents. There is a huge market for dentistry, and currently, the country has the highest number of dentists in the world. India had over 197,734 dentists in 2016 which meant that the state had one dentist for every 6,700 Indians. The number of dentists has increased by 153% in the last decade from 78,096 in 2006. Dentistry is a recent medicine field in India than in the Americas and Europe. The first Indian dental college opened during the 1940s.
Japan
Oral hygiene is crucial in Japan, and there is a big market for dental products and clinics in the country. Japan has the second highest number of dentists in Asia and the world with over 100,994 dentists in 2014. The number of dentists has increased by 6.1% in the last decade. There were 70.6 practicing dentists for every 100,000 residents in 2000, and by 2012 it had risen to 79.3. In 2000, only 90,000 registered dentists were practicing, and by 2012 it had increased to over 101,000.
Italy
There are over 345,000 practicing dentists in Europe with Italy having the highest number of practicing dentists. Italy is one of the European states that experienced an increase in the number of dentists from 2009 to 2014. Italy is ranked third globally with over 47,098 dentists. The number of practicing dentists has been decreasing from 2014 (47,610) to 2016 (47,098). Italy is one of the most expensive European states for dental care in the European Union.
France
France has the second highest number of dentists in Europe right behind Italy. France had over 43,026 dentists by 2016. The number of practicing dentists increased by 3.1% from 2012 to 2016. The Paris region had over nine thousand dentists while Brittany had over two thousand in 2016.
The Practice of Dental Tourism
Dental tourism is a subset of medical tourism that involves people seeking dental care in other states, and it can be accompanied by a small vacation. As the globe becomes more competitive and interdependent, technological advances, technique, and material spread quickly making it possible for dentists in developing states to provide dental care at a lower price as compared to the dentists in developed nations. The main reason why people travel to other countries for dental procedures is the cost consideration. England has the most expensive dental care in the world therefore many people prefer going abroad for treatment. Even though dental tourism is generalized to traveling to low-cost developing nations, other factors like difference in public dental care funding and access to dental care can influence dental tourism.
Which Country Has the Most Dentists?
| Rank | Country | Number of dentists |
| --- | --- | --- |
| 1 | India | 197,734 |
| 2 | Japan | 100994 |
| 3 | Italy | 47098 |
| 4 | France | 43026 |
| 5 | United Kingdom of Great Britain and Northern Ireland | 34867 |
| 6 | Spain | 33286 |
| 7 | Iran (Islamic Republic of) | 27783 |
| 8 | Ukraine | 26954 |
| 9 | Turkey | 24834 |
| 10 | Republic of Korea | 24150 |