World Facts
Vitória – The Capital Of Brazil's Espírito Santo State
Vitória is the capital of the Brazilian state of Espírito Santo.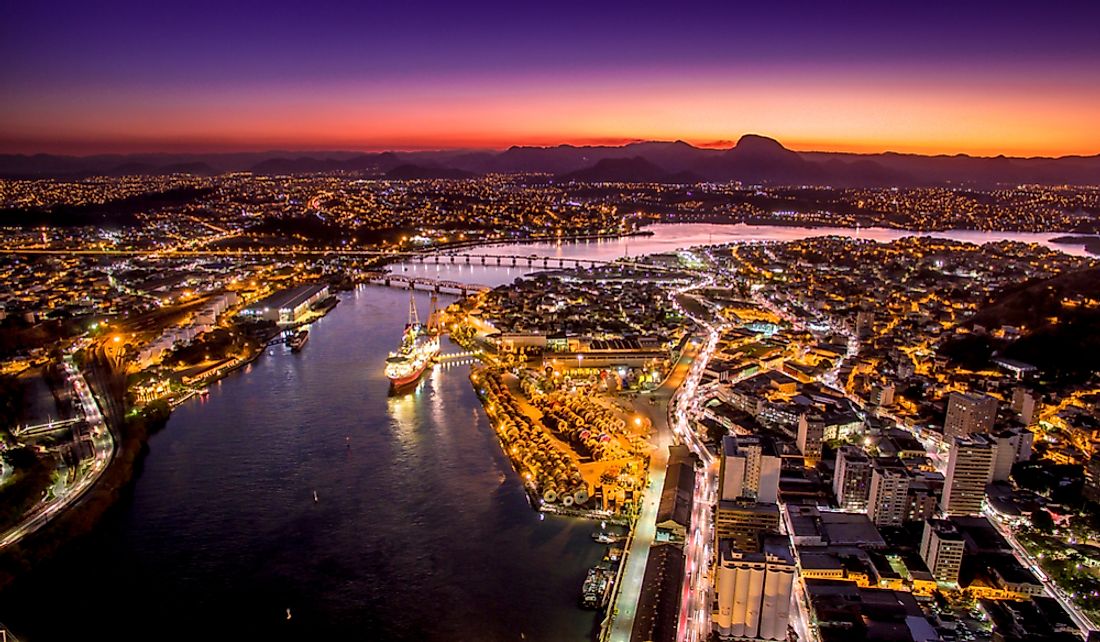 Espírito Santo is a state located in the southeastern part of Brazil. With an area of 46,077.5 km2 and an estimated population of 3,885,049, Espírito Santo ranks as the 5th least extensive Brazilian state and the 15th most populous. Vitória is the capital of Espírito Santo. Espírito Santo has an extensive coastline along the Atlantic Ocean and therefore features some of the country's busiest ports and most popular tourist beaches. For example, the municipality of Conceição da Barra, located in the northeastern part of Espírito Santo, is famous for its sand dunes and forró tradition, and attracts visitors from around the world.
Capital of Espírito Santo
Vitória is strategically located on a riverine island, in a bay at the area of confluence of several rivers and the sea. The city proper encompasses an area of 93 km2, which includes the main island, 34 surrounding small islands, and a small part of mainland Brazil. Vitória features a jagged coastline and 40% of its total area is covered by hills, but the city has an average elevation of only 4 m above sea level. The city experiences a tropical climate and has an average temperature of 23 °C.
History of Vitória
During the colonial period, the first capital of the Brazilian Captaincy of Espírito Santo was Vila Velha, which is located on mainland Brazil and is currently the largest city in the state. However, Vila Velha was highly vulnerable to attacks and raids by indigenous populations and other European colonialists, namely Dutch and French, and so the capital was moved. An island near the mainland was selected as the new capital, and Vila Nova do Espírito Santo was founded on September 8, 1551. Following an important victory in a battle between the the Goytacaz Amerindians and the Captaincy led by Vacso Fernandes Coutinho, Vila Nova do Espírito Santo was renamed Vitória meaning "victory."
Demographics of Vitória
According to 2013 estimates, Vitória has a population of 358,875 and a population density of 3,546.7 persons per square kilometer. Additionally, the city contains the following population groups: White (52.33%); Pardo or Mixed-Race (38.46%); Black (7.43%); Asian or Amerindian (0.78%). Christianity is the predominant religion practiced in the city, as 63.36% and 22.18% of Vitória's population are Catholic and Protestant, respectively, while 10.53% of the population does not adhere to any religion.
Economy of Vitória
The majority of Vitória's economy is based on port activities, industry, tourism, and active trade. Vitória has two ports, Port of Tubarão and Port of Vitória, both of which are among the busiest in the country. The Port of Tubarão is the second busiest cargo port in all of South America. Given its thriving economy, Vitória features a high overall quality of life. In fact, the United Nations ranked Vitória as Brazil's fourth-best state capital to live in.
About the Author
Oishimaya is an Indian native, currently residing in Kolkata. She has earned her Ph.D. degree and is presently engaged in full-time freelance writing and editing. She is an avid reader and travel enthusiast and is sensitively aware of her surroundings, both locally and globally. She loves mingling with people of eclectic cultures and also participates in activities concerning wildlife conservation.
This page was last updated on May 13, 2019.
Citations
Your MLA Citation
Your APA Citation
Your Chicago Citation
Your Harvard Citation
Remember to italicize the title of this article in your Harvard citation.