Wildfires are a true danger. If you have never witnessed one in person but you have seen the movie Bambi, you know how devastating they can be to wildlife. These fires can also have a large impact on human life. The Australian bushfire crisis that began in June 2019 eventually burned over 12 million acres of land and took the lives of dozens of people. It is true that the fires also took the lives of many animals- up to half a billion, one study estimated, which is devastating. Wildfires like those in California in 2019 can also be very costly, incurring billions of dollars of damage to property. This paints a very negative picture. 
Interestingly, however, while we hear a lot about the trauma associated with wildfires in the media, they may not be as unusual as we perceive them to be. 
An article written in 2016 by researchers from Swansea University in the UK as part of a series on the interaction between fire and mankind describes how, exceptions aside, at least up until that point, global area burns have actually been declining in recent decades. There is evidence that there is now less fire around the world than there was centuries ago. This is good news. Fires in the western US have changed little, and the areas that are subjected to severe fires have grown smaller compared to the days before European settlement in the Americas. 
Wildfires are predicted to increase as global warming gets worse, however. As experts have stated, we will need to develop a more sustainable coexistence with fire going into the future.
Who should be considering this in North America? Here is a look at the US states most prone to wildfires.
California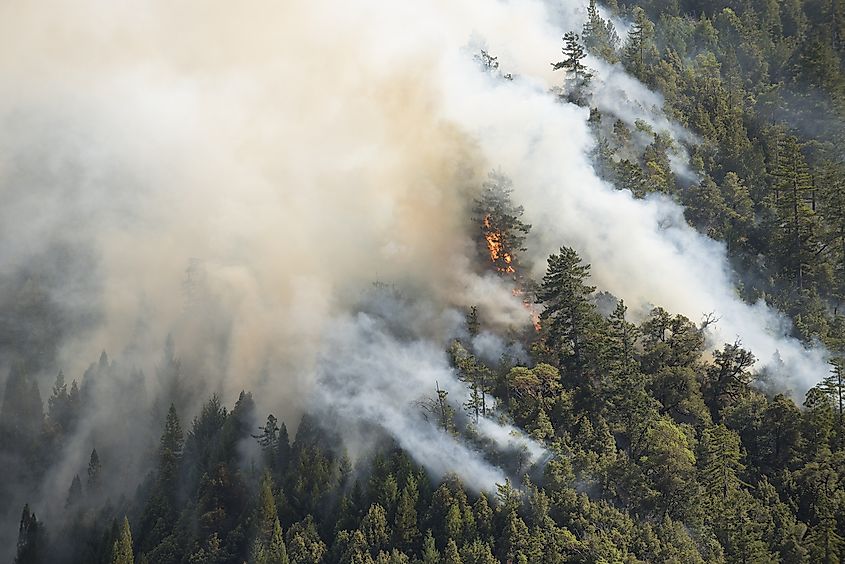 The top ten US states that are home to the highest number of annual wildfires are, in descending order, California, Texas, Georgia, North Carolina, Oregon, Florida, Arizona, Montana, Washington, and Alabama. In 2017-2018, California experienced its deadliest wildfire season on record. More than 100 people lost their lives, and thousands of people lost their homes. According to the US Fire Administration, the fires of 2018 created losses of about  $12.4 billion dollars in California.  
What is causing the fires to start? Wildfires are a natural part of California's landscape, but recent conditions have made them worse. The buildup of dry vegetation combined with drought and very high winds has caused the fires to be larger and more destructive than normal. California's department of forestry and fire protection says that climate change is driving fire season in the coastal state to grow longer. It is beginning earlier and ending later. There is currently less snow falling in California's mountains in the winter, and warmer spring and summer temperatures. These factors have been reducing the snow pack that usually contributes more moisture to the ground in spring in the State. This has been drying the vegetation out, causing California's fire season to lengthen considerably, by about 75 days. All this has made California into a state that is becoming too hot to handle. 
Texas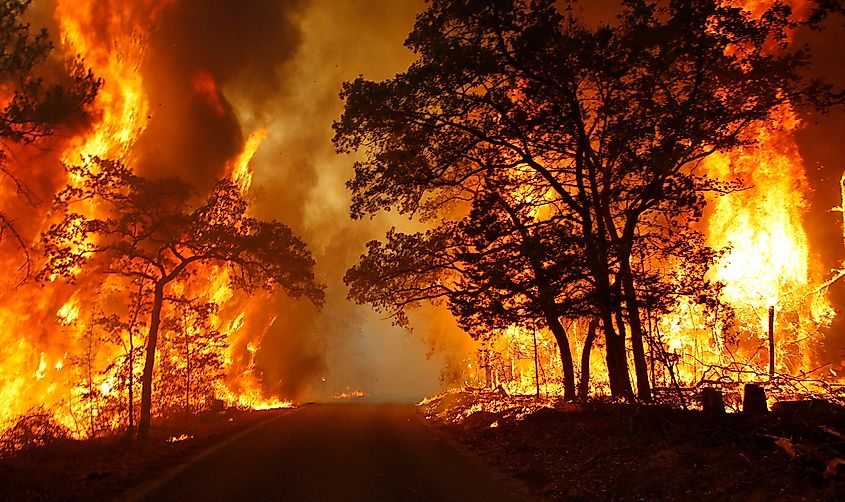 Texas is the state with the second highest number of annual wildfires in the country.  In 2011 this state witnessed its most destructive wildfire in history. This was the Bastrop Complex Fire that burned at the end of the summer on Labor Day weekend. It destroyed 34,000 acres of land, killed two people and resulted in about $325 million worth of damage to property. The massive fire burned all the way through to the end of October. Fire officials concluded that the fire must have been caused by trees that fell in high winds, and brought down electric power lines. These sparked dry grass and leaves on the ground, starting the destruction. 
Wildfires in Texas can have a large effect on the state's ranching and agricultural industry. In the spring of 2017, it was estimated that about 2,500 cattle were lost in Texas due to wildfires.
Georgia
Georgia's wildfires may not get the same coverage in national and international media as those in Texas and California. but they are mighty.  Most recently in 2017, the West Mims wildfire on the Georgia-Florida border burned down over 100,00 acres in Okefenokee National Wildlife Refuge. This fire is thought to have been caused by lightning striking forests at the beginning of April, 2017. Since forest fires are a natural part of nature, many fires that usually burn in the Okefenokee Refuge are left to burn out by themselves. Because the West Mims fire encroached on private land outside the regure, the decision was made to try and stop it.
Interesting Facts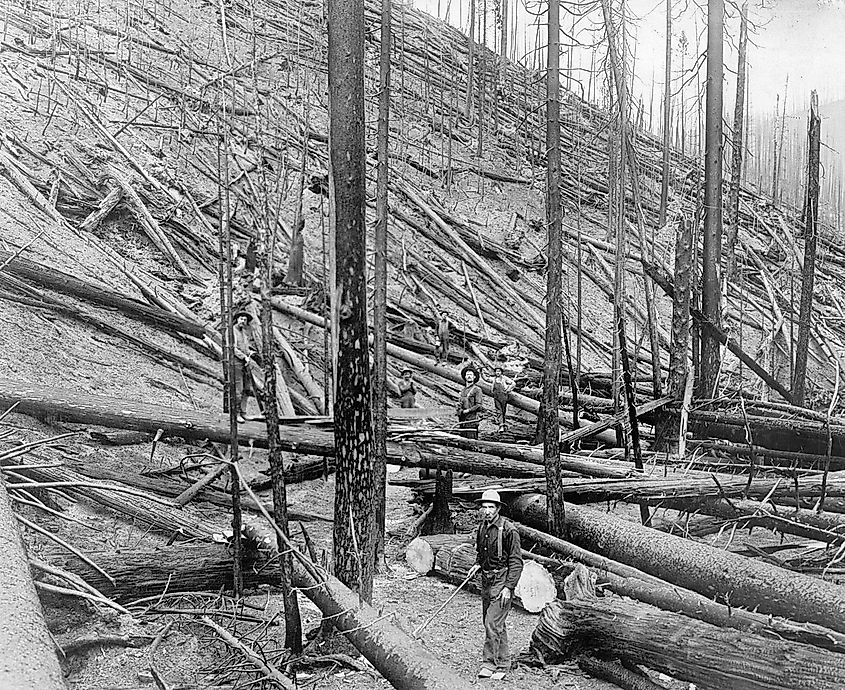 The Great Fire of 1910 in northern Idaho and western Montana is thought to be the largest wildfire in recorded US history. This mega-fire burned through 3 million acres of land and killed 87 people, most of whom were firefighters. 
Wild fires can travel fast and burn a football field per second. 
A California Camp Fire survivor's advice: keep a drawer in your house with two things you absolutely need that you can grab if a wildfire hits. A wildfire moves too fast to get anything else.  
States With The Highest Risk Of Property Damage 
A lot of the information related to wildfires online has to do with property damage. In light of this, we thought it would be a good idea to mention who incurs the most. Statistics show that in 2019, California, Texas, Colorado, Arizona, Idaho, Washington, Oklahoma, Oregon, Montana, and Utah were the states where the most properties were at risk of being damaged by wildfires. Some lists also include Wyoming and New Mexico. Officials and survivors of wildfires urge residents to listen for instructions to evacuate, and to follow these as quickly as possible. 
Are Wildfires Natural?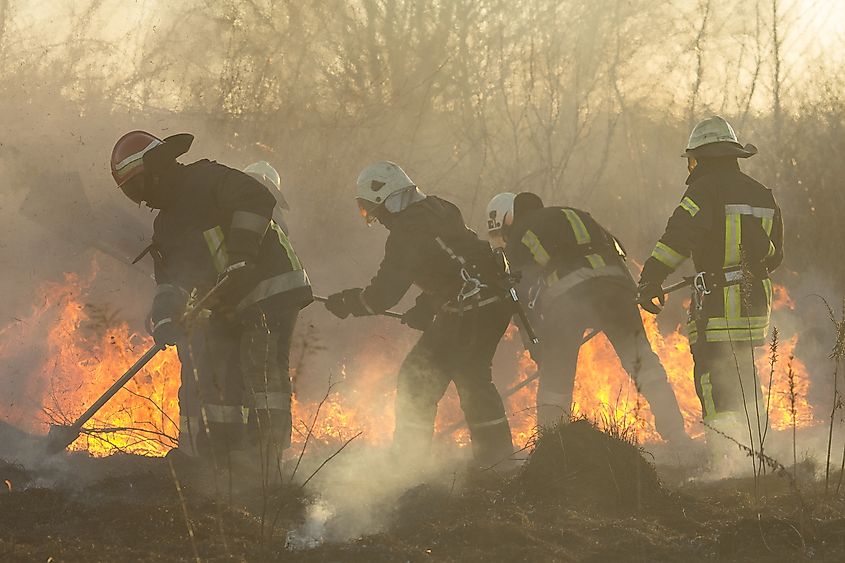 Wildfires occur in nature, but most often they are not started by it. According to the US Department of Interior, up to 90% of wildfires in the US are actually set by people. Sometimes people start fires accidentally by leaving their campfire unattended, or by flinging their burning cigarettes onto dry land. Downed power lines can start wildfires, as can the practice of burning debris in your backyard. Sometimes people start fires purposely, which is illegal and is called arson. Only about 10% of fires in nature are caused by lightning striking, or lava. 
When a wildfire gets out of control and officials decide to tackle it, they use many methods to contain it. Aerial drops of water and tossing retardant on the fire from a plane can help stop wildfires. Firefighters also use an arsenal of tactics on the ground such as creating a back burn, establishing control lines, and digging ditches to stop fire. Some wildfires last for months on end, only dying out when there is nothing left destroy.