Thunderstorms are associated with heavy wind and even tornadoes. They can occur at any hour and any part of the year, but they most commonly happen during the spring and summer in the afternoon and evening.
Experts say that more than 2000 thunderstorms form every day, and every single one of them poses a threat to a nearby environment and both human and animal life. This is why it is useful to know how they form, what are the different types of thunderstorms, and how to protect yourself from the dangers of thunderstorms.
It is the combination of moisture, air, and lift that causes a thunderstorm to happen. Most of the time, moisture comes from the ocean (places close to warm ocean currents generally evaporate a lot of moisture), and unstable air occurs when warm air is closer to the ground, and cold air is above it. Due to these differences in air density, lift pushes the unstable air and creates a thunderstorm cloud that poops lightning and thunder, as well as a variety of precipitation like rain and hail.
Single-cell And Multi-cell Thunderstorms
These density differences and the rise and fall of the air is called a convection cell. Depending on the number of convection cells, there are also different types of thunderstorms. Single-cell thunderstorms are those that are created by a single convection cell, thus their name. These are what we call "ordinary thunderstorms." Usually, they are small in size, their duration is short (about an hour-long), and they cause rain and lightning.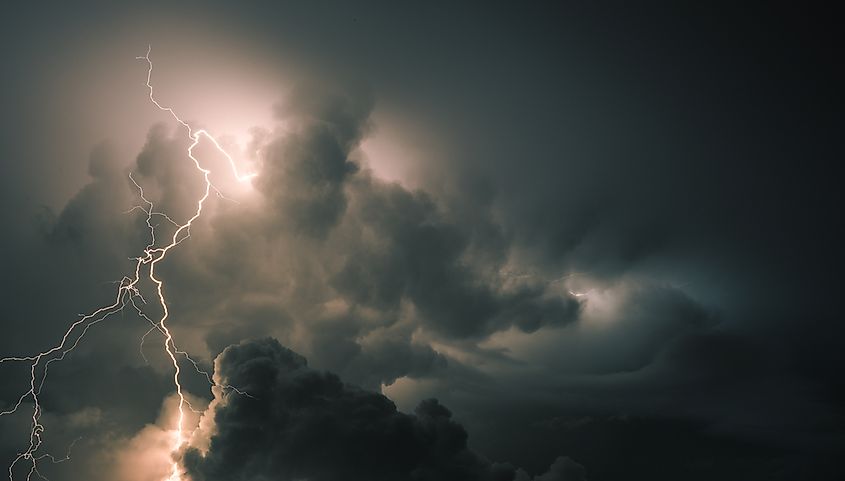 Multi-cell thunderstorms consist of more than one convection cell that moves as a single, unified unit, and they are usually preceded by forceful wind gusts.
The strongest type of thunderstorm is the supercell thunderstorm, and they last for hours, produce a large amount of rain and hail, and can even produce tornadoes. Fortunately, they are not as common as the first two types of thunderstorms.
Why Are Thunderstorms Dangerous?
Despite not being large, they can become very dangerous for people because they produce lightning. In simple terms, lightning is an electric current. Inside the thundercloud, frozen raindrops collide with each other and generate an electric charge that spreads throughout the insides of the cloud.
Protons form at the top part of the cloud, while the electors form at the bottom and cause a positive charge build-up that can concentrate around various objects, people and animals. Bolts of Lightning are known to kill more people than tornadoes, but they are not the only danger produced by thunderstorms. Heavy rain can lead to flooding, and hail and tornadoes are also very dangerous.
How To Survive a Thunderstorm?
Lightning is a very dangerous weather hazard, and even though many victims survive, there are various long-term consequences on the health of the individual that was struck by lightning. If you ever happen to be under a thunderstorm, you need to protect yourself and find shelter (building, house, or even a car).
Try to stay informed and listen to the weather reports, especially if you live in a high-risk area. Avoid using plumbing and landline phones because electricity can travel through those lines, and remember to unplug your home appliances and electronic devices.