Top Shoe Manufacturing Countries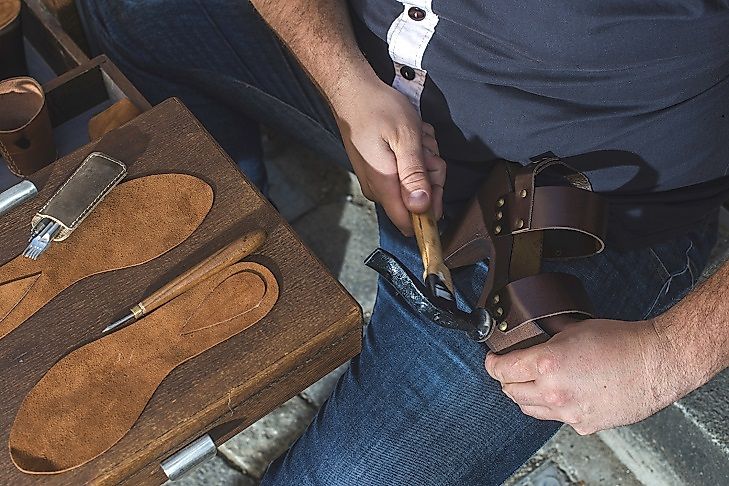 Counting exports alone, the year 2014 saw worldwide shoewear sales reach $60.4 billion, with total sales, including domestic and retail sales, being much higher. The European continent led the way in the highest dollar value in leather shoe exports, which reached $29.2 billion there in 2014. However, the Asian continent was trailing not far behind, reaching $28.4 billion in export sales that same year. These figures indicate a 32.1 percent increase between 2010 and 2014. Notably, the nation of Vietnam had improved its shoe export sales by 150 percent over the period. India's sales, meanwhile, went up by 58.6 percent. What makes a country a top producer of shoewear may be attributed to several factors. These include workers, costs, investment, and, of course, demand.
10. Turkey (175 million pairs per year)
Turkey produces about 175 million pairs of shoes a year. The thriving Turkish leather industry provides a good basis for its shoe production. Footwear manufacturers here produce boots, sneakers, and slippers. The country has around 6,887 participating shoe companies.
9. Italy (205 million pairs per year)
Italy produces around 205 million pairs of shoes a year, and its renowned brands and leather are some of the world's coveted. Italy is known for its small production crews that turn out designer shoes for Italian fashions. Designers here often specialize in women's and men's high-end shoes for retail worldwide.
8. Mexico (245 million pairs per year)
Mexico produces about 245 million pairs of shoewear annually as well, comparable to Thailand. Skilled local labor, good designs, and quality materials all make the country a manufacturing base for shoe exporters. Its famed cowboy boots are hand-manufactured for both local retail and export.
7. Thailand (245 million pairs per year)
Thailand has an annual production of 245 million pairs of footwear a year. Its shoe manufacturing scope includes sporting shoes, student shoes, sandals, and fashion shoes. Thai access to good quality leather and lower wholesale prices have made the country a shoe buyers' dream.
6. Pakistan (295 million pairs per year)
Pakistan comes in with an output of 295 million pairs of shoes a year. The Pakistan International Footwear Show and the Pakistan Footwear Manufacturers Association have made this output even more relevant and well-known globally. A number of international shoe brands from different countries base their local production facilities in the country as well.
5. Indonesia (660 million pairs per year)
Indonesia produces about 660 million pairs of shoes a year. This figure includes shoes manufactured for locals, as well as those for international brands to be exported. Low wages and good work quality has even attracted shoe manufacturers from China and Korea.
4. Vietnam (760 million pairs per year)
Vietnam produces 760 million pairs annually, increasing its production by almost 150 percent in recent years. Even more astonishing, this output has a 90 percent export capability. Vietnamese shoewear production ranges from leather to canvas shoe, and sports shoes to sandals.
3. Brazil (895 million pairs per year)
Brazil comes in with 895 million pairs of shoes in annual production, a figure that accounts for both its exports and domestic sales. Its high quality leather and low wages has made this possible. The Brazilian shoe industry is also expanding its export market further still.
2. India (2.1 billion pairs per year)
India comes in second, with its annual production of 2.1 billion pairs of shoe wear per year. Its production has increased by 50 percent in recent years. High quality and low price leather and labor has made such an increase possible. It also helped that Indian excise taxes were lowered to 6 percent recently. Indian shoemakers' major focuses are on men's shoewear.
1. China (12.6 billion pairs per year)
China has led the shoe manufacturing business for many years now, and remains to do so with its 12.6 billion pairs of shoes produced annually today. Its total annual production is huge compared to the total production of some groups of exporters in other countries. A large domestic market, minimum wage increases and overtime pay throughout China (which give domestic consumers more discretionary income), and a stronger currency all help in maintaining such a huge output.