Economics
Top Iron Ore Producing Countries In The World
China, followed by Australia and Brazil are the three top ranking iron ore producing countries in the world.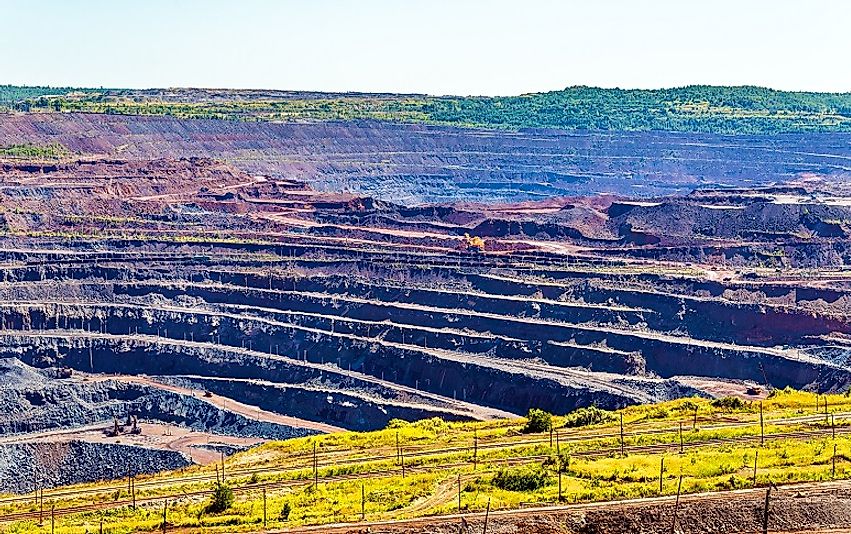 Iron has a chemical formula (Fe), and it is one of the most common elements in the world and forms 5% of the crust of the Earth. It ranks the fourth among the common elements after Oxygen, Silicon, and Aluminum. Iron forms a critical part of modern civilization and its use dates back to thousands of years. It was only around the 14th Century when its use became widespread as smelting furnaces increasingly began to replace the older forges. Iron ore occurs in the form of rock from which the metallic iron is the final product. The bulk of these rocks are either Hematite or Magnetite, and it makes almost 98% of the iron ore produced worldwide that goes into making steel. Much of the iron ore mined are oxide compounds of Magnetite (Fe3O4), Hematite (Fe2O3) Goethite (Fe2O3SH2O), and Limonite. Magnetite is composed of 72% iron, Hematite is 70% iron, Goethite is 63% iron, and Limonite is 60% iron.
Leading Iron Ore Producing Countries
Much of the iron ore are in the sedimentary rocks called Banded Iron Formations (BIFs), which dates back to more than 542 million years. They are present in all continents and mined as iron ore or rocks containing iron ore. Deposits that contain at least 60% Fe are often commercially viable for mining, but in some case deposits of 56% Fe have been commercially mined successfully in different countries.
China
China is by far the largest producer, consumer, and importer of Iron ore. In 2015 it produced 1.3 billion tons of iron ore equivalents to 44% of the world's output. In 2014, China produced 1.5 billion tons of crude ore extracted mainly in Hebei and Liaoning provinces of mainland China. Other regions include Shanxi, Beijing, and parts of Inner Mongolia.
Australia
Australia comes as the second largest producer of Iron ore and has the world's biggest deposits. The mineral is mainly in the Western Australia in the regions of Pilbara, which represents 95% of Australia's iron ore. The region forms three of the eleven biggest mining operations in the world. In 2015, Australia produced 824 million tons of iron ore and in 2014 was 774 million tons which represent more than 20% of the global output.
Brazil
Brazil is the third largest producer of iron ore producing 428 million tons in 2015 and 411 million tons in 2014. The 2015 output represents 12% of the world's production. Brazil has the second largest deposits of iron ore in the world. The mineral is mined mainly in Minas Gerais and Para states. Carajas is the world's biggest iron ore mine owned by Vale the Brazil's industry giant.
India
In the past, India has been a world leader, but now the fourth largest producer. 95% of the country's iron ore come from Orissa, Chhattisgarh, Jharkhand, Madhya Pradesh, Goa, and Karnataka. The biggest deposits in the country are in Orissa state. In 2015, India produced 129 million tons which were similar to 2014 figures.
Russia
Russia
is the fifth largest producer, and in 2015 it produced 112 million tons of crude iron ore up from 102 million tons in 2014. Most of the county's iron ore is in Central Russia, and the rest come from Siberia and the Urals.
Processing and Uses of Iron Ore
Once iron ore goes through some processing, the molten steel obtained from the furnaces are passed through casters and transformed into slabs, billets, and blooms.They form the primary steel products which can be processed into various finished products using cold and hot rolling procedures. Usually, the slabs are rolled to form flat finished products, and the blooms are wrought to beams, girders, and many other structural shapes. The billets finally become rods and bars. Steel products have innumerable uses in a range of industries including construction, automotive, packaging and household appliances among many others.
Which Country Produces the Most Iron?
China is the world's largest producer of iron ore. The country accounts for 44% of the world's total output.
The Highest Iron Ore Producing Countries In The World
| Rank | Country | Iron Ore Production (in thousands of metric tons) |
| --- | --- | --- |
| 1 | China | 1,380,000 |
| 2 | Australia | 824,000 |
| 3 | Brazil | 428,000 |
| 4 | India | 129,000 |
| 5 | Russia | 112,000 |
| 6 | Ukraine | 68,000 |
| 7 | South Africa | 80,000 |
| 8 | United States | 43,000 |
| 9 | Canada | 39,000 |
| 10 | Sweden | 37,000 |
About the Author
Benjamin Elisha Sawe holds a Bachelor of Arts in Economics and Statistics and an MBA in Strategic Management. He is a frequent World Atlas contributor. 
This page was last updated on April 25, 2017.
Citations
Your MLA Citation
Your APA Citation
Your Chicago Citation
Your Harvard Citation
Remember to italicize the title of this article in your Harvard citation.