Economics
Top 20 Exporters Of Live Cattle
France, Canada, and Australia each exported live bovine animals valued at more than $1 Billion USD in 2015.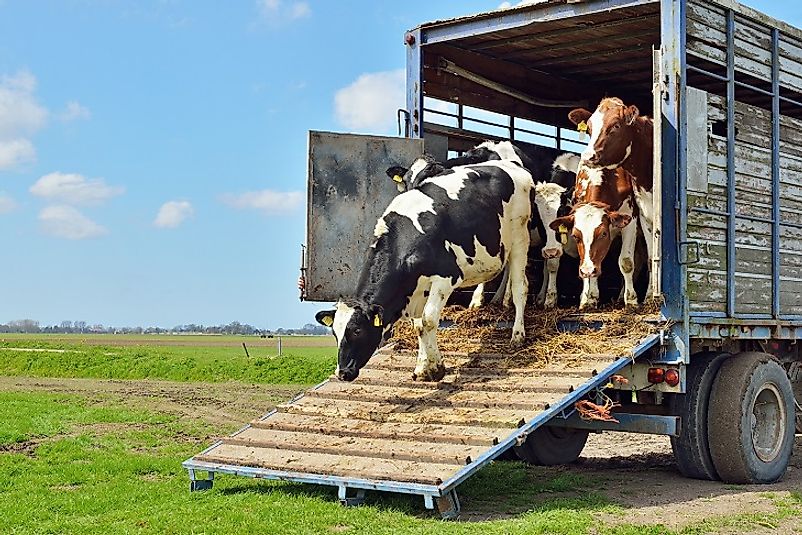 Globally, cattle are used for the production leather, meat, and milk, and for beast of labor purposes. For the improvement in the cattle industry, various cross breeds have been introduced so as to provide higher quality leather and other cattle-related materials. The live bovine cattle are provided with feed for getting them ready for the beef industry up until the time they gain a particular amount of weight and are ready for slaughter.
Export Markets of Top Countries Shipping Live Cattle
France, Canada, and Australia are topping the list among the leading exporters of live cattle to other parts of the world. The export value of these bovine animals for each of the country was more than $1 billion USD in the year 2015 that was higher than rest of the countries across the globe.
France
France exports 700,000 cattle annually to the countries like Turkey, Lebanon and 30,000 cattle sent to Tunisia, Algeria and Morocco. The cattle sent on long shipping journeys to these countries are reported to be dead as soon as they arrive in the respective countries. However, the nation made $1,514,382,000 as their export value in the year 2015, and this is due to the animals sent in large number for slaughter, breeding or the fattening process. However, these animals have to suffer extreme temperature, humidity, rough handling, and inadequate spaces for ventilation. The animals are deprived of proper amount of food, water, insufficient headroom is there, stress and fatigue are involved and in the worst cases, these animals are left to die. As soon as they arrive in their destined countries, there is no proper handling done and most of the animals are slaughtered when they are fully conscious.
Canada
Canada exports its live bovine animals for beef to other countries across the globe and its export increased to somewhere around 7% in export value and the tonnage. Shipments were also done of the beef products to USA that is 308,768 tons. Many companies provide shipment services of live cattle across the globe by sending them with expert handling and professional staff. The beef production is done in the countries after the cattle reach a specific weight before sending them to the slaughterhouse.
Australia
Australia on the other hand is the third largest exporter of cattle to the African, European, Middle East and Asian countries. The country has also emphasized on animal welfare during their shipment to other countries for slaughter or breeding purpose. Even the rules and regulations formed by the Australian government seek to send the trained professionals on voyage with animals whether by sea or air to take care of them. The report about handling of the animal in their destination and handing over the live cattle is given to the government.
Regulation of Live Cattle Exports
The governments of the leading countries that are involved in the export of livestock work to ensure animal welfare during their voyages, and their handling in the destination countries as well. The European Commission, American government, and Australian government have each set forth rules and regulations for this trade, and thus every country that trades with them in live cattle needs to abide by them.
Top 20 Exporting Countries Of Live Cattle
| Rank | Country | Live Bovine Animal Export Value, 2015 (USD) |
| --- | --- | --- |
| 1 | France | $1,514,382,000 |
| 2 | Canada | $1,374,217,000 |
| 3 | Australia | $1,034,256,000 |
| 4 | Mexico | $930,190,000 |
| 5 | Netherlands | $385,483,000 |
| 6 | Germany | $358,497,000 |
| 7 | Spain | $228,195,000 |
| 8 | Brazil | $210,601,000 |
| 9 | Czech Republic | $205,557,000 |
| 10 | Ethiopia | $174,831,000 |
| 11 | Romania | $140,398,000 |
| 12 | Uruguay | $135,402,000 |
| 13 | Hungary | $133,424,000 |
| 14 | Austria | $112,098,000 |
| 15 | Belgium | $108,798,000 |
| 16 | Ireland | $100,113,000 |
| 17 | United States | $98,698,000 |
| 18 | Slovakia | $77,348,000 |
| 19 | Namibia | $67,313,000 |
| 20 | Thailand | $63,438,000 |
This page was last updated on April 25, 2017.
Citations
Your MLA Citation
Your APA Citation
Your Chicago Citation
Your Harvard Citation
Remember to italicize the title of this article in your Harvard citation.