Top Countries For Aquaculture Production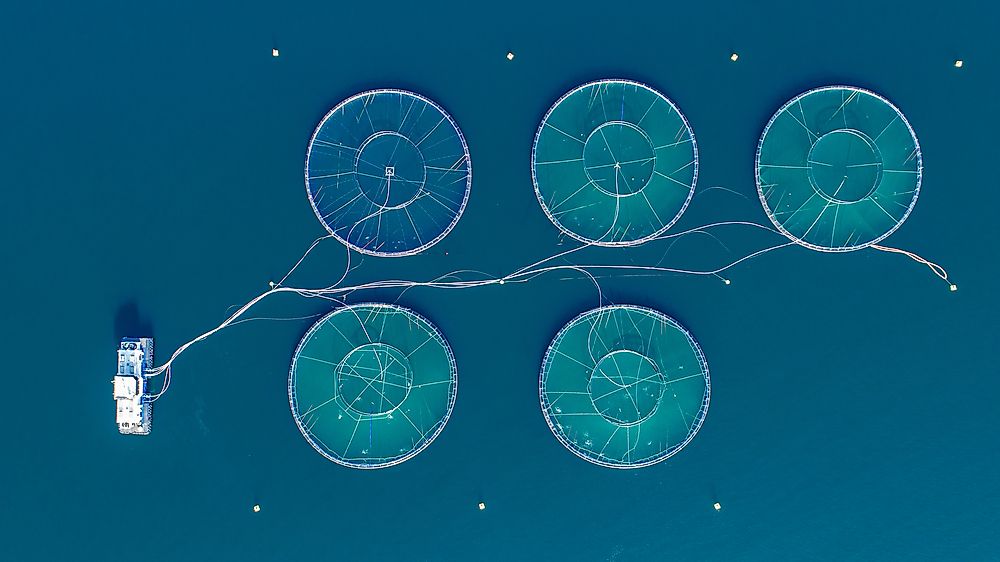 Aquaculture, or "aqua farming", is defined by the Food and Agriculture Organization (FAO) as the production of fish, crustaceans, mollusks, and marine plants, with these being in turn processed into products for human consumption, especially as seafood. The process involves the stocking, feeding, and protection of these aquatic flora and fauna. It has become very popular as a business and method, so much so that today about 50% of seafood produced is by aquaculture. The business has branched out to include algaculture, mariculture, shrimp farming, oyster farming, fish farming, and ornamental fish culture.
World's Largest Aquaculture Producers
China
China is the runaway leader when it comes to farming high value in addition to traditional aquatic flora and fauna for human consumption with 63.7 million metric tons produced. These aquatic animals are sold live as preferred by consumers in China.
Indonesia 
Indonesia produces about 16.6 million metric tons of aquaculture produce annually. About 28% of Indonesia's aquatic animal farming was integrated with rice-fish farming.
India
India produces 5.7 million metric tons of aquatic produce annually. India has not fully realized its potential as aquatic farming producer with only a small area of land resources used.
Vietnam
Vietnam has an output of about 3.6 million metric tons of aquaculture produce annually. Catfish and giant tiger prawn culture are the two main produce in Vietnam. The Philippines' annual output for its aquaculture industry is about 2.3 million metric tons. Milkfish and prawns still dominate the aquatic farming produce in the Philippines.
Bangladesh
Bangladesh puts out about 2.2 million metric tons of aquaculture produce annually. Shrimp culture leads aquaculture farming in Bangladesh.
South Korea
South Korea has an annual aquaculture produce of 1.9 million metric tons. Seaweed tops aquaculture farming followed by mollusks and fin fish in South Korea.
Egypt
Egypt has a yearly output of about 1.4 million metric tons of aquatic farming produce. The Nile Tilapia leads followed by mullet and carp in Egypt's fish farms.
Norway
Norway produces about 1.3 million metric tons of aquaculture produce annually. The Atlantic Salmon is the leading aquaculture produce in Norway today.
Japan
Japan's yearly output of its aquaculture is about 1.1 million metric tons of aquatic produce. It includes prawn, blue crab, fin fish, red sea bream, and shellfish.
Sentience and Animal Welfare
Many consumer groups have raised their concern about the way some fish farms have been raising fish and other aquatic animals for human consumption. The abuse of these animals have alerted animal welfare advocates who believe that animals, being sentient have abilities to feel pleasure and pain. As such, the overstocking, behavioral interactions, poor health states, and parasitism are of concern as these negative conditions affect the animals. Raising animals in negative environments results in weaker individuals prone to diseases which often die resulting in loss of profits for the business owner.
Top 15 Countries For Aquaculture Production
| Rank | Country | Aquaculture Production, Millions of Metric Tons |
| --- | --- | --- |
| 1 | China | 63.70 |
| 2 | Indonesia | 16.60 |
| 3 | India | 5.70 |
| 4 | Vietnam | 3.60 |
| 5 | Bangladesh | 2.20 |
| 6 | Philippines | 2.20 |
| 7 | South Korea | 1.90 |
| 8 | Egypt | 1.40 |
| 9 | Norway | 1.30 |
| 10 | Japan | 1.10 |