The Most Expensive Floods In The World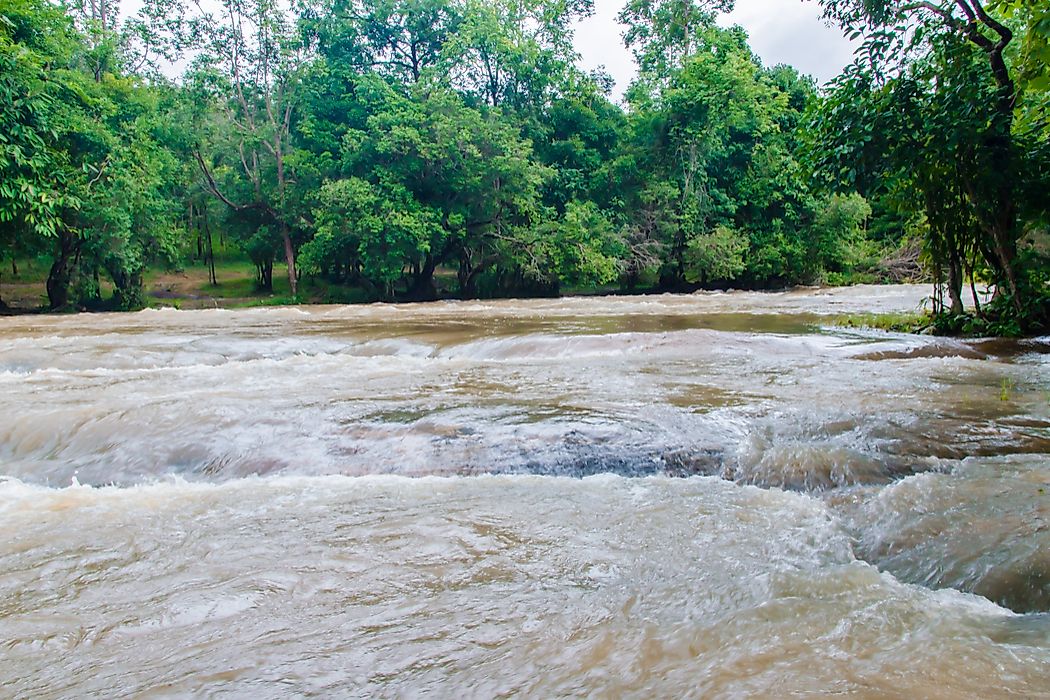 The incredible damage that floods can inflict is undeniable. Between 1900 and 2015, disastrous floods have seriously impacted local economies around the world. Some of the most devastating of these floods occurred in the southern and central regions of Asia–specifically in the populous nations China, Thailand, Korea and India. Statistically speaking, only two countries outside of Asia have suffered consequences from massive floods severe enough in nature to make it on our list of the 10 most economically devastating floods ever recorded.
The financial damage data, provided by The Center for Research on the Epidemiology of Disasters, put the German floods from May 28, 2013 at the sixth position in our chart due to the fact that its wrath inflicted $12.9 billion USD worth of damage to the economy there. Another, similar flooding event had taken place in Germany in 2002, with that deluge causing a total loss of $11.6 billion USD.
The other non-Asian country to make our list, suffering chart-worthy damages from two separate floods as well, is the United States. After a major U.S. flood in 1993, the funds necessary to repair all property and return the region back to normal totaled $12 billion USD. Another U.S. flood in 2008 caused damages worth $10 billion USD.
The Most Devastating Floods and Their Economic Impact
While these numbers from Germany and America may sound incredibly high, it is in fact Thailand that's been hit the hardest financially by the devastating power of rising waters. On August 5, 2011, the landfall of the Nock-Ten tropical storm hit the areas around the country's Chao Phraya and Mekong river basins. Even the capital city of Bangkok was left with severe damage after the torrential rainfall that lasted nearly half a year. According to World Bank data, the estimated economic damage was about $45 billion USD.
On an international scale, this was the fourth costliest natural disaster of any form ever recorded. Only three others surpass it – the 2011 Tohoku earthquake in Japan, the 1995 Kobe earthquake and Hurricane Katrina that hit the States in 2005.
Significant Damage in China
The second and third most devastating floods have both occurred in China, hitting the country very hard both in terms of destroying infrastructure and straining financial resources. During a flood that occurred on July 1, 1998, China spent more than $30 billion USD on healthcare, repairs, new housing and governmental costs for real estate restorations directly related to the flood.
The second-worst flood in China occurred in 2010. On May 29th of that year the country was once again struck by the wrath of the clouds. According to official data, 392 people died and about 232 were reported as missing during the flood. Regardless of how low such casualty numbers may appear amidst a population of far more than a billion, official reports say that the flood had a negative impact on more than 134 million people.
Several additional floods have affected China, though their economic impacts were much lesser in comparison to what the two aforementioned floods exacted upon China. One such flood occurring in 1996 cost China $12.6 billion USD, and affected more than 154 million people in some form.
More sobering than monetary losses, China is also a country that has suffered more casualties due to floods than any other. A single flood taking place in 1931 took the lives of 3.7 million victims. Another flood that occurred in 1959 was responsible for the deaths of approximately two million people more.
The three Chinese floods that have made our list have combined to cause financial damages totaling more than $60 billion USD, making the country one of the most severely affected by natural disasters in modern times
Impact of Floods
Natural hazards are all capable of causing severely negative consequences. Of all such occurrences, however, floods happen to be the ones that lead to the greatest number of deaths. According to a World Disasters Report, 44 percent of the deaths caused by natural hazards in 2013 could be attributed to floods. The financial cost of these natural disasters isn't to be scoffed at either. Third world countries and developing economies happen to be more vulnerable to begin with, since a bigger number of buildings is concentrated in vulnerable regions. Sadly, many of the most damaging flooding events have taken place in such places. Climate change is also having an impact on the statistics and, unfortunately, experts predict that the flooding situation is going to become worse in years to come unless countermeasures are introduced to turn back the tide on climatic changes resulting from human activities.
The Most Expensive Floods In The World
| Rank | Flood | Economic Damage (in billion U.S. dollars) |
| --- | --- | --- |
| 1 | Thailand, (Aug 5, 2011) | 40.0 |
| 2 | China, (July 1, 1998) | 30.0 |
| 3 | China, (May 29, 2010) | 18.0 |
| 4 | India, (September, 2014) | 16.0 |
| 5 | Korea Dem P Rep, (August 1, 1995) | 15.0 |
| 6 | Germany, (May 28, 2013) | 12.9 |
| 7 | China, (June 30, 1996) | 12.6 |
| 8 | U.S., (June 24, 1993) | 12.0 |
| 9 | Germany, (August 11, 2002) | 11.6 |
| 10 | U.S., (June 9, 2008) | 10.0 |