Praia do Cassino Beach, Brazil - Unique Places around the World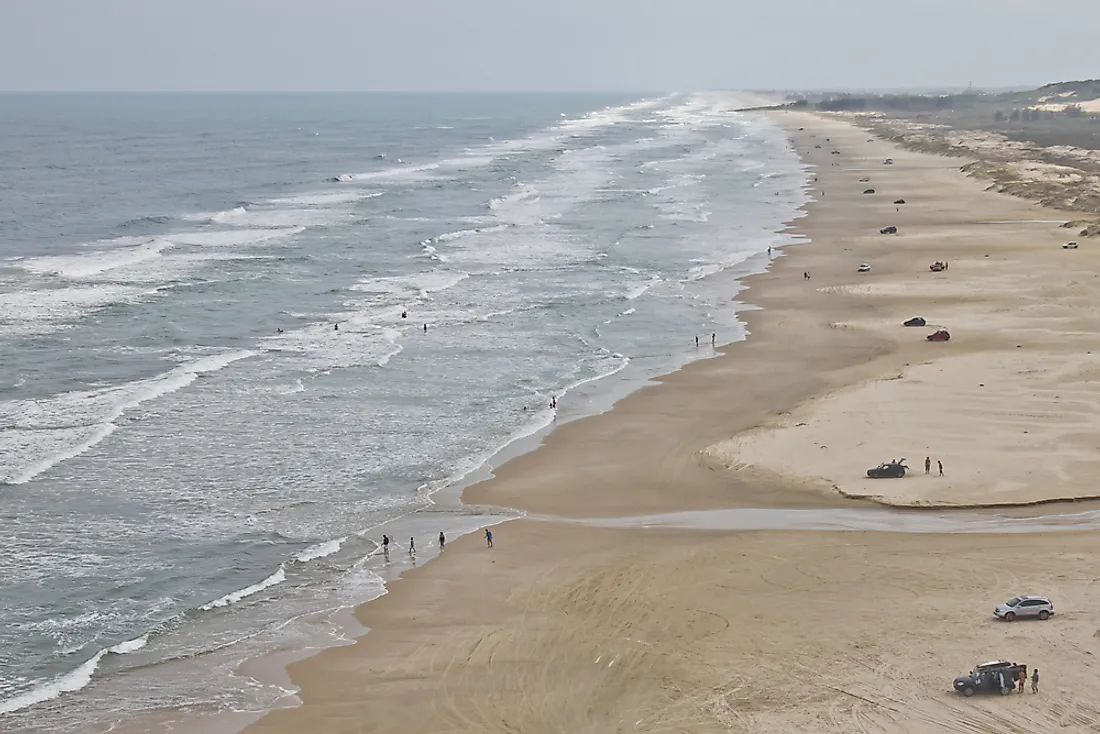 5. Description
According to the Guinness Book of Records, Praia do Cassino is the world's longest beach . It is to be found along the coast of Brazil, specifically that of the state of Rio Grande do Sul. The name is in Portuguese, and means "Casino Beach" when translated into English. This beach is so long that it is known to span the length between the seaport of Rio Grande all the way down to the Chui Stream, which is considered the final stretch of the Brazilian border before it runs into Uruguay. People on vacation who are looking to spend warmer days at the Praia do Cassino are better off visiting it during the month of December to January, when it is at its warmest and sunniest. July is its coldest month, although this month is still relatively hot due to Rio Grande do Sul's humid subtropical climate.
4. Tourism
Praia do Cassino entertains about 150,000 guests per year on its 152-mile-long coastline. It is roughly a 15 mile road trip from Rio Grande, Brazil's oldest and most important port city of the south. From Porto Alegre, however, the beach is a good 207 mile distance by car. There isn't a shortage of exciting water activities that can be had at this destination, especially since it is easily accessible by plane from the Rio Grande Airport, which is itself around 9 miles from downtown Rio Grande.
3. Uniqueness
Praia do Cassino is a popular tourist destination, especially for fun loving people who enjoy surfing, diving, and sailing during the hot summer months. Those wanting to get away from the Northern Hemisphere's cold winter season in December and January often find the place an ideal vacation spot since its quite hot there all year round. Snorkeling is another popular activity along the world's largest beach. Snorkelers can enjoy its interesting collection of diverse marine animals. Meanwhile, all visitors will find the local people friendly, as they are seemingly always ready to welcome guests with a warm smile and a particular brand of Brazilian hospitality. The seafront view is a spectacular sight to behold, and the migratory birds that can be observed only enhance the view more still. A 1975 shipwreck can be found in the coastal waters, and this is where many of the world's coolest beach bars are also located.
2. Habitat
Praia do Cassino is home to a large number of sea lions which can be viewed via guided boat trips. Varying species of vegetation may also be found along its many coastal sand dunes, which serve to protect organisms from the harsh conditions of the ocean. These areas are where such species as tuco-tuco (a small rodent), insects, lizards, frogs, and snakes feed and breed, along with sand fixing plants like the catiporagua.
1. Threats
Several conservation projects have been put in place by the Brazilian government in order to preserve the natural resources found in and around Praia do Cassino. Although Rio Grande warmly welcomes the thousands of tourists visiting its beaches every year, they are also concerned about the negative impact that the increased traffic can have on the native flora and fauna of the region. Consequently, specific legislation has declared the sand dunes as preserved areas, an action meant to protect the natural habitat of the organisms thriving there. Other concerns that currently threaten Praia do Cassino and its environment are unplanned urbanization, improper garbage disposal, and excessive removal of the beach's pristine white sands.