The Eight-Thousanders Of The Himalayas And The Karakoram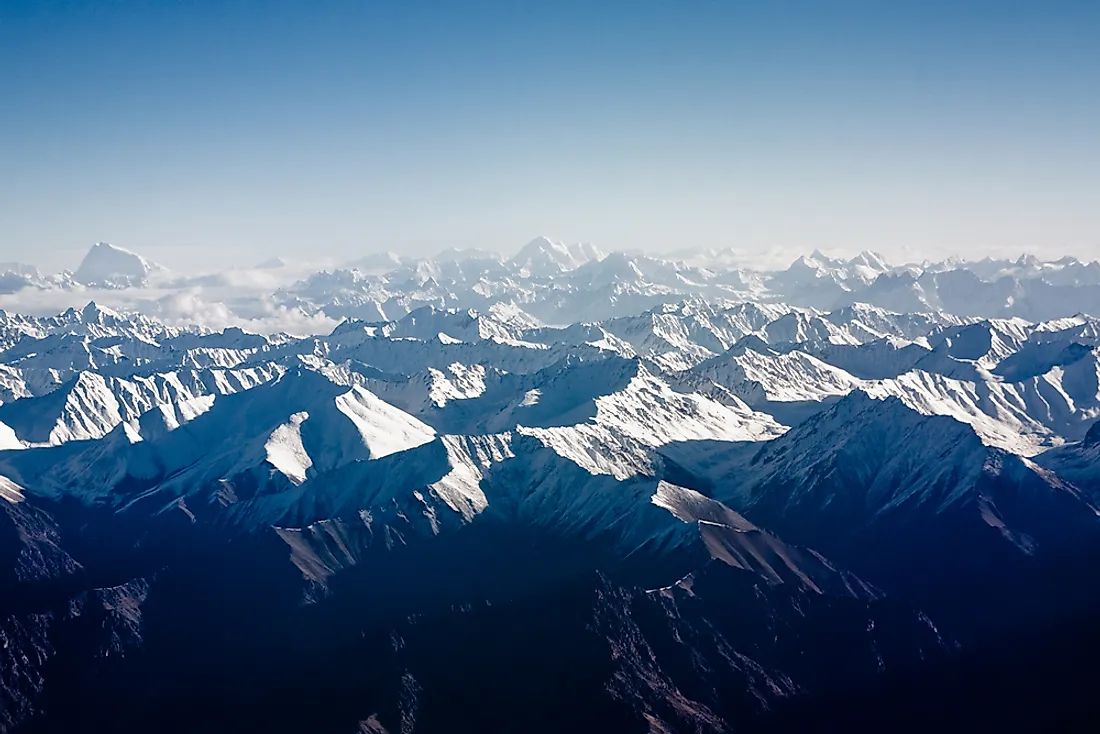 The eight-thousanders are a group of 14 mountains whose peaks rise 26,247 feet above sea level in the death zone. These mountains are independent of each other and are in the Karakoram Range and the Himalayas. The death zone on a mountain is the altitude above 26,247 feet where there is not enough oxygen for humans to breathe. This low oxygen concentration would make a person lose consciousness and die from lack of breath. A majority of mountain climbers choose to avoid this condition by bringing a cylinder of oxygen, but only a few brave mountaineers have succeeded in reaching summits above the death zone without the aid of oxygen cylinders.
The Eight-Thousanders
All of the 14 eight-thousander peaks can be climbed individually in the Himalayas and the Karakoram mountain ranges. The successful verified most climbs of the 14 peaks are claimed by Italy (5 climbers), South Korea (5 climbers), and Spain (4 climbers). First and highest peak in the 14 eight-thousanders is Mount Everest at 29,029 ft in Nepal and China border. Ascents (5656). Deaths (223). Mount K2 is second highest at 28,251 ft in Pakistan and China border. Ascents (306). Deaths (81). Mount Kangchenjunga is third highest at 28,169 ft in Nepal and India border. Ascents (283). Deaths (40). Lhotse is fourth at 27,940 ft in Nepal and China border. Ascents (461). Deaths (13). Makalu is fifth at 27,838 ft in Nepal and China border. Ascents (361). Deaths (31). Cho Oyu is sixth at 26,906 ft in Nepal and China border. Ascents (3138). Deaths (44). Dhaulagiri I is seventh at 26,795 ft in Nepal. Ascents (448). Deaths (69). Manaslu]is eighth at 26,781 ft in Nepal. Ascents (661). Deaths (65). Nanga Parbat is ninth at 26,660 ft in Pakistan. Ascents (335). Deaths (68). Annapurna I is tenth at 26,545 ft in Nepal. Ascents (191). Deaths (61). Gasherbrum I (Hidden Peak) is eleventh at 26,444 ft in Pakistan and China border. Ascents (334). Deaths (29). Broad Peak is twelfth at 26,414 ft in Pakistan and China border. Ascents (404). Deaths (21). Gasherbrum II is thirteenth at 26,362 ft in Pakistan and China border. Ascents (930). Deaths (21). Shishapangma is fourteenth at 26,335 ft in China. Ascents (302). Deaths (25).
Significance Of The Eight-Thousanders
The eight-thousanders peaks in the Himalayas are a major influence on the weather and climate in the Indian subcontinent. The high altitude and span of the Himalayas act as a defense barrier from other nations. It also allows the summer monsoons to bring rain and snow into the region that nurtures the region's climate suitable for the agriculture. Agricultural slopes are terraced for crop cultivation. The glaciers and snow melts from the mountains contribute to the watersheds and rivers of the region. Hydroelectric dams are made possible by the strong river water currents that help in the energy needs of the region. The Himalayas contain huge forest lands that are home to flora and fauna. It also encompasses large tracts of land that are grazing areas for cattle. Tourism has also increased in the form of winter sports. The mountain climbing season also attracts thousands of tourist mountaineers each year.
The Eight-Thousanders Of The Himalayas And The Karakoram
| Rank | Peak | Height | Location | Ascents | Deaths |
| --- | --- | --- | --- | --- | --- |
| 1 | Everest | 8848 m 29,029 ft | Nepal China | 5656 | 223 |
| 2 | K2 | 8611 m 28,251 ft | Pakistan China | 306 | 81 |
| 3 | Kangchenjunga | 8586 m 28,169 ft | Nepal India | 283 | 40 |
| 4 | Lhotse | 8516 m 27,940 ft | Nepal China | 461 | 13 |
| 5 | Makalu | 8485 m 27,838 ft | Nepal China | 361 | 31 |
| 6 | Cho Oyu | 8201 m 26,906 ft | Nepal China | 3138 | 44 |
| 7 | Dhaulagiri I | 8167 m 26,795 ft | Nepal | 448 | 69 |
| 8 | Manaslu | 8163 m 26,781 ft | Nepal | 661 | 65 |
| 9 | Nanga Parbat | 8126 m 26,660 ft | Pakistan | 335 | 68 |
| 10 | Annapurna I | 8091 m 26,545 ft | Nepal | 191 | 61 |
| 11 | Gasherbrum I (Hidden Peak) | 8080 m 26,444 ft | Pakistan China | 334 | 29 |
| 12 | Broad Peak | 8051 m 26,414 ft | Pakistan China | 404 | 21 |
| 13 | Gasherbrum II | 8035 m 26,362 ft | Pakistan China | 930 | 21 |
| 14 | Shishapangma | 8027 m 26,335 ft | China | 302 | 25 |