Society
Biggest Cities In Antigua and Barbuda
Saint John's is the capital and most populous city of Antigua and Barbuda, as well as an important commercial center and Caribbean port.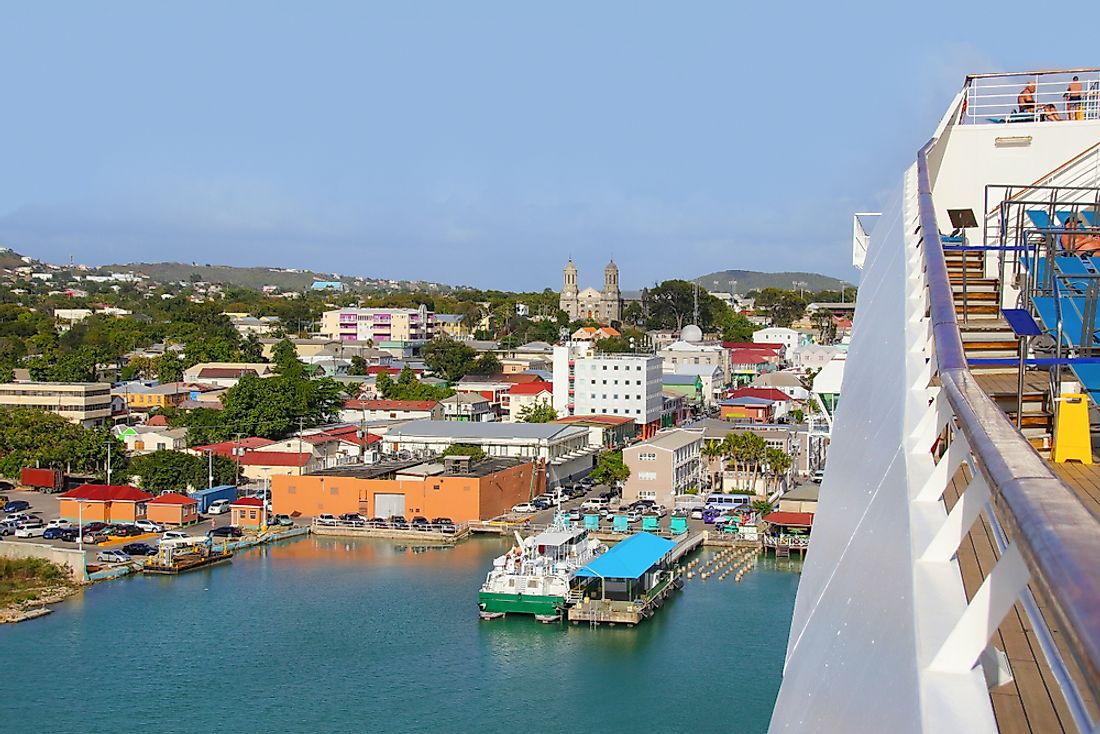 Antigua and Barbuda is an island nation that consists of 2 large islands and several smaller ones. It is located in the Caribbean Sea and is considered part of the Lesser Antilles. This country has a total land area of 170 square miles and is home to a population of 91,295. Below is a look at the most populated cities in Antigua and Barbuda.
Most Populated Cities In Antigua and Barbuda
St. John's
St. John's is the most populated city in Antigua and Barbuda as well as the capital and primary economic center of the country. It has a population of 22,634. The racial demographics of this population mainly consist of people of African or mixed African-European descent.
This city has played an important role in the country since it was first colonized in 1632. From colonization to independence, St. John's was the administrative center. After independence, it became the government center. The economy of this city relies on tourism, retail, rum production, and investment banking. Tourists stay in the many resorts throughout the city or visit while their cruise ship is docked in the harbor. Additionally, several global financial headquarters are located here.
All Saints
All Saints is the second most populated city in this country with a population of 3,412. It is located in a more centralized area of Antigua Island, just 5 miles from St. John's. This city is home to the island's first large sugarcane plantation, which was established in 1674. It has since been reduced to two stone mills and remnants of a stillhouse. The government has made it into an open-air museum in an attempt to preserve its history and to provide an additional tourist destination.
Liberta
The third most populated city in Antigua and Barbuda is Liberta. This city has a population of 2,239. This urban area is located relatively close to All Saints. Liberta gets its name after "liberty" which is in recognition of the town's history. Shortly after slavery was abolished, a group of freed men and women were able to purchase land from a local estate owner. These individuals and their descendants helped create the town as it is today.
A chart with additional urban areas of Antigua and Barbuda can be found below.
Environmental Issues In Antigua and Barbuda
Although known as a tropical paradise and popular tourist destination, the country of Antigua and Barbuda has some significant environmental problems. The biggest of these concerns is with water management. These islands experience an increasing shortage of freshwater. The water that is currently available has been contaminated by a number of human activities including food manufacturing facilities, rum distilleries, and other development and industrial endeavors. Untreated sewage is sent from resorts located in cities through open sewage lines and out into the sea. As the water supply becomes more polluted, the country is also experiencing increased drought and decreased precipitation as a result of climate change. Deforestation to make room for urban housing and agriculture has also damaged the environment on these islands and increased the risk of erosion. The government has made an effort, however, to protect some of the land here. These protected areas are the North Sound islands and Codrington Laguna. Several endangered species can be found here, including 11 fish species, 2 bird species, 4 plant species, and 5 reptile species.
The Biggest Cities In Antigua and Barbuda
| Rank | City | Population |
| --- | --- | --- |
| 1 | Saint John's | 22,634 |
| 2 | All Saints | 3,412 |
| 3 | Liberta | 2,239 |
| 4 | Potter's Village | 2,067 |
| 5 | Bolans | 1,785 |
| 6 | Swetes | 1,573 |
| 7 | Seaview Farm | 1,486 |
| 8 | Pigotts | 1,363 |
| 9 | Codrington | 1,325 |
| 10 | Parham | 1,276 |
About the Author
Amber is a freelance writer, English as a foreign language teacher, and Spanish-English translator. She lives with her husband and 3 cats.
This page was last updated on September 16, 2019.
Citations
Your MLA Citation
Your APA Citation
Your Chicago Citation
Your Harvard Citation
Remember to italicize the title of this article in your Harvard citation.