Society
Tallest Buildings In Miami
The tallest building in Miami at 789 feet in height, the Four Seasons Hotel Miami hosts a hotel, luxury condominiums, and office spaces.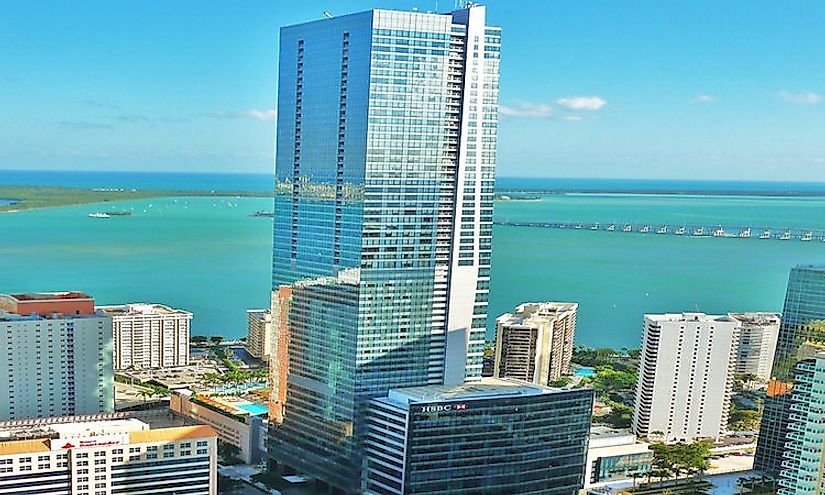 Miami is an international city and a seaport in the state of Florida, US. The city is one of the major centers for finance, trade, culture, media, and entertainment. The good air quality, business opportunity, clean social amenities and the wide recycling programs make Miami one of the best cities in the world to live. The architectural designs of the city present some of the greatest skyscrapers of the modern time. Miami has a total of 210 skyscrapers especially along the Brickell Avenue which houses several international companies. Some of the tallest buildings in Miami include.
1. Four Seasons Hotel Miami
Four Seasons Hotel Miami is the tallest skyscraper in Miami and is situated in Downtown Miami's Brickell Financial District. The tower is 789 feet with 64 floors housing several office spaces, Four Seasons Hotel Property, and residential units. The planning of the tower was done by Gary Edward Handel and Associates and Bermllo Ajamil and Partners with its construction beginning in the year 2000. The building, which was constructed with thick steel reinforcement and silica-fume concrete, was completed in 2003 at the cost of US $379 million. Four Seasons tower covers an average area of 1.8 square feet and is constructed in a manner that it can tolerate hurricane-force wind or abrupt natural disasters like flooding.
2. Southeast Financial Center
Southeast Financial Center consists of 765 feet tall skyscraper and a 15 storied parking garage. The tower is the tallest office tower and ranks second among the tallest buildings in Miami. The construction of the 55 floor Southeast Financial Center began on December 12, 1981, and was completed on October 24, 1984, with more than 500 workers taking part in its construction. The parking annex has a capacity of holding up to 1,500 cars while the main story is home to clients such as Merrill Lynch, Goldman Sach, White & Case, DLA Piper, and Wells Fargo among other clients. Southeast Financial Center is currently managed by Jones Lang LaSalle.
3. Marquis
Marquis is located in the northeastern Downtown, Miami. The tower is 679 feet tall and comprises of 63 floors, and it is located across from the Museum Park on Biscayne Boulevard. The first three floors are mainly used for retail, floors 5 to 14 are used as parking lots, and rest of the floors used as residential units. The construction of Marquis Tower began in 2006 and was completed in 2009. The tower has a total of 306 units measuring 1,600 to 1,700 square feet. Some of the units have been put up for sale while the majority of the units have been rented out.
4. Wells Fargo Center
Wells Fargo Center, formerly referred to as the Met 2 Financial Center, is located in Miami's Central Business District. The construction of the 655 feet tower began in 2006 and was completed in 2009. Wells Fargo Center has a total of 47 floors, and it became famous because of the involvement of the NBA star, Shaquille O'Neal, in its construction. Wells Fargo Center, owned by MetLife, has several tenants including McDermott, Deloitte, SilverSeas Cruises, and GreyRobinson among other prominent tenants.
5. 900 Biscayne Bay
900 Biscayne Bay, ranking 5th among the tallest buildings in Miami, is located in the northeastern Downtown along Biscayne Boulevard. The tower, which has 63 floors, and is 650 feet, was constructed from 2005 to 2008, and it is currently an all-residential building in the city of Miami. 900 Biscayne Bay has a total of 516 residential condominiums and 800 parking spaces. The bottom three of the tower houses several restaurants, shops, and outdoor café.
Tallest Buildings In Miami
| Rank | Name | Hieght (in feet) | Year Of Completion |
| --- | --- | --- | --- |
| 1 | Four Seasons Hotel Miami | 789 | 2003 |
| 2 | Southeast Financial Center | 764 | 1984 |
| 3 | Marquis | 679 | 2009 |
| 4 | Wells Fargo Center | 655 | 2010 |
| 5 | 900 Biscayne Bay | 650 | 2008 |
| 6 | Mint at Riverfront | 631 | 2008 |
| 7 | Infinity at Brickell | 630 | 2008 |
| 8 | Miami Tower | 625 | 1986 |
| 9 | Marinablue | 615 | 2007 |
| 10 | Plaza on Brickell Tower I | 610 | 2007 |
About the Author
John Misachi is a seasoned writer with 5+ years of experience. His favorite topics include finance, history, geography, agriculture, legal, and sports. 
This page was last updated on April 25, 2017.
Citations
Your MLA Citation
Your APA Citation
Your Chicago Citation
Your Harvard Citation
Remember to italicize the title of this article in your Harvard citation.