The land down under is replete with natural wonders, breathtaking landscapes, and unique rock formations. It is home to some of the Earth's oldest rock structures dating more than 3000 million years old as well as zircon crystals that are more than 4400 years old. Scientists believe that these rock formations evolved soon after the planet was formed. Aside from the famous Uluru and Twelve Apostles, the country is also home to several other magnificent geographical wonders.
Here's a list of the most awe-inspiring ones you can find in the planet's sixth-largest country.
10. Murphy's Haystack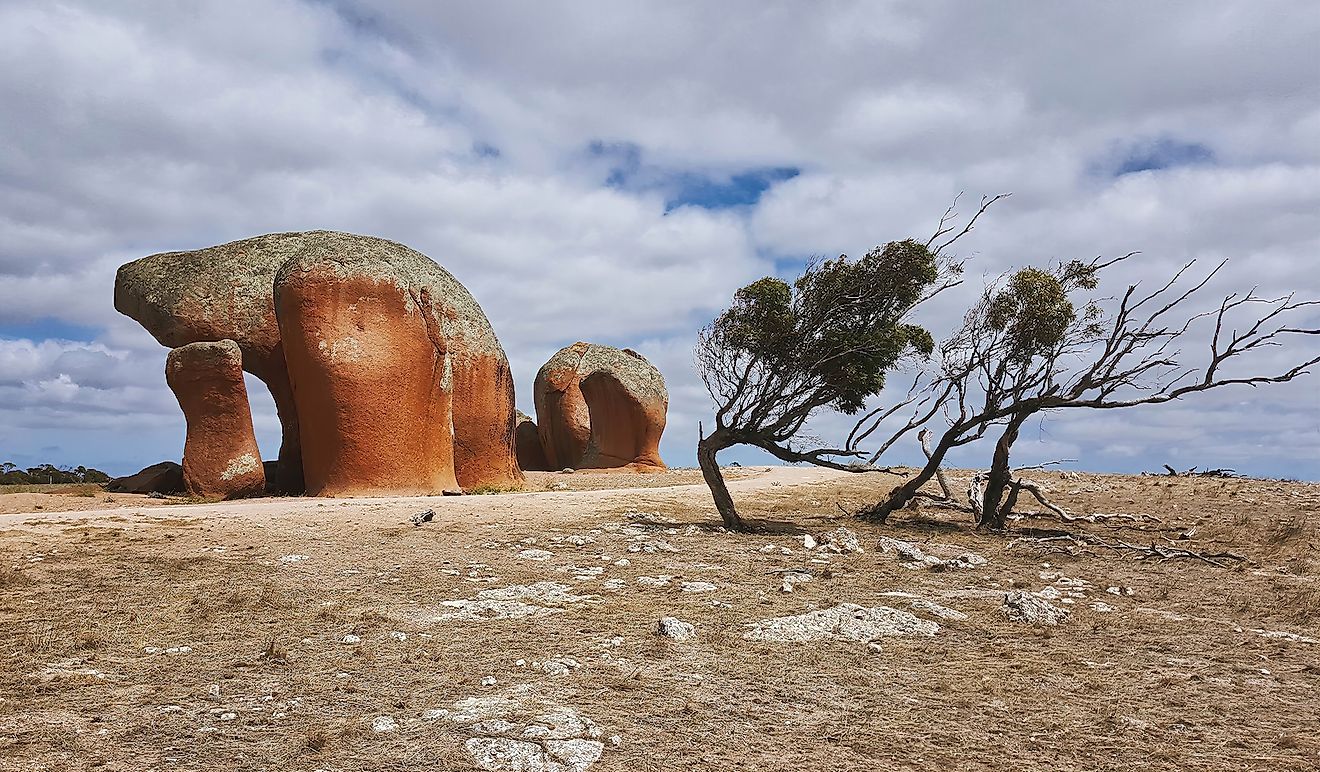 These quirky-looking natural wonders located in Mortana in South Australia are a group of ancient rocks made of pink granite. The rocks look wind-worn, sitting on top of a hill. Scientists believe they are around 1600 million years old and came as a result of thousands of years of erosion. They survived because the area they sit on is tectonically inactive, which means they weren't affected by the movement of tectonic plates (earthquakes). Hence, they have managed to stay intact for that long.
9. Wave Rock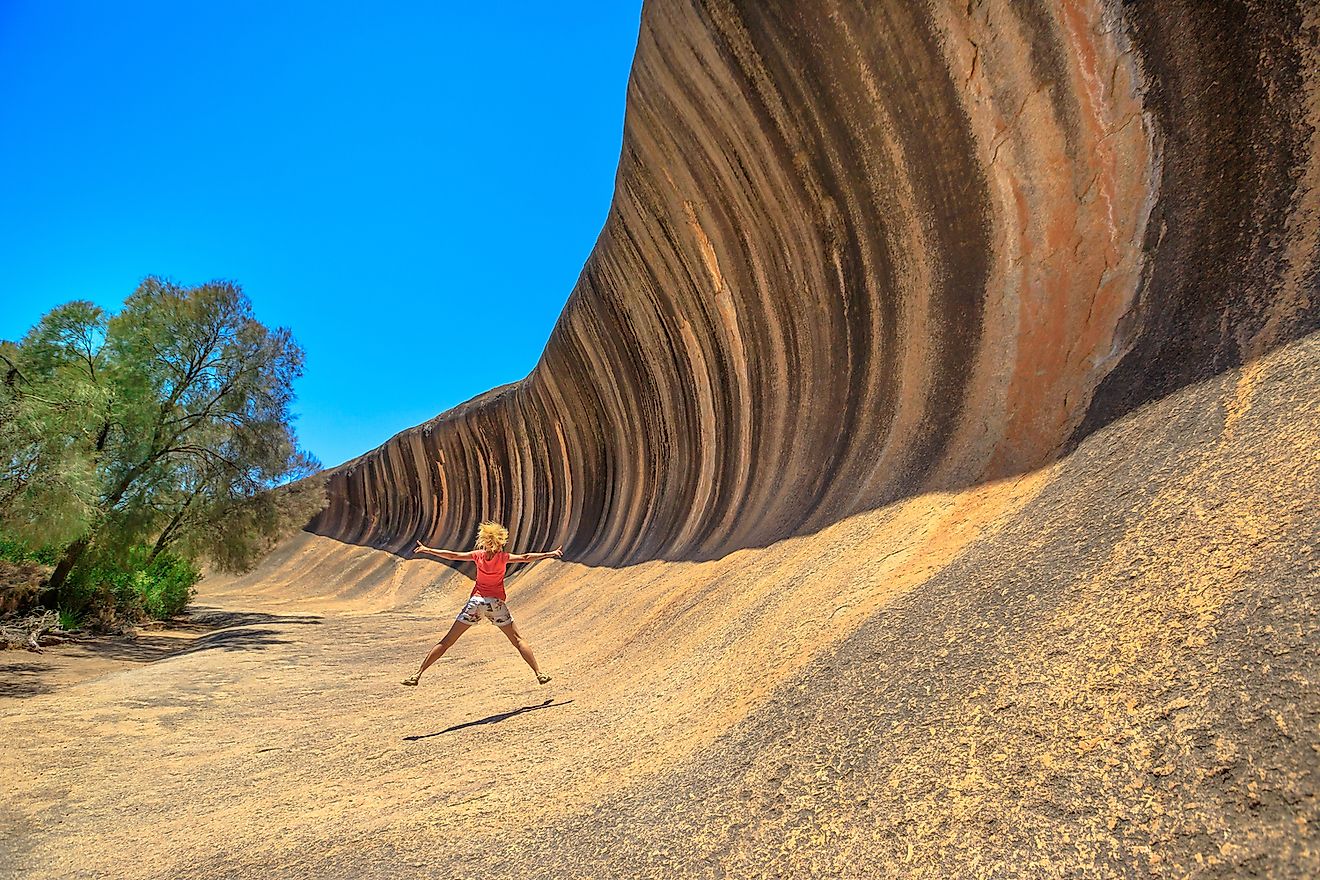 Located near Perth, Western Australia, this magnificent rock formation is among the most stunning in the world. It stands 15 meters high and around 100 meters long. Because of its curved shape, it looks like a giant wave from afar, but upon closer inspection, you'll see the coarse-grained porphyritic granite that makes up the giant wave. It is believed to have been formed 2700 million years ago, yes, long before the dinosaurs roamed the Earth.
8. Karlu Karlu Devil's Marble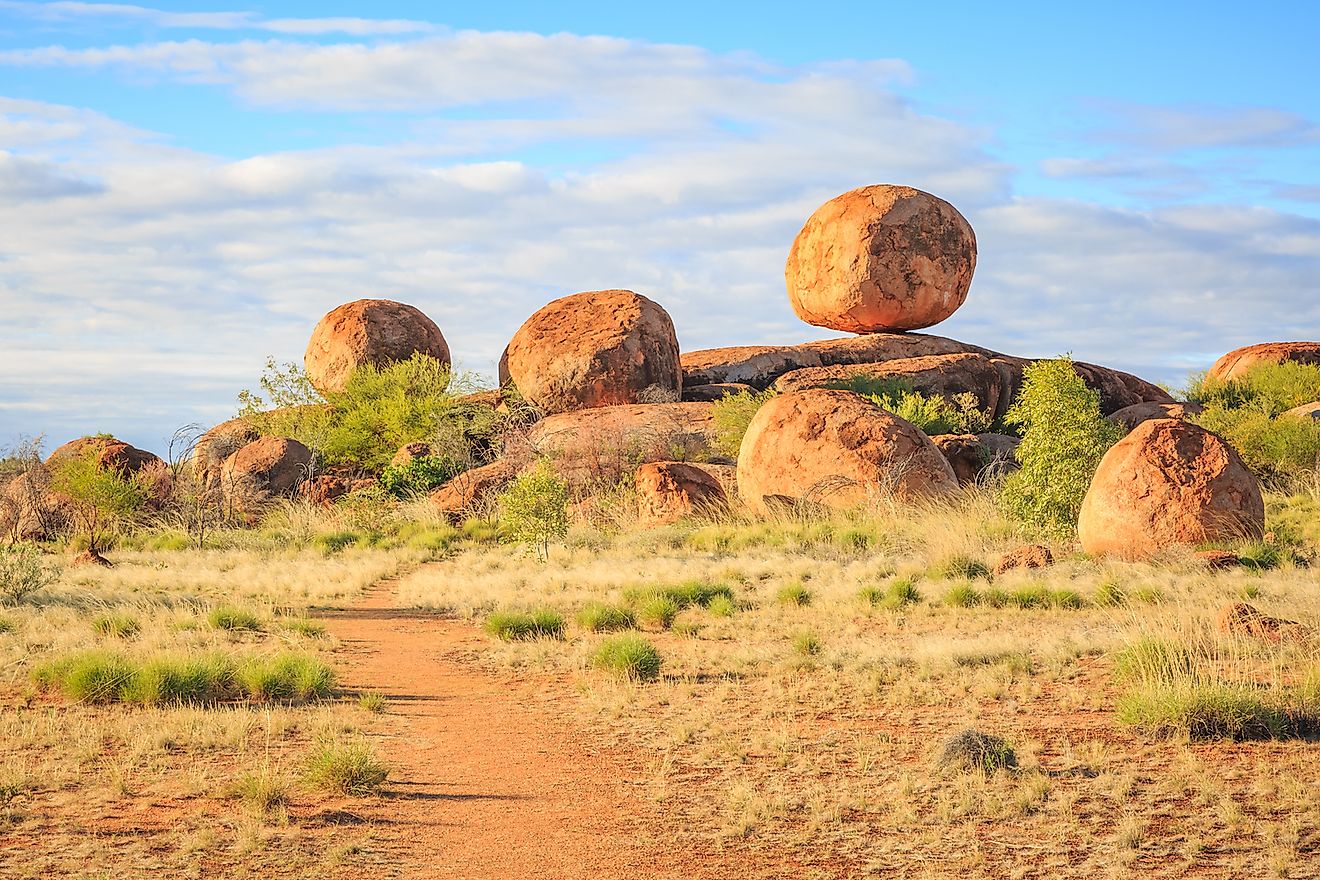 The Devil's marbles are known as 'karlu-karlu' in the local Aboriginal language. The Warumungu aboriginal people believe that these giant boulders are fossilized eggs of the Rainbow Serpent (the Aboriginal representation of the creator). Formed through 50 years of erosion the area where the boulders stand is a sacred site and as such are protected under the Northern Territory Aboriginal Sacred Sites Act. It is accessible to the public albeit with a few restrictions.
7. Kata Tjuta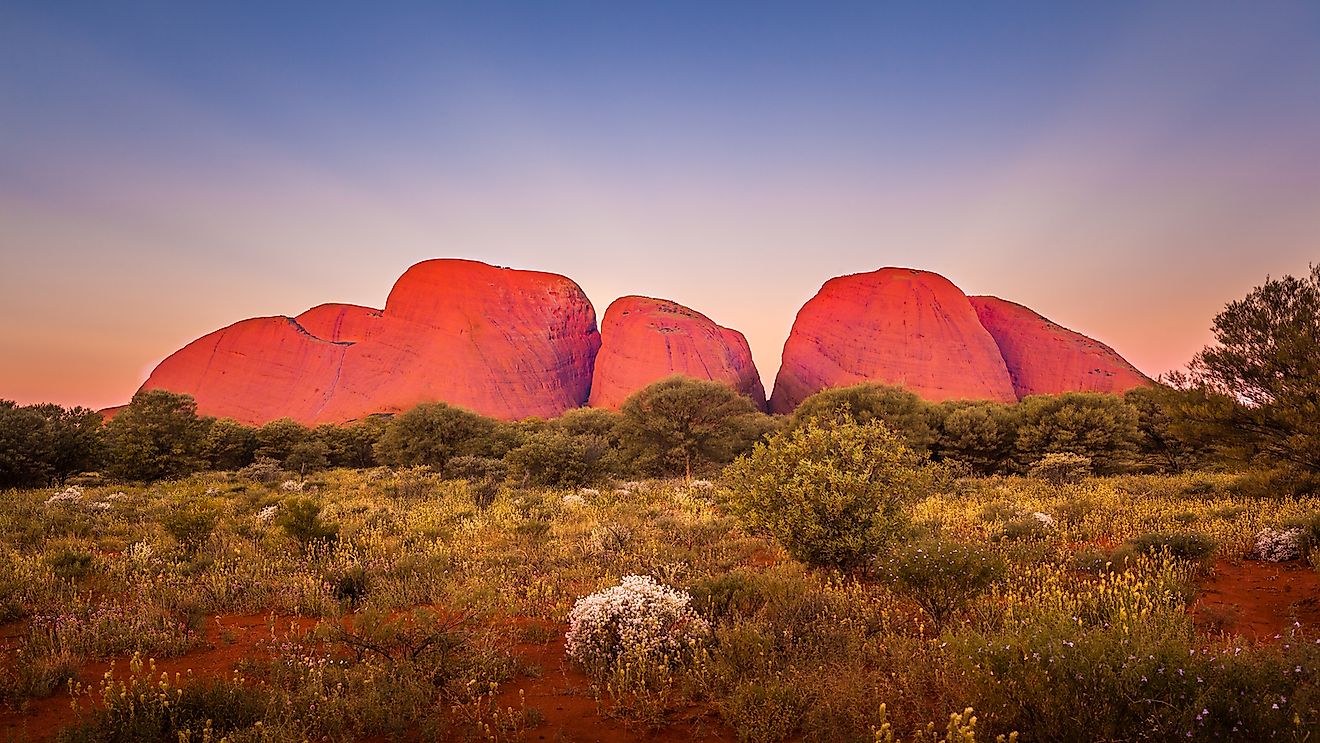 Aptly named Kata Tjuta which in Pitjantjatjara term means 'many heads', this natural wonder is composed of 36 giant domes covering 20 square kilometers. They stand 546 meters above the ground and are located 40 km away from the famous Uluru. The ochre-colored domes seem to glow at sunrise and sunset which makes it a sight to see. They are considered sacred to the Aboriginal Anangu people who have lived in the area for 22,000 years.
6. Wilpena Pound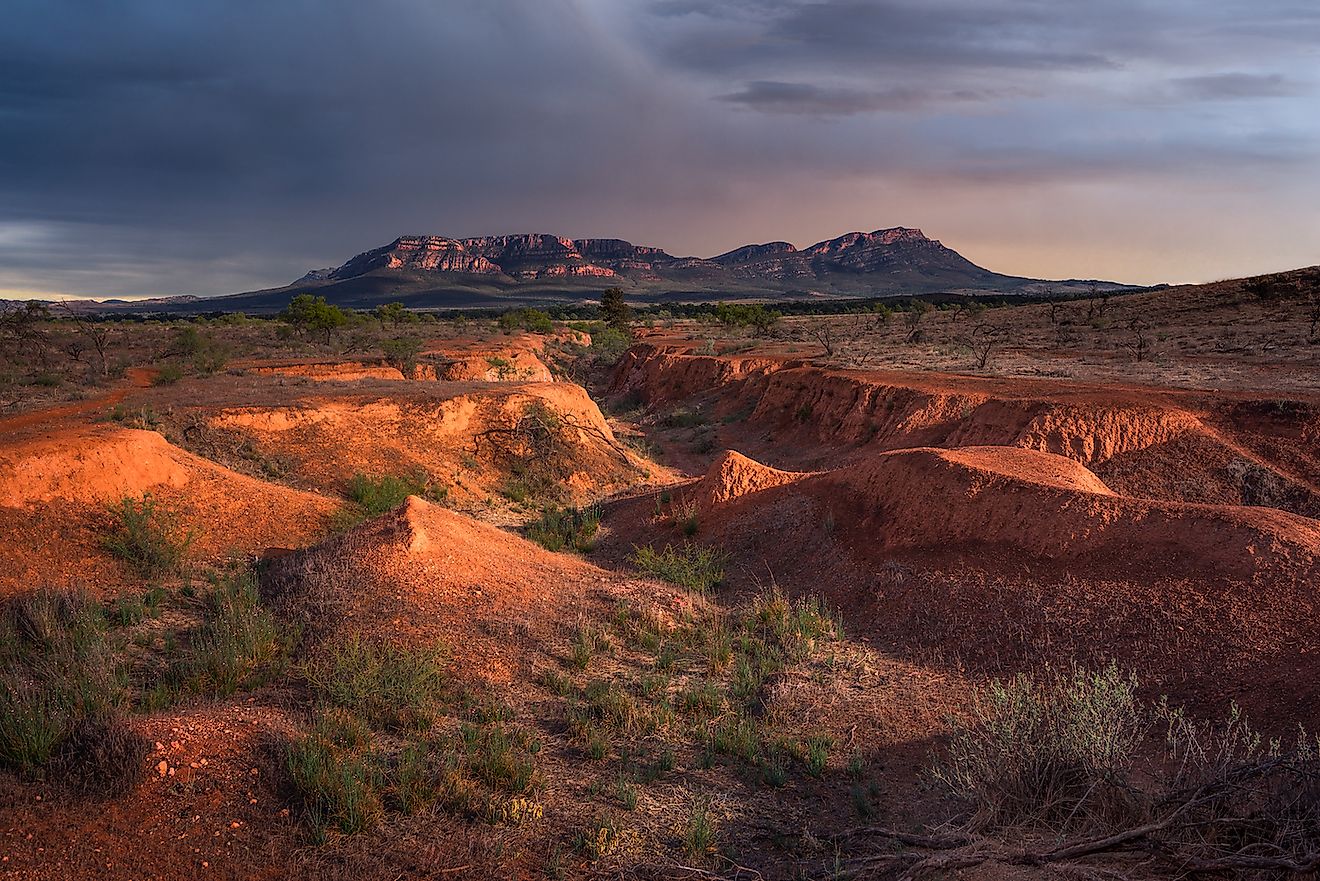 Wilpena Pound is a natural amphitheater-looking group of mountains located within the Flinders Ranges National Park, in South Australia. It stretches 17 kilometers and stands eight kilometers covering an area of 8960 hectares. It has a distinct sunken amphitheater in the middle that looks like the site of a colossal meteor crash millions of years ago. From the ground, it looks like a typical mountain range, but from the top, it looks like a giant natural bowl.
5. Gunlom Rock Pools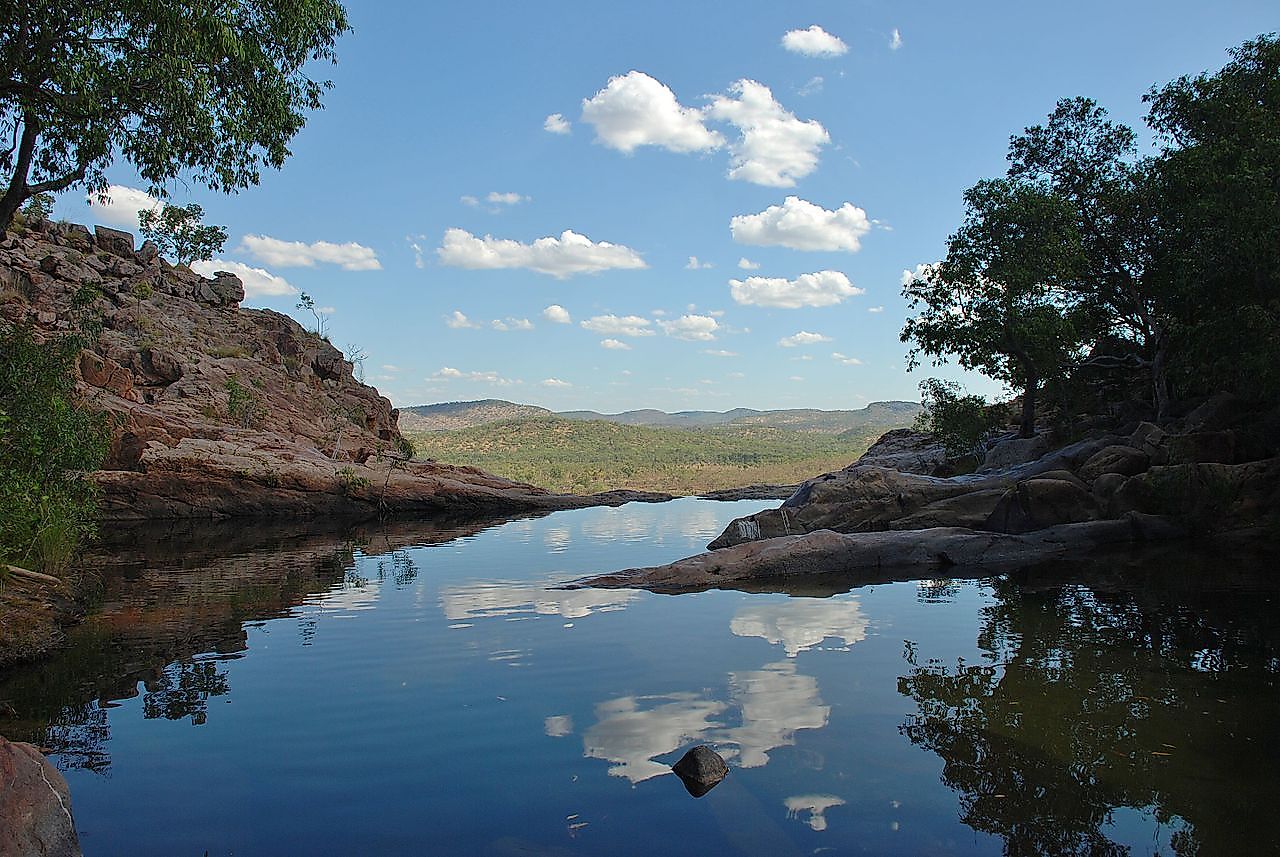 Located in Australia's Northern Territory, Gunlom Rock Pools is a magical-looking natural site within the Kakadu National Park. These natural wonders are composed of a gorgeous emerald pool resting at the foot of a waterfall, nestled between beautiful rock formations and a crystal-clear pool at the top of the cliff. Considered a popular swimming spot, it offers one of the best natural infinity pools in Australia that affords an unobstructed view of the magnificent Kakadu woodland.
4. Chilagoe-Mungan Caves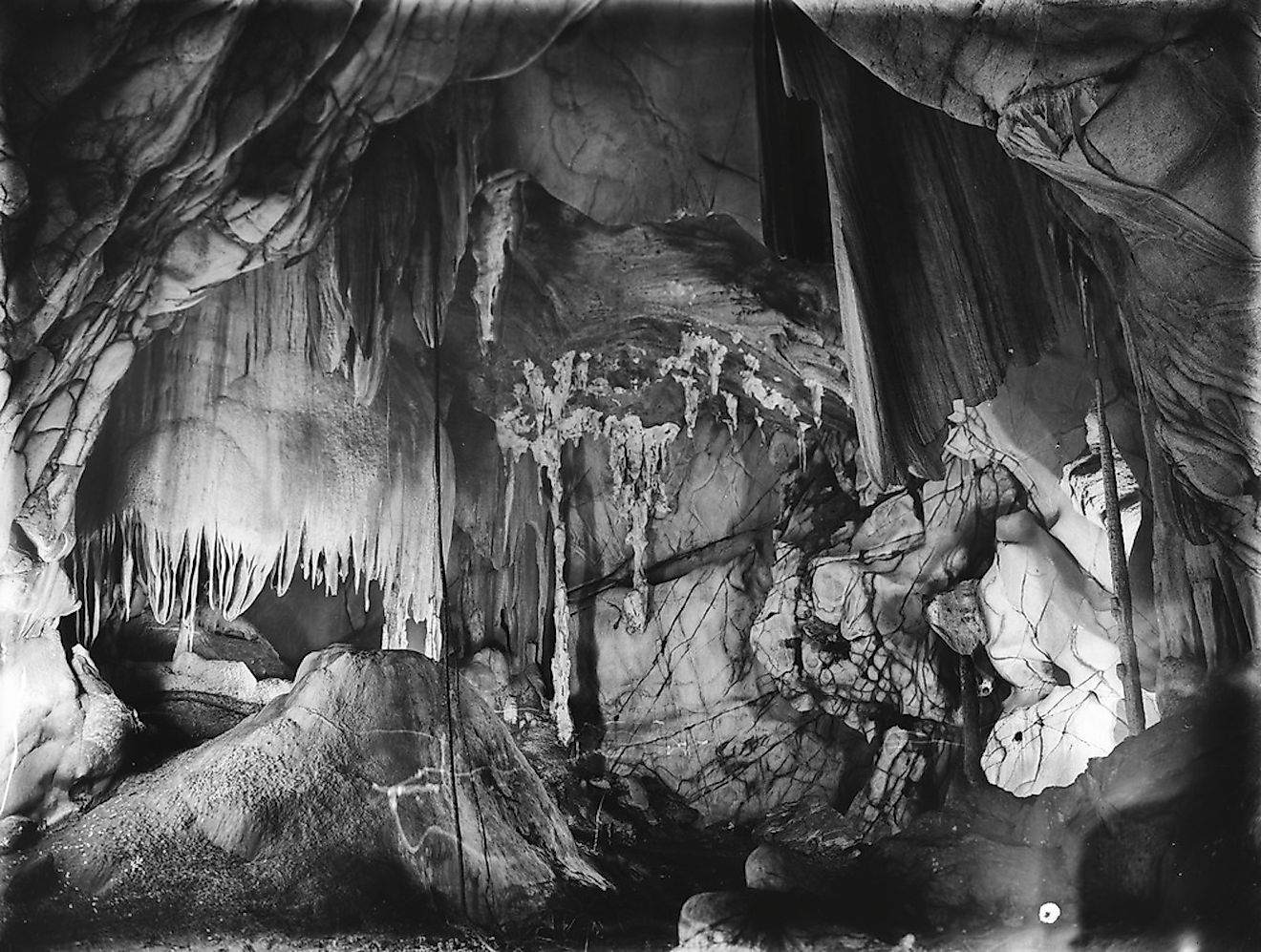 These caves boast of mother nature's beautiful display of stalactites, stalagmites, and flowstones. Located in Queensland, Australia these natural wonders feature magnificent limestone formations that form passageways and cave walkways that visitors can explore. The limestone labyrinths were the result of millions of years of erosion. Scientists believe that the area around these caves was formed from ancient coral reefs and sea beds 400 million years ago. Today, the caves sit under weathered bluffs that tower above the woodlands.
3. Bungle Bungle Range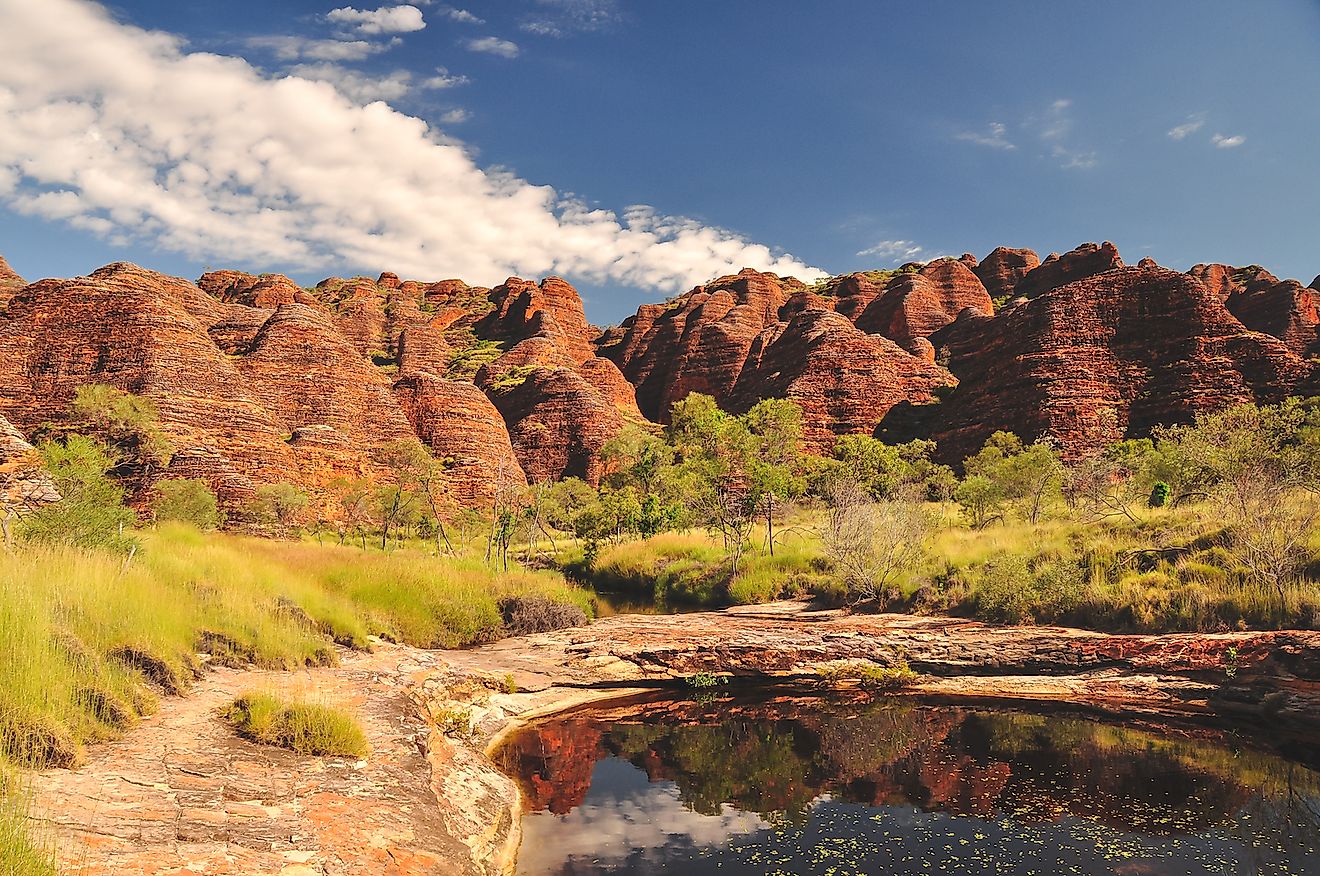 Located in Purnululu National Park in Western Australia, these bee-hive sandstone rock formations are believed to have been formed after the erosion of an ancient meteorite crater. In 2003 this spectacular natural wonder was deemed a World Heritage site, 20 years after its discovery in 1983. Although it has been seen by the world quite recently, it has held an important place in the lives of the Kitja people who have lived in the area for 20,000 years.
2. Lake Hiller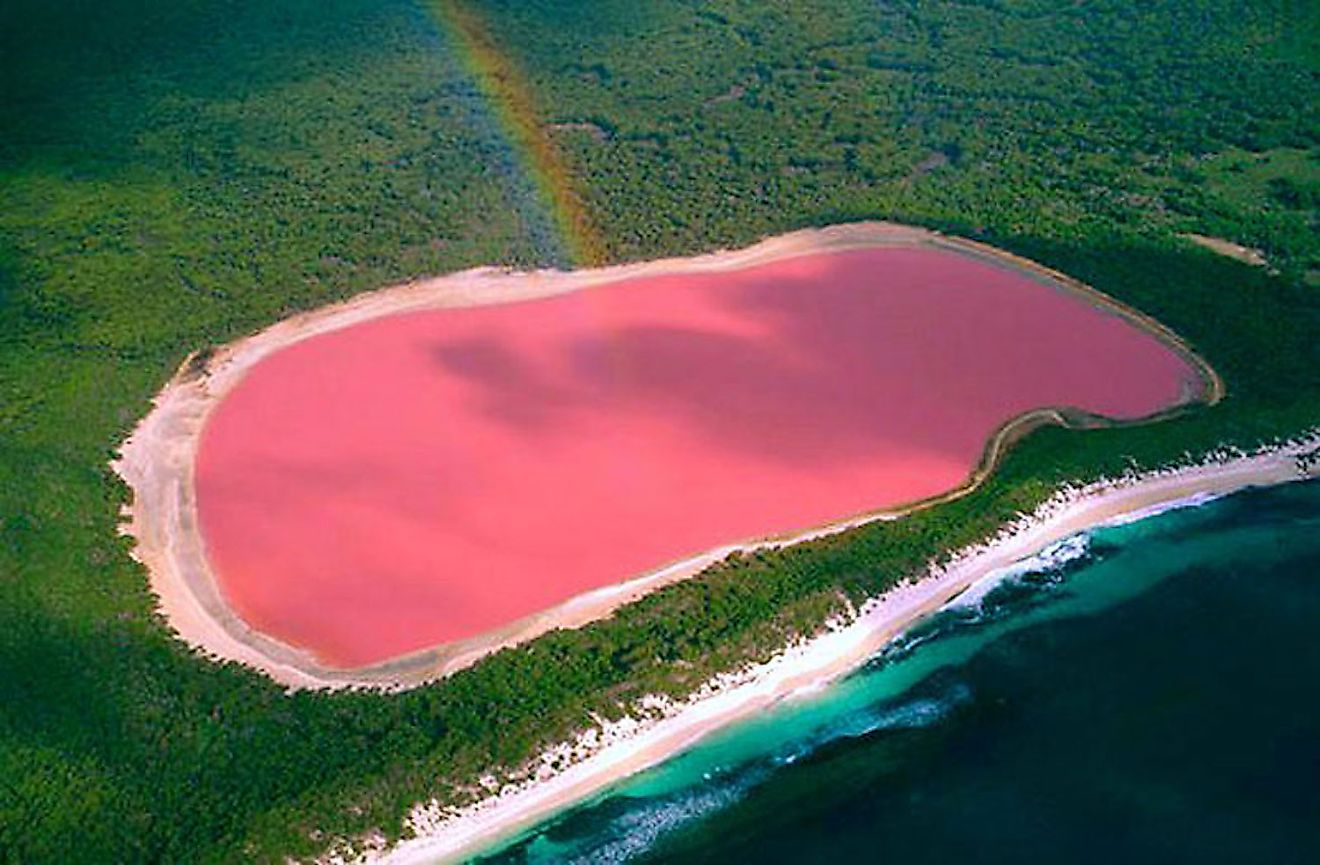 First discovered in 1802 by navigator and cartographer Matthew Flinders, Lake Hiller is famous for its bubble gum pink hue. While the official source of its color is still being studied by scientists, many believe it is caused by the Dunaliella salina microalgae, a type of algae that produces carotenoids, yes the same pigment you see in carrots. Others believe it is the result of the reaction between the sodium bicarbonate in the water and the salt crusts in the area.
1. The Pinnacles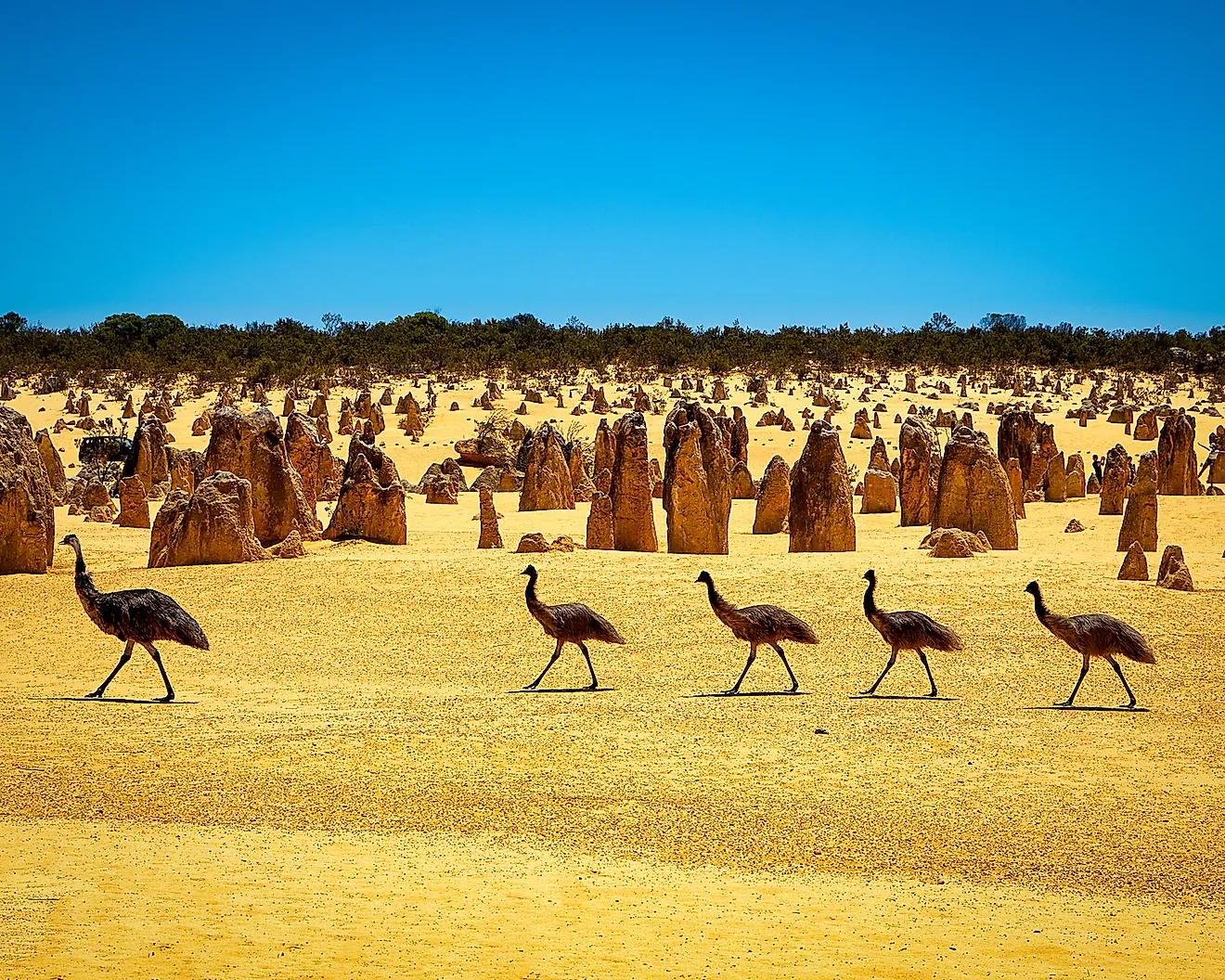 Located inside Nambung National Park in Western Australia, the Pinnacles are awe-inspiring limestone structures that are believed to be what's left of ancient seashells. They formed 25,000 to 30,000 years ago when coastal winds from the Indian Ocean removed the sand surrounding the shells. Now they look like thousands of bizarre giant fingers protruding from the ground covering an area of 190 hectares. They attract an estimated 190,000 visitors each year who come to marvel at these ancient limestone structures.