10 Natural Wonders To Visit in Australia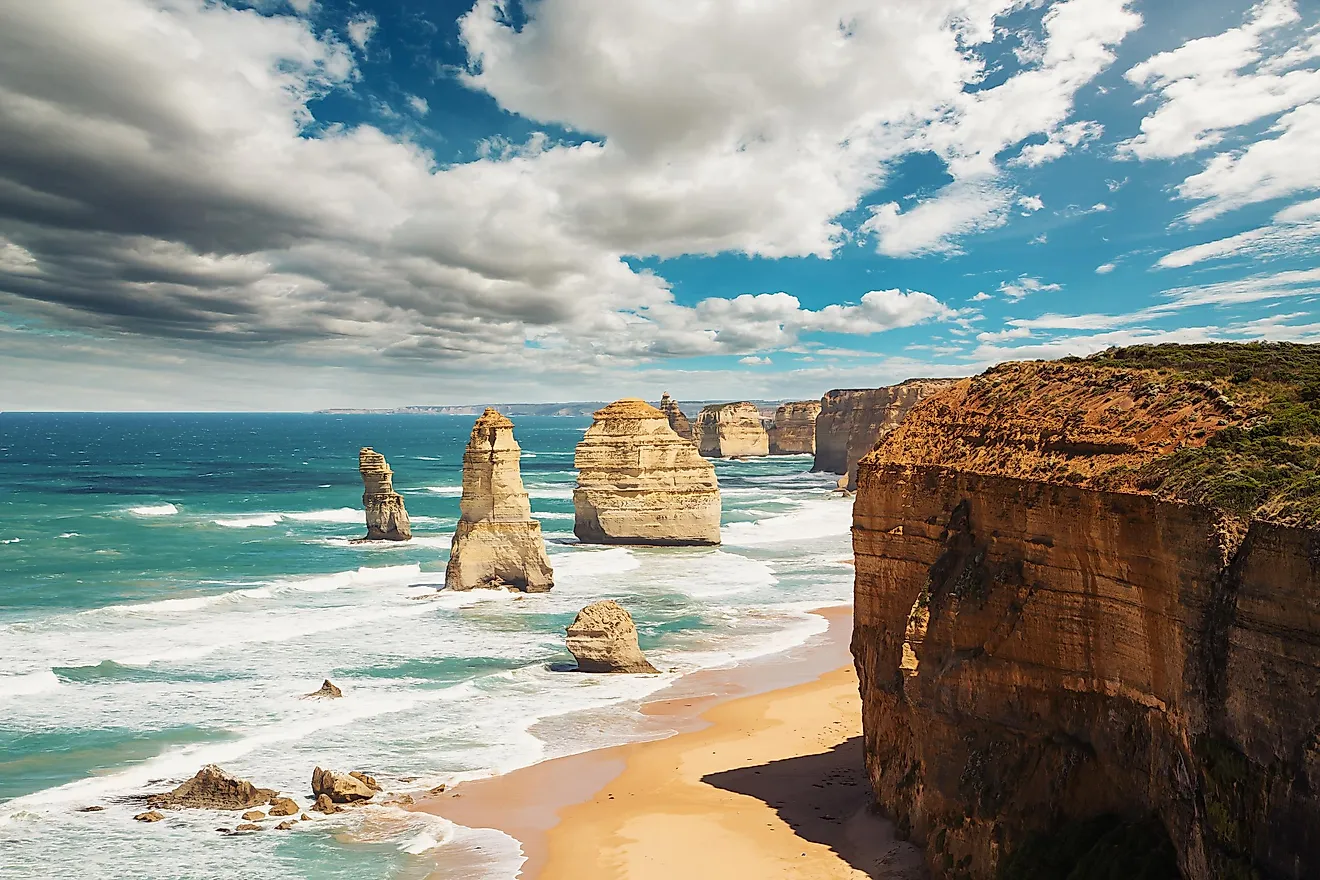 Shark Bay is home to various threatened marine species, including over 10,000 dugongs.
Created approximately 30,000 years ago, the Pinnacles transform the surrounding area into an eerie extraterrestrial moonscape.
Devils Marbles are a collection of granite boulders the indigenous Warmungu people thought to be fossilized eggs of the Rainbow Serpent.
Australia is home to some of the world's most impressive and awe-inspiring natural wonders. The Great Barrier Reef is a notable one, but the land down under has so much more to offer than this one well-known tourist trap. Discover landscapes so strange they could be alien worlds, rock formations tied to Indigenous history, and wildlife unimpacted by the modern industrial world. The following are ten natural wonders to visit on your next trip to Australia.
10. Ningaloo Reef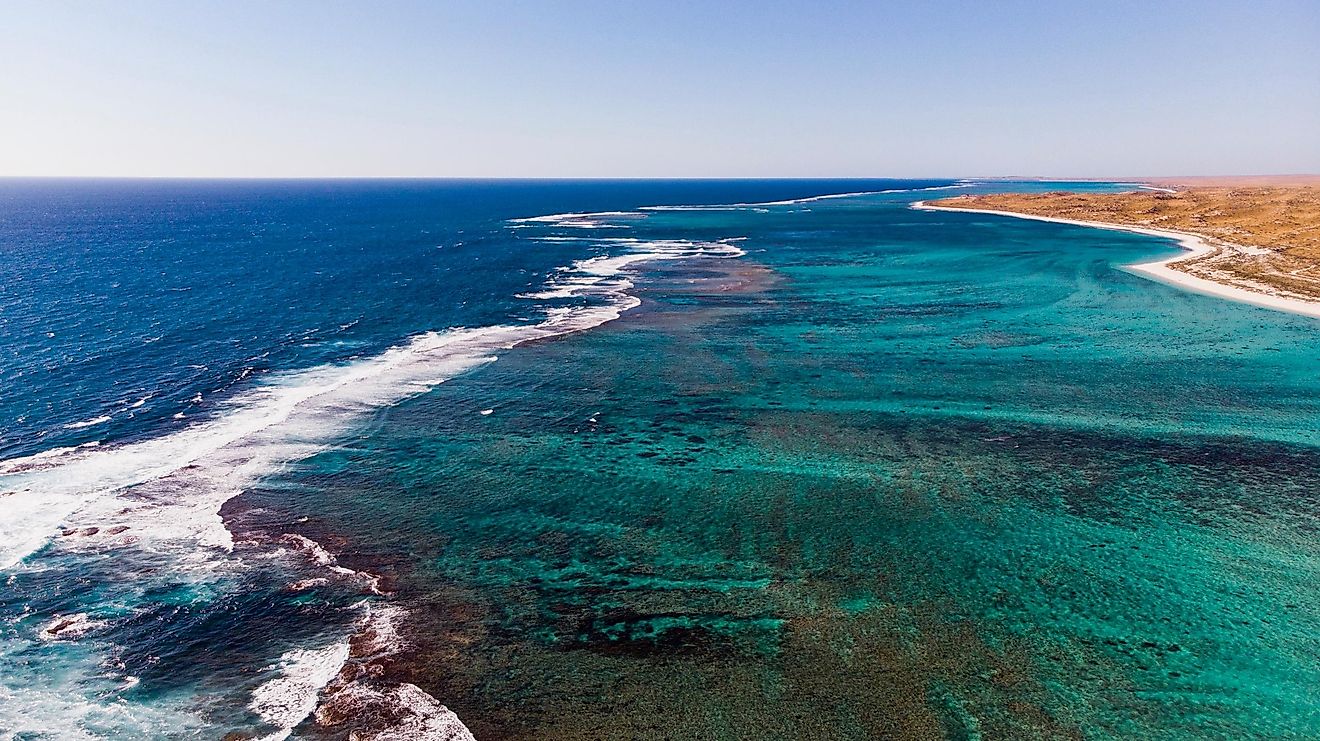 Located along the Western Australia coastline, the Ningaloo Reef is home to a diverse collection of marine life, including tropical fish, manta rays, humpback whales, and even spotted whale sharks. With approximately 161 miles of coral reef, it holds the record for the world's largest fringing reef. It is also a World Heritage-listed site.
9. Rowley Shoals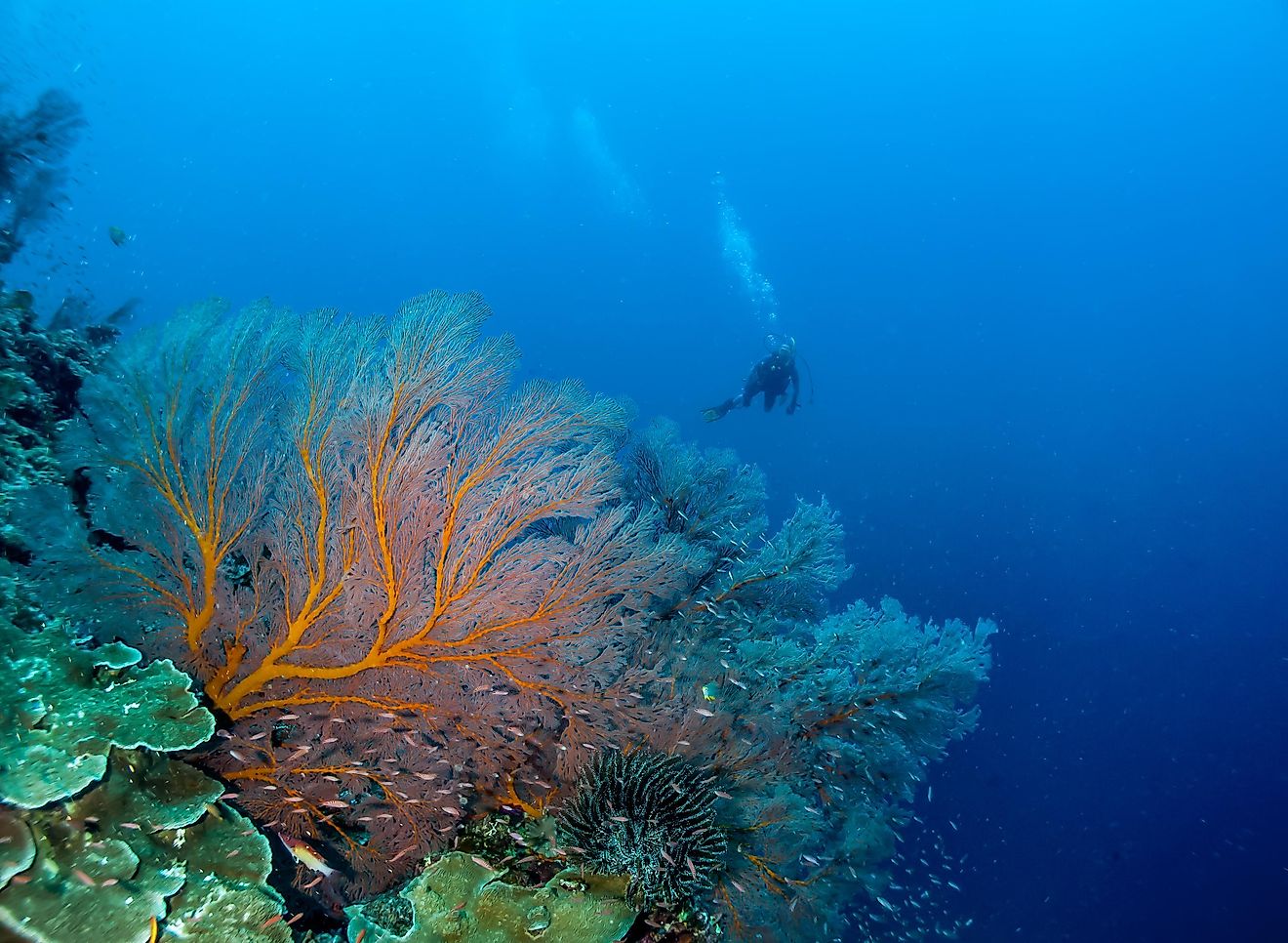 Rowley Shoals consists of three atolls (ring-shaped coral reefs) and is considered one of the most isolated and untarnished marine environments in the world. A clear turquoise paradise, it provides one of the best diving experiences possible; however, the season only runs from September to December, so fewer than 200 people will have the opportunity to explore its underwater brilliance each year.    
8. Shark Bay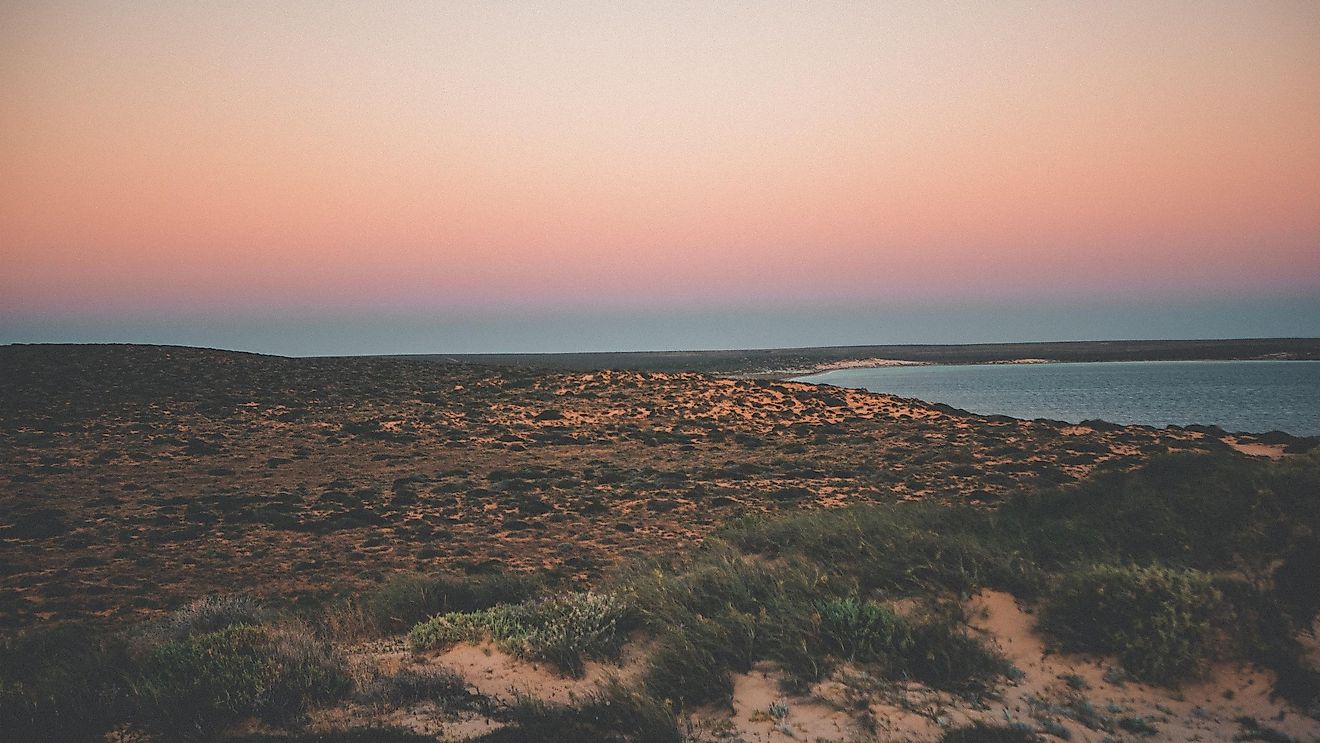 Shark Bay is known for its sharp contrast of colors: aqua blue water, white sand dunes, and red earth. 932 miles long, it is home to various threatened marine species, including over 10,000 dugongs. It is also the location of the world's most diverse collection of seagrass. Local historians claim Shark Bay was where the first European explorers landed before deciding the area was "no good."
7. The Twelve Apostles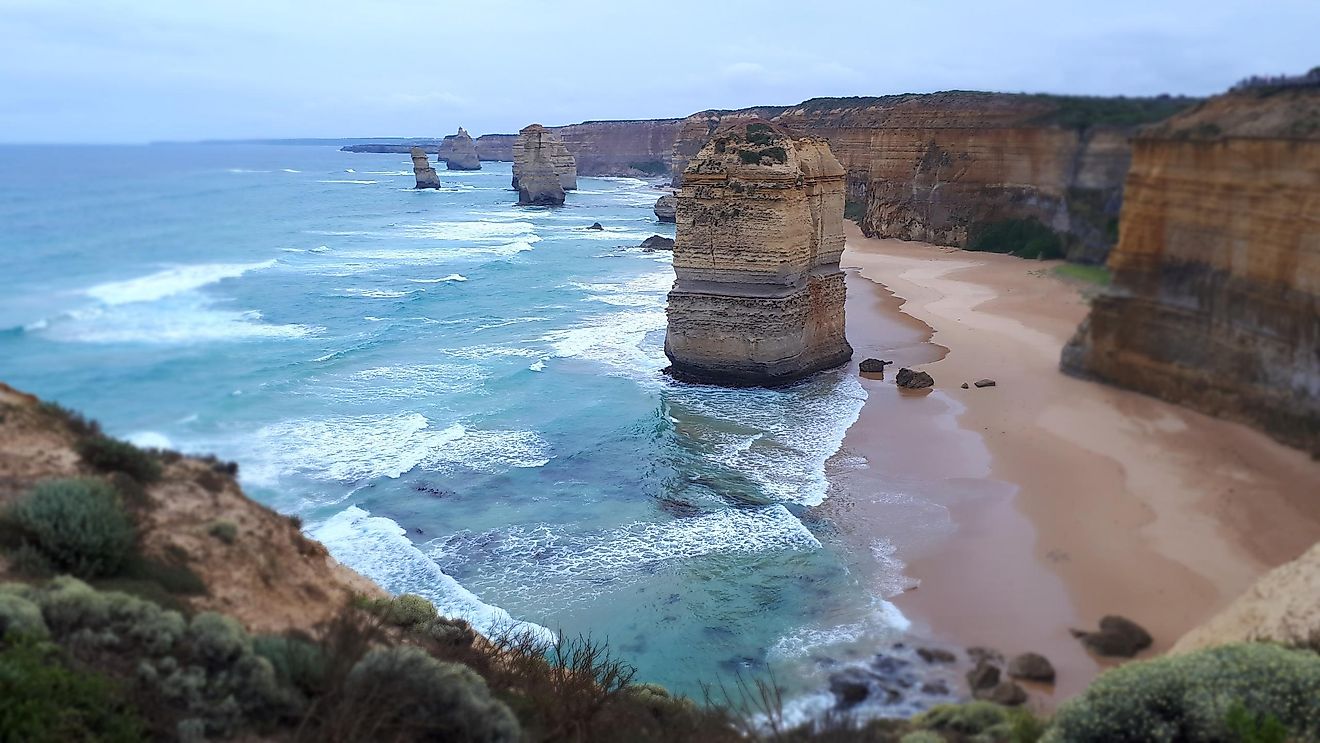 Nicknamed the Twelve Apostles, these towering limestone formations are located along the Victoria coastline. Contrary to its name, there are only eight stacks—although, there were originally nine. They were formed out of the limestone cliffs over millions of years of constant erosion. Pounded by the ocean, they will continue to erode by two centimeters every year.
6. MacKenzie Falls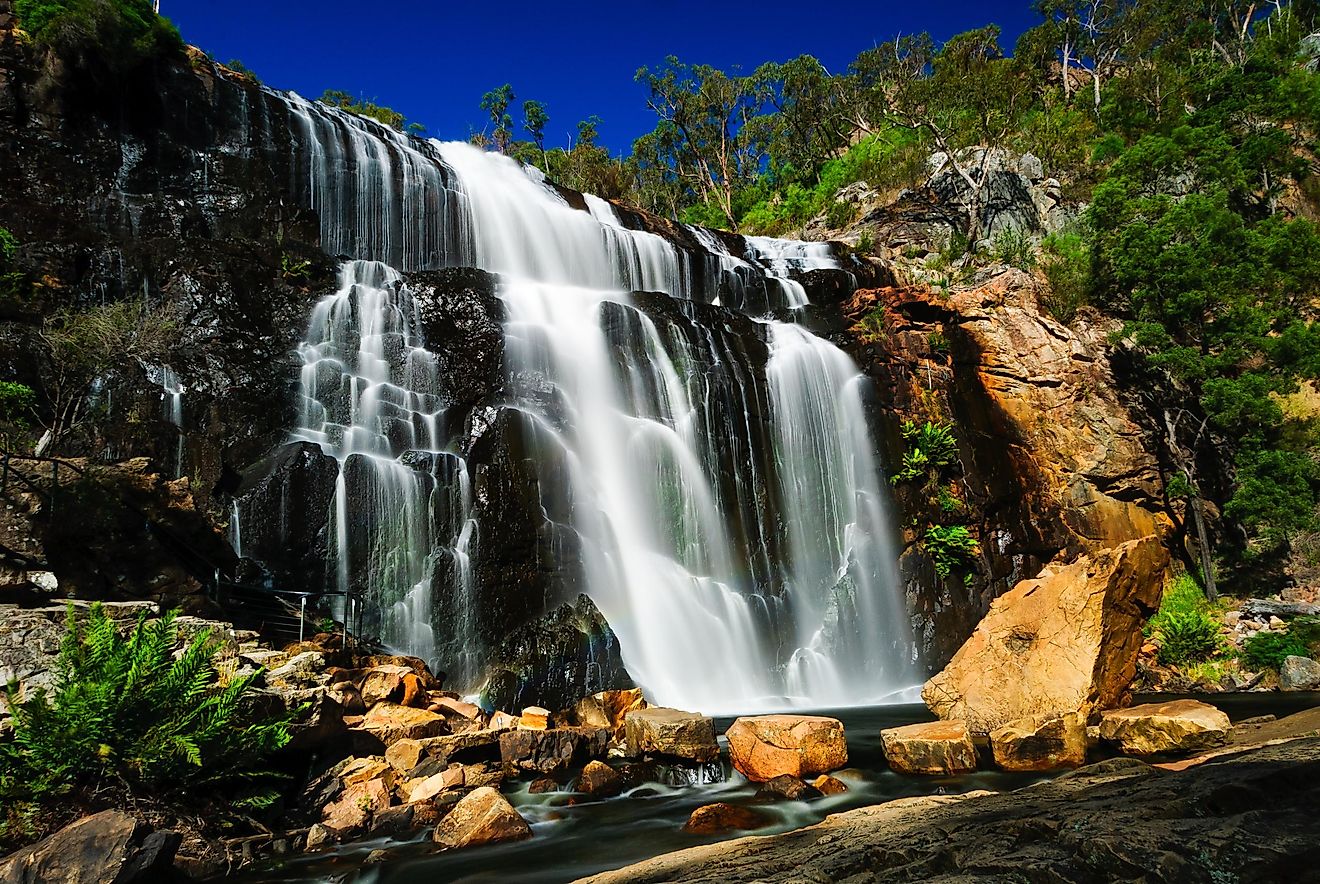 Home to thousands of kangaroos, MacKenzie Falls is the largest waterfall in Grampians National Park. From thirty meters high, water tumbles into the gorge below and sends a spray of rainbow mist into the air, creating an ethereal and picturesque environment. There is an easy path less than a mile long to the viewing platform, but adventurers can enjoy several nearby hiking trails.
5. The Pinnacles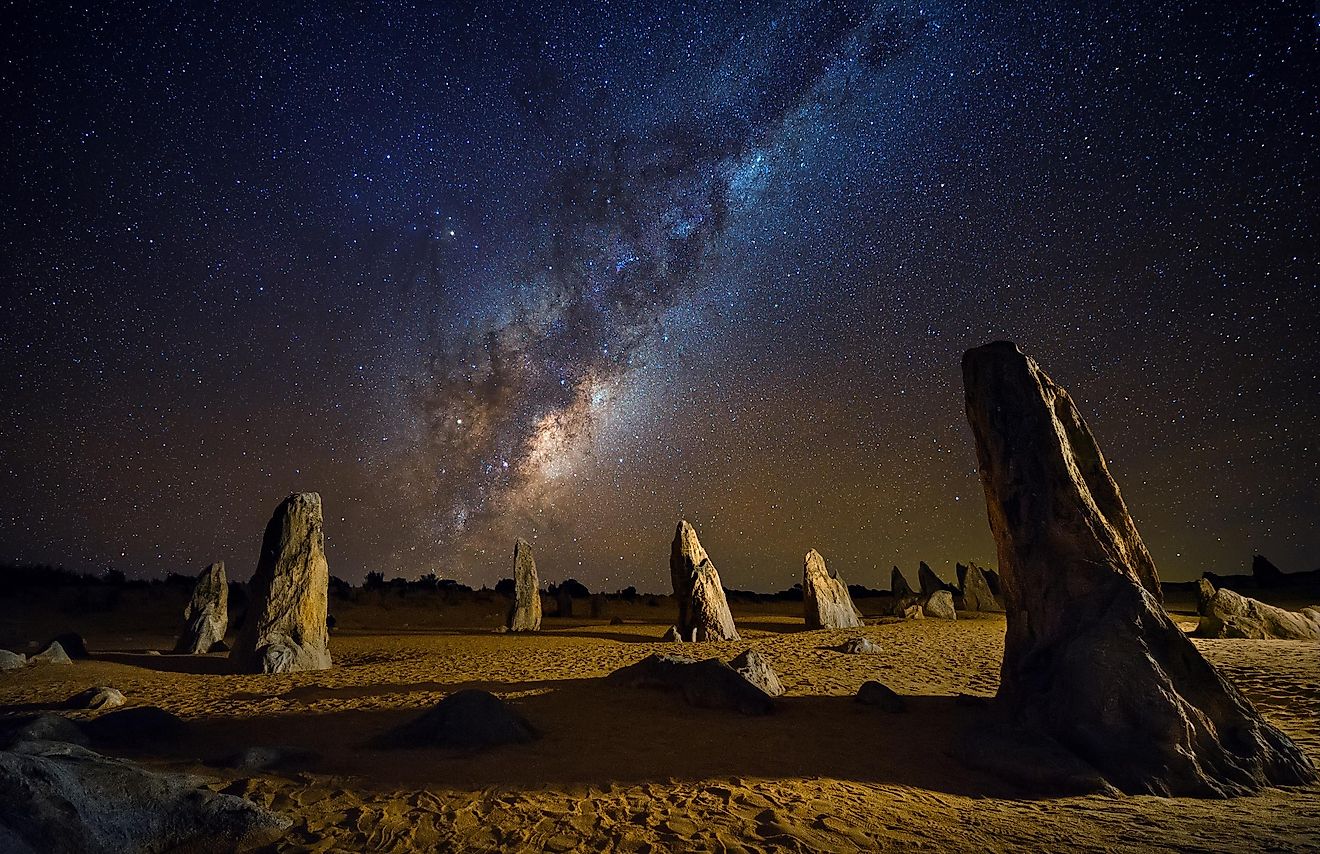 A part of the natural topography of Nambung National Park, the Pinnacles are a collection of limestone pillars rising up to five meters out of the sand. Created approximately 30,000 years ago, they transform the surrounding area into an eerie extraterrestrial moonscape. Nambung National Park is home to kangaroos, emus, and various reptiles.
4. Bungle Bungle Range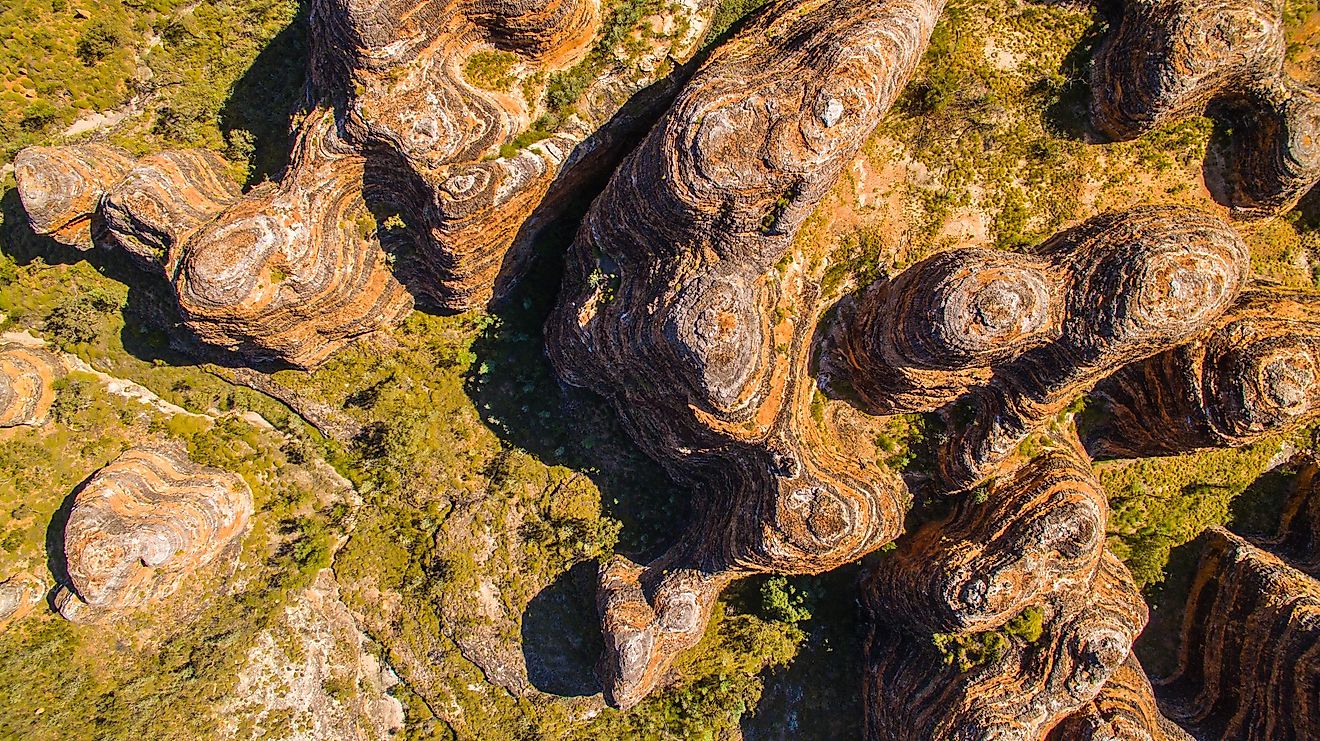 Located in Purnululu National Park, Bungle Bungle is a 350 million-year-old sandstone range. Beehive-shaped with remarkable orange and black stripes, it towers 578 meters above ground level. Hundreds of bird species and native animals such as the nail-tail wallaby call the gorges, caves, chasms, and tropical pools of Purnululu National Park home.
3. Uluru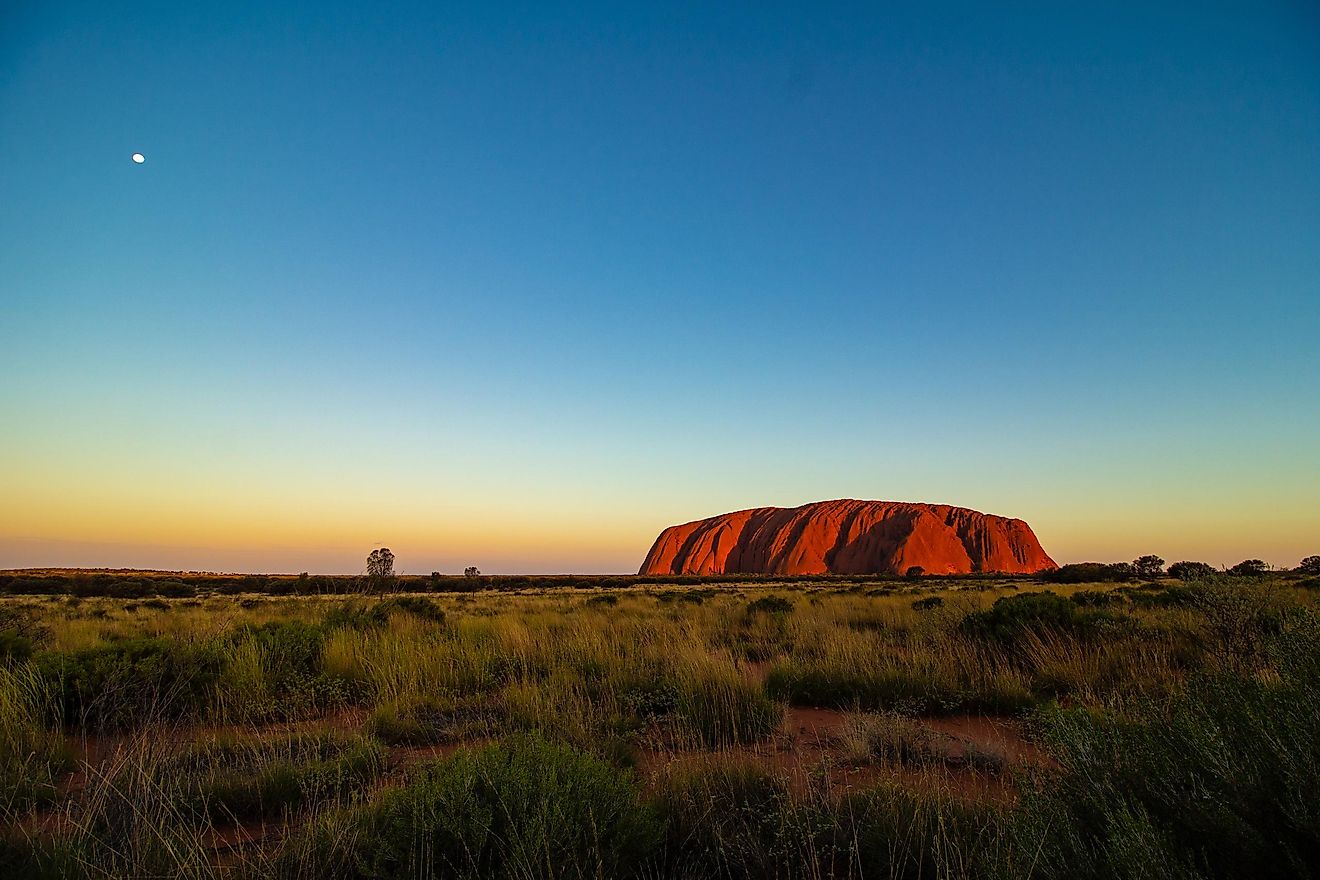 Uluru is a massive rock formation sacred to the indigenous Anangu people. Located in Uluru-Kata Tjuta National Park, it stretches 348 meters high with a circumference of 5.8 miles. It is a magnificent sight to behold, particularly at sunrise and sunset when the giant rock swifts hues as a result of the natural changing light.
2. Devils Marbles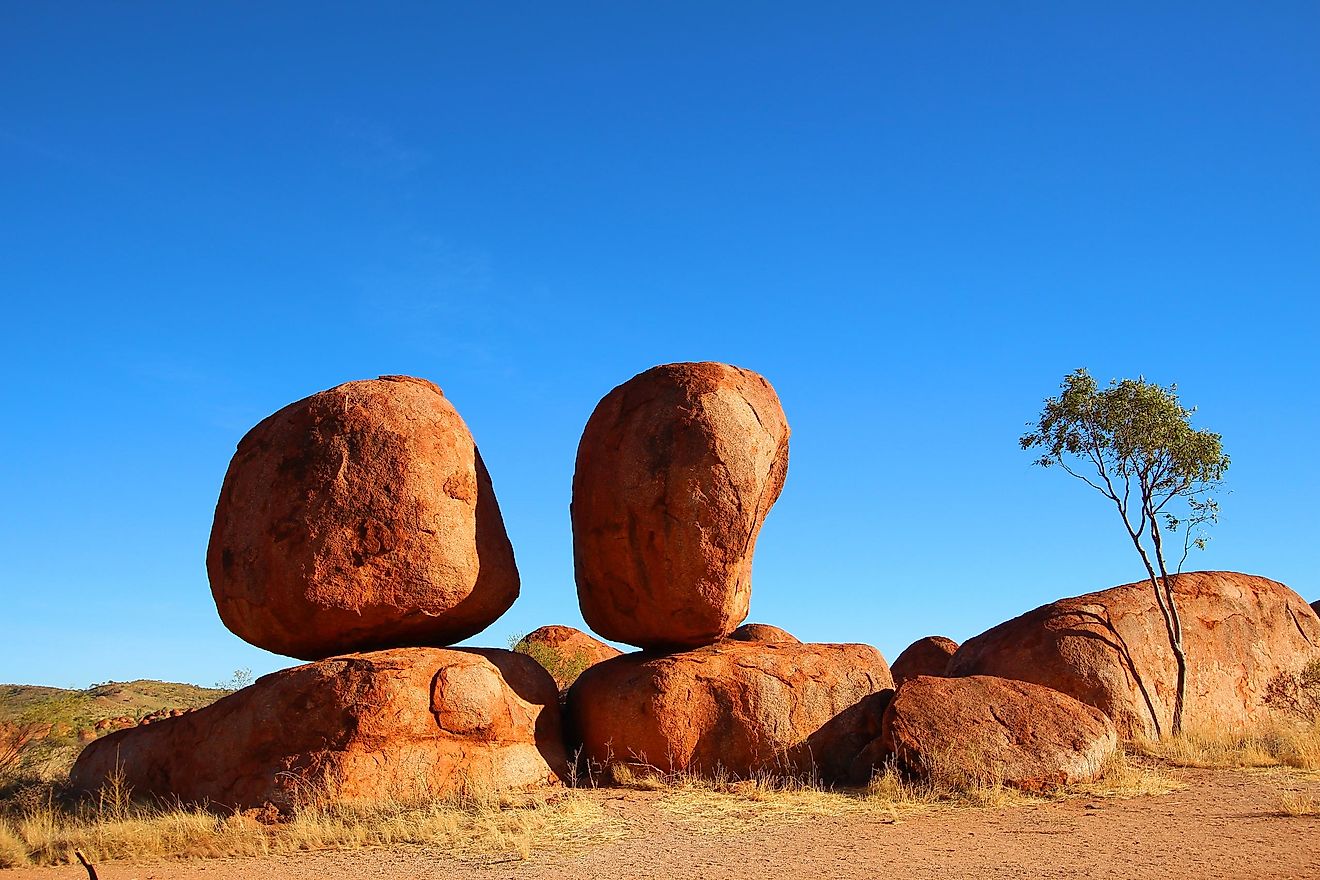 Devils Marbles are a collection of giant granite boulders found in an ancient valley. Formed over millions of years and measuring up to six meters high, the indigenous Warmungu people thought the boulders to be fossilized eggs of the Rainbow Serpent. Similar to the Uluru sacred rock, they change color with each rising and setting sun.  
1. Undara Lava Tubes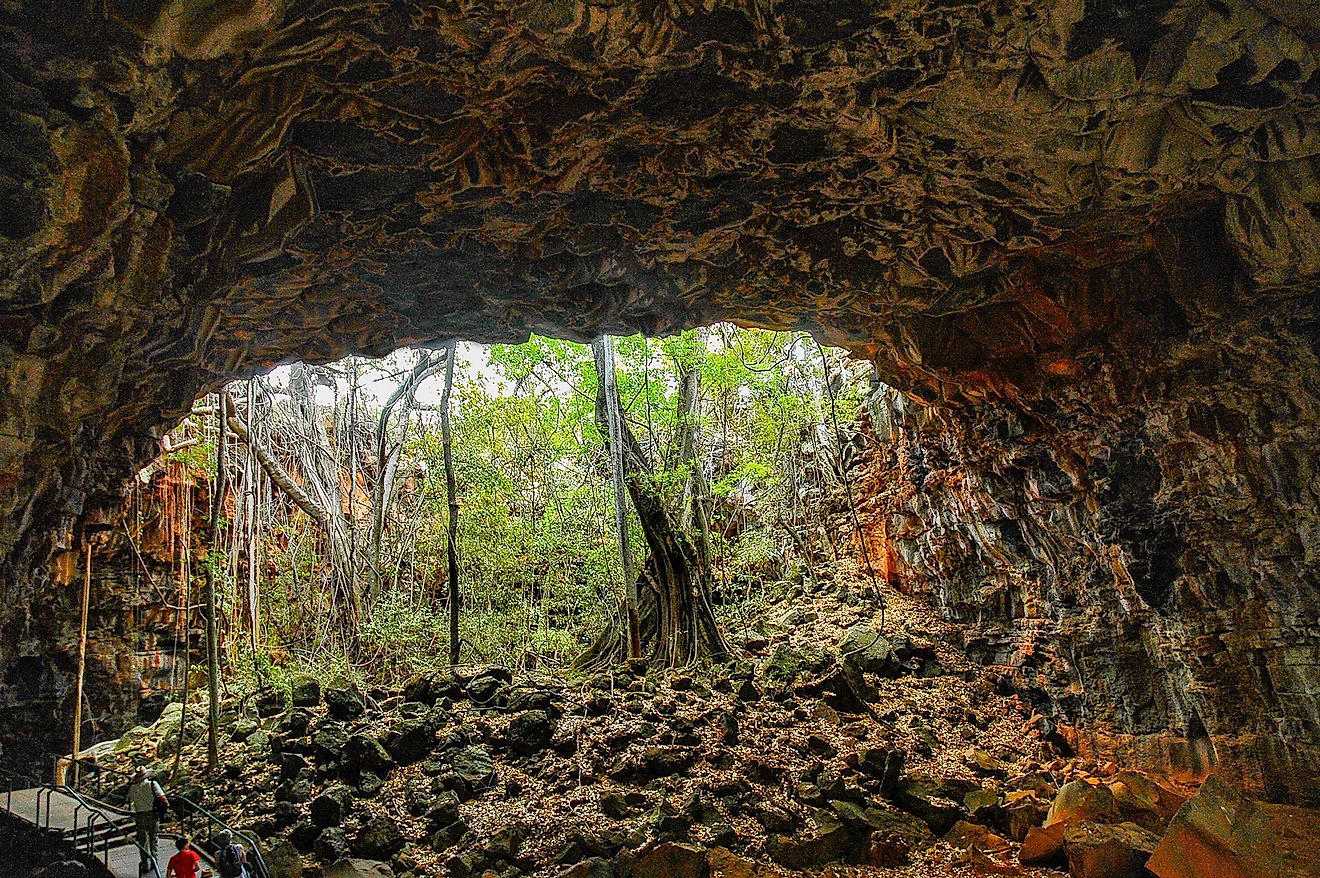 These volcanic wonders are formed when flowing lava hardens on the outside, but remains molten on the inside, eventually producing cave-like tunnels. Australia's Undara Lava Tubes were created approximately 190,000 years ago when lava poured into a riverbed and continued to flow for 99 continuous miles, making it the longest recorded flow from a single volcano in the world. These tunnels measure up to ten meters high and 21 meters wide.