Politics
Presidents Of Ghana Since Independence
Ghana's President is the Head of State and of Government, and Commander-in-Chief of the Army, Navy, and Air Force.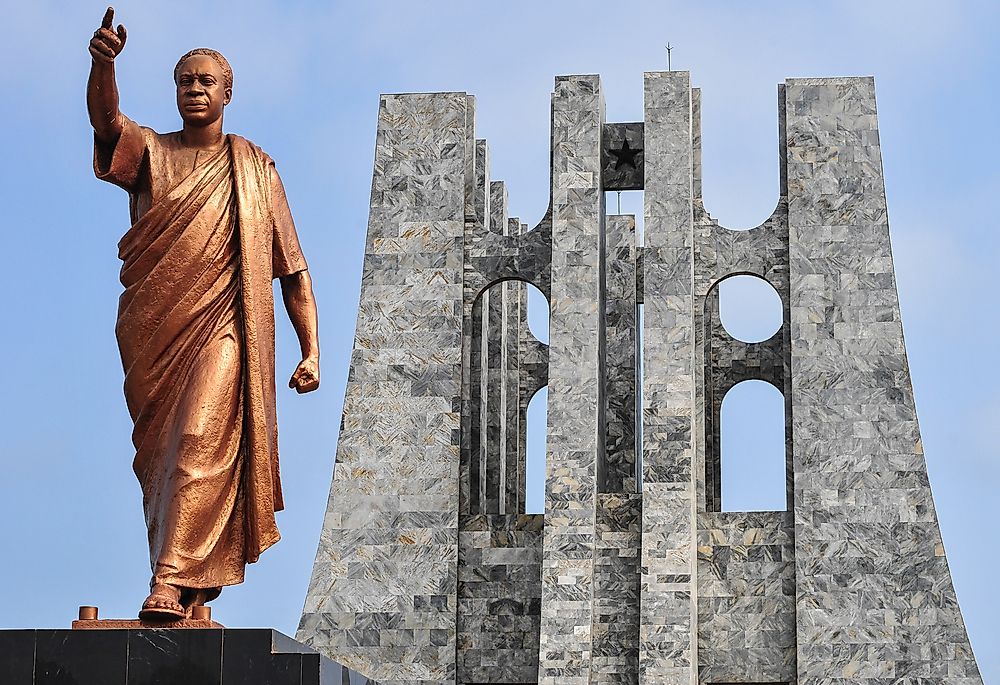 Ghana is a country in West Africa bordered by Ivory Coast, Togo, and the Gulf of Guinea. The country is home to one of the largest artificial lakes in the world, Lake Volta. The Republic of Ghana, formerly known as Gold Coast, has a presidential system of government. The president is the head of government and chief of state. The country gained independence from Britain on March 6, 1957, becoming the first sub-saharan African country to attain independence. The president and vice-president are elected directly by an absolute majority of the popular vote and serve as both head of state and head of government in Ghana. The president serves a four-year term and is eligible for a second.
Presidents Of Ghana Since Independence from Britain
Dr. Kwame Nkrumah (1960 - 1966)
Nkrumah Studied in the United States where he received a BA from Lincoln University in 1939. He also attained a Master of Arts in philosophy and a Master of Science in education in 1943. Nkrumah also taught at the University of Lincoln where he was elected the leader of the African Students Organization of America and Canada. He founded the West African National Secretariat with the aim of decolonizing Africa. He received honorary doctorates from Moscow state university, Lincoln University, Jagiellonian University in Poland, Cairo University, and Humboldt University in former East Germany. On July 1st, 1960 Ghana became a republic with Kwame Nkrumah as its first President.
Major-General Joseph Arthur Ankrah (1966 -1969)
Ankara was a career soldier who was promoted to a Major in 1956 and later Lieutenant Colonel. Ankara was Brigade commander at the time of United Nations operations in Congo and was in charge of a base in Luluaburg (in the present day Democratic Republic of the Congo). He was the only Ghanaian to receive the Military Cross in Leopoldville for exemplary work of saving the life of Lumumba in Congo in 1961. On February 24th, 1966 the government of Dr. Nkrumah was overthrown by the police and armed forces headed by Major General Joseph Arthur Ankrah. In 1967, Ankrah mediated between the warring groups in the Nigerian-Biafra war. He was finally compelled to resign as chairman of the National Liberation Council (NLC) and as head of state because of the involvement of bribery with a Nigerian Businessman.
Brigadier General Akwasi Afrifa (1969 -1970)
Akwasi Afrifa joined the Ghanaian military in 1957 and attended Aldershot military school in England in 1958. In 1960, he was commissioned as a second lieutenant in the Ghanaian armed forces and was also one of the officers deployed to Congo under the United Nations operations in Congo. He rose through the ranks to become a major in the army. In April 1969 Brigadier General Akwasi Amankwa Afrifa became Head of state following the removal of Ankrah. He was the leader of the military government and Chairman of the Presidential Commission between 1969 and 1970. General Akwasi was executed ten years later before he could take his seat as an elected Member of Parliament.
The Incumbent President
Ghana was initially known as Gold Coast and changed to Ghana after independence. So far the country has had a total of 11 presidents, and the current incumbent is Nana Akufo-Addo. Akufo-Addo previously served as Attonery General from 2001 to 2003, and as Minister for Foreign Affairs from 2003 to 2007.
Who Was The First President Of Independent Ghana?
Kwame Nkrumah was the first President of Ghana following the country's independence from Britain in 1957. He led the country's struggle for independence and served as the President from July 1, 1960, to February 24, 1966.
Presidents Of Ghana Since Independence
| Presidents of Ghana Since Independence from Great Britain | Term in Office |
| --- | --- |
| Kwame Nkrumah | 1960-1966 |
| Major-General Joseph Arthur Ankrah | 1966-1969 |
| Brigadier General Akwasi Amankwa Afrifa | 1969-1970 |
| Edward Akufo-Addo | 1970-1972 |
| Colonel Ignatius Kutu Acheampong | 1972-1978 |
| Lieutenant-General Frederick Fred William Kwasi Akuffo | 1978-1979 |
| Flight Lieutenant Jerry John Rawlings | 1979; 1981-2001 |
| Hilla Limann | 1979-1981 |
| John Agyekum Kufuor | 2001-2009 |
| John Evans Atta Mills | 2009-2012 |
| John Dramani Mahama | 2012-2016 |
| Nana Afuko-Addo | 2017- present |
About the Author
Benjamin Elisha Sawe holds a Bachelor of Arts in Economics and Statistics and an MBA in Strategic Management. He is a frequent World Atlas contributor. 
This page was last updated on April 23, 2019.
Citations
Your MLA Citation
Your APA Citation
Your Chicago Citation
Your Harvard Citation
Remember to italicize the title of this article in your Harvard citation.