The World's Largest Supermarket Chains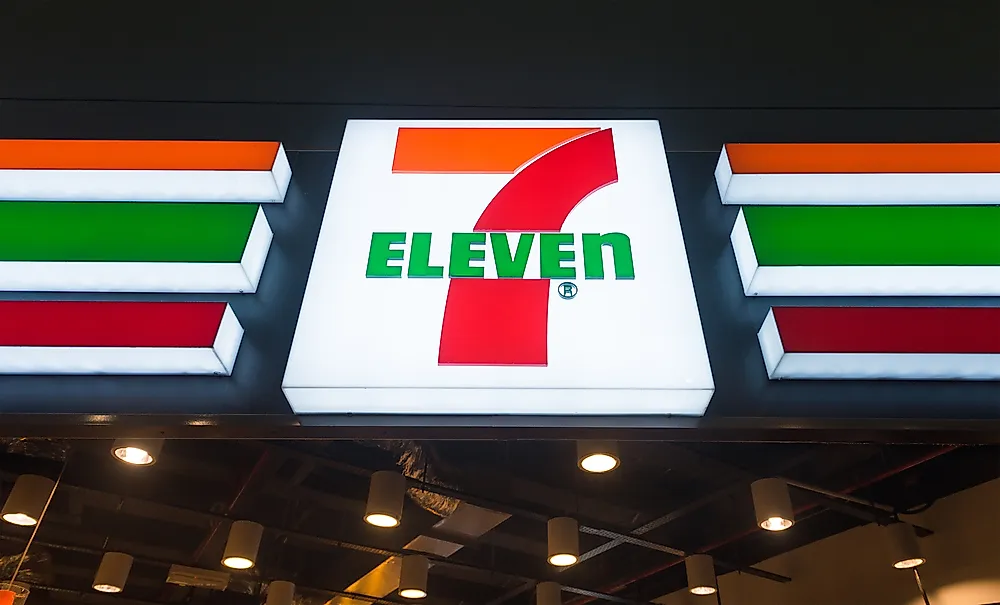 There are several mega supermarket chains that dominate retail sales globally. They operate several branches across a number of countries and even continents. The massive retail chain 7-Eleven is the largest grocery store in the world.

Leading Supermarket Chains In The World
7-Eleven
7-Eleven is the world's largest grocery store chain with over 46,000 outlets in 16 countries. The supermarket has its headquarters in both Japan and the USA. Japan has the largest number of outlets at 15,000. The United States has 7,800 stores while 6,800 outlets are in Thailand. Other outlets are in Australia, Sweden, Canada, Singapore, Taiwan, Hongkong, Macau, Denmark, Malaysia, Philippines, Mexico, Indonesia and Norway. 7-Eleven is a global employer with over 45,000 employees.
SPAR
SPAR was founded in 1932 in Amsterdam, Netherlands. The chain is in over 13,500 locations in 35 countries. The retail franchise serves mostly the European market in Austria, Japan, Czech, Ukraine, Austria, UK, Belgium, Poland, Switzerland, Croatia, Norway, Italy, France, Ireland, Sweden, Slovenia, Portugal, Spain, Hungary and Germany. Other outlets are in South Africa, Zambia, India, Zimbabwe, Namibia, Montenegro, Japan, Romania, Australia and Mauritius.
Walmart
Founded in 1962, Walmart has its headquarters in Bentonville, Arkansas, USA. Ranked third, the supermarket has over 11,088 operational branches. The outlets are in the USA, Chile, China, Mexico, Argentina, Canada, Brazil, Nicaragua, Honduras, El Salvador, Costa Rica, Guatemala. The successful corporation is owned by Walton Family. Over 2.3 million employees work in the outlets. Walmart generates over $500 billion in revenue annually. In 1972, the chain was listed in New York Stock Exchange. Walmart is the largest company in the world in terms of revenue.
Aldi
Aldi is one of the leading global discount retail shops in over 10,366 locations. The outlets are spread across 18 countries. Germany hosts the headquarters and is home to most of the outlets. Other major outlets are in Belgium, Poland, Portugal, Luxembourg, Hungary, UK, Greece, USA, Ireland and Australia. In Slovenia and Austria, the outlets use Hofer as the brand name.
Carrefour
Carrefour Sans is the fifth largest supermarket chain with over 10,103 outlets including 1,400 hypermarkets in various continents. Founded in 1958, the headquarters is in Boulogne Billancourt in France. The number of employees is over 364,969 and annual revenue of over 76 Billion euro. Outlets are in Argentina, Turkey, Bahrain, Romania, Egypt, Tunisia, Poland, Saudi Arabia, Taiwan, Spain, India, China, Iran, Cyprus, Italy, Dominican Republic, Bulgaria, Slovakia, Kuwait, UAE, Brazil, Macedonia and Pakistan.
Lidl
Lidl is the sixth largest supermarket chain in the world with over 10,000 outlets. Founded in 1930, the franchise has grown from Neckarsulm in Germany to 28 countries. Lidl targets the European market with outlets in Austria, France, Switzerland, Belgium, UK, Bulgaria, Sweden, Croatia, Portugal, Cyprus, Slovenia, Italy, Spain, Czech Republic, Hungary, Ireland, Netherlands, Luxembourg, Denmark, Marta and Finland. Lidl had created employment to over 315,000 staff. Annual turnover is in excess of 48 billion euro.
Other Large Multinational Supermarkets
Tesco chain of supermarket operates 6,784 outlets across the globe. With headquarters in the UK, the chain has outlets in 12 countries. Ahold Delhaize, whose headquarters is in the Netherlands, owns 6,556 outlets both in Europe and USA. BiM is a Turkey based supermarket. Its outlets spread to Morocco and Egypt. BiM has a total of 6,122 outlets. Position ten is CBA supermarket with outlets in 11 countries in the Europe continent. Founded in 1992, it has employed over 30,000 staff. The headquarters is in Hungary. Outlets are in Slovakia, Lithuania, Croatia, Serbia, Bulgaria, Malta, Greece, Montenegro, Italy, Romania and Poland.
Largest Supermarket Chains in the World
| Rank | Company | Number of Locations |
| --- | --- | --- |
| 1 | 7-Eleven | 46,000 |
| 2 | SPAR | 13,500 |
| 3 | Walmart | 11,088 |
| 4 | Aldi | 10,366 |
| 5 | Carrefour | 10,103 |
| 6 | Lidl | 10,000 |
| 7 | Tesco | 6,784 |
| 8 | Ahold Delhaize | 6,556 |
| 9 | BiM | 6,122 |
| 10 | CBA | 5,200 |