The Largest Companies in the World By Revenue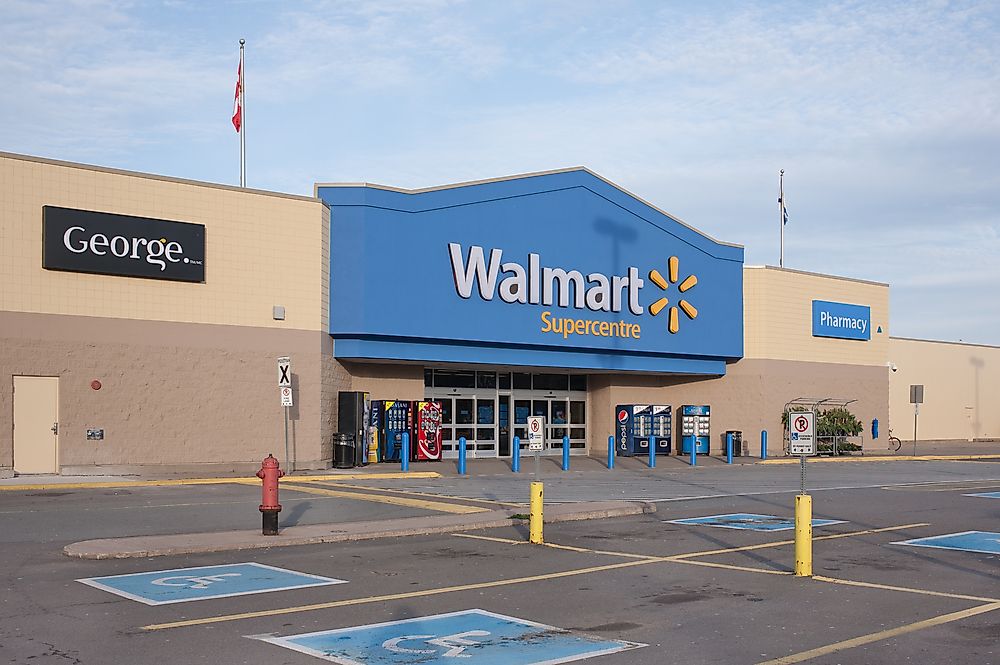 North American, Asian, and European companies, both private and public, top the list of the largest companies by consolidated revenue. Some of these companies have revenues larger than several developing countries. These companies come from different industries like utilities, general merchandise, petroleum, automotive, technology, and conglomerate among others. As of 2016, Walmart was the world's largest company followed by State Grid, Sinopec Group, China National Petroleum, and Toyota respectively among others. This list by the Fortune Global 500 tally has 35 companies, all with a revenue of more than $100 billion annually.
Top Three Companies
Walmart
Walmart recorded a revenue of $485,873 million in 2016, therefore, emerging at the top of the list. This multinational retail corporation headquartered in Bentonville, Arkansas operates many grocery stores, hypermarkets, and discount department stores. Walmart is present in 28 countries running 11,703 stores under 59 different names including Walmart (the US and Canada), Asda (UK), the Seiyu Group (Japan), and Best Price (India). Walmart is also the world's largest private employer, accounting for over 2.3 million employees, 1.6 million being in the US alone, and one of the most valuable global companies by market value. Continuously, this 55-year-old company has been able to break records like being the most profitable company in the US and the eighteenth largest public corporation (Forbes Global 2000 list).
State Grid
Officially the State Grid Corporation of China (SGCC), the government of China owns this electricity utility company that monopolizes the Chinese market and is also the largest utility company globally. This company had a consolidated revenue of $315,199 million in 2016 thanks to its 1.1 billion customers and 927,839 employees. State Grid has several oversea investments and strategic partnerships in many parts of the world including Europe, Africa, and Asia in line with China's global expansion strategy. The company primarily serves the electric grids and electric power transmission in China, Philippines, Australia, Brazil, and Italy. State Grid is sixteen years old and has its headquarters in Beijing, China.
Toyota
Toyota Motor Corporation is the fifth largest company by revenue after Walmart, State Grid, Sinopec Group, and China National Petroleum with a revenue of $254,964 million in 2016. Toyota is a Japanese automotive manufacturing company with a worldwide presence. The company has 364,445 employees globally, 545 subsidiaries, is the largest manufacturer of automobiles in the world, and was also the first automotive manufacturer to sell over 10 million vehicles annually. This company's global presence, reliability, and the relative affordability of its vehicles continuously push it to profitability each year.
Industries Making up the List
Companies on this list are from several industry sectors and therefore represent some of the most lucrative sectors. All companies on this list have several common trends throughout their lifetime, such as innovation, expansion, and diversification of products. Notable industries include general merchandise (Walmart), utilities (State Grid), petroleum refining (Sinopec Group, China National Petroleum, Royal Dutch Shell, Exxon Mobil, and BP), automotive (Toyota, Volkswagen Group, Daimler, General Motors, and Ford Motors), conglomerate (Berkshire Hathaway), healthcare (McKesson, United Health, and CVS Health), telecommunications (AT&T), financial services (AXA and Industrial & Commercial Bank of China), and pharmaceuticals (AmerisourceBergen) among others. Also profitable were computers, consumer electronics, and entertainment industries like Apple and Samsung Electronics.
The Largest Companies in the World By Revenue
| Rank | Company | Revenue (Millions of US Dollars) |
| --- | --- | --- |
| 1 | Walmart | 485,873 |
| 2 | State Grid | 315,199 |
| 3 | Sinopec Group | 267,518 |
| 4 | China National Petroleum | 262,573 |
| 5 | Toyota | 254,964 |
| 6 | Volkswagen Group | 240,264 |
| 7 | Royal Dutch Shell | 240,033 |
| 8 | Berkshire Highway | 223,604 |
| 9 | Apple | 215,639 |
| 10 | Exxon Mobil | 205,004 |
| 11 | McKesson | 198,533 |
| 12 | BP | 186,606 |
| 13 | United Health | 184,840 |
| 14 | CVS Health | 177,526 |
| 15 | Samsung Electronics | 173,957 |
| 16 | Glencore | 173,883 |
| 17 | Daimler | 169,483 |
| 18 | General Motors | 166,483 |
| 19 | AT&T | 163,786 |
| 20 | Exor | 154,894 |
| 21 | Ford Motor | 151,800 |
| 22 | Industrial and Commercial Bank of China | 147,675 |
| 23 | AmerisourceBergen | 146,850 |
| 24 | China Construction Engineering | 144,505 |
| 25 | AXA | 143,722 |