World Facts
Largest Mosques In The World
At more than 2,000,000 square feet in area apiece, each of these mosques see millions pass through their doors each year.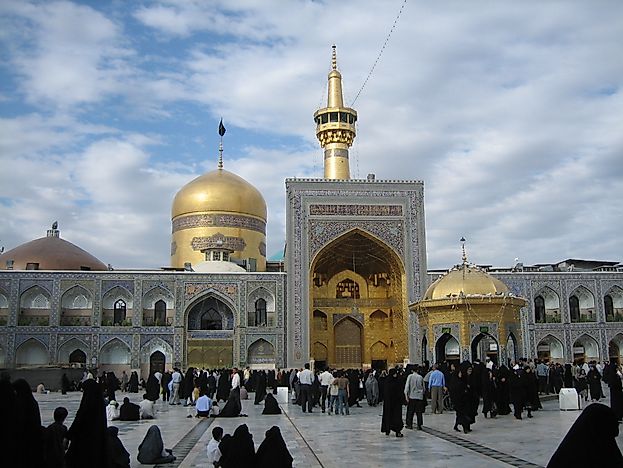 Mosques are sanctuaries of worship for followers of the Islam faith. The word mosque is a derivative from the Arabic word "Masjid." Small mosques offer only worship services while the big mosques include many community services. One of the characteristics of mosques is their beautiful Islamic architecture although the earliest 7th century mosques were more of open spaces just for worship. As mosques developed, many essential services were added: schools, political training, and religious education. Some services even included regular school courses and an extensive library that attracted thousands of students.
The Largest Mosques
The Parthian and Sassanid palaces of Persia were the architectural inspirations for the first mosques in the Arabian Peninsula. Architectural styles included minarets, domes, and prayer halls. Later architectural variations included: central-dome mosques, T-type mosques, and the early Abbasid mosques. As more mosques were needed, the oil-rich Middle-Eastern countries financed the construction of new mosques around the world. Today, mosques are constructed to accommodate more worshipers. At more than 2,000,000 square feet in area apiece, each of these mosques witnesses millions pass through their doors each year.
Imam Reza Shrine in Masdad, Iran at 6,443,890 square feet, with a capacity for 500,000 worshipers, is the largest mosque in the world. It was built in 818 and named after the eighth Imam of Twelver Shiites. The complex includes a smaller mosque, museum, library, university, prayer halls, dining halls, and seven courtyards. Second is Sultan Qaboos Grand Mosque in Muscat, Oman at 4,477,787 square feet and can accommodate 20,000 worshipers. Built in 2001, it has a main dome and five minarets. The mosque has the world's second biggest hand-woven carpet and a 14-meter chandelier. Third is the Shah Mosque in Isfahan, Iran at 4,310,946 square feet that can accommodate 700,000 worshipers. It was built in 1611 and has four minarets and a dome. A masterpiece of Islamic architecture and a UNESCO World Heritage site. The fourth is the Masjid al-Haram in Mecca, Saudi Arabia at 4,305,564 square feet that can accommodate 4,000,000 worshipers. It was built in 634 and has the Kaaba, the most sacred site in Islam. The mosque has eleven minarets and many indoor and outdoor praying areas. Fifth is the Al-Masjid al-Nabawi in Medina, Saudi Arabia at 4,300,000 square feet with a capacity of 1,000,000 worshipers. It contains the tomb of Mohammad. It was built pre-622 and has a green dome, community center, a school, and a court. Sixth is the Imam Husayn and Al Abbas Shrine and Mosque in Karbala, Iraq at 4,203,845 square feet that have a capacity of 1,000,000 worshipers. It was built in 680. Also on the list are the Bara Imambara in Lucknow, India at 3,767,369 square feet, the Jamkaran in Qom, Iran at 3,288,375 square feet, the Imam Ali Mosque in Najaf, Iraq at 3,234,555 square feet, and the Shiekh Loft Allah Mosque in Isfahan, Iran at 2,158,164 square feet.
Musalla ( Jama'at Khana)
Musalla is a word derived from the Arabic, musalia, meaning "to pray." A musalla is a temporary space or makeshift structure where a Muslim may pray in the absence of a mosque. Another term, Jama'at Khana is used by the Nizari community of the Shia Islam to mean their place of worship and also serves as a gathering place. For other Muslims however, it could mean a prayer rug. The musalla is not meant to be a permanent space for worship but only as an interim place. It may be situated in any living space. This place may also be in the form of prayer halls or rooms in any structure where Muslims can pray which are called Musholla or Surau.
Largest Mosques In The World
| Rank | Mosque, Location | Area |
| --- | --- | --- |
| 1 | Imam Reza Shrine, Masdad, Iran | 6,443,890 square feet |
| 2 | Sultan Qaboos Grand Mosque, Muscat, Oman | 4,477,787 square feet |
| 3 | Shah Mosque, Isfahan, Iran | 4,310,946 square feet |
| 4 | Masjid al-Haram, Mecca, Saudi Arabia | 4,305,564 square feet |
| 5 | Al-Masjid al-Nabawi, Medina, Saudi Arabia | 4,300,000 square feet |
| 6 | Imam Husayn and Al Abbas Shrine and Mosque, Karbala, Iraq | 4,203,845 square feet |
| 7 | Bara Imambara, Lucknow, India | 3,767,369 square feet |
| 8 | Jamkaran, Qom, Iran | 3,288,375 square feet |
| 9 | Imam Ali Mosque, Najaf, Iraq | 3,234,555 square feet |
| 10 | Shiekh Loft Allah Mosque, Isfahan, Iran | 2,158,164 square feet |