Society
John Dramani Mahama, President of Ghana - World Leaders in History
John Dramani Mahama is a former president of Ghana.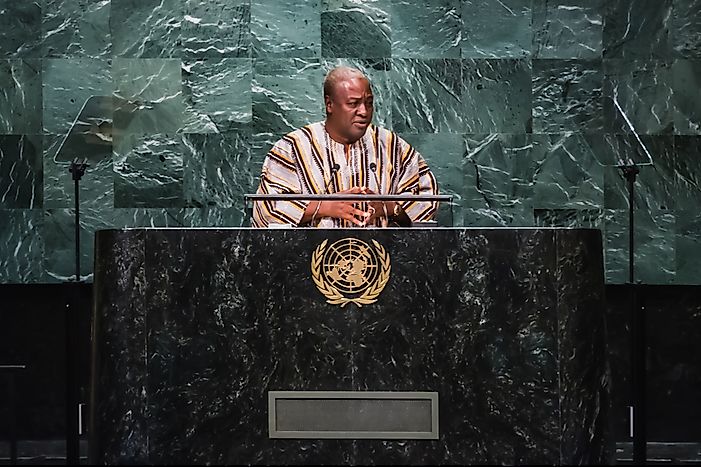 John Mahama is a Ghanaian politician, writer, historian, and communication expert. He served as the Ghanaian vice-president from 2009 until 2012 when he became the president after his predecessor, John Mills, died. He is the first Ghanaian vice-president to ascend to the presidency after the death of the president. He served as president from July 24th, 2012 until January 7th, 2017. He is the only president in the country's history to not win a second term.
Early Life
Mahama comes from Bole in the northern parts of Ghana. He was born on November 29th, 1958, in Damango-Daboya constituency. Mahama began his education in ANT1 (Accra Newtown Experimental School) and finished his O'level at Achimota school before joining Ghana secondary school. After finishing his A'levels education, Mahama joined the University of Ghana where he received a bachelor's degree in history. He received his postgraduate diploma in communication from the University of Ghana in 1986. Mahama also attended the Social Science Institute in Moscow where he specialized in Social psychology.
Rise to Power
After finishing his studies in Moscow, he returned to Ghana and worked at the Japanese embassy in Accra until 1995. He was elected as an MP for Bamboi/Bole constituency in 1996 for a 4-year term. During his first term as an MP, he was appointed as the deputy communications minister from 1997 to November 1998 when he became the minister of communications. He was re-elected during the 2000 and 2004 general elections. During his second and third terms in the Ghanaian parliament, he served in numerous committees including the VAT (Value Added Tax) and the UNDP advisory committees. Mahama became the Ghanaian Vice-President on January 7, 2009. Mahama became the Ghanaian President in line with their constitution on July 24, 2012, after the death of President John Mills.
Contributions
Mahama played a crucial role in stabilizing the telecommunication sector of the country in 1997 after its deregulation. He was also one of the founding members of the Ghanaian AIDS commission. As a president, he was the staunch campaigner for sustainability, and he was keen on the issue of single-use plastic waste pollution in the continent.
Challenges
One of his biggest challenges during his tenure was fighting corruption among his ministers and other government officials. Mahama had numerous corruption allegations including the fact that he received a Ford Expedition in 2012 from a construction company which was bidding for a government contract. The Burkinabe contractor secured the contract later. Under his presidency, massive corruption was discovered at the SADA (Savannah-Accelerated Development authority) in 2014. Another corruption scandal was discovered in 2015 when a contract for rebranding the 116 Metro Mass Transit buses. The contract was awarded to Selassie Ibrahim, a member of NDC, and it was revealed that the cost of the entire project was more than the value of all the buses.
Present Day and Legacy
Mahama lost his seat to President Nana Akufo-Addo during the 2016 general elections, but he announced his 2020 presidential ambitions on August 23, 2018. He is one of the most followed African leaders on Facebook and Twitter. Mahama has won numerous awards like the Great Cross of Benin's National Order.
This page was last updated on November 16, 2018.
Citations
Your MLA Citation
Your APA Citation
Your Chicago Citation
Your Harvard Citation
Remember to italicize the title of this article in your Harvard citation.