Politics
Zachary Taylor - 12th President Of The United States
The former Major General and war hero helped get the ball rolling on the Compromise of 1850 just before his death.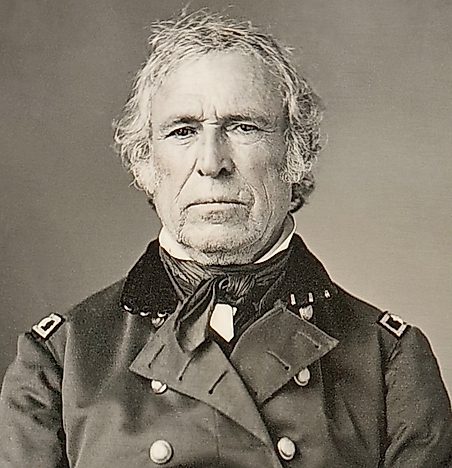 Taylor's early life
Zachary Taylor, the 12th US President, was born on November 24th, 1784, just outside of Barboursville, Virginia. Early on in his childhood, his family moved to Louisville, Kentucky, where at first they lived in a small cabin in the middle of the woods. By 1800 however, Taylor's family was prospering with his father, Richard Taylor, who was a lieutenant colonel in the Continental Army, owning 10,000 acres of land and 26 slaves. Taylor inherited the land and slaves and over time parlayed it into a wealthy estate with land across three states with over 100 slaves. Taylor had a sporadic education growing up, and he was considered a very poor student, but he always had wanted a career in the military. In 1810 he married Margaret Smith, and they would go on to have six children together, though two of his daughters died in early childhood.
Taylor's military career
In 1808, he received his first commission in the military and from that point he spent most of his military career going from one fort outpost to another. Taylor was involved in the War of 1812, where he successfully defended Fort Harrison and fought in the Battle of Wild Cat Creek. He was involved in the Black Hawk War in 1832 while under the command of Brigadier General Benjamin Howard. In 1837 Taylor fought in the Second Seminole War, winning the Battle of Lake Okeechobee, and was promoted to brigadier general due to his success. One year later he was assigned the command of all American troops in Florida. It was during this conflict that Taylor got his nickname, "Old Rough and Ready", for his willingness to share the hardships of military life with the men under his command. In 1846 Taylor was at the center of the Mexican-American war during the inconclusive Battle of Palo Alto, the first major battle of the war. Taylor then led his troops to victory in the Battles of Resaca de la Palma and Monterrey. The battle that propelled him into national prominence was the Battle of Buena Vista in February of 1847 against Mexican General Antonio López de Santa Anna. Despite being outnumbered 3 to 1, Taylor and his men won the day and stories spread across the nation about Taylor fighting alongside his troops in battle. Taylor sailed for home in November of 1847, his active military career over, reaching the rank of major general.
The 1848 Presidential Campaign
When word of Taylor's exploits in the Mexican-American War spread around the country, political clubs started to spring up in support for Taylor's candidacy as president. Prior to his run for president, Taylor had never revealed his political inclinations, never been enrolled in a political party and even boasted about how he had never voted. Taylor has never considered running for national office but as the calls for him to run got louder, he got swept up in the political fervor. Despite Taylor considering himself an independentm], he began going towards the Whig party and they to him. Taylor wrote letters to the public aligning himself with Whig doctrine and later professing party loyalty, but many Whig loyalists disliked and distrusted him. They saw him as someone who did not care about party doctrine or loyalty, but most Whigs ended up backing Taylor by the end since he was there best chance at winning. At a contentious convention, Taylor eventually won the Whig nomination on the fourth ballot. With both candidates being unpopular due to both parties divisions on slavery and a strong third party showing no candidate reached 50% of the popular vote. Taylor won 47.3% of the popular vote and 163 electoral votes, beating out Democratic candidate Lewis Cass (42.5%) and Free Soil candidate Martin Van Buren (10.1%). With his victory, Taylor became the first and to date only the fifth president in American history to never hold any kind of elected office. Taylor also became the third major general to be elected president and is one of the highest ranking military members to have become president.
Taylor's time as President (Foreign Policy)
Taylor did not have much experience in foreign affairs and was not directly involved in foreign policy formation or diplomacy. His administration did verbally clash with Portugal and France over reparation disputes, supported the German liberals during the 1848 revolutions in the German states and acted to stop expedition filibustering against Cuba. A significant foreign policy move during his administration was negotiating with Britain, who claimed a special status in the area, about American plans to build a canal across Nicaragua. With the Clayton-Bulwer Treaty, which was signed on April 19th, 1850, both sides agreed to renounced dominion over any canal that may be built. This treaty ended up recognizing the supremacy of America's interests in Central American interests and was an important part of the development of the alliance that later emerged between American and Britain.
Taylor's time as President (Domestic Policy)
By far biggest issue domestic issues during Taylor's time as president involved the newly acquired western territory won during the Mexican-American War, and the issue of slavery in said territories. Taylor urged residents of California and New Mexico to write constitutions to apply for statehood and Congress to admit both states as soon as possible. Taylor also warned Congress not to organize territorial governments in the western area. Taylor did all of this to try and avoid a debate over slavery, but it led to one of the most prolonged and rancorous debates in American history. When California applied to be recognized as a state in 1850, it did so as a free state according to the constitution they wrote for themselves. At the time there was an even number of slave and free states and Taylor's solution of allowing these new states to write their own constitutions meant that the free to slave state balance would be upset in the Senate and the number of states. Southern Wigs felt betrayed by Taylor as a result of this policy, while many Southern Democrats called for a secession convention, to which Taylor responded that he would hang anyone who tried to disrupt the Union. Henry Clay led the effort to come up with a compromise to put an end to the slavery debate, but Taylor strongly opposed Clay's compromise.
Zachary Taylor's death and legacy
Ultimately Taylor never got to settle what became the Compromise of 1850. On July 4th, 1850 Taylor was attending holiday events on a hot summer day. When he came back to the White House, he reportedly drank a glass of iced milk and consumed a large quantity of cherries and other fruits. Taylor then fell ill and over the next five days battled serve stomach pains, fervor, and dehydration. His physicians diagnosed him with cholera morbus and attempted to treat him but on July 9th, 1850 Taylor succumbed to his illness and passed. With his death, Taylor became the second and to date only the eighth American president to die in office. Unfortunately for Taylor, his presidency was short lived and did not have much impact. He is seen as having been too nonpolitical for his time, being out of touch with Congress, never giving clear policy statements and rarely used his influence as president to direct policy. Overall, Taylor is seen as an anomaly between what he did during his life and how he acted in office. In 1883 Kentucky built a 50- foot tall monument to honor Taylor near his grave. In 1926 Taylor's grave site was expanded and turned into the Zachary Taylor National Cemetery in his honor.
Zachary Taylor, 12th President Of The United States
| Party Affiliation | Whig |
| --- | --- |
| Birthplace | Barboursville, Virginia |
| Date of Birth | November 24th, 1784 |
| Date of Death | July 9th, 1850 |
| Start of Term | March 4th, 1849 |
| End of Term | July 9th, 1850 |
| Vice President | Millard Fillmore |
| Major Conflicts Involved In | None during Presidency |
| Preceded by | James K. Polk |
| Succeeded by | Millard Fillmore |
| First Lady | Margaret Smith Taylor |